Here's What You Should Eat For Dinner
Braise your zucchini in a delicious mixture of coconut milk and ginger, then throw some salmon on top and let it soak up all of the funky deliciousness as it cooks.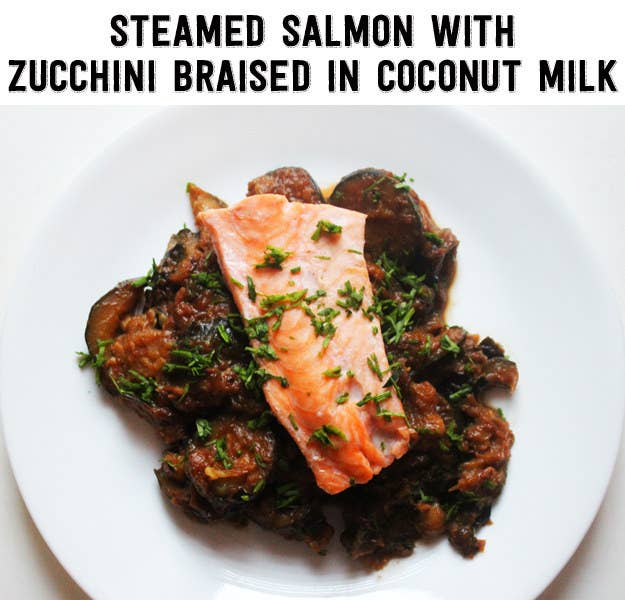 Steamed Salmon with Zucchini Braised in Coconut Milk
Recipe by Christine Byrne
Serves 2
INGREDIENTS
1 tablespoon canola oil
1 medium yellow onion, thinly sliced
kosher salt and freshly ground pepper
6 cloves garlic, thinly sliced
1-inch piece of fresh ginger, peeled and finely minced
1 pound zucchini, cut in coins 1/2-inch thick
1/2 cup coconut milk
1 tablespoon fish sauce
2 6-ounce skinless filets of salmon
chopped cilantro leaves, for garnish (optional)
PREPARATION
1. Heat oil in a large sauté pan (one with a lid, which you'll need later) over medium heat. Add sliced onion, season with a pinch of salt and pepper and cook, stirring occasionally, until the onion has started to soften, about 2 minutes. Turn the heat down to medium-low and add garlic and ginger. Cook, stirring occasionally, until translucent and aromatic, about 2 minutes more. Add zucchini, mix everything together. Cook, covered, until zucchini is soft but not mushy, about 10 minutes. Add coconut milk and fish sauce to the pan, mix everything together, and increase the heat to medium. Cook, uncovered, until some of the liquid has evaporated and the zucchini is extremely soft, about 5 minutes. Stir the mixture to break down the soft zucchini a little bit.
2. Meanwhile, season the salmon liberally on all sides with salt and pepper. Place the filets on top of the zucchini mixture in the pan, making sure they're not touching each other or the side of the pan. Cover the pan and cook until the salmon is cooked through and flakes easily with a fork, about 5 minutes.
3. To serve, divide the zucchini mixture between two plates and top each with a salmon filet. If you want, garnish the plates with chopped cilantro.