This 7-Layer Potaco Salad Is The Ultimate Bowl Of Awesome
Potato salad can get a little boring. Adding six layers of magic really jazzes things up.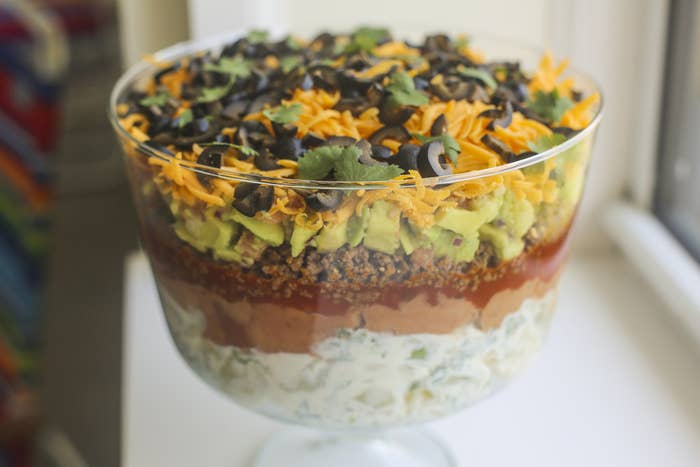 Potato salad is simple, perfect, and often so tragically overlooked in favor of trendier salads or flashier side dishes. Make this dish for your next barbecue, and help breathe new life into an old favorite.
Best served with a big spoon and eaten with a big fork.
7-Layer Potaco Salad
Recipe by Christine Byrne
Serves 8
INGREDIENTS
Potato Salad
2 pounds russet potatoes, peeled and chopped into rough 1-inch cubes
3/4 cup sour cream
1/2 cup mayonnaise
1/2 cup cilantro leaves, divided
Taco Beef
1 tablespoon canola oil
1 lb ground beef
kosher salt and freshly ground pepper
2 tablespoons taco seasoning
Guacamole
2 large, ripe avocados, peeled and chopped into rough ¼-inch cubes
1 large beefsteak tomato, cored and chopped into rough ¼-inch cubes
1 small red onion, minced
juice and zest of 1 lime
Assembly
1 15-ounce can refried beans
2 cups salsa
8 ounces cheddar cheese, grated
1/2 cup black olives, thinly sliced
Special equipment
A deep, clear serving bowl that's at least one gallon in volume.
PREPARATION
Put cubed potatoes in a medium pot. Add enough cold water to cover the potatoes by an inch, then bring the water and potatoes to a boil over high heat. Boil the potatoes until soft (they should mash easily with a fork), 15-20 minutes. Meanwhile, as the potatoes are boiling, prep the taco beef and the guacamole (see below). When the potatoes are cooked, drain them in a colander. Do not rinse them.
For the taco beef, heat canola oil in a large skillet over medium high heat. Add the ground beef, season with a little bit of salt and pepper, and cook, stirring often, until most but not all of the beef has turned brown, about a minute. Add taco seasoning and cook, stirring occasionally, until the beef is cooked all the way through, about 2 minutes. Drain any excess fat from the pan, and turn off the heat.
For the guacamole, combine chopped avocado, chopped tomato, minced red onion, and the juice and zest of one lime in a medium mixing bowl. Season with salt and pepper, and mix with a wooden spoon to combine everything and mash the avocado just slightly. Refrigerate until you're ready to assemble the dip.
When the potatoes are cooked and drained, transfer them to a large mixing bowl. Coarsely chop all but 2 tablespoons of the cilantro (reserve those two tablespoons for garnish), and add the chopped cilantro, sour cream, and mayonnaise to the potatoes. Season with salt and pepper, then mix everything so that the potatoes are evenly coated with the sour cream/mayonnaise mixture and the cilantro is spread throughout.
Assemble the dish in a deep, clear serving bowl that's at least one gallon in volume. Start with the potato salad and spread it an even layer at the bottom of the dish, then spread the refried beans over the potatoes. Add the salsa next, then the cooked ground beef, then the guacamole, then the shredded cheddar cheese. Garnish with sliced olives and the remaining cilantro.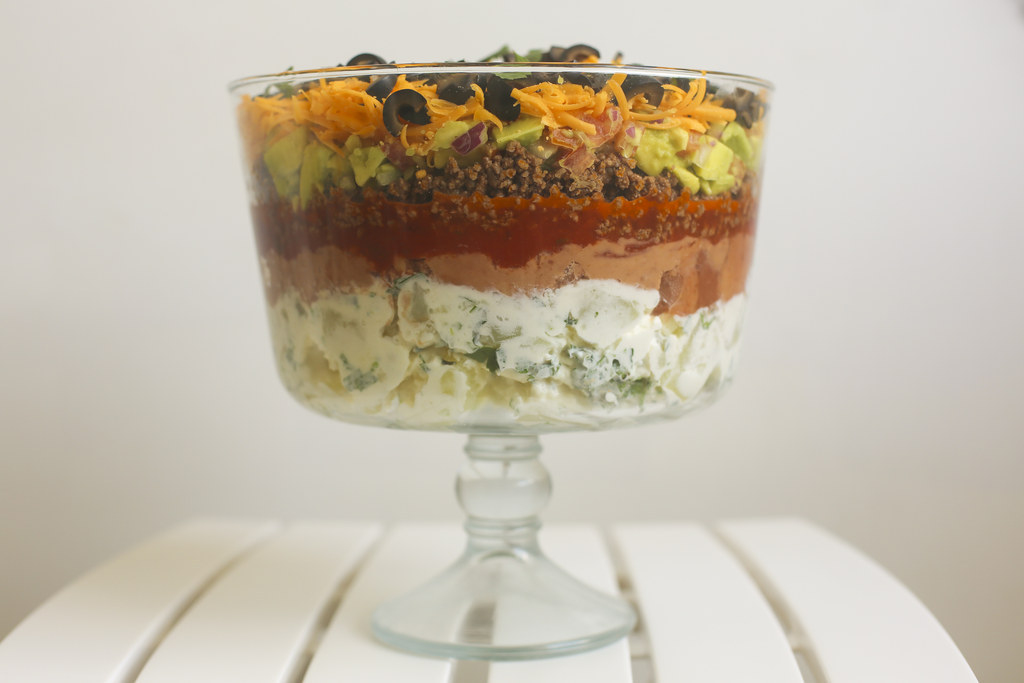 This recipe is one of the delicious contestants in an epic three-day Mix & Mash-Up food tournament happening this week on Good Morning America.