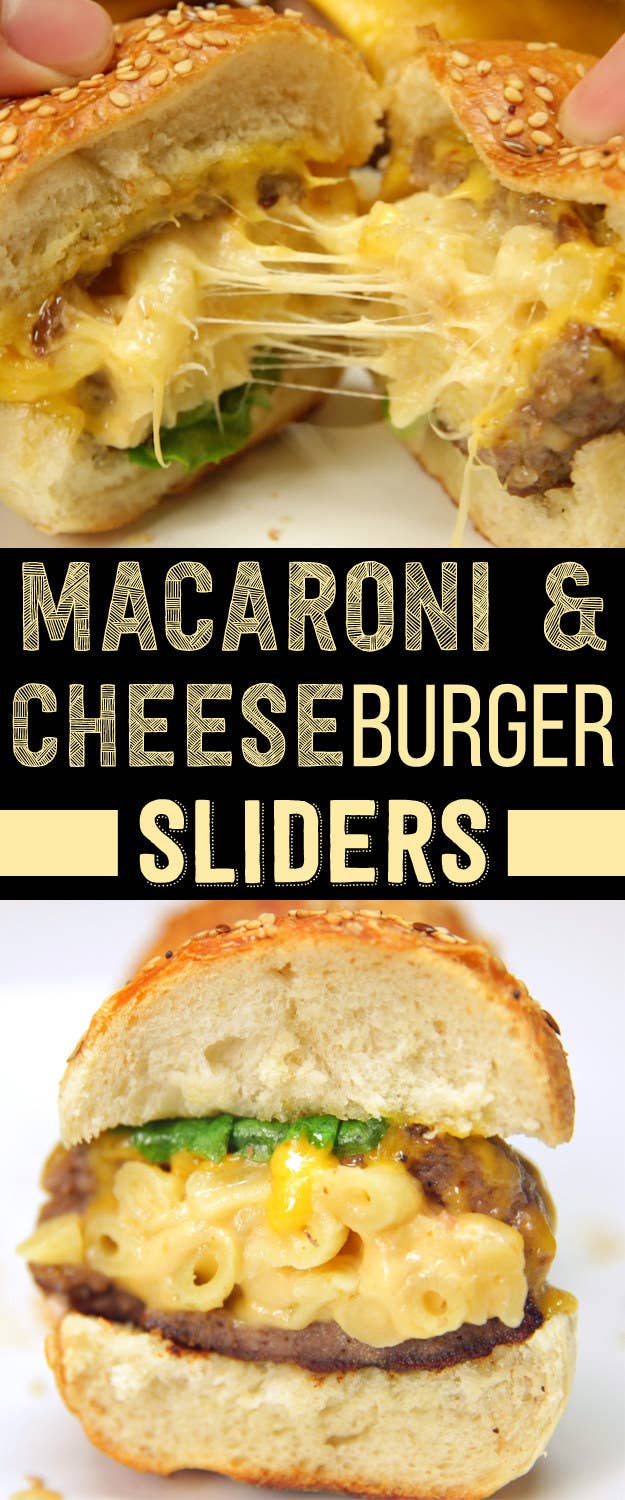 Good looking sliders, right?
What you don't know is that those sliders have a ~surprise~ inside.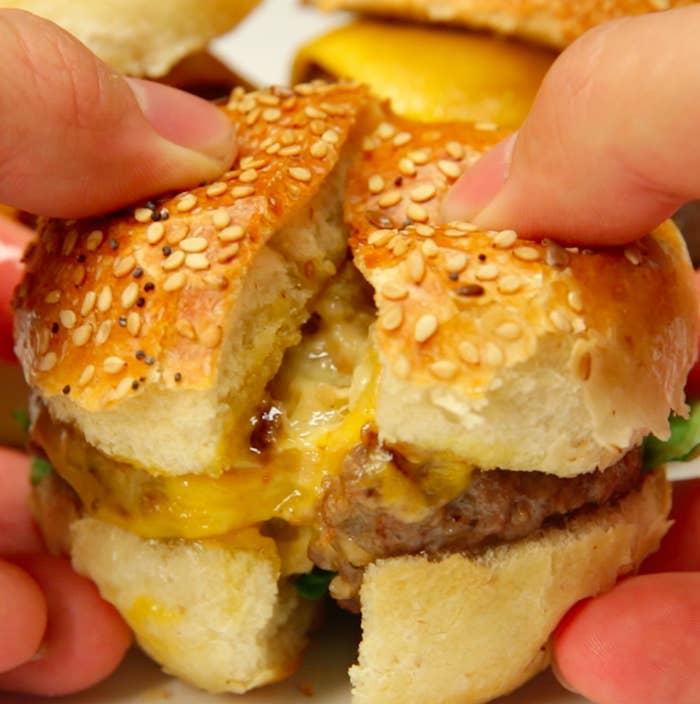 AND THE SURPRISE IS MACARONI AND FREAKING CHEESE.
The best part is, they're actually super easy. Start by making some macaroni and cheese.
Then take seasoned ground beef, shape it into little bowls, spoon some mac and cheese inside, and cover with more beef to make a patty.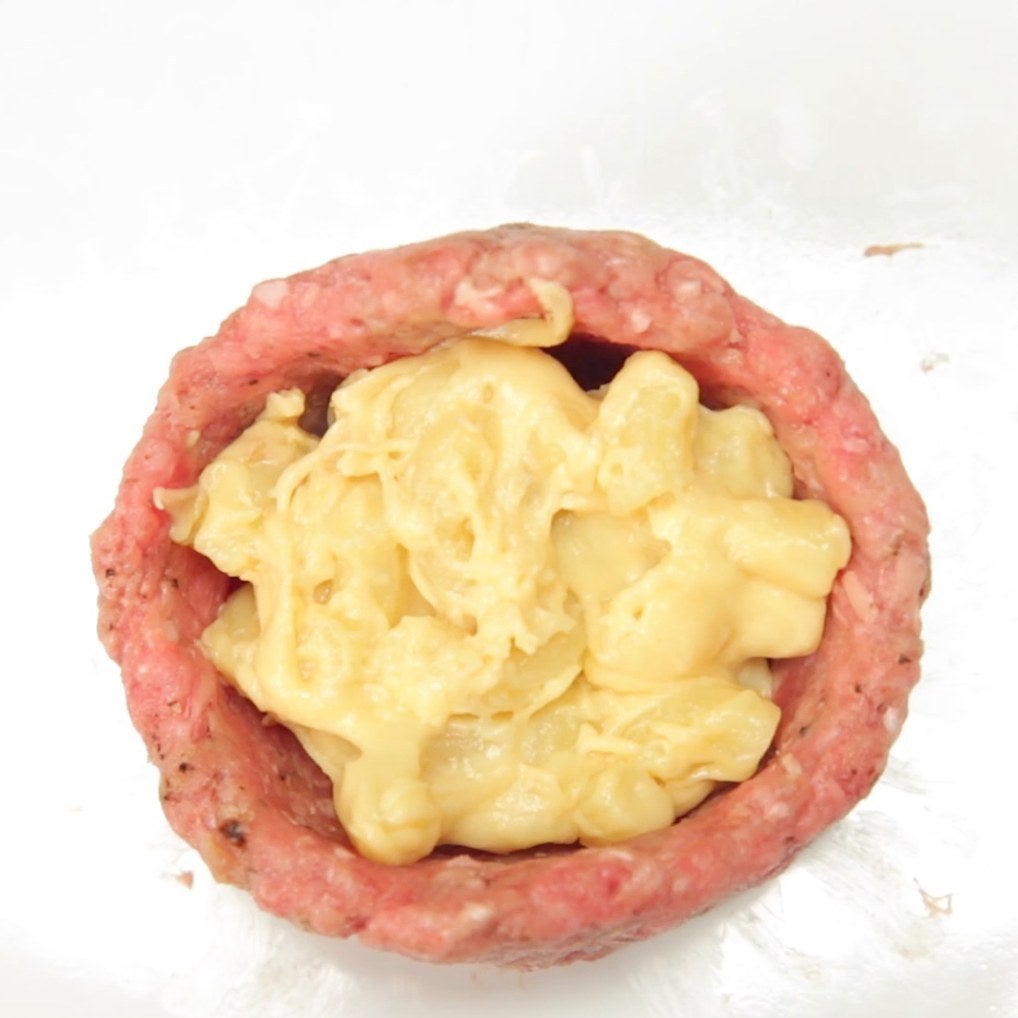 Literally anybody can do this!
Cook in a skillet over medium-high heat until the patty is browned on both sides.
Add a little more cheese because it's the right thing to do.
Serve the slider on a sesame seed bun. Lettuce optional.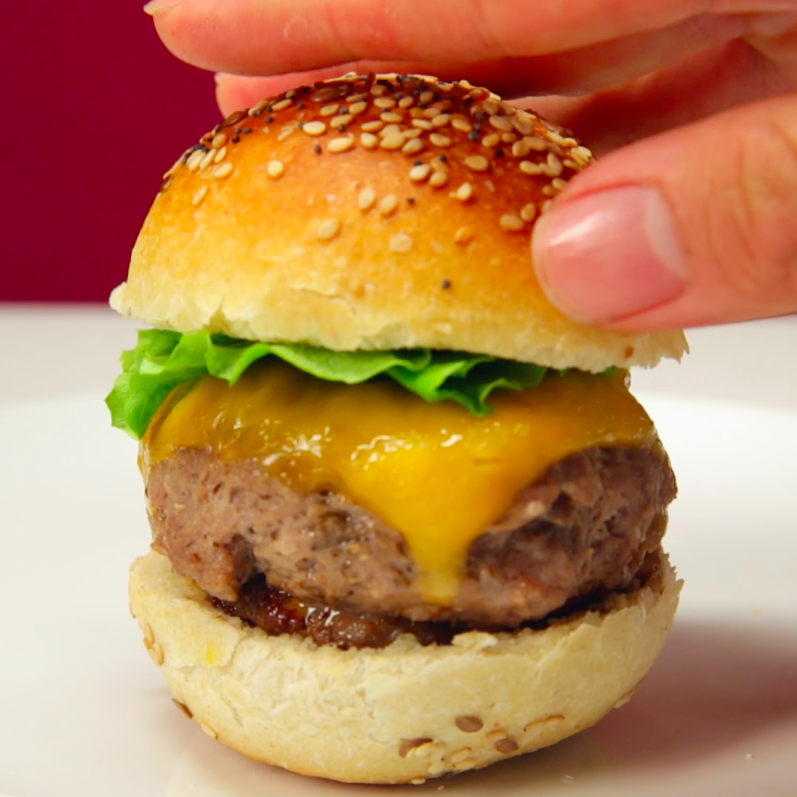 That mac-and-cheesy surprise inside? Delightful, even when you know it's coming ;)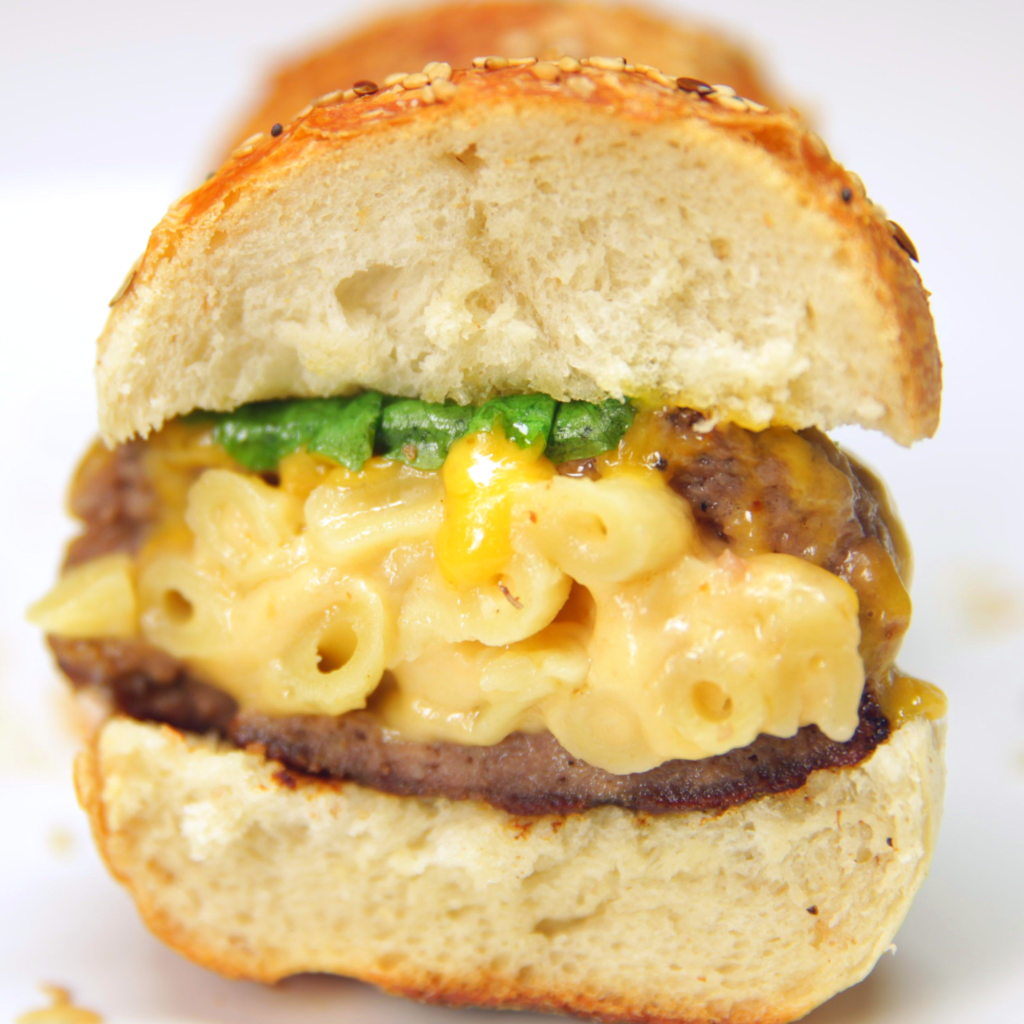 Mac & Cheeseburger Sliders
Makes 6
Estimated time: 40 minutes
INGREDIENTS
2 tablespoons unsalted butter
2 tablespoons flour
½ cup whole milk
1 ½ cups cooked elbow macaroni, drained
½ cup shredded mozzarella cheese
½ cup shredded cheddar cheese
8 ounces ground beef
½ tablespoon salt
½ tablespoon pepper
½ tablespoon garlic powder
6 slices cheddar cheese
6 sesame-topped dinner rolls
4 romaine lettuce leaves
PREPARATION
1. In a medium pot over low heat, melt the butter. Add the flour and stir thoroughly until there are no lumps. Cook, stirring, until the mixture is golden brown and smells toasty, about 1 minute, then add the milk. Bring to a boil and cook until the mixture thickens, 2-3 minutes. Add the macaroni and stir to coat evenly. Add the mozzarella and cheddar, stirring until cheese is completely melted and macaroni is coated evenly. Remove from heat.
2. In a medium bowl, combine the ground beef, salt, pepper, and garlic powder. Gently mix until evenly combinedPinch off some ground beef and roll it into a 2-inch ball. Flatten the ball and then mold it into a deep pocket with your thumb. Place 2 tablespoons of the mac & cheese into the center of the pocket, then pinch the edges of the beef together. To seal, use another tablespoon of the beef mixture to close up the top, enclosing the mac & cheese completely inside the beef. Repeat with the remaining ground beef and mac & cheese to make 6 patties.
3. In a pan over medium heat, cook the patties on one side for 2-3 minutes, then flip. Place a slice of cheddar on top, then cook for another 2-3 minutes, until the cheese is melted and the meat is cooked through. Remove from the heat.
4. Slice the dinner rolls in half and serve the cheeseburgers on the buns, topped with the lettuce.
Recipe by Alvin Zhou