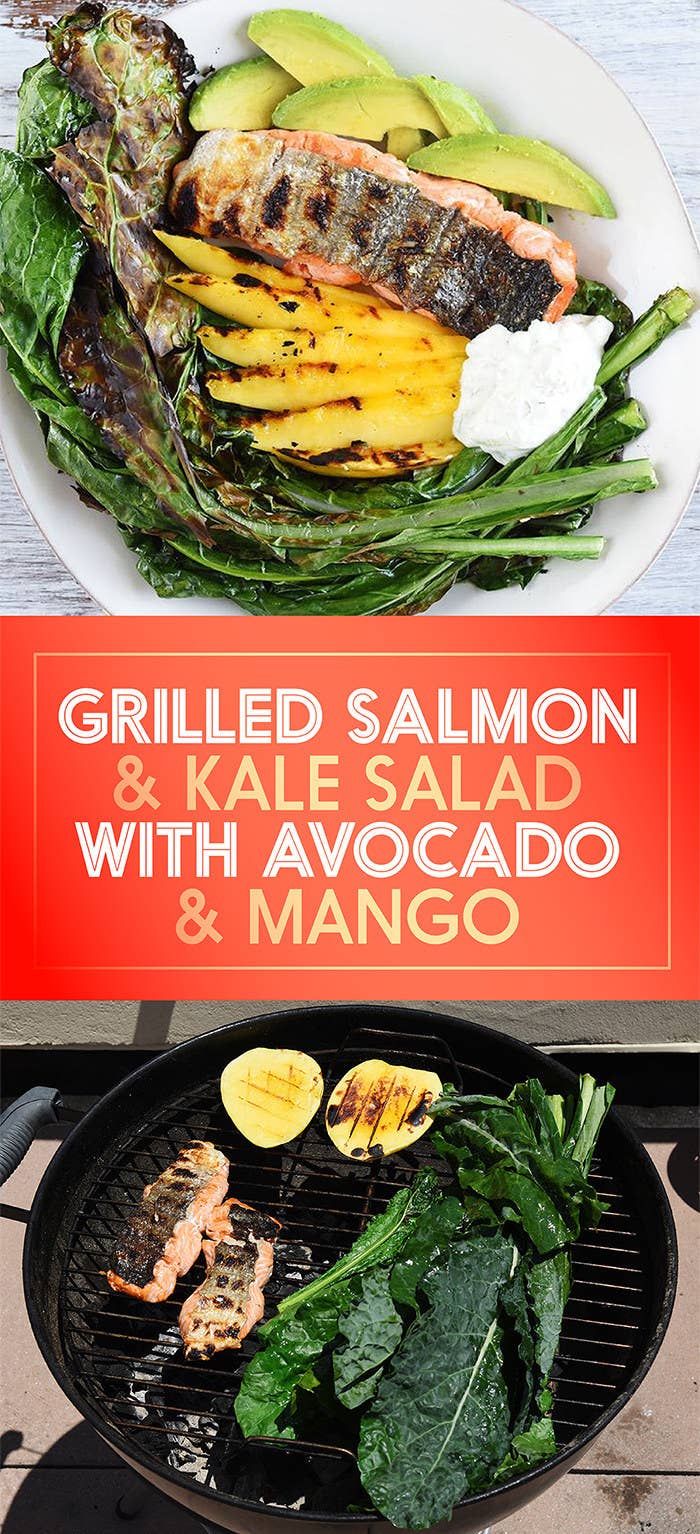 Grilled Salmon and Kale Salad with Avocado and Mango
Serves 2
Recipe by Christine Byrne
INGREDIENTS
1 bunch lacinato kale
2 tablespoons pineapple juice
2 tablespoons canola oil, divided
kosher salt and freshly ground pepper
2 6-ounce skin-on salmon
1 medium mango, peeled, pitted, and halved
½ medium, ripe avocado
For the scallion-lime sour cream:
1 scallion, thinly sliced
Zest of 1 lime
Juice of ½ lime
¼ cup sour cream
PREPARATION
1. Heat a grill so that one side is hot (450°- 475°F) and the other side is warm (325° - 375°F). On a charcoal grill: pile hot coals on just one half of the grill; On a gas grill: turn the burners to medium-high on one side and medium-low on the opposite side.
2. Trim about an inch off the kale stems and toss In a large mixing bowl with the pineapple juice and 1 tablespoon canola oil. Season liberally with salt and pepper and toss to coat. Let the kale sit in the mixing bowl until you're ready to put it on the grill.
3. Season the salmon fillets on both sides with salt and pepper, then rub the remaining oil on the skin side of both fillets. Place the the salmon, skin-side down, on the hot side of the grill and the mango, cut side-down, near the center of the grill. Cook until the salmon is cooked on the bottom and about two-thirds of the way up the sides but still raw on top, about 4 minutes. Use a long spatula to carefully flip the salmon, then flip the mango halves.
4. Add the kale all at once to the warm side of the grill. It will be piled at first, but will start to wilt almost immediately. After two minutes, toss the kale and check the salmon. For medium-rare salmon, take the fillets off the grill as soon as the outside is cooked through on all sides, about 6 minutes total. For medium-well salmon, cook for 8 minutes total, 4 minutes on each side.
5. Once the kale is very soft and slightly charred and the mango is charred on both sides, about two minutes more, take everything off the grill and set it aside.
6. Thinly slice the mango and avocado. In a small mixing bowl, stir together the sliced scallion, lime zest, lime juice, and sour cream just to combine.
7. Divide the grilled kale between two serving plates, then top each plate with a salmon fillet, mango and avocado slices, and a dollop of the scallion-lime sour cream.
Make sure your salmon is over the hottest part of the grill, and that you start it skin side-down. The mango should be closer to the center of the grill.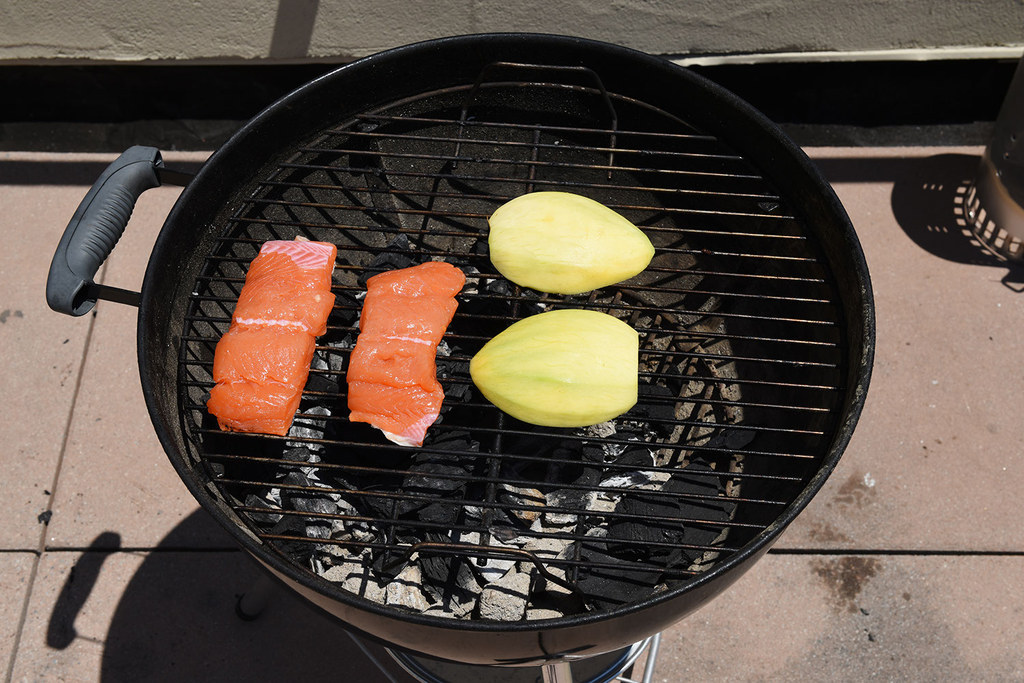 By the time you're ready to flip the salmon, the skin will have crisped and developed grill marks, which helps it not to stick. Pile the kale onto the cool side as soon as the salmon is flipped.
Move the salmon around after 2 minutes, so that it has enough time to char on the bottom but doesn't burn.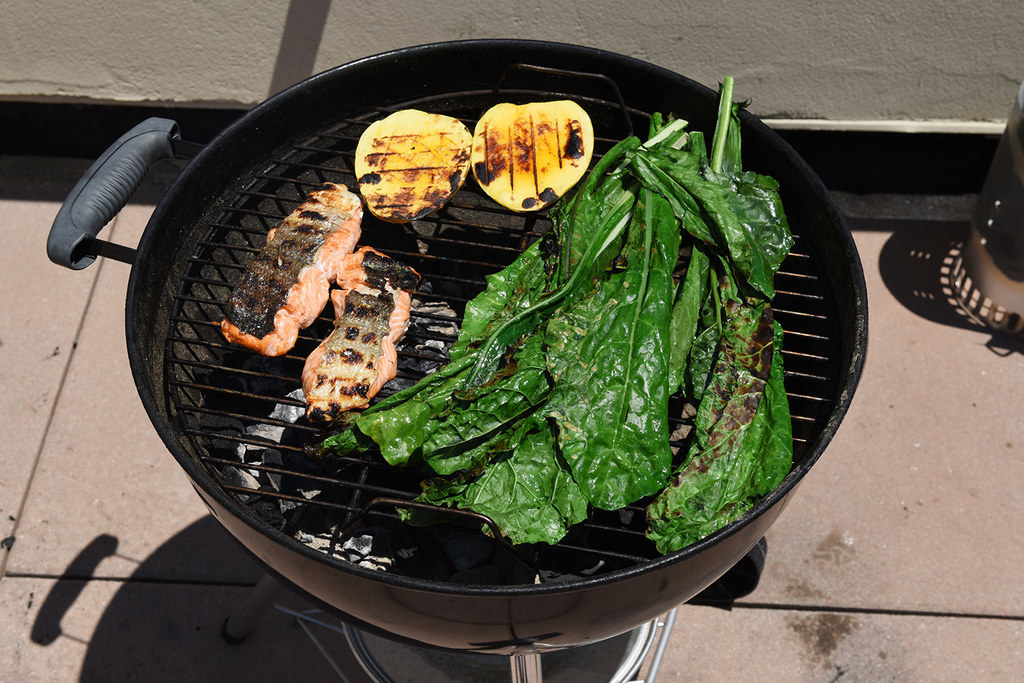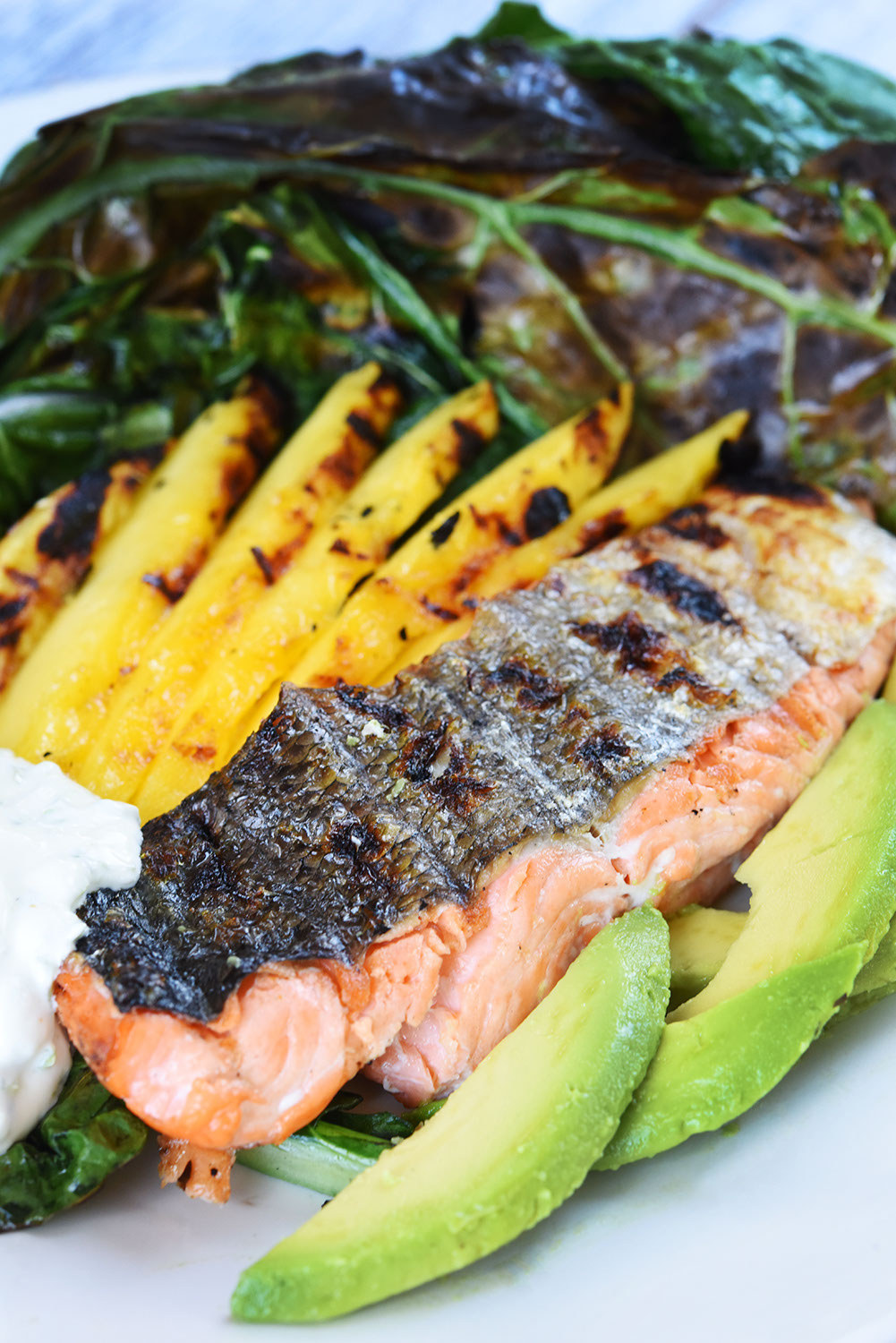 This recipe is one of five easy grilled dinners you can make from a single grocery list.