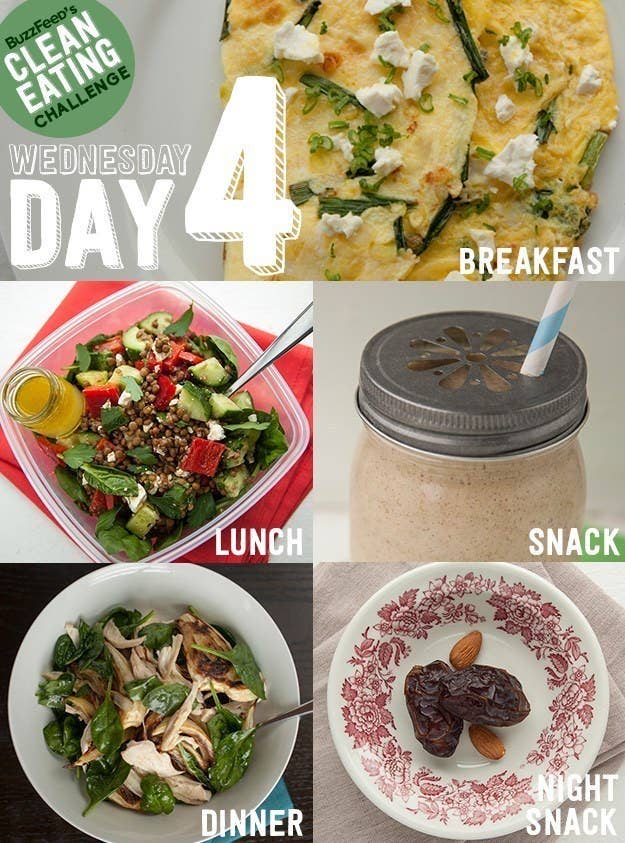 BuzzFeed Food's Clean Eating Challenge is a two-week detox plan that's all about eating real food in order to feel great and have more energy. All of the food is low carb and gluten free with an emphasis on lean protein (no red meat) and fresh produce. There's no processed food allowed; every meal is homemade.
It's important that you follow the meal plan in order starting with Day 1 since most of the recipes call for leftover ingredients from previous days. But you can start any time and find full instructions here. Aim to eat every 3-4 hours and try not to eat within two hours of bedtime.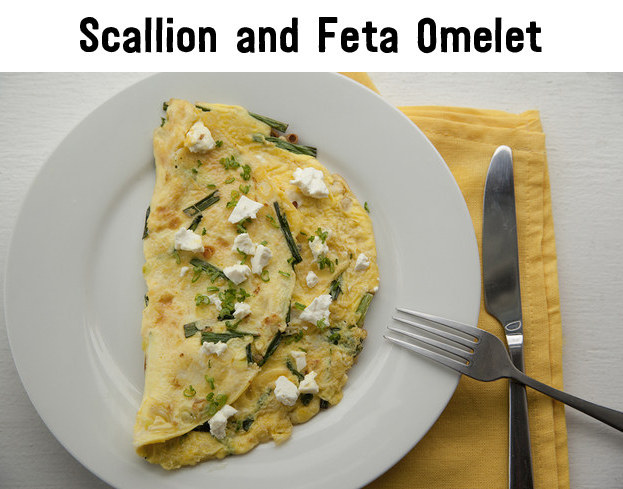 SCALLION AND FETA OMELET
Makes 1 serving
Ingredients
2 teaspoons olive oil
4 scallions, whites and greens separated
1 ounce feta cheese, crumbled
2 large eggs for women; 3 large eggs for men
1/8 teaspoon kosher salt
freshly ground pepper
Procedure
Thinly slice scallion whites and cut greens into 1-inch pieces. Heat olive oil in a medium nonstick skillet over medium heat. Add scallion whites and a pinch of salt and cook until scallions are softened, about 2 minutes. Add scallion greens and cook until soft, about one minute. Meanwhile, crack the eggs into a small mixing bowl with kosher salt, freshly ground pepper and ½ teaspoon water, and beat with a fork until thoroughly combined. Pour the egg into the skillet sprinkle the cheese on top, then turn the heat to low and cook 1 minute, until the bottom of the omelet is set and the top is only slightly liquidy. Carefully flip the omelet and cook 1 minute. Transfer to a serving plate.
318 calories, 24.7 g fat (8.7 g saturated fat), 6.4 g carbohydrate (1.6 g fiber, 1.8 g sugars), 17.7 g protein, 747 mg sodium, 397 mg cholesterol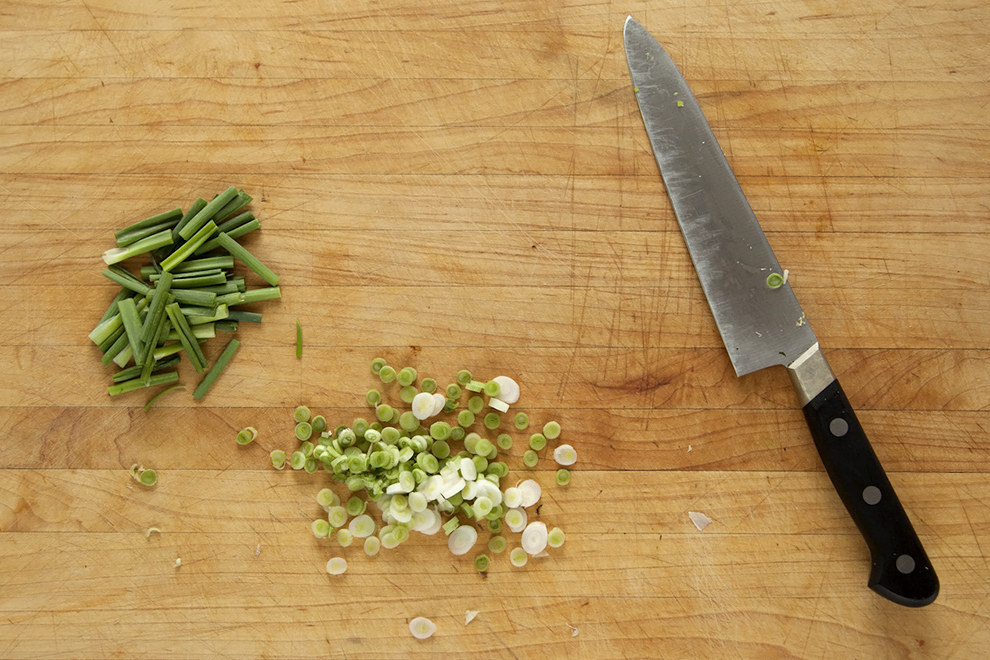 Before you leave home, prepare the Mango Banana Smoothie (recipe below) for today's snack. Pack it in an airtight jar or canister, and refrigerate until you're ready to drink it.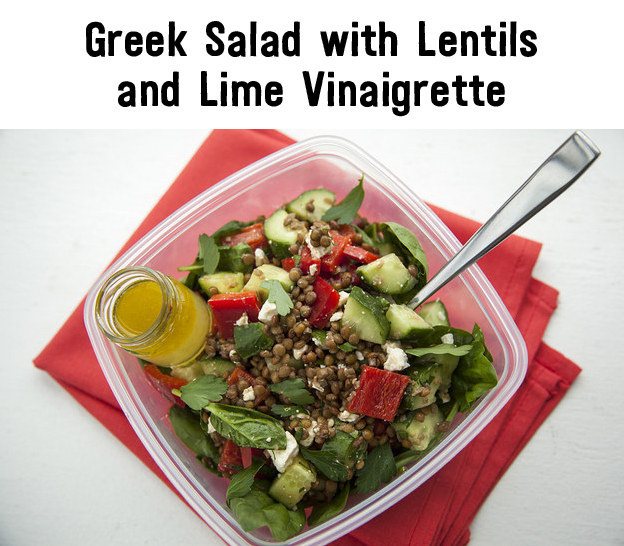 GREEK-STYLE SALAD WITH LEFTOVER LENTILS AND LIME VINAIGRETTE
Makes 1 serving
Ingredients
1/2 cup Big Batch Cooked Lentils, cold (leftover from Tuesday's dinner)
1 medium red bell pepper, cut into rough 1/2-inch pieces
1/2 medium seedless cucumber, cut into rough 1/2-inch pieces
1 ounce feta, crumbled (about 2 tablespoons)
1 tablespoon Big Batch Lime Vinaigrette (leftover from Monday's dinner)
1 tablespoon chopped parsley
2 cups raw spinach, washed and dried
Procedure
In a medium mixing bowl, combine all ingredients except the parsley, and toss to combine. Make sure everything is evenly coated with dressing and that the lentils are spread throughout the vegetable mixture. Transfer to a bowl and sprinkle with parsley, to serve.
If you're packing lunch to-go: Combine all ingredients except the vinaigrette in a large airtight container; pack the vinaigrette in a small container separately. Refrigerate until you're ready to eat, and pour the vinaigrette over the salad at lunch time.
271 calories, 11.3 g fat (5 g saturated fat), 34.9 g carbohydrate (12.8 g fiber, 7.5 g sugar), 16.1 g protein, 90 mg sodium, 25.2 mg cholesterol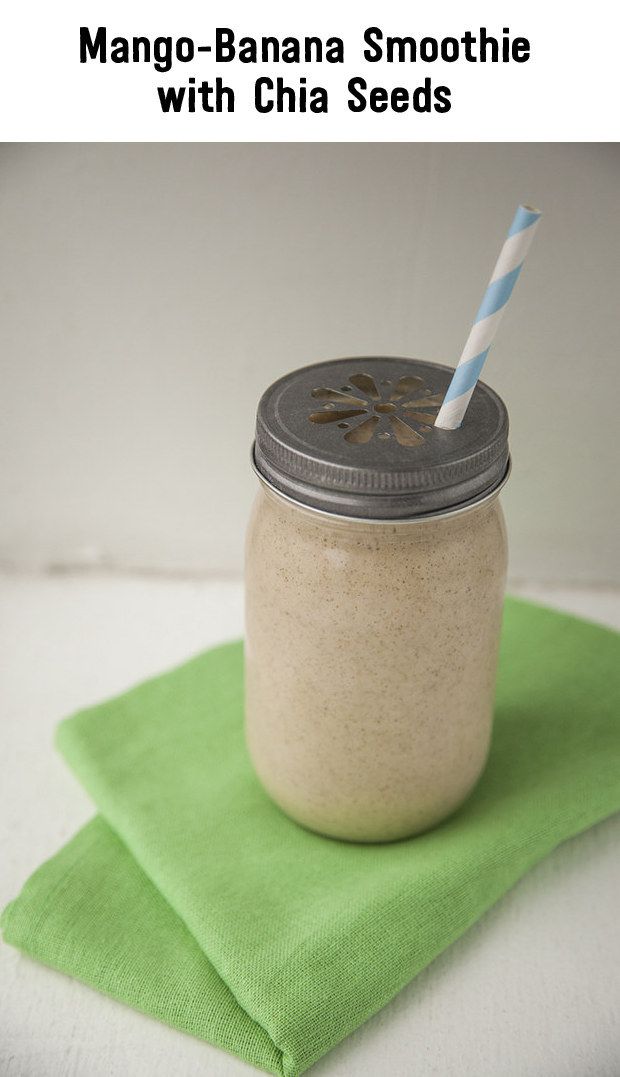 MANGO, BANANA, AND ALMOND MILK SMOOTHIE WITH CHIA SEEDS
Makes 1 serving
If you made smoothie packs in advance, the mango and banana will be in a ziploc bag in the freezer, labeled Wednesday, Week 1, Snack.
Ingredients
1/4 mango, peeled, then frozen
1/2 banana, peeled, then frozen
1 cup unsweetened almond milk
2 teaspoons chia seeds
1/4 teaspoon vanilla extract
Procedure
Cut the banana and mango into large chunks, then add all ingredients to a high speed blender and puree until smooth (about 1 minute).
If you're packing this snack to-go: Blend everything together in the morning, then transfer to a thermos, mason jar, or any other portable, airtight container that you can drink out of.
Refrigerate until you're ready to drink.
257 calories, 12.7 g fat (1.1 g saturated fat), 37.5 g carbohydrate (14.8 g fiber, 16.3 g sugars), 7.7 g protein, 183 mg sodium, 0 mg cholesterol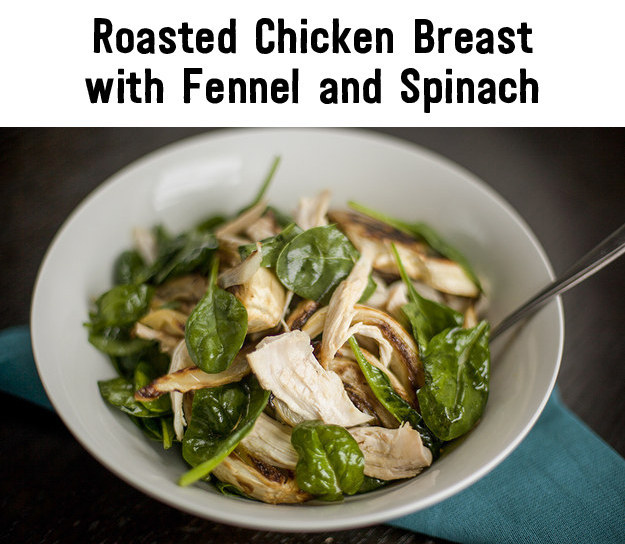 ROASTED CHICKEN BREAST WITH ROASTED FENNEL AND SPINACH
Makes 1 serving
Ingredients
1/2 recipe Big Batch Roasted Fennel (recipe below)
⅛ teaspoon kosher salt
freshly ground pepper
4 ounces Big Batch Roast Chicken Breasts for women; 6 ounces for men (leftover from Sunday's dinner)
2 cups spinach, rinsed and dried
Procedure
Five minutes before the fennel (recipe below) is finished roasting, add the whole chicken breast to the baking sheet to reheat it.
Put spinach in a medium mixing bowl and add half of the fennel (you'll save the other half for lunch tomorrow) as soon as they come out of the oven, so that the heat from the vegetables wilts and partially cooks the spinach. Toss everything together to combine. Serve warm, with the reheated chicken breast.
381 calories, 15.4 g fat (2.4 g saturated fat), 32.9 g carbohydrate (13.8 g fiber, 1.6 g sugar), 32.5 g protein, 798 mg sodium, 70 mg cholesterol
BIG BATCH ROASTED FENNEL
Makes 2 Servings
For this recipe, you're roasting one whole head of fennel, plus another raw half head that's leftover from lunch on Monday. Eat half of the roasted fennel now and save half for lunch on Thursday.
Ingredients
1 1/2 large heads fennel
1 tablespoon olive oil
1/8 teaspoon kosher salt
freshly ground pepper
Procedure
Preheat oven to 425°F. Cut fennel lengthwise into wedges roughly ¼-inch thick, keeping the root intact (this will help the fennel stay together). On a large rimmed baking sheet lined with parchment paper, toss together fennel, olive oil, kosher salt and some freshly ground pepper. Roast 35-40 minutes, until fennel is soft and slightly browned, turning halfway through cooking.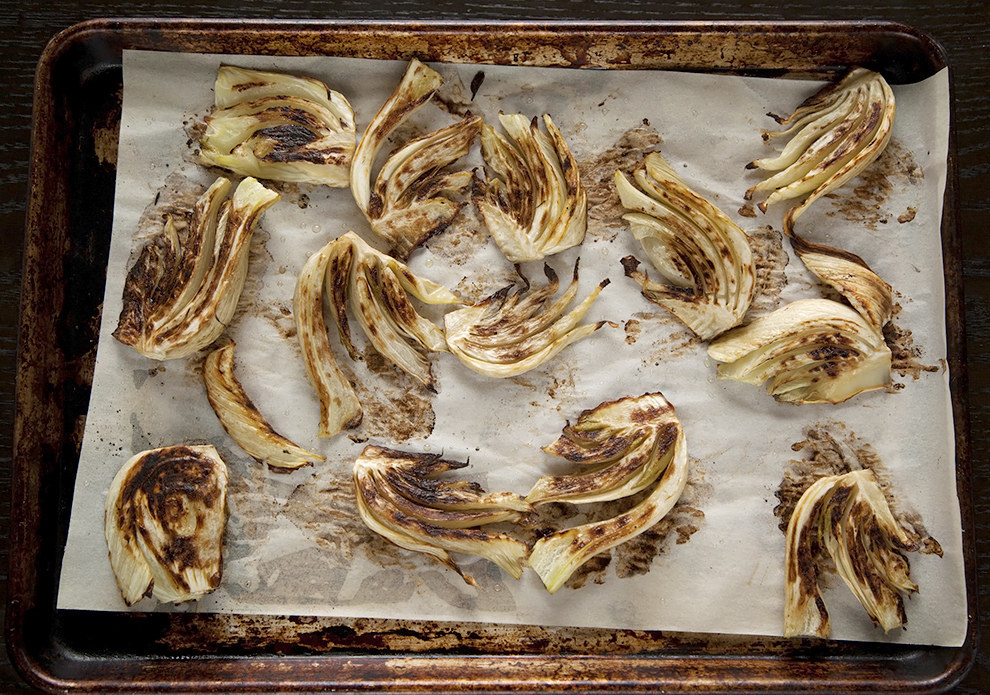 2 pitted medjool dates, each stuffed with one almond.
152 calories, 2.8 g fat (0.2 g saturated fat), 31.2 g carbohydrate (3.6 g fiber, 25.2 g sugars), 2.2 g protein, 10 mg sodium, 0 mg cholesterol
DAY 4 (WEDNESDAY) TOTAL NUTRITIONAL INFORMATION:
1,378 calories, 66.9 g fat (17.4 g saturated fat), 142.9 g carbohydrate (46.6 g fiber, 52.4 g sugars), 76.2 g protein, 2,428 mg sodium, 493 mg cholesterol
All nutrition is calculated for the amounts specified for women.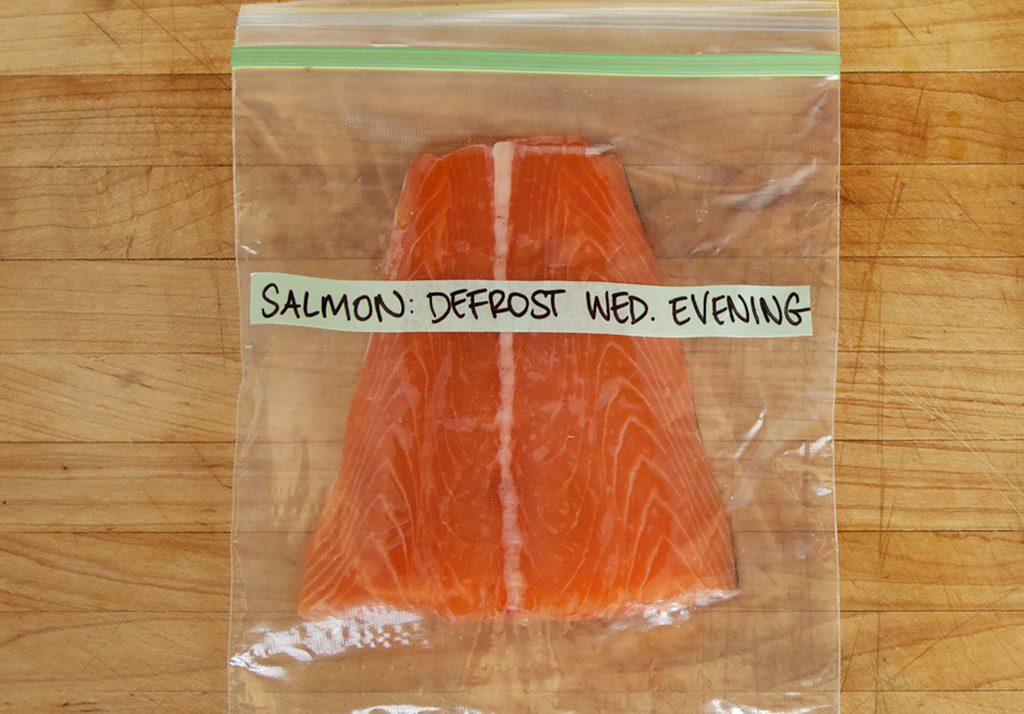 You've made it through four days of the Clean Eating Challenge. You must be feeling GREAT!