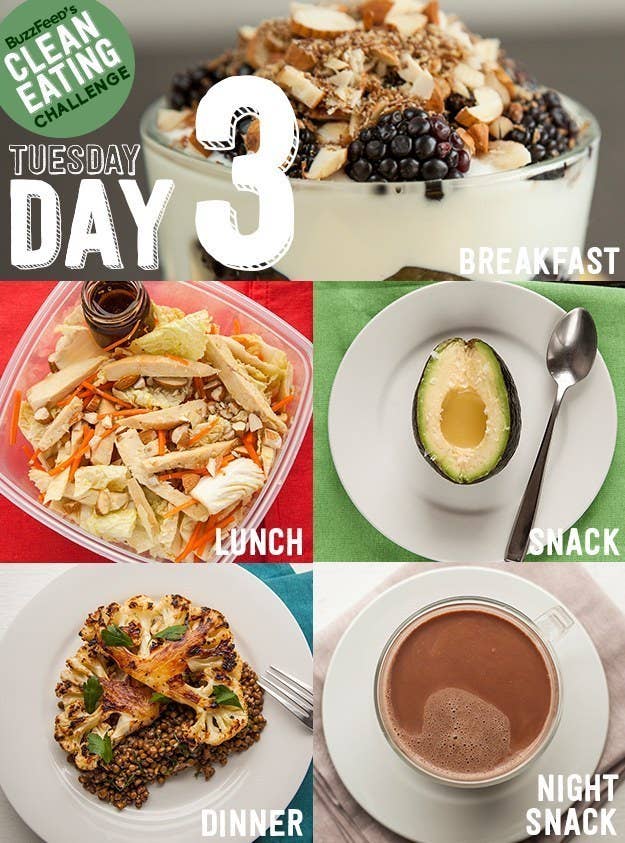 BuzzFeed Food's Clean Eating Challenge is a two-week detox plan that's all about eating real food in order to feel great and have more energy. All of the food is low carb and gluten free with an emphasis on lean protein (no red meat) and fresh produce. There's no processed food allowed; every meal is homemade.
It's important that you follow the meal plan in order starting with Day 1 since most of the recipes call for leftover ingredients from previous days. But you can start any time and find full instructions here. Aim to eat every 3-4 hours and try not to eat within two hours of bedtime.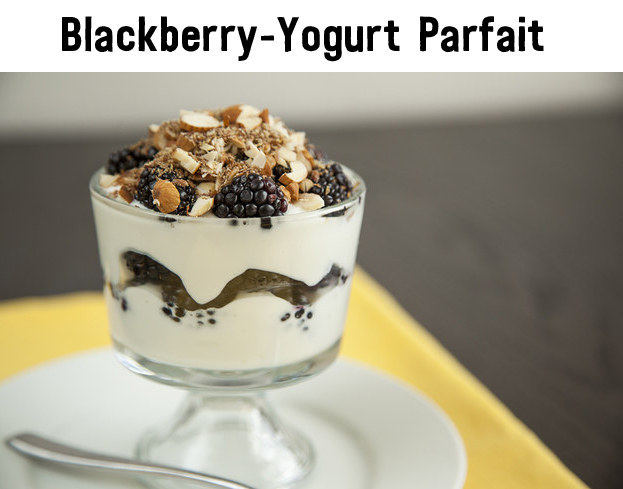 BLACKBERRY YOGURT PARFAIT
Makes 1 serving
In a bowl or jar, layer 1 cup greek yogurt, ½ cup blackberries, roughly chopped, and 2 tablespoons raw almonds, roughly chopped. Then, sprinkle with 2 tablespoons ground flaxseeds.
314 calories, 13.2 g fat (0.6 g saturated), 25.8 g carbohydrate (9.6 g fiber, 14.6 sugars), 30.1 g protein, 115 mg sodium, 10 mg cholesterol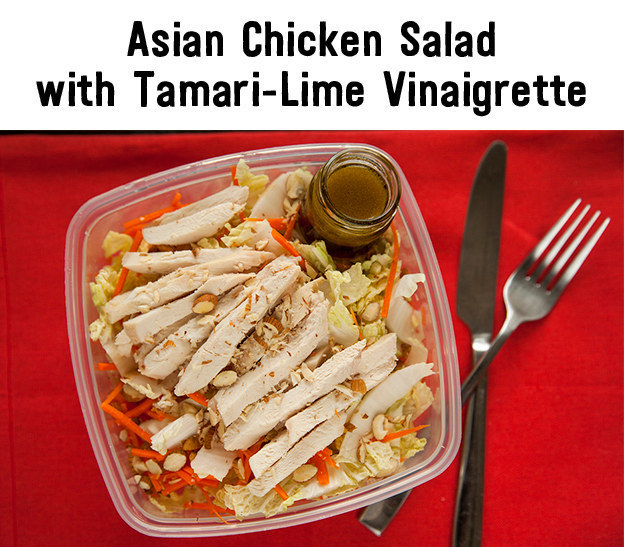 ASIAN CHICKEN SALAD WITH ALMONDS AND TAMARI-LIME VINAIGRETTE
Makes 1 serving
Ingredients
2 tablespoons Big Batch Lime Vinaigrette (leftover from Monday's dinner)
1 teaspoon tamari
½ head napa cabbage (leftover from Monday's dinner), thinly sliced
1 medium carrot, peeled and grated
2 tablespoons raw almonds, chopped
4 ounces Big Batch Roast Chicken Breast for women; 6 ounces for men (leftover from Sunday's dinner)
Procedure
Combine vinaigrette and tamari in a medium mixing bowl, and whisk together combine. Add cabbage, carrot, and almonds to the mixing bowl, and toss until everything is evenly mixed and coated in dressing. Transfer to a plate or bowl for serving. While chicken is still refrigerator-cold, thinly slice the meat, and lay the slices atop the plated cabbage salad.
If you're packing lunch to go: Combine all ingredients except the vinaigrette in a large Tupperware container, and pack the vinaigrette in a small container, separately. Refrigerate until you're ready to eat, and pour the vinaigrette over the salad at lunch time.
332 calories, 16.5 g fat (2 g saturated fat), 15.9 g carbohydrate (3.6 g fiber, 3.6 g sugars), 33 g protein, 462 mg sodium, 70 mg cholesterol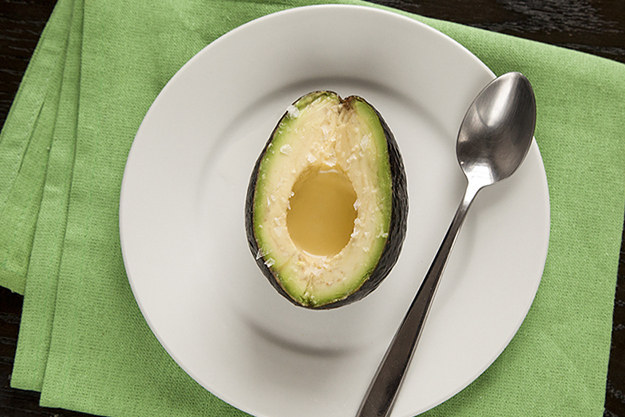 LEMONY AVOCADO
Serves 1
Scoop 3/4 avocado (leftover from Monday's dinner) out of the skin, then drizzle with the juice of 1/2 a lemon, and sprinkle with a pinch of kosher salt and freshly ground pepper.
If you're packing your snack to go: Pack the avocado (still wrapped tightly in plastic wrap) and lemon half in a small Tupperware container, and refrigerate. When you're ready to eat, squeeze the lemon juice over the avocado. If you don't have salt and pepper handy, feel free to skip it (it'll still be delicious).
223 calories, 20 g fat (2.8 g saturated fat), 13.2 g carbohydrate (9 g fiber, 0.9 g sugars), 2.7 g protein, 230 mg sodium, 0 mg cholesterol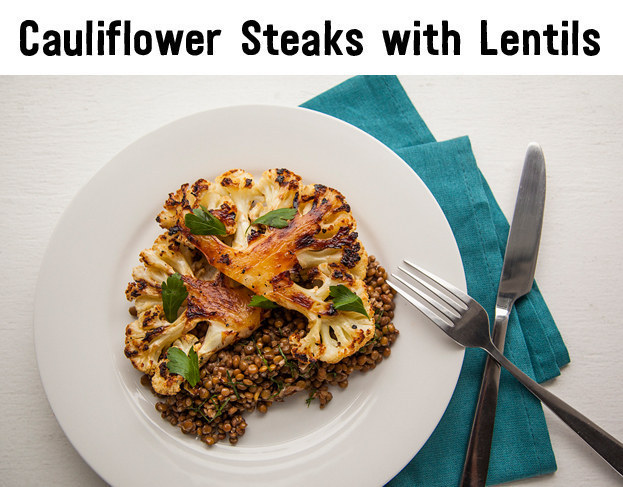 CAULIFLOWER STEAKS WITH LENTILS
Makes 1 serving
This recipe makes roasted cauliflower florets that you'll need to save for breakfast on Thursday.
Ingredients
1 head cauliflower
1 tablespoon olive oil, divided
1/4 teaspoon kosher salt, divided
freshly ground pepper
1 tablespoon chopped parsley, for garnish
1 cup Big Batch Cooked Lentils (recipe below)
Procedure
Preheat oven to 450°F and line a large rimmed baking sheet with parchment paper. Place the cauliflower head stem-side down on the cutting board and cut two 1-inch-thick slices of cauliflower from the center (the biggest part), starting at the top and cutting through stem end. Set the steaks aside and break the remainder of the cauliflower into bite-sized florets, then transfer the florets to a medium mixing bowl. Rub the two cauliflower steaks with 1/2 tablespoon of olive oil (total, so 1/4 tablespoon on each), transfer to the parchment-lined baking sheet, and sprinkle with 1/8 teaspoon kosher salt and freshly ground pepper. Roast the cauliflower steaks for 15 minutes, then flip the steaks and roast for another 15 minutes. The steaks are done when they're browned on the outside and tender on the inside. Meanwhile, toss the florets in the mixing bowl with the remaining olive oil, kosher salt, and freshly ground pepper. As soon as the steaks are done, transfer them to a plate, then put the florets on the parchment-lined baking sheet. Roast for 30 minutes, turning halfway through, until florets are crispy and dark brown (almost burnt) at the edges.
Put the cauliflower steaks on a plate and top with 1 cup of the lentil mixture, then sprinkle with parsley.
Let the cauliflower florets cool completely, then store in an airtight container in the fridge.
350 calories, 7.2 g fat (1 g saturated fat), 50.4 g carbohydrate (21 g dietary fiber, 4 g sugars), 22 g protein, 819 mg sodium, 0 mg cholesterol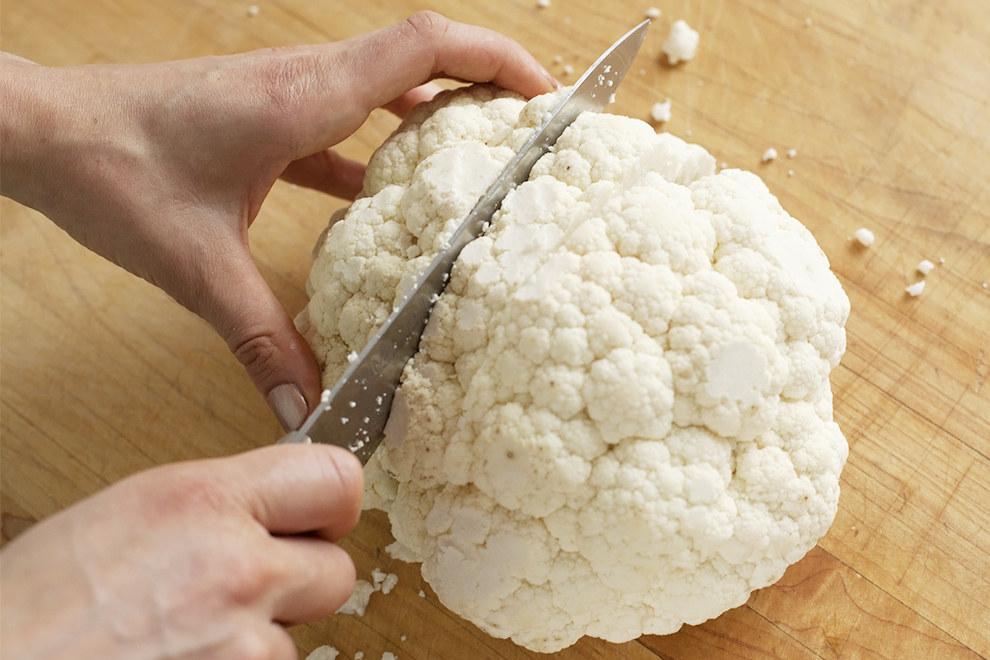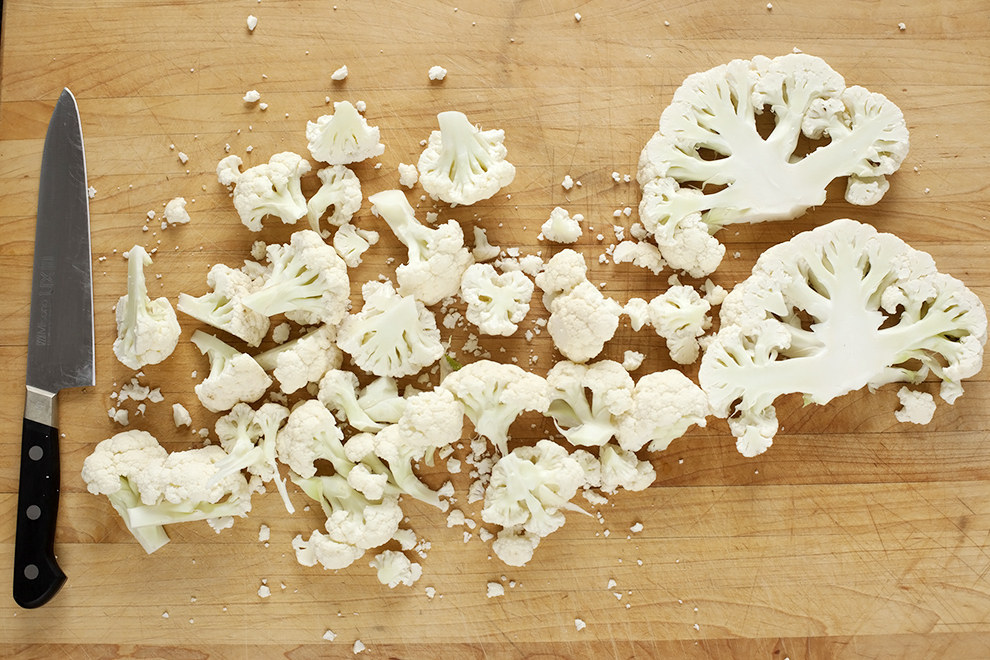 BIG BATCH COOKED LENTILS
Makes 2 cups
Eat ⅓ of the lentils tonight and save the rest for lunch on Wednesday and dinner on Thursday.
Ingredients
1 tablespoon olive oil
1 medium shallot, finely minced
2 garlic cloves, finely minced
1 teaspoon paprika
1 1/2 cups water
3/4 cup dry lentils, rinsed
2 tablespoons tamari, divided
1 teaspoon apple cider vinegar
1 teaspoon honey
Procedure
In a medium saucepan with a lid, heat oil over medium heat. Add minced shallot and garlic and cook, stirring frequently, until fragrant and starting to soften, about a minute. Add paprika, lentils, water, and 1 tablespoon tamari and bring the mixture to a boil over high heat. Reduce the heat to low, cover the pot, and simmer the mixture, stirring occasionally, for 45-55 minutes, until the lentils are tender.
Remove pot from the heat and let the lentils sit, covered, for 10 minutes. Stir in the remaining 1 tablespoon tamari, apple cider vinegar, and honey.
Cool completely before storing leftovers. Lentils will keep for up to 5 days refrigerated in an airtight container.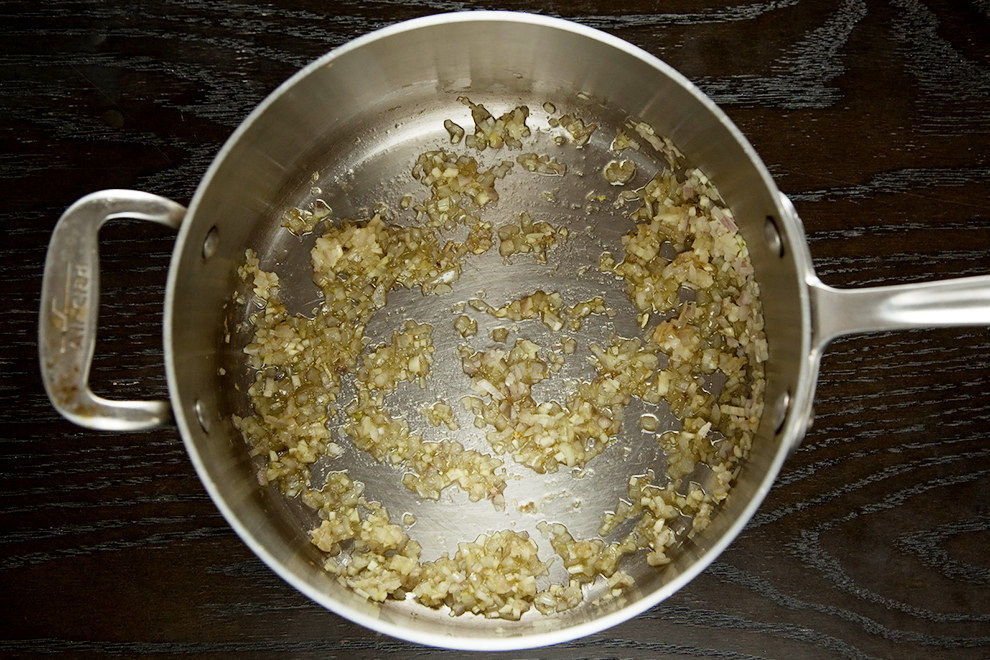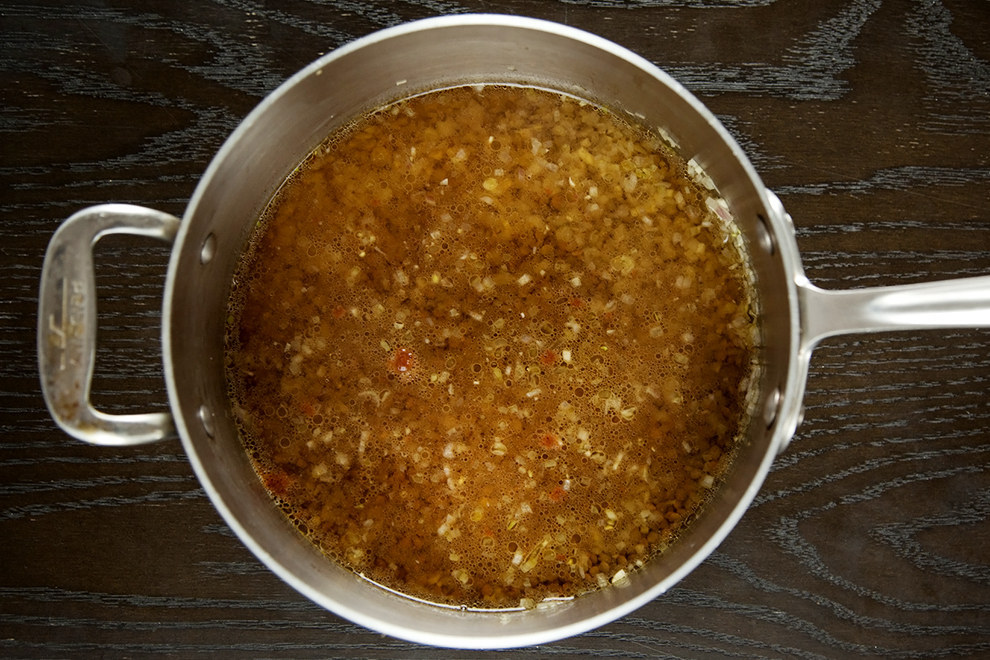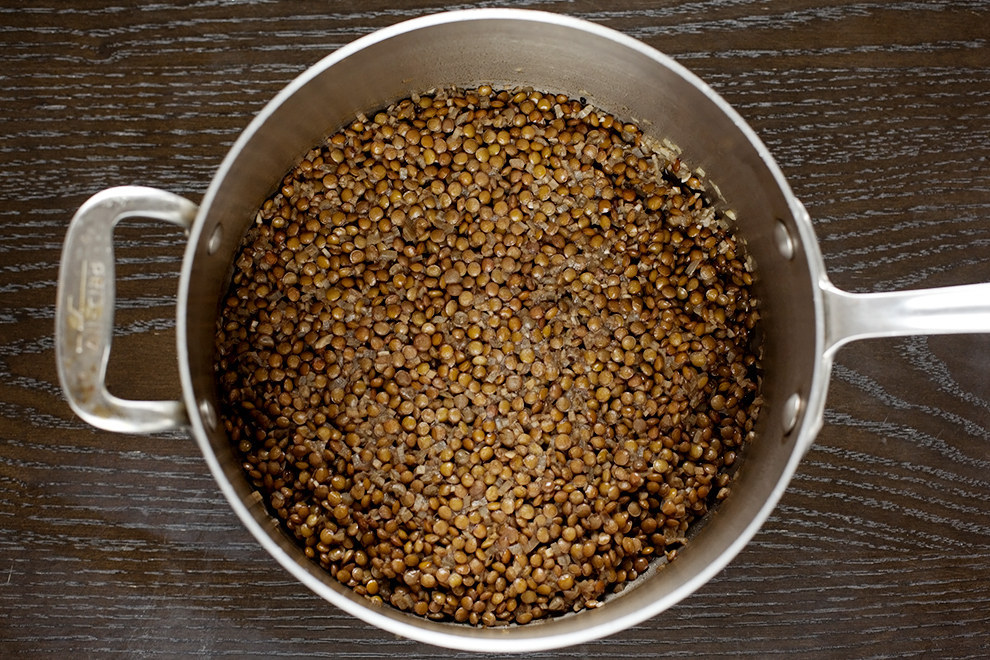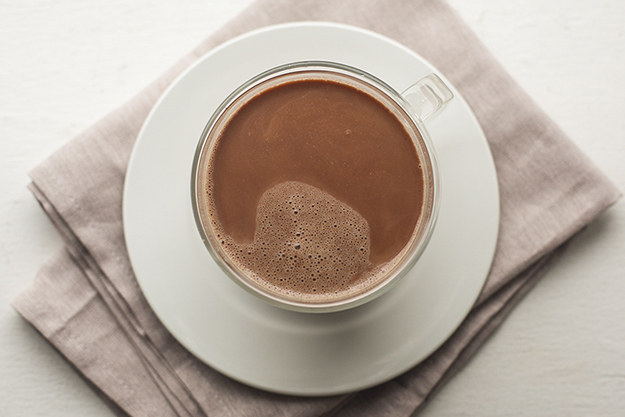 1 cup unsweetened milk heated with 1 square (½ ounce) shaved dark chocolate.
115 calories, 9.3 g fat (1.5 g saturated fat), 8 g carbohydrate (2.2 g fiber, 3.7 g sugars), 2.5 g protein, 367 mg sodium, 1 mg cholesterol
DAY 3 (TUESDAY) TOTAL NUTRITIONAL INFO:
1,334 calories, 66.2 g fat (7.9 g saturated fat), 113 g carbohydrate (45.4 g dietary fiber, 26.8 g sugars), 90.2 g protein, 1,993 mg sodium, 80 mg cholesterol
All nutrition is calculated for the amounts specified for women.

If you need to pack tomorrow's lunch to-go, you can do it now or in the morning: Assemble the Greek Salad With Lentils in a container and pack the vinaigrette in a separate container. You can't prep tomorrow's snack, which is a smoothie, until tomorrow morning.
Hey, you made it through Day 3!!!