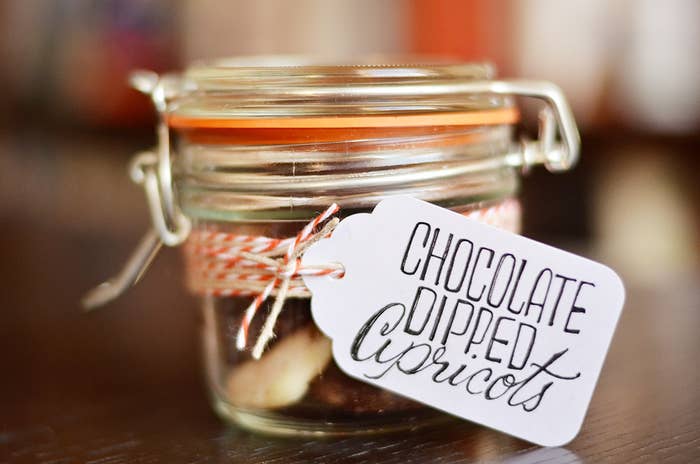 Chocolate-Dipped Apricots
Makes 4-5 cups, enough to fill 5 6.75-oz clip jars (pictured here
INGREDIENTS
4 4-oz bars of baking chocolate*, coarsely chopped
2 tablespoons canola oil
2 tablespoons butter
2 tablespoons heavy cream
3 cups (1 lb) dried apricots
*Any kind of good quality chocolate will work; don't use low quality white chocolate, because it won't melt very well . Also, you can use two different types, using one tablespoon heavy cream, one tablespoon canola oil, and one tablespoon butter for each.
Special equipment
2 baking sheets
Parchment paper or wax paper
Small pair of tweezers, for dipping apricots (optional)
PREPARATION
Line 2 large baking sheets with parchment or paper and set aside.
Put chocolate, oil, butter, and heavy cream in a large microwavable bowl. Microwave on high in 30 second intervals, taking out the bowl and stirring with a rubber spatula between intervals, just until the chocolate is completely melted and the mixture is smooth.
Dip the apricots individually into the melted chocolate, using tweezers if desired, covering as much of the apricot's surface as possible. Place dipped apricots on the parchment lined baking sheets as you go, then refrigerate the apricots for at least 30 minutes on the baking sheets.
When chocolate has set, transfer apricots to gift jars (don't overcrowd the jars, as that will crush the apricots). They will keep for up to 2 weeks in an airtight container in the refrigerator.