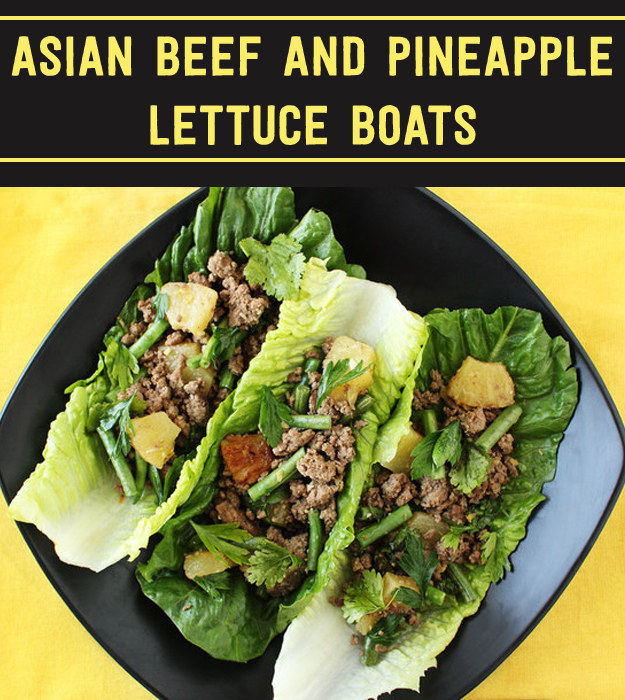 This is a great weeknight dinner because it's fun but not too filling, and because it comes together really quickly. I made it with beef, but it would work with any kind of ground meat, although anything less than 15 percent fat (85 percent lean) will taste a little bit dry. Fresh pineapple is best, but canned pineapple is fine in a pinch. And if you don't like parsley or cilantro, you can substitute any leafy green herb (basil, mint and tarragon would all work well).
Asian Beef and Pineapple Lettuce Boats
Recipe by Christine Byrne
Serves 4
INGREDIENTS
1 tablespoon canola oil
2 tablespoons minced fresh ginger
8 cloves garlic, minced
kosher salt
freshly ground pepper
1 pound ground beef (85 percent lean is best)
1 cup green beans, cut into 1-inch pieces
1 cup pineapple, cut into rough 1-inch cubes
2 tablespoons fish sauce (substitute 1 tablespoon soy sauce if you want)
juice of 2 limes
1/4 cup cilantro leaves
1/4 cup parsley leaves
12 romaine leaves (from 1 large head or 2 small heads)
PREPARATION
Heat oil in a large skillet — preferably cast iron but stainless steel will work, too — over medium heat. Add minced ginger and garlic and season with a pinch of salt and freshly ground pepper. Cook, stirring occasionally, until the ginger and garlic are aromatic and starting to turn light brown, about 1 minute.
Add ground beef and season with another pinch of salt and freshly ground pepper. Stir everything together so that the ginger and garlic are evenly mixed into the ground beef. Cook, stirring occasionally, just until the beef is cooked through, about 4 minutes.
Add green beans, pineapple, and fish sauce to the ground beef mixture in the skillet. Stir together and continue to cook, just until the green beans and pineapple are slightly warm, about 1 minute.
Turn off your burner so that the skillet is off the heat. Add lime juice, cilantro, and parsley, and stir everything to mix it all together evenly.
To serve, lay three romaine lettuce leaves down on each of your four plates, so that the plates are almost entirely covered. Spoon the ground beef mixture into the lettuce boats, dividing it evenly among all of them.