Apparently some people have felt the need to discuss whether or not our Queen, Carrie Fisher, has aged "well" after seeing Star Wars: The Force Awakens.
Since Carrie Fisher isn't one to sit and watch people shame her for aging like the normal human being she is, she took to Twitter to silence the ungrateful plebes.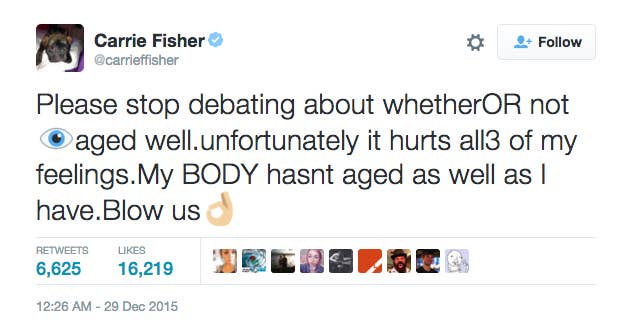 Translated in less Twitter-speak:
Please stop debating about whether or not I have aged well. Unfortunately, it hurts all three of my feelings. My body hasn't aged as well as I have. Blow us, OK?
DON'T RUIN CARRIE FISHER'S RETURN TO THE BIG SCREEN FOR THE REST OF US, SHAMERS.
Girl, you flawless.