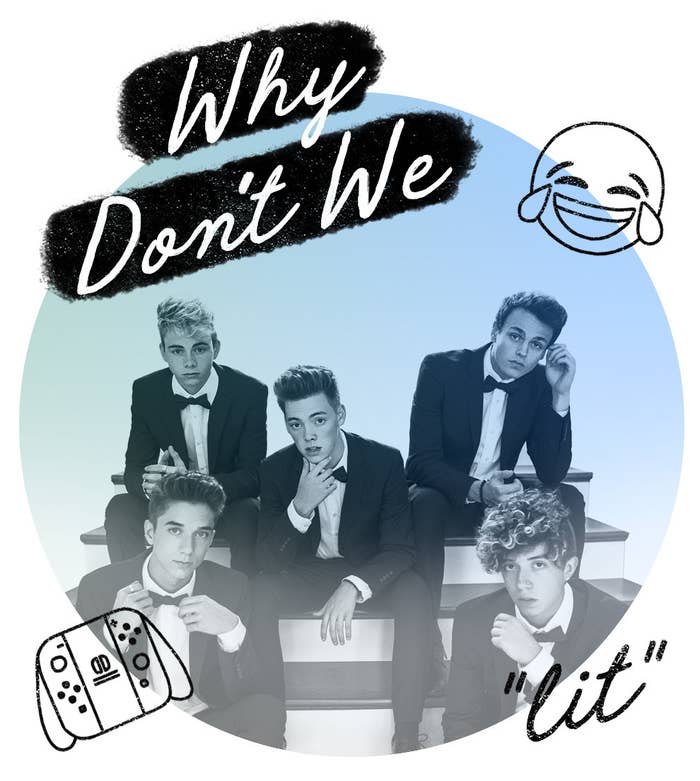 1. What the first thing you do in the morning?
Jonah Marais: Drink some coffee!
2. What's your go-to Starbucks order?
JM: Venti Caramel Latte
3. What's the one word you are guilty of using too often?
JM: Lit.
4. What is the last thing you searched for on Google?
JM: "How old is Hailee Steinfeld?"
5. Who is the last person that called or texted you?
JM: My sister Esther
6. What's the wallpaper on your phone and/or computer?
JM: My brother and I at his wedding!
7. What was the last awkward situation you were in and how did you handle it?

Corbyn Besson: This adorable little girl at a meet-and-greet clung onto my leg and wouldn't let go no matter what, so we had to get her mom to come and pull her off. It was so cute.

8. What is your TV guilty pleasure?

CB: Stranger Things
9. What's the first CD you bought?

CB: A Justin Timberlake CD! "Sexy Back" is my song, yo.

10. And what music are you currently listening to?

CB: I've been listening to Beach House 3 by Ty Dolla Sign a TON lately. Such a dope album...
11. What is the one food you cannot resist?

CB: Penne alla Vodka pasta. It's too dank.
12. What movie makes you laugh the most?

CB: Happy Gilmore

13. What toppings do you like on your pizza?

Jack Avery: Pepperoni and sausage.
14. What drives you absolutely crazy?

JA: People chewing with their mouth open.
15. What was your first online screen name?

JA: "Beatboxingjack."
16. What's the last thing you copied & pasted on your phone?

JA: A password for my Nintendo Switch.
17. What's one word that makes your skin crawl?

JA: Cigarette.
18. What's your favorite emoji?

JA: The cry-laughing emoji.

19. Pick one: Kittens or puppies?

Zach Heron: Puppies.

20. New York or Los Angeles?

ZH: Los Angeles.
21. Twitter or Instagram?

ZH: Instagram.
22. Bacon or Nutella?

ZH: Nutella.
23. Britney or Christina?

ZH: Britney.
24. Coffee or tea?

ZH: Coffee.
25. NSYNC or BSB?

Daniel Seavey: Beatles.
26. 2 a.m. or 2. p.m.?

DS: 2 p.m. The later, the better.
27. Beyoncé or Rihanna?

DS: Rihanna.
28. Netflix and chill or just Netflix?

DS: I'm too busy for either!
29. Hannah Montana or Lizzie McGuire?
DS: Lizzie McGuire. Had a crush on her since I was 5. Still going strong.

30. And finally: tell us a secret.

DS: Jack's hair is a perm.
Make sure check out Why Don't We's current single, "These Girls," and their holiday EP, A Why Won't We Christmas, available now!