While I was panting and struggling to catch air for my lungs to be filled, I thought of you. I often get reminded that strong people also need someone at times. Not everyone is strong for a long time.
To me, it still hurts. I often get reminded of the things you've let me experience while being blinded by the person you thought was the one for you. In my mind, I became a puppet of yours; tied under yarns of commandments you wanted me to do. I got controlled unconsciously and that, to me, is the worst feeling in the world. No one wants to be controlled, but I did it anyway because you are my friend. I got used to this routine you placed on me for six months.
It was long enough to make me feel tired and worthless. I might be branded as the class clown, but deep inside; the clown has removed his make-up and is crying at night.
Under dim lights and acoustic strings strummed by the guitarist, I spotted you. Wearing the blue jacket designed to look tattered in print and sports a good hoodie for all sorts of weather. By just looking at your arched back and brushed up hair, I knew it was you. I walked in a calm manner towards you and played with your hair while saying 'Hi!' in the most casual way possible.
I pulled the chair and sat down with you. I remember your cracking voice coaching to go far behind because you're smoking packets of cigarettes.
You never stopped smoking after a countless people like me told you to.
You coughed a bit and tapped the cigarette slightly above the ashtray. I stared at your eyes which are half shut at the time and twitching beyond your control. You looked at me with a smiling face I never thought I would see again after your relationship with him. You still have the set of teeth I used to smile with. They're not perfect like mine but they are more straight than most of the people I know. You said 'Hi!' in return and gulped some beer. You told me it was your fourth bottle and I nodded in approval.
"Thank you for accompanying me." you said with a smile and an alcoholic breath of some kind.
It smells like barley and those seeds you brew in to produce the drink that you gulp. I sat in silence and listened to the band that's playing on the mini stage in front of us. It was an OPM song I secretly played to ease off things – Spolarium by the Eraserheads. I may have sat in silence but in my heart, I am singing every line with conviction and passion.
You rested your head on the table simultaneously while I sing my heart out in silence. The song has come to an end and my heart still races due to the distance I ran to be in this bar. The absence of jeepneys in the lonely hours of Baguio City has taken its toll on me.
The music kept on playing while you tell me the stories I never heard of before. It went from family to relationships in a snap and I just swam along the seas of your heartbreaks and heartaches. You asked me why I'm not speaking and I said I'm just thinking. I really was thinking.
I'm thinking of ways to help you but I know my ideas won't seem to work because you'll just deflect all of it. Again, you rested your head on the table and closed your eyes.
I saw an angel who fell out of the sky and had broken wings that used to fly. You are the angel who never got back to the heavens when he fell due to the weight he was carrying on his barely-strong-enough wings.
You opened your eyes as the song changed into another heartbreak one.
"It takes one way, two say, three words, four you." as the lyrics suggest.
The song phrases were some witty puns and it totally worked for the song.
"I love you." it continued.
What a way for the world to reveal its message on me.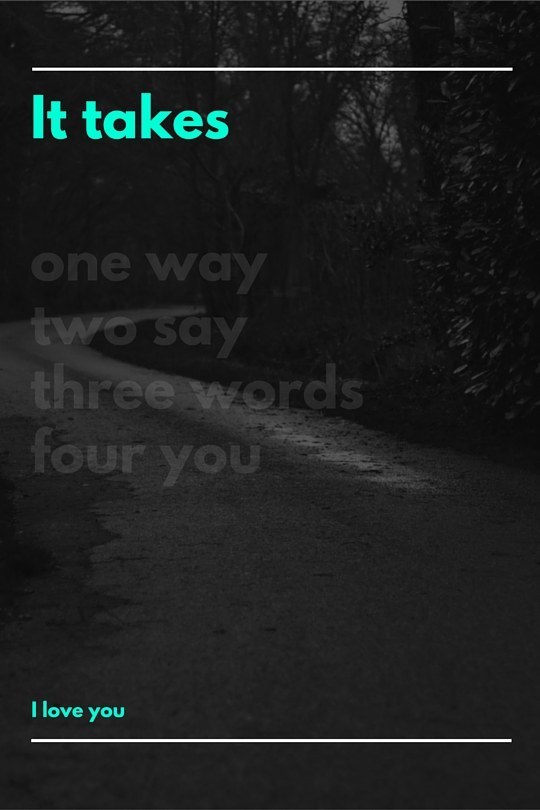 You told me one last story before you gulped the last shot in your beer bottle. You paid your bill and together, we stood up. For an hour and a half, I knew you more. I'm thankful that you showed who you are in the effect of the alcohol in front of me. You showed your true colors and suddenly the bar's lighting got brighter before we stepped out of the room filled with nicotine and alcohol. You hailed a cab and told me to share it with you. I couldn't say no and just rode it.
Inside the cab, I once again flicked your hair and laughed at you. Your hair's all greasy and made me cringe. I made a gesture to wipe off your hair wax on your jacket and cringed at you. A few moments later, I'm home. Again, I flicked your hair, hugged you, and said good bye. I whispered, "You'll be alright." and shut the door of the cab.
I watched the cab take you away from me. Your silhouette tells me you're asleep inside the white SUV.
AYG 375
I walked away from the pavement and went straight through my apartment. I untied my shoes and removed my socks. I sat for a while and began to smile.
Maybe nothing has changed between the two of us. Maybe you are still the first college friend I met in the summer of 2014; the friend I easily got attached to. It's still the same hair I flicked through back then. It's still the same smile I saw before. It's the same person I learned things with.
Depth.
The understanding we have for each other has changed in the past two years. I've learned how to deal with people because of you. A thousand, or more, personalities reside inside your small body. I learned to interact with each one of them in the past years
Maybe I've learned to have boundaries. Maybe I've learned to distance myself. Maybe I learned not to be attached anymore. I've got too close to the flame and it burned me to a crisp. But as they say, "Sometimes you win, sometimes you learn."
I never told you I never wanted you to be my friend again. I only said maybe it will take time. Only fate can tell us if we continue or it all ends here. I'm trying. It's the hardest decision I will make and it takes a lot of thinking. I hope you don't get tired of me. I hope you don't dry up like how you ended it up with him. I hope you still continue to wait even if it takes some time.
It was a night full of memories for me. Some may retain and some I might forget in the near future. But I kept a tissue you wrote on some aches you have and it will remind me of tonight.
But for you, you'll forget me in the morning.