Fall is officially here, people! For most of you, it's a glorious time of year filled with cozy sweaters and hot beverages.
But for us in L.A., it's still hot AF.
While your trees begin to turn gorgeous colors...
You can't wait for the weekend to do cute fall things, like apple picking.
But over here, we can't wait to get back to work.
You get to look all ~cool and effortless~ in your layered looks.
Meanwhile, we feel like this whenever we try to wear a leather jacket.
And, sure, you might sport a beanie to actually keep your head warm.
Out here we're pairing them with tank tops because we don't GAF.
Running outside is a breeze when it's a crisp 60 degrees!
While we're over here like...
While you're trying to decide which pair of cute boots to wear...
We're over here trying to make use of our *one* pair.
You'll probably go on a fun hayride in the coming months.
We'll just be lying on top of our sheets completely naked.
While you sip on your pipin' hot PSLs...
So continue to make those glorious apple and pumpkin pies, people.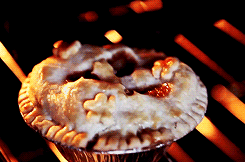 Because for us, it's just another reason to sweat.