Look, I love junk food. I also love makeup. So I tried to combine the two ~without anyone noticing~ because I am a secret freak like dat.
And, yes, I am fully aware you can dye your skin with beautiful, earthy things like raspberries, blueberries, and beets, but my favorite food is Doritos so that shit ain't for me.
But first, A BIG FAT DISCLAIMER: Your skin can become really irritated or even develop an allergic reaction if you put random-ass food on your face, so ask a dermatologist or test it on a patch of skin first.
Also, never, ever put food near your eyes, even if it looks hella enticing. (I see you, Oreo mascara.)
OK, now for the good part: DA SNAX.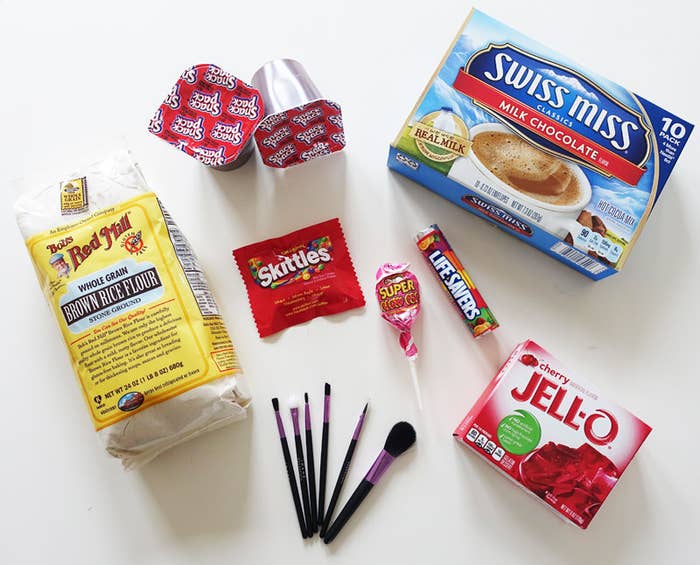 This is what I look like without food on my face.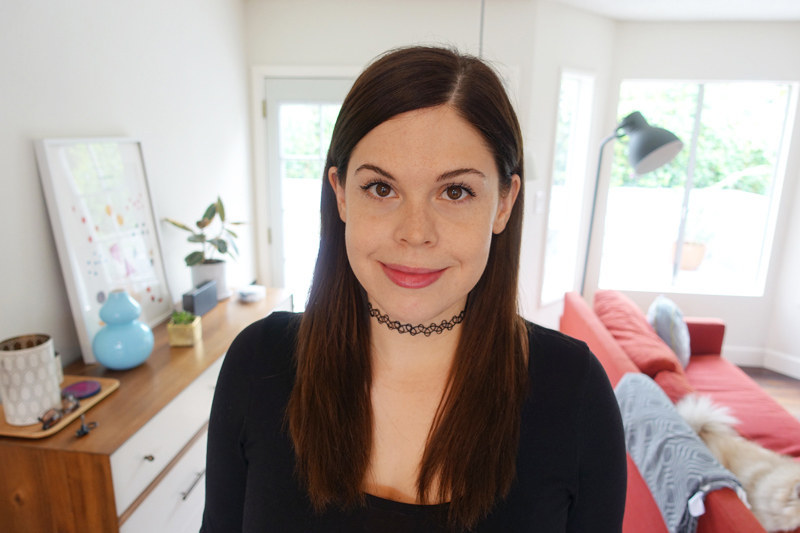 First up, the rice flour "foundation."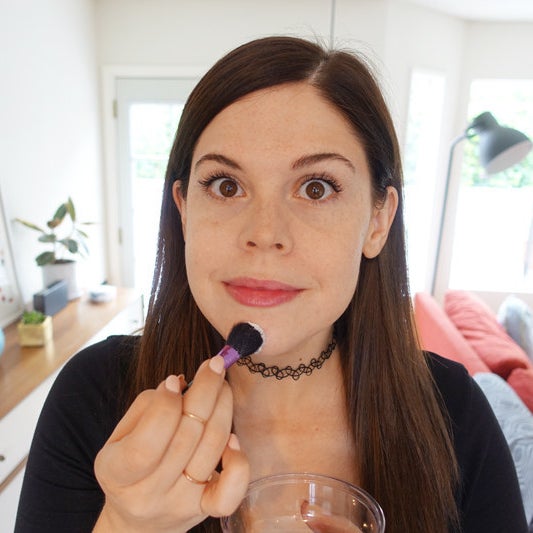 Why I chose rice flour: IDK, it seemed the most like loose powder and kiiind of matched my skin tone?
How it compares to real makeup: This shit gets everywhere, and as a person who wears black twenty-four-sevs, half of it was on my boobs before I finished. Also the granules are a lot coarser than traditional makeup, so up close it kind of looked like my face had dandruff. CHIC.
Oh god, Skittles as blush.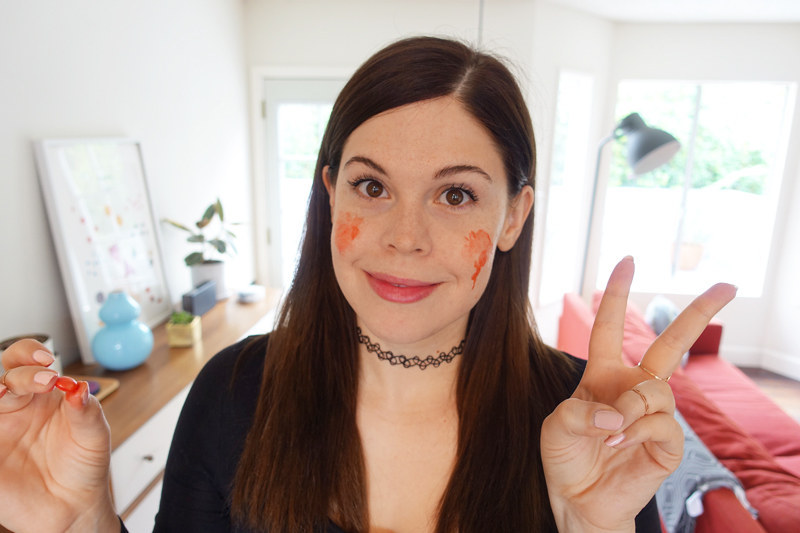 Hot chocolate bronzer tiiime.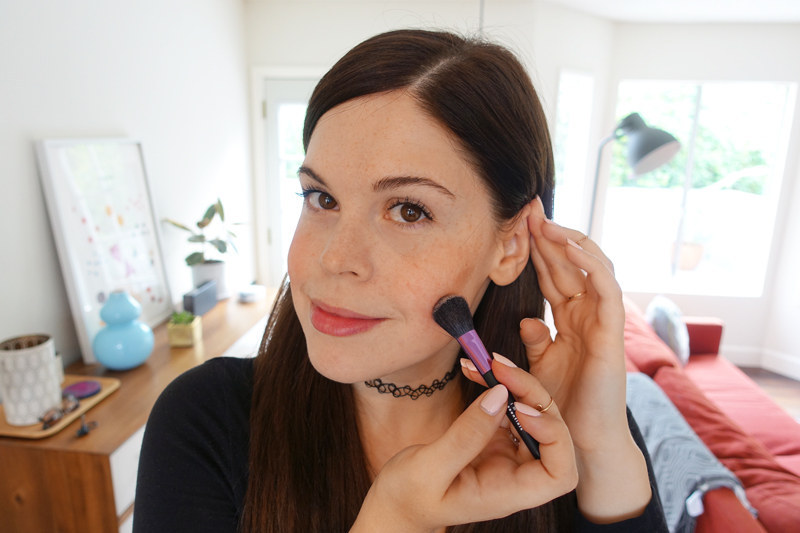 Mmm, chocolate pudding eyebrows.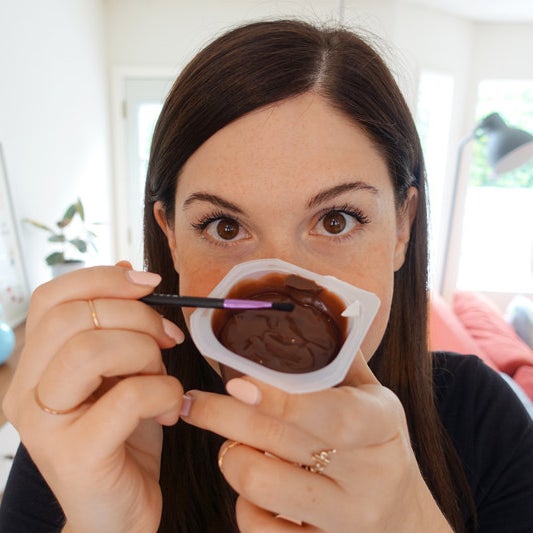 Why I chose chocolate pudding: Well, as a person who has dark brown hair, I needed something dark that would also give me that brow gel-like control. Nutella might've also worked, but I'll never know since I ate it.
How it compares to real makeup: I used an angled eyebrow brush to give me that ~precision~, and if you're realllly patient, you can actually get this to work. After it dries you might have to pick away some chocolate bits, but it's worth it to feel like a bo$$-a$$ bitch walking around with puddin' brows all day.
Blow Pop lip gloss, y'all.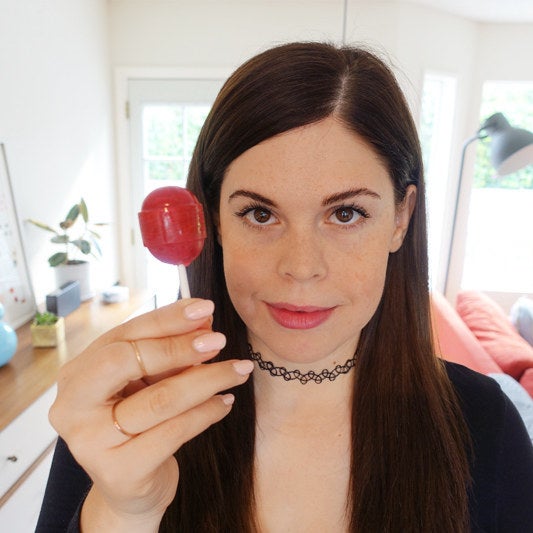 Why I chose a Blow Pop: Uhhh, you can't not get a Blow Pop to stain your lips, so I figured it would work.*
How it compares to real makeup: It gave a great glossy lip, but it didn't give me that pop (heh) of color I wanted.
*I'm not gonna show you how because I don't want to end up on some freaky-ass site.
Next, the Jell-O lip stain.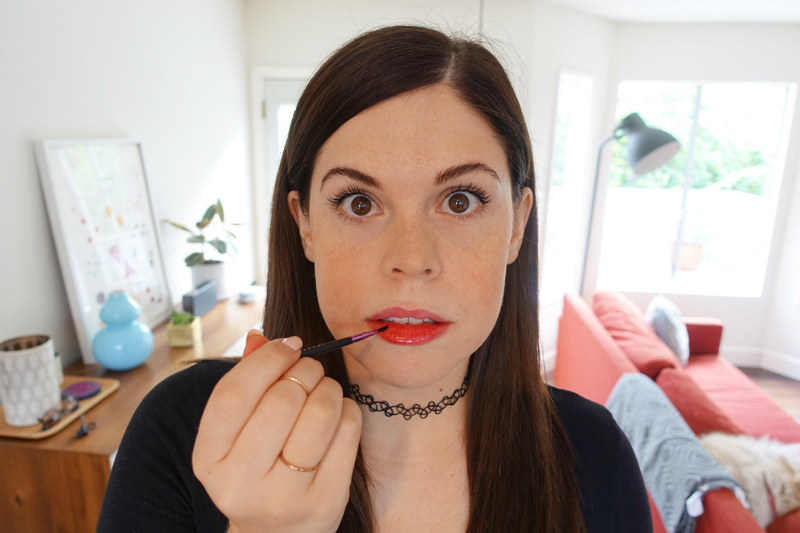 The final look + Life Savers.
Before I left the house, my boyfriend refused to kiss me.
He watched the whole thing go down, so when I went in for a goodbye kiss, he quickly dodged my face and said, "I don't want any Skittle juice on me."
At work, my co-workers could actually smell the sugar on me, but mostly no one noticed.
One person said, "You smell really sweet!" but otherwise no one cared. I also might just not have any real friends. Either way, I was afraid to smile all day because my puddin' brows might crack — they were rock hard at this point — so maybe I'm the rude one.
After lunch, I needed to reapply my ~lipstick~.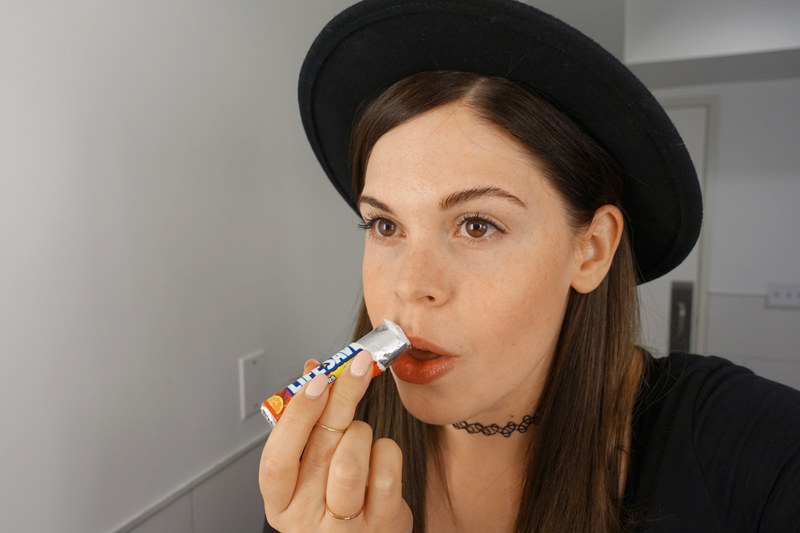 After work, my puddin' brows became immortalized.
Final thoughts!