On Friday the general election campaign was spiced up by an unknown teenager.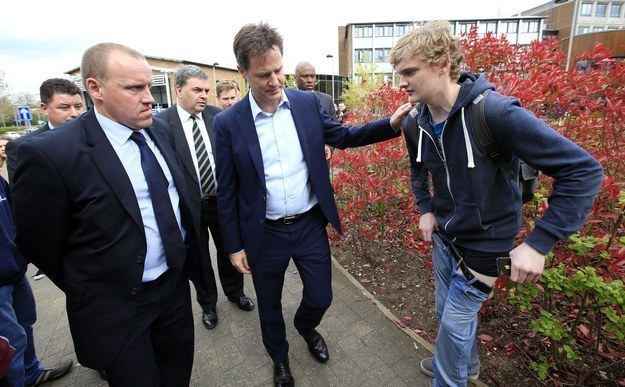 Video emerged of a student outside Solihull College trying to take a selfie with Nick Clegg, and his trousers falling down.
The student's motives were unknown, as was his identity. But BuzzFeed News has tracked down the election trouser-dropper.
17-year-old drama student Will Carrie was the teen who confronted Clegg -- and has confirmed it was an accident.
"I go to Solihull Sixth Form," he explained. "I was waiting for my mate outside the college for him to finish, and when I was there I saw Nick Clegg come past, went for a selfie, and the rest is history.
"It was a complete accident," he adds. "I wouldn't even think of doing it deliberately."
"They're just jeans that are too big for me, really," he said of the moment when which was broadcast to millions of people on TV news bulletins on Friday night. "The waist is too large, and they're always slipping down."
In a possible boost for West Midlands retailers enduring tough economic times, Carrie confirmed that the publicity had cajoled him into buying a new, better-fitting pair of jeans.
"I'm definitely getting new jeans -- ones that actually properly fit. I've had these jeans for year. I did lose quite a lot of weight, so that probably contributed to them being so big on me."
When Carrie told his family what had happened, they didn't believe him.
"Once I'd shown them the article on the Birmingham Mail, they couldn't believe that happened in front of all those cameras. I think they were embarrassed for me. my older brother thought it was funny."
Nick Clegg even used the moment to make some political points.
The teenager is shrugging off the attention the embarrassing moment has brought him.
"No one's tried to be mean to me," he said. "At first I was completely mortified and embarrassed by it, and as every new news post came up I got more embarrassed, but then I just thought I might as well laugh it off. This will be forgotten about soon enough. I suppose I could tell people about it in the future as my most embarrassing moment."
As a 17-year-old he couldn't vote anyway, Carrie says he probably wouldn't take party anyway.
"I couldn't side with one party," he said. "It's just something I wouldn't do, voting. I think it's just a lack of interest in politics. I suppose they could put more focus on younger people to get us interested. If I'm being told, 'This affects you and this is how I'm going to change it', then that's more likely to get my interest."
He's also not too fussed by the Lib Dems' decision to vote to put up tuition fees: "I suppose like any other student who would go to uni, I don't agree with putting up tuition fees," he said. "But to be honest politics is just something I don't take any interest in."
Carrie was mainly just "disappointed about not getting the selfie".
"I actually would like to apologise to him, in case it's had a negative impact on him in any way. I just wanted the selfie and hopefully I didn't cause him any embarrassment."
Chris is a freelance writer for BuzzFeed, The Economist, The Sunday Times and the BBC, based in the UK.
Contact Chris Stokel-Walker at chris@stokel-walker.co.uk.
Got a confidential tip? Submit it here.