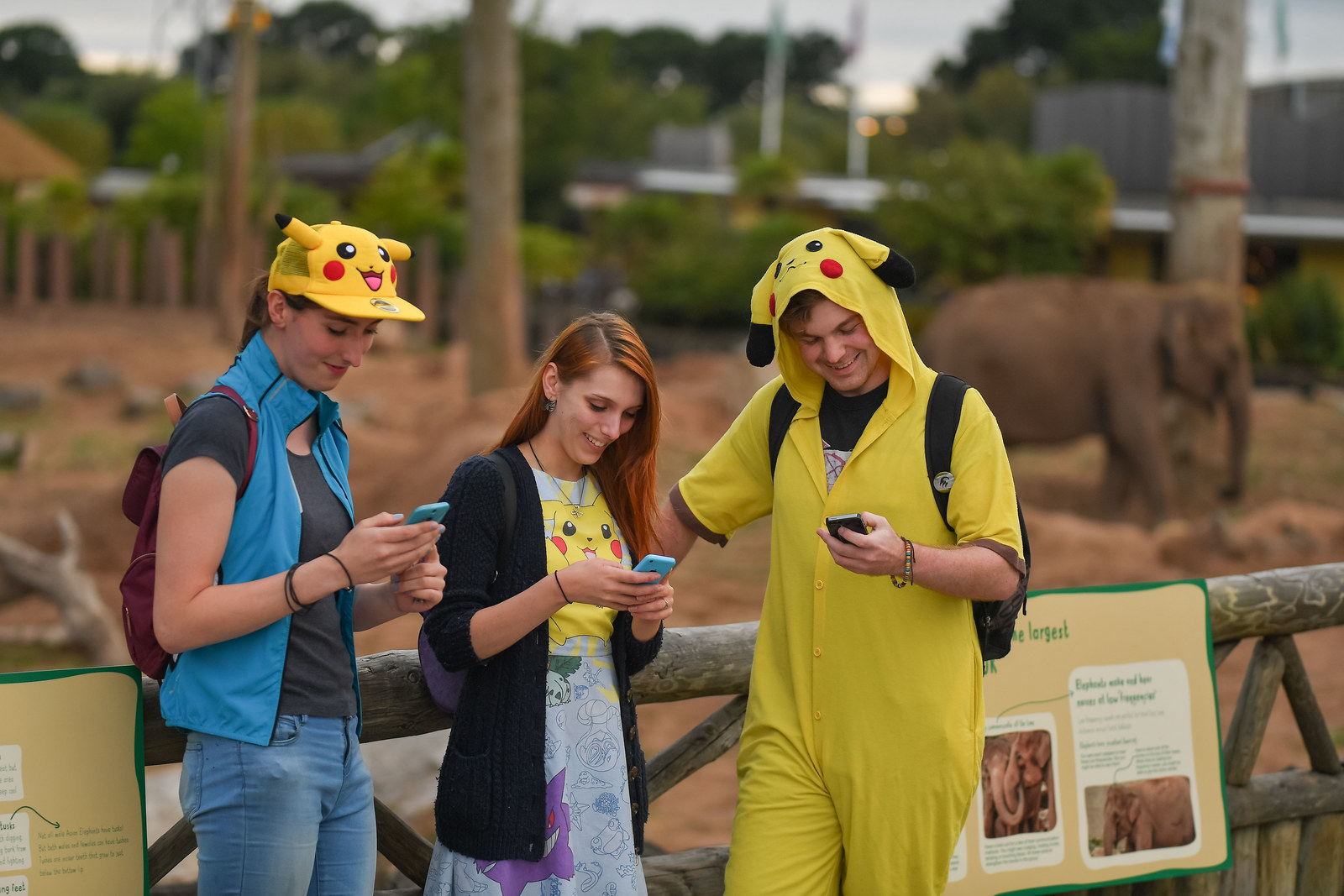 Britain's zoos have made tens of thousands of pounds by opening up their doors to a different kind of wildlife fan – Pokémon Go players.
Research by BuzzFeed News into four zoos who have opened their gates after-hours found that £81,545 has been raised from players ignoring the real wildlife on show in favour of augmented reality Pidgeys, Pikachus, and Poliwhirls.
Zoos charge between £3 and £5 for access outside of opening hours at specific Pokémon Go nights where players can focus on "catching them all" without tourists wanting to see actual wildlife getting in the way.
More than 21,000 players have paid for attendance at eight different events at Edinburgh, Chester, Bristol, and Paignton zoos since the game's release in the UK in mid-July. A fifth zoo, Dudley, held four additional weekly events in August, but was unable to supply the number of attendees or how much was raised.
The money raised – including £47,000 from three events at Chester Zoo after most patrons had left – helped fund conservation efforts at the zoos.
An estimated 5,000 Pokémon Go hunters attended two events at Bristol Zoo, paying a total of £8,000 for entry that will be put into the zoo's conservation fund.
The events proved so popular that 1,000 players were turned away from one evening after 2,000 people were let in.
Chester Zoo has directed the £47,000 it raised from 9,500 attendees at three separate hunts to individual projects it runs.
£17,000 from the first event it held in August will go towards ensuring critically endangered songbirds in Indonesia are protected. £20,000 raised at the second event will be put into tackling elephant endotheliotropic herpes virus, a disease for which there is no current cure that affects young elephants.
£10,000 raised at the third event, held on 7 September, will go towards conserving species like the golden mantilla frog in Madagascar.
Chester Zoo boasted last month of a 33.3% catch rate for Magikarps at its aquarium, and 33 Pokéstops and five Pokémon zoos in its grounds.
At several of the zoos players are warned not to enter enclosures where there are live animals in order to catch Pokémon.
Many of the zoos contacted appeared happy with the outcome of their hunts.
Phil Knowling, from Paignton Zoo Environmental Park in Devon, told BuzzFeed News in an email: "We were delighted, not least because it was organised in just one week and took off entirely because of social media.
"People loved it – the atmosphere was great, the food was great and hardly anyone walked into a tree because they were too busy studying their iPhone…"
Knowling added: "As a conservation and education charity, we are always looking for inventive ways to raise money and spread the word to new audiences.
"It may seem odd to bring people into the zoo to look for imaginary animals when they are surrounded by real ones – maybe there's a sad point to be made that one day, if the human race doesn't mend its ways, alI animals will be imaginary…"
Chris is a freelance writer for BuzzFeed, The Economist, The Sunday Times and the BBC, based in the UK.
Contact Chris Stokel-Walker at chris@stokel-walker.co.uk.
Got a confidential tip? Submit it here.