Brendon Ayanbadejo Calls On Athletes To Pave Path For The Gay Jackie Robinson
"Just like Jackie, the breakthrough gay athlete will be a courageous individual going it alone in uncharted territory. But, also like Jackie, he will have backup — and hopefully more of it," the Baltimore Raven writes. And, a Viking already is backing him up.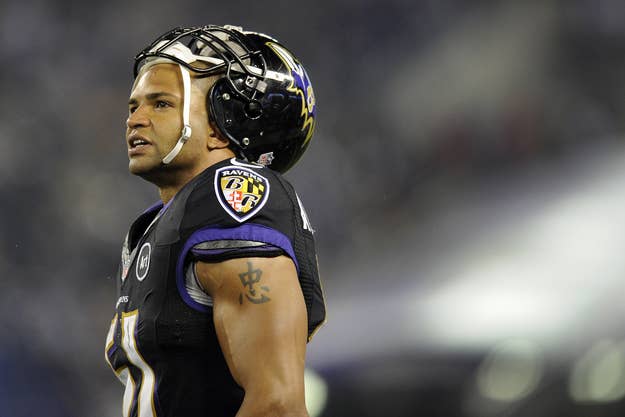 WASHINGTON — Baltimore Ravens' linebacker Brendon Ayanbadejo says now is the "moment just before history is made ... as we wait for the arrival of the first openly gay man in U.S. major professional team sports" in an op-ed published Wednesday in USA Today, invoking the memory of "Jackie Robinson crossing the Major League Baseball color barrier."
"This is our time and our cause. ... It's a gesture; it's a pledge; it's solidarity at its most basic. Our Jackie is coming. We need to pave the way," he writes of the first out gay major leaguer.
Ayanbadejo, who has been an outspoken advocate for marriage equality in Maryland and around the country, has stepped up his activism following Sunday's Super Bowl victory, appearing on CNN to talk about LGBT issues — yes, anti-transgender discrimination as well as anti-gay discrimination — and has now penned an op-ed on the moral cause for equality.
Referring to the trailblazing Jackie Robinson, Ayanbadejo writes, "Just like Jackie, the breakthrough gay athlete will be a courageous individual going it alone in uncharted territory. But, also like Jackie, he will have backup -- and hopefully more of it."
Indirectly responding to comments opposing an out athlete made by the San Francisco 49ers' Chris Culliver and others making less-than-supportive comments, Ayanbadejo writes:
Together athletes in all four of our country's major sports leagues -- the NFL, MLB, NHL and NBA -- can be more than good men. Since human rights are far more important than sports, we need to be Athlete Allies who are willing to leverage our social capital and all that goes with it — like fans, endorsement deals and more — to stand up for a larger purpose. ...

There are many reasons why no gay athlete has come out in the NFL, NBA, NHL or MLB, most of which are likely to go away with support and acceptance from the straight community. As leaders and even role models for millions of young people across the globe, professional athletes have the ability to fundamentally eliminate prejudice from our sport and live up to the incredible privilege we enjoy. ...

The NFL, MLB, NHL and NBA should and can be leaders against discrimination. Whether you're a commissioner, an athlete, a coach or a fan, your voice will let every kid out there know that there is a place for him or her in sports. We all can be ourselves and still compete with dignity and at the highest level.
Chris Kluwe, punter for the Minnesota Vikings, also has been outspoken about marriage equality issues — cutting an ad to oppose the November 2012 proposed amendment to ban same-sex couples from marrying in Minnesota — and praised Ayanbadejo.
"I stand with Brendon and every other person, athlete and non-athlete alike, who says that discrimination in any form is not the legacy we will hand down to our children. I am proud to be an Athlete Ally, and I hope others will join us in treating all people with compassion, dignity, and respect. A gay player in sports is not defined by their sexuality, but by how they play, and I support any player who wishes to be him or herself with everything I have. Treat others the way you want to be treated," Kluwe said in a statement provided to BuzzFeed.
Brian Ellner, who is on the board of Athlete Ally and had garnered support from athletes for New York's 2011 marriage equality bill effort, added, "Brendon's been amazing. An Athlete Ally extraordinaire, he carried LGBT rights all the way to New Orleans and the Super Bowl. Back in Maryland, he'd already helped us win marriage equality. Now he calls for our Jackie Robinson and sends a message to gay athletes around the globe that it's time to come out and that there are professional athletes ready to embrace them."
In a statement, Athlete Ally founder Hudson Taylor said, "The Ravens won the Super Bowl relying on unbreakable unity and trust. It's those elements of a team that are completely compromised when athletes are forced into the closet. We applaud our Super Bowl Champion and Athlete Ally Brendon Ayanbadejo for making his voice heard."