This post has not been vetted or endorsed by BuzzFeed's editorial staff. BuzzFeed Community is a place where anyone can create a post or quiz.
Try making your own!
Show Me The Money - LSE Pays Lip Service To Disability
A disabled student has suffered 12 months of mismanagement and lack of compassion by a top UK university. The LSE student has been placed in unsuitable accommodation, been declined requests for compensation or help, and has been left in a situation whereby her education, health and career prospects have been impacted. This story highlights the shocking lengths universities are going to in order to extract money from their students, with little or no concern for their welfare!
A friend of mine has asked me to share her nightmare experience at LSE, and this post details her story. There is also a petition directed at LSE to rectify the wrongs, and to treat disabled students with humanity, please see the link below the story:
Almost one year ago, I left New York to come to London to pursue a masters degree at the London School of Economics and Political Science. Little did I anticipate just what nightmare lay ahead of me, to the point where today my health, education and career have been severely impacted.
A severe lack of compassion or competence from LSE Residential Services and its affiliated student accommodation providers has driven me to publish my story as I wish to improve standards of care from a university that should be doing much better.
One of my greatest concerns prior to leaving New York was having a place to live that would allow me to be comfortable, as I have a disability and a physical injury that, although completely manageable, require vigilance to prevent upsurges of pain and the ability to be fully present.
Stage 1: The phantom room
Having been accepted to the LSE MSc Environment and Development course, I went through LSE's residential allocation process. Having been given an offer of a "single" room at the Sidney Webb LSE hall, I accepted and contacted LSE residential services to inform them of my disability and need for a suitable mattress, which would be large enough to use my neck brace and foot splints. I was told to contact Disability and Well-being Services and proceeded to get my medical records from various doctors for my arrival in the UK two weeks later.
Despite this, my assignment remained the same, and I moved into Sidney Webb at the beginning of term, only to find that my allocated room was in use by someone else. They quickly ushered me into a spare vacant room which was clearly vacant for a reason: it was not habitable, smelled of old food, and had a bathroom that looked like a urinal, and a wafer thin mattress that would have exacerbated the spinal compression I was suffering with. Now, I'm no princess and the pea, but even the most hardened individual would find it difficult to reach any point of comfort on this imitation mattress, let alone someone with a physical injury! So I left to go to a friend's house whilst LSE Residential Services could try and find me a room to live in.
However, such hope was misplaced, as on my return to Sidney Webb I was given a room which had no heat or hot water. Having to shower in an adjacent room, and getting no sleep for over a week, I moved out of Sidney Webb again to stay with my friend, whilst I went to LSE residential services to find alternative accommodation whilst my disability and injury were being assessed by various medical and disability specialists, who recommended that I be moved to an alternative hall.
I spent half of my first term shuttling back and forth between Disability, counseling and LSE Residential Services, and I was helpfully told by one residential services staff member that 'anyone could have a crook in their neck', who then left my application unattended and was never again to be heard from. After much chasing, I was eventually offered a room at Urbanest, a private hall of residence that LSE has a contract with, which I went to visit - everything seemed good and I accepted.
The 'view' from Urbanest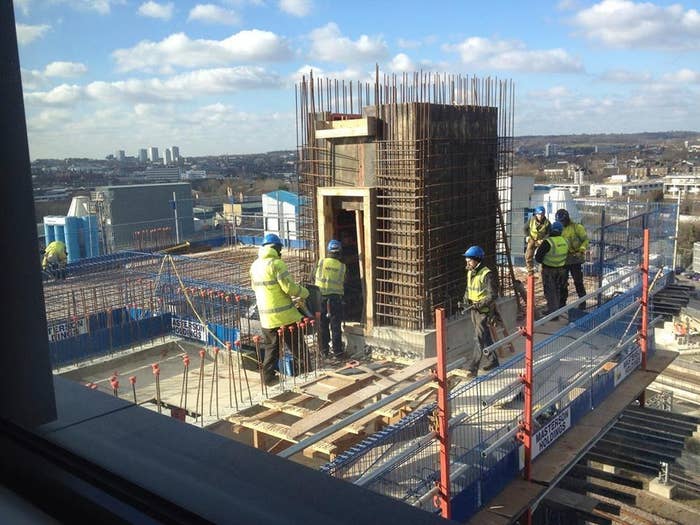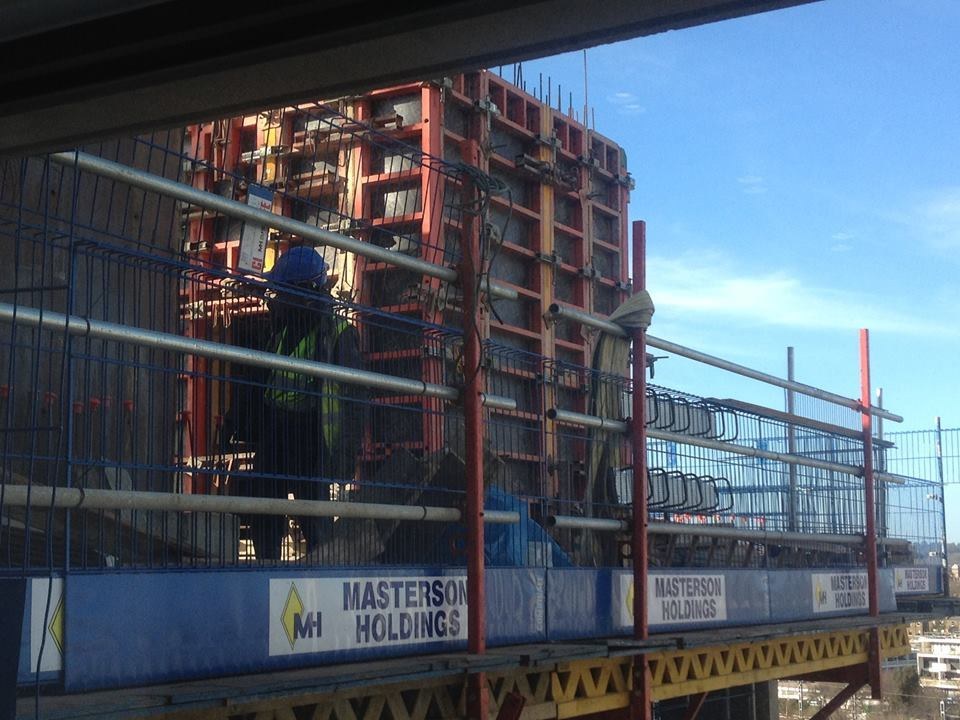 Stage 2: The tower of doom
Thinking, 'ok this has been annoying', trekking across London with my suitcases, getting to meet LSE residential services whilst I should have been meeting my course mates and starting classes, I hoped that my 12th floor room in Urbanest would indeed become my nest. Then the building work started within the week I moved there.
Now I know that building work is commonplace in a city such as London, however, the level of disruption was beyond anything that could be reasonably expected. From my 12th story window, I could see the rising form of a building approach, until I had workers virtually waving through my window to say hello. They say Rome wasn't built in a day, and these builders were taking that to heart as they toiled Monday - Saturday from before 8am till after 6pm. Yes, Saturday too, there was no escape. I had to keep my windows closed, could feel dust in my room, and eventually had to keep my blinds closed too for privacy.
Surely, I hear you say, this level of disruption would have been explained to residents? The answer, technically, is kind of. Hidden on the depths of LSE Residential Services, NOT Urbanest's, website was a disclaimer reading the following:
"The King's Cross area continues to be developed, and there will be building works next to Urbanest King's Cross until approximately August 2015. Some noise disruption may occur during the day. Facilities and services at Urbanest King's Cross are not expected to be affected during this time."
Even if this were true, which is beyond pushing it to suggest that the service of housing people will not be expected to be affected, this information was hidden on LSE' Residential Services website, in a place only someone who knew it was there would be able to go find it – even Sherlock Holmes would have been flummoxed. None of my fellow victim residents on my floor were aware of the construction work happening, and many of us made repeat complaints to Urbanest's management to no avail.
Then I find out that in a chance conversation that I was paying £56 a WEEK more than the person in the room right next to me. When I asked Urbanest management as to why there was the discrepancy, the response was the difference in 'the view', a view which was a) identical to the room next to me, and b) ever diminishing due to construction work (see the photos above to check!).
Through contacting the contractors, and residential services at LSE, it emerged that LSE had negotiated different rates for the use of Urbanest during the construction period, and that Urbanest and LSE knew about the disruption, just did its best to hide this from students. When I was showed a room at Urbanest, the employee did not mention the work, and showed me a room on the opposite side of the building, whilst the head of residential life services signed off on my application to move to Urbanest, and also did not mention anything to me (why should she?!). I told them all about my disability and injury by the way! The lower price being paid by the person next to me was because of a reduced rent secured to compensate for disruption, so why was I not offered this? Even with the reduced rent, I would NEVER have chosen the room due to the impacts on my health and wellbeing, but instead of accepting any responsibility or even an apology, both Urbanest and LSE Residential services said the information was available and that it is my own responsibility!
The tower of doom under contruction
Part 3: Collusion of the third kind
This is where the fun part begins. Objectively, my ensuing attempts and goose chasing of the various internal departments of LSE (residential, accounting, student services) would make for a good, if slightly dull, political TV thriller, with deception, misinformation and ineptitude at the heart of the drama. However, I am not Olivia Pope or indeed even a poor intern on the West Wing attempting to bring down the establishment, all I wanted was to get an answer from somebody and for a change in my situation.
First of all, to add insult to injury of the Sidney Webb episode (remember that?, I too thought that was over with), it emerged that I was still being charged for the room that I had never been in, in a hall that I had vacated weeks prior. This took FOUR MONTHS to resolve with LSE accounts, after countless meetings and emails chasing up relevant people.
Secondly, at the same time, because of the incredibly confusing and complicated nature of US loans, and LSE's payment processes, I was threatened by LSE that I was not paying my fees and that they would begin taking penalty action - removing my library access, suspending my accounts – BECAUSE of LSE's ineptitude and lack of accounting competency - my fees had already been paid up front! Only after much haggling did this matter resolve, with little time for me to actually do any studying between chasing up with accounts and the stress of having my financial obligations in the US be delayed, and with penalties being threatened to me.
Third, with no responses to my complaints at Urbanest, I withheld my rent payment in February to get them to look at my concerns - my health was in decline, not to mention the detrimental affect on my studies due to sleep deprivation and the exacerbation of the pinched nerve in my upper spine. Instead of getting in contact about my concerns, a debt collector was put on my case by Urbanest Management, who started a period of harassment.
Part 4: Bye-bye degree?
To move things forward, I went to the Dean at LSE, and to my academic advisor and department tutor, as the whole episode was leaving me in no condition to sit impending examinations - I had already missed chunks of classes, and had lost feeling in two fingers on my left hand ( FYI, I am left handed!) whilst I was taking more painkillers than normal, being inundated with the stress of my financial and living situation, as well as fitting in endless meetings and writing countless emails putting a nail in my LSE degree coffin.
To cut another long chapter short, incorrect advice from my department tutor as to the procedure for late sitting of exams was given to me, with the result being that either I take exams I was ill-prepared for, or I might face losing my student visa status if I choose to resit them next academic year, and thus lose chance of working in the UK. I thus tried to sit my exam, even attending one after coughing up blood during the day, and I was on a stage of mental collapse and exhaustion.
With all this, I was trying to either move to a quiet room at Urbanest or elsewhere, however, I was not helped by LSE Residential Services to negotiate a reduced rent at Urbanest or to be moved to a quiet room. I had to find a new place to live on my own, again raising the question of just what kind of SERVICE does LSE residential services provide?!
My move to another LSE hall was fully managed by yours truly, and although quiet, I could barely fit an orthopedic mattress in the room, yes the one I requested and received eight months later! After a complete physical and mental collapse in July, I have spent the last three months trying to regain movement of my left arm due to extreme stress and lack of sleep! The Dean's informal process of negotiation and complaint procedures since April has failed and I am now onto the upper echelons of LSE management to implore my case and get compensation as I pay out of pocket for proper healthcare.
I would like to have a repeated teaching of my course, paid for by LSE, who have shown little if any regard to my welfare, especially considering I have a disability and physical injury. I also want my money back for the housing in Sidney Webb and Urbanest.
Part 5: What now?
A part of me says I should just get out of the situation and head back to New York, but why should I walk away with nothing?! I have not done anything wrong, whilst LSE has shown no compassion, and directly contributed to a detriment to my health, education and career prospects. I believe the internal management processes are being drawn out to the point where my visa expires and I am no longer a student, and thus no longer a problem - and this possibility angers me extremely! I want my story to be heard so that LSE can learn from this shocking episode. Don't get me wrong, there have been helpful people in the process but they operate in silos that do not communication relevant and important information to each other in a timely and efficient manner. Sorry, but this could be a lot worse if my disability was more severe, and I shudder to think what would happen to someone in a worse situation!
Repeated failures, buck-passing of responsibility, push-for-profit at all costs, and a whole hearted lack of compassion for a disabled student is simply not acceptable from one the best universities in the world. I, and you, should expect better than this. Urbanest has now sent their debt collectors to scare me once again and I patiently await a response from the LSE Secretary, as my fate hangs in the balance.