Spicy Shrimp Nachos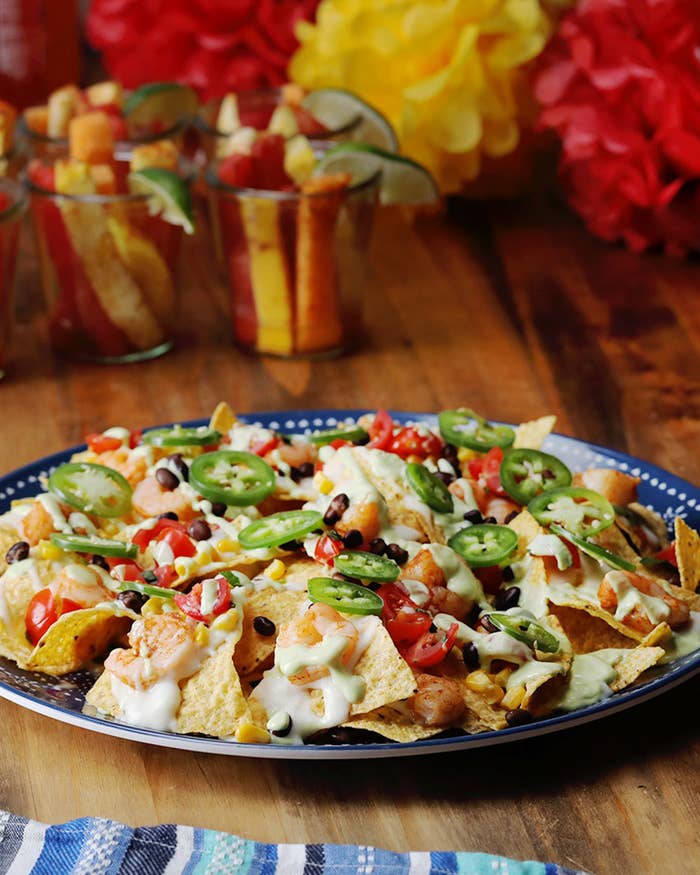 INGREDIENTS
1 pound fresh bay shrimp
2 teaspoons taco seasoning
1 teaspoon extra virgin olive oil
2 cups jack cheese, shredded
1 teaspoon cornstarch
1 cup whole milk
1 container Chobani Non-Fat Plain Greek Yogurt, divided
3 tablespoons lime juice
¼ teaspoon honey
Salt and pepper to taste
½ fresh avocado
7 oz corn tortilla chips
⅓ cup corn
⅓ cup fresh pico de gallo
⅓ cup black beans
1 small jalapeño, sliced
PREPARATION
1. Preheat oven to 400°F/205°C. 

2. Toss shrimp, taco seasoning, and oil in a bowl. Place on baking sheet and bake until cooked through (about 6-8 minutes). Set aside.

3. In a saucepan over medium heat, toss cornstarch and cheese until cheese is melted. Add milk and whisk until creamy, then add 1 tablespoon of Chobani Non-Fat Plain Yogurt, continue to whisk, keeping heat low.

4. In a blender, combine avocado, remaining yogurt, honey, lime juice and pinch of salt. Blend until creamy.

5. Place chips on a platter, top with cheese sauce, shrimp, corn, beans, pico de gallo, and drizzle with avocado cream. Top with sliced jalapeño.

6. Serve immediately.

7. Enjoy!