1.
A soccer ball with various pull tabs that make it an A+ option for dogs who have no thoughts behind their eyes — just dreams of 24/7 fetch. 
Promising review: " Even this murderous Chiweenie has taken her time destroying this ball! I'm not sure how she hasn't gotten brain damage yet but it keeps us entertained. She usually rips and guts even the most 'durable' toys so I'd say this passes the chew/murder test. We've had it for 3 weeks now with this, ah hem, aggressive chewer. :)" —Jen
Get it from Amazon for $13.95+ (available in two sizes).  
2.
A trusty lick mat you can slather in wet food, lactose-free yogurt, or peanut butter. Your pup will think they won the lottery *and* you'll get a few minutes to yourself while they scrounge for every last drop of food. 
Promising review: "I'm always trying to find ways to stimulate my husky's mind on top of his physical activity. He was on the first lick mat for 30 minutes and I brought him the second for another 30 minutes. He didn't even finish the treats on it. He's a fast eater and I use a maze bowl in order too slow down the eating. This lick mat he was surprisingly gentle with and he enjoyed it. I'm definitely happy with my purchase. I used half a tablespoon of almond butter on one and pumpkin on the other. I put both in the freezer for about 20 minutes before I gave it to him." —Carlyn A.
Get it from Amazon for $7.99+ (available in three styles and colors). 
3.
A Nerf gun capable of launching back-to-back balls up to 35 feet if your biceps simply can't keep up with your baby's demand. 
Promising review: "Molly absolutely LOVES her Nerf Gun Tennis Ball Blaster. She whines and starts jumping around with excitement whenever we bring it out to play. She usually likes to hang on to the tennis balls instead of dropping it for us to throw again, but with this toy she's so excited for us to launch it that she is willing to drop the ball. She's so happy with this toy and it's great to use in the backyard to get some exercise if we don't have time to go for a walk. It is a little bigger than we were expecting but works great. We've been using it every day for a month and a half now and haven't had any issues with it that some of the other reviewers have noted. I will say that the Nerf Gun tennis ball that the launcher came with fell apart within minutes of giving it to her. She does have a strong mouth and likes to squish/chew them, but I would've expected it to last as long as a standard tennis ball. We've been using regular tennis balls since and they fit perfectly into the launcher. Overall, I would highly recommend this toy for any tennis ball-loving dogs." —Paul Johnson
Get it from Amazon for $25.50+ (available in six sizes/styles). 
4.
A Gumby plushie if your pup LOVES a toy with a squeaker and won't know peace until they've found a way to rip it out. 
Promising review: "We have a 55-pound hound mix and she usually eviscerates and extracts the squeaker in stuffed toys in minutes. Which is fine. BUT then she has zero interest in the unstuffed toys and they end up in the trash. It's a pretty pricey habit. For some reason, though, she loves Gumby. His squeaker is long gone but she didn't unstuff his body or tear him up like the toys who have gone before him. I think she likes the density of his legs for tossing around and gnawing at gently. I'm buying another one to have as a backup for when she does finally decide to destroy him. And he's less than $5. Win-win." —C. Teleki
Get it from Amazon for $5.01.
5.
Or a Lambchop plushie for millennial pet parents who buy their baby toys based on their own nostalgia. (Guilty 🙋‍♀️)
Promising review: "Lambchop is the only toy my Maltipoo loves, and loves to tear apart. Within 30 minutes, Sugar has silenced the lamb by gnawing off the face. I just shove the stuffing back in it, sew it up, and the lamb is ready for another attack. I buy them in bulk because killer reduces them to pulp within a month. That's OK. Being a dog can be boring. Sacrificing these lambs is her greatest enjoyment in life, after belly rubs. Warning: There are five plastic squeakers inside the lamb, which are easily removed by my eight-pound mass murderer. I wouldn't leave her unattended when she's playing with Lambchop." —Dee
Get it from Amazon for $7.99. 
6.
Some doggie-friendly "Sniffingtons" bubbles — in enticing flavors like pumpkin pie, root beer float, and toasty marshmallow — they can chase, pop, and even catch on their tongue like a lil' snowflake if they happen to be the most delicate dog in the world. (My dog could never.)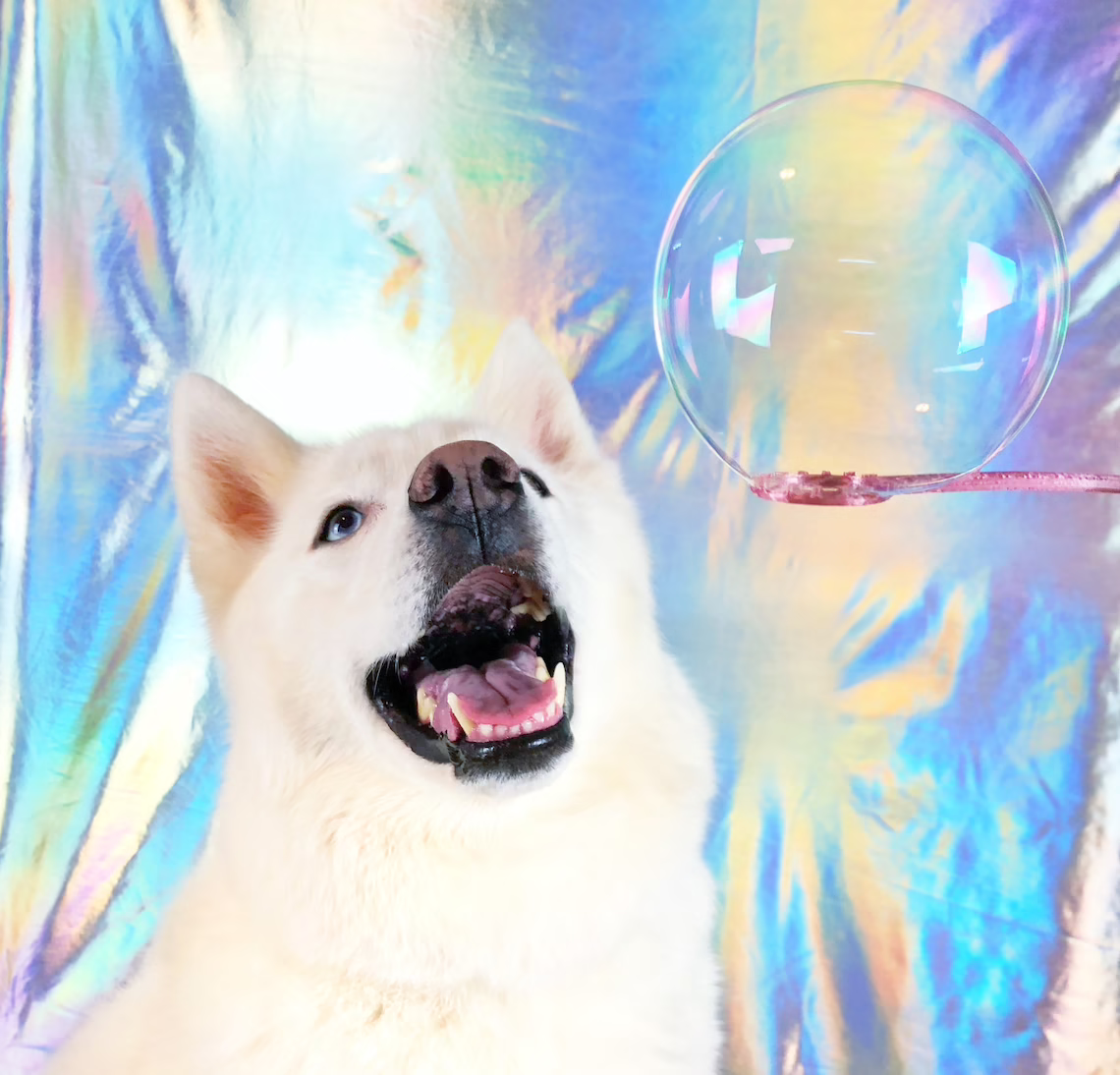 BTW — Sniffingtons is a small Greenville, South Carolina-based shop specializing in enrichment products for dogs and cats!
Promising review: "My pup, Toby, is a 2.5-year-old cavalier who loves bubbles. After catching them, he'd often give us an "ewww" look, as they tasted like soap. Until these. He LOVES these bubbles and seems to love the taste of them, too! I will gladly buy these again and continue letting him feed his bubble-obsession in a tasty way! In addition, when I needed help with my order, Ash was so kind and gave me the help I needed! Highly recommend this shop!" —Elizabeth 
Get it from Sniffingtons on Etsy for $8 (available in 15 scents). 
7.
A retractable tug-o'-war rope your dog can go ham on after you wrap it around a tree. If they thought you were too easy of an opponent...they have no idea what kind of fight that maple is about to put up. 
Promising review: "This is a well crafted, very easy apparatus to set up. It has provided fun and interest for my big golden retriever on the occasions when we cannot interact with him in person. I especially like the fact that the metal parts are nowhere near his mouth or body — but instead wrap around the tree far from access by him. I am very impressed with the quality and the interest that my dog has shown in it. Tug-of-war is Murphy's favorite game and my sore wrist is evidence of the frequency of our play. I'm glad to be able to take a break without denying my pal a tug partner. Worth the money! Murphy loves it!" —Dog Ma
Get it from Amazon for $26.99 (available in two sizes).
8.
An interactive treat dispenser that'll help stimulate your dog both physically and mentally. If your bb likes to rip up shoes/mail/whatever you leave on the coffee table, it'll also help redirect their destructive behavior!
Promising review: "Our 15-week-old Aussie/Heeler LOVES this puzzle. He will carry it around the house hoping that we'll put treats in it for him. He chews on it, scrapes his claws on it, and throws it around the house and it's still in one piece! Great starter puzzle — now we just have to find something more complicated for him :)" —Erin
Get it from Amazon for $14.29+ (available in two styles). 
9.
Or — if they're already a puzzle master — a trickier setup with beakers they have to flip around to free their treats. #DogsInSTEM
Promising review: "This dog toy is perfect if you want your dog distracted or to help mental stimulation! Our dog, Bodie, absolutely loves this toy and he gets so excited when he sees we've filled it up. So much so, we used it to help with his separation anxiety. We usually only use it for this purpose when we leave the house so he has something exciting to do that he loves. He's chewed on it a few times in the process but it is very durable! Great quality and overall great product! Highly recommend!" —Amazon Customer
Get it from Amazon for $18.49.
10.
A cupcake-shaped Minnie Mouse plushie for pups whose favorite way to spend the day is watching Disney+ just like their pawrents.
Promising review: "My 11-week-old puppy absolutely loves this thing! She's a bit of a chewer right now and she loves trying to get paper and plastic bags to chew, so the fact that the toy crinkles is perfect for her!! She loves the squeaker too so we will be ordering the Mickey cupcake as well!" —Shan
Get it from Chewy for $6.98. 
11.
A tough-as-nails cactus toy for superrrrr chewers who rip apart anything you put in front of them. With durable rubber bristles, this also doubles as a doggie toothbrush so — unbeknownst to them — it'll help keep their teeth and gums in tip-top shape. 
Promising review: "I was amazed at how much my dog loves this. I spread a little dog toothpaste on it after brushing his teeth and give it to him as a reward. He can't wait to get the reward so he comes running and jumps up into my lap every night when it's time to brush teeth, then spends about an hour chewing and playing with it while I relax and enjoy a Netflix TV episode." —Annie1RN
Get it from Amazon for $15.99 (available in two sizes).
12.
A *silent* dog toy with an ultrasonic squeaker only your pup can hear! That means your super chewer can go to town on their toy without interrupting whatever you're watching on TV.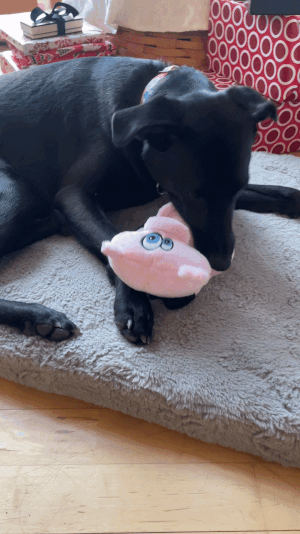 BuzzFeed editor Abby Kass just picked one up for her family's pup and here's what she has to say: 
"My family's dog LOVES squeaker toys. She squeaks them over and over and over again and especially loves to put on a little show when my dad's in a virtual meeting. I was intrigued by this toy when I found it at the pet store and had to give it a try. I wasn't sure how well it was going to work, but Izzy loves it so much. You seriously can't hear a thing. I even took the toy in another room (without her knowing) and started "squeaking" it to see what would happen, and only a few seconds later she came running into the room looking for her toy. This toy is amazing. Izzy can squeak all she wants (as you can see in the gif above), and we don't have to hear a thing. If you have a dog that enjoys squeakers, you need to invest in at least one of these toys." 
Get it from Amazon for $17.97 (available in two styles). 
13.
A two-pack of fence bubbles for pupperonis who're just as nosy as their parents. Drama going down between the neighborhood kids?? Your doggo will be the first to know. 
Promising review: "These things rock. Solved our dog barking issue immediately. Now he can scope out and watch everyone walking down the side of the fence. And not go into 'bark like crazy at the invaders' we were going through before. It was super easy to install. I used a sharpie to outline, then a skill saw to cut. Then screw in. No troubles at all. Has held up well to a 100-pound lab (who is a huge snoop) and three wild kids. Plus, South Dakota winter and heat. Zero scratches as well. Neighbors love the bubble, dog loves it, and kids can spy too. Recommend them for everyone." —Camille
Get a two-pack from Amazon for $59.99. 
14.
A hide-and-seek hedgehog puzzle with three squeaky plushies your pal can dig, dig, dig at until freeing them (or forcing them...really) from their den.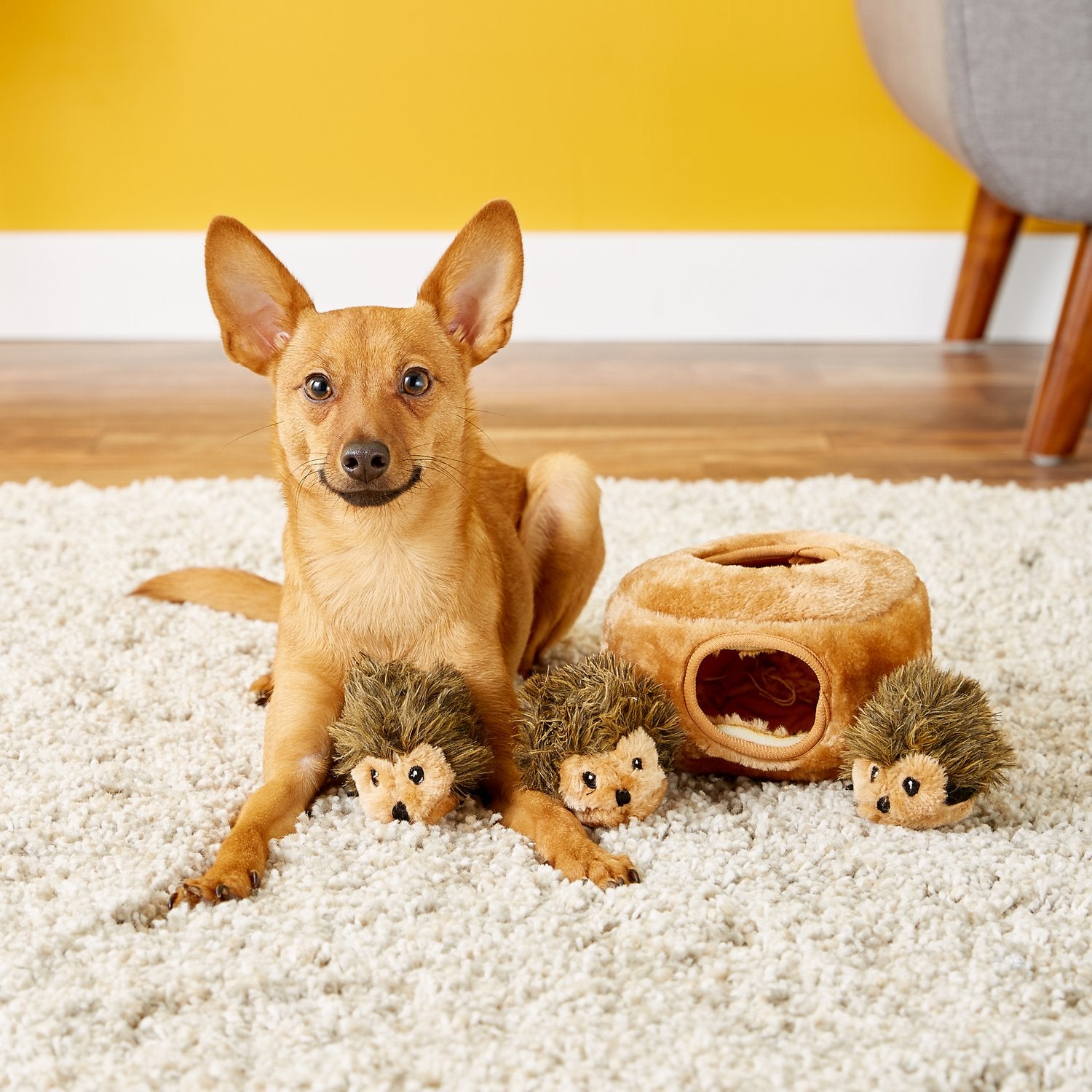 Promising review: "This has become the new favorite for my 3-year-old chihuahua. This is our first experience with a puzzle so I was not sure what to expect. Not only did he immediately figure out how to pull the animals out of the den, and love it, but he also loves to play with the soft squeaky animals separately. The price and quality are great. Just one recommendation, order extra hedgehogs if you have a killer like mine." —Finn
Get it from Chewy for $8.99. 
15.
Or if you already know hide-and-seek toys are their jam, a carrot-themed snuffle mat where you can encourage foraging by hiding their favorite treats. 
Promising review: "This is my Chihuahua's favorite toy right now. I take one big jerky and break it into little pieces, put some in the little pocket openings of each carrot, larger pieces in the bottom of each big felt hole, and then stuff the carrots in the holes at different heights — it takes him a good 10-15 minutes to get all the little pieces of treat and keeps him busier than any other puzzle toys we've tried before. I love that you can play with this in a few different ways to keep it tricky and interesting, it's a little different every time. My dog is obsessed! P.S. My dog is an old little Chihuahua, not interested in chewing on things or ripping them apart. He's not a huge slobbery chewer or a puppy — not sure how durable this would be for other dogs. This will last us a long time though and the felt cups have held up to him scratching/biting at them quite a lot." —Shannon Jennings
Get it from Amazon for $35.99+ (available in small or large).