1.
Elizavecca's Collagen Coating Hair Protein Treatment works just like a hair mask to repair your locks in five minutes flat. The Ceramide 3 and collagen-packed formula repairs all types of hair whether you've got over-processed tresses or 4c hair that's susceptible to dryness. Reviewers even say the $8 product is comparable to Olaplex No. 3!
Promising review: "I bought this based on a review in a BuzzFeed article. I have long, thick, curly hair and use this maybe once a week. I get a ton of compliments every time and I absolutely love the way my hair feels afterwards. So amazingly soft. I use it in the shower and usually wash my hair and then towel dry it. I put a small amount in my hair, mostly on the roots. Let it sit while I shave my legs and then rinse it out and comb through with a wide tooth comb. I allow my hair to air dry and bam, amazing hair. This will forever be part of my hair routine now." —m. damocles
Get it from Amazon for $7.48.
Read our review of Elizavecca CER-100 Collagen Coating Hair Protein Treatment to learn more about why one BuzzFeeder calls it, "the miracle product I've been searching for."
2.
Verb's Ghost Oil has reviewers raving. Comb through the 5,700+ 5-star reviews and you'll find plenty of people saying that two to three drops of this applied from roots to ends gives them body, fullness, and a polished look without any heat tools or extra effort because the latter is what we're all really trying to avoid...
Here's BuzzFeeder Elizabeth Lilly's stamp of approval: 
"I got turned onto this stuff after some colleagues put it in stories and after trying just about every hair oil out there, I can assure that this is the good stuff. It's great for finishing off your look after heat styling (like with a curling iron or straightener) or helping your hair calm down post-blow-drying. Or it's great for putting in your hair before air drying. I always keep a bottle in my medicine cabinet!"
Promising review: "Verb is absolutely KILLING the game. Omg I am actually so happy with this purchase. I'm Filipino, and we typically have thick, coarse hair. Unfortunately I have an ungodly amount of frizz that I was looking to get rid of. This definitely does the job!!!!" —Avavalentinn
3.
Maple Holistics' Volumizing Biotin Shampoo and Conditioner Set is an affordable way to encourage regrowth and combat hair loss. Reviewers with everything from stick-straight manes to natural 4c curls say it's given them a softer, fuller, more manageable mop. 

Promising review: "I have been having hormonal issues and my hair has been thinning (especially up top), but since I've been using this product for the past couple months, it has helped tremendously! My hair feels healthier, looks shiny again, and the smell of the shampoo and conditioner is amazing. Definitely found my go-to shampoo and conditioner." —Hannah Caddell 

Get the set from Amazon for $18.99+ (available in two sizes). 
4.
L'Oreal's 8 Second Wonder Water visibly moisturizes hair so you can whip your 'do around just like a Jennifer (your choice of Anniston/Garner/Lopez) in a hair commercial. 
Promising review: "I don't usually do reviews on products, but for this one I absolutely have to. I have 3c type hair and struggle with a lot a breakage, unmanageability, and moisture. When my mom mentioned this product to me I didn't take her seriously because of the simple fact that we have completely different hair textures. I never would have thought this brand would work on my hair. I have always used ethnic hair products and stayed away from brands such as this one because of the alcohol consumption. I have never in my 22 years felt my hair like this! I feel like I have a completely different head of hair. This product is so amazing and I will FOREVER be using this product in my hair regimen." —Theressa Hailey
Get it from Amazon for $9.87.
5.
Curlsmith's Weightless Air Dry Cream has been dubbed a "holy grail" product by reviewers managing postpartum hair loss, uncontrollable frizz, mixed curl patterns, and dehydrated manes. If you're looking for a protein-free styling product, give it a go, bb!
Promising reviews: "My hair has become increasingly curly as I've aged (don't ask!) and I've tried many curl products. Some work, others, not so much. But I do love this leave-in curl cream, as it accentuates my 2c/3a curls, which is exactly what I want! It's easy to use in the shower, doesn't require a huge amount of product and never feels crunchy, oily, or flaky." —Aura

"I misplaced this product for two days and had to revert back to my old stuff, I then realized just how much of a game changer this is! I will NEVER use anything else. I don't even need gel. This defines and hydrates my hair like nothing else could! My curls are healthy, shiny, bouncy, defined, and best of all…NO FRIZZ. Worth the price. Get it, get it, get it!" —Mary
6.
Eva NYC's Lazy Jane Air Dry Shampoo gives you a tousled, textured look without any heat tools or frizz. The formula is powered by hemp seed oil and sea lavender — Omega-3-, Omega-6-, and antioxidant-rich ingredients which lock in moisture and soften your tresses. 
I have been using this (along with Eva NYC's Lazy Jane Conditioner and Salt-Free Wave Spray) and they've been a game changer!! Most days, my hair can't decide if it wants to be straight, wavy, or even slightly curly and since I work from home, I don't bother blow-drying, straightening, or curling it myself — I just let it do its thing. This trio of products gives me body, enhances my hair's texture, prevents frizz, and just makes it much more manageable!
Promising review: "Smells AMAZING! It's definitely given my hair the body I was looking for. It feels clean and light with my thin hair. It gives it the volume it needs and I think it's my fave shampoo so far." —Linzy B.

7.
Bread Beauty Supply's Hair Mask Creamy Deep Conditioner works on all hair types, but was really developed with curly and textured hair in mind! Australian Kakadu plum + starflower oil join forces to create a superrrr hydrating, but super lightweight formula.
And more from BuzzFeed shopping editor Kayla Boyd who is pictured above! "Bread Beauty Supply is an Australia-based, woman-owned business that was founded by Maeva Heim in 2020. This product works best for hair types 3a–4c. I recently started using Bread products and I really love how lightweight and easy they are to use. Since I have mixed textured hair that's been frequently dyed, it tends to get very dry. After using this deep conditioner my hair felt so much better and softer. In addition to that, the smell is A-MA-ZING. Definitely one of my new favorite wash day products."
Promising review: "Amazing product! Fantastic! I appreciate the fact that it's bigger than the shampoo, since I have a tendency to go through conditioner quite quickly, and I think this maximizes my use because 1) the size and 2) it's so effective that you don't need to use a lot of it. The texture is marshmallow-y and it smells amazing. (Froot Loops?) It isn't offensively strong either, and lingers pleasantly." —Irina G.
Get it from Bread Beauty Supply for $28.
8.
OGX's Locking + Coconut Curls Air Dry Cream is an A+ scrunch-and-go option if you're looking to create a low-lift routine. Click through just some of the 7,900+ five-star reviews and you'll also find that users were able to cut out super-expensive products in favor of this $8 miracle worker!
Promising review: "I found this product mentioned in an article about air-drying waves and curls. I am always looking for a great 'stay-at-home' styling product and with the excellent price point, I thought I would give it a shot. WOW! This styling cream is fantastic! My waves were soft and springy and my hair was super shiny. I am SO in love with it, that it may well replace some VERY expensive products from the salon. As an aside, it doesn't add any volume, of course, but if you need volume, I found that it plays well with a texturizing spray." —Nilene Thompson-Finn
Get it from Amazon for $7.59.

9.
The Original UnBraider makes swapping your style easier than ever as it can unbraid up to eight braids at a time!!! So if you're ready for something new, it'll make quick work of taking down existing micro, knotless, box, individual, and cornrow braids.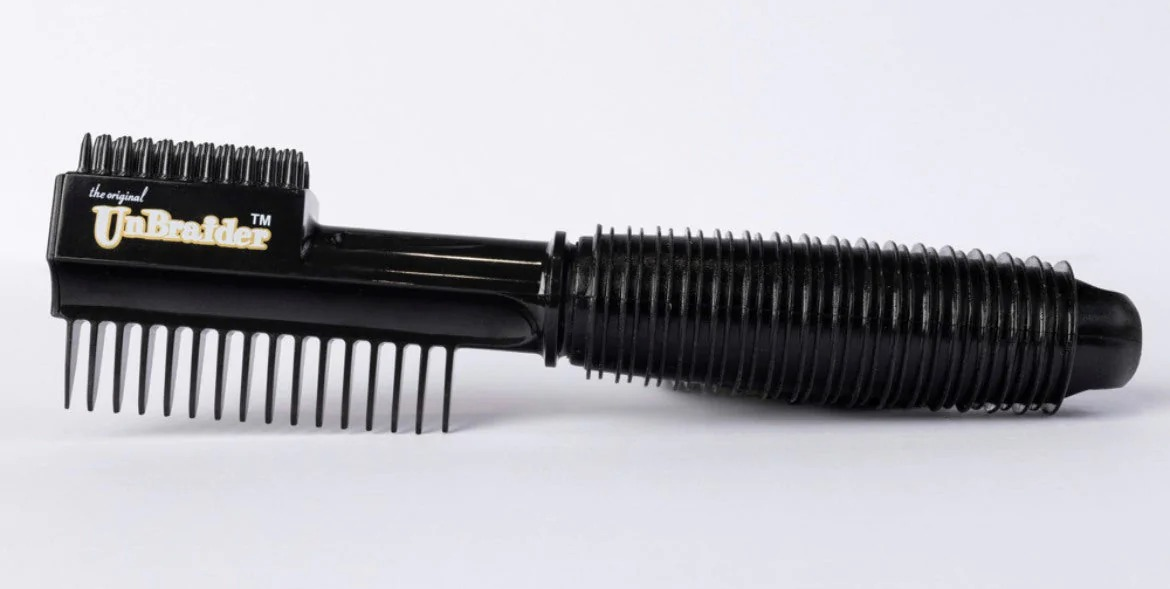 The Original UnBraider is a family-run, woman-owned small business working to make taking care of natural hair easier.

Get it from The Original UnBraider for $25.
10.
JVN's Complete Hydrating Air Dry Hair Cream lets your natural texture shine. The soft, buildable cream enhances waves and curls, protects your hair from UV damage, and softens your locks with a mix of squalane, chia seed extract, and moringa seed oil. In the words of JVN himself, "Can you believe?"
Promising review: "I have thick, dry, and frizzy hair. When I air dry it without any product, it gets super puffy, the texture feels a little rough and looks pretty much dead. When I read that it smoothes frizz and softens the hair while giving it shine, I was ecstatic!! It did not disappoint! I applied a good amount because I have a lot of hair and it's very long. It has a good scent that's not too overpowering and a cream-like texture. It definitely tamed the frizz and gave some life to my hair. The moringa oil in this gave my hair some shine. I would definitely recommend this product to anyone with the same issues as myself. My hair — once fully dried — looked very nice and semi styled!" —yessystruth

Get it from Sephora for $26. 
11.
Xtava's Black Orchid Hair Diffuser evenly distributes heat with the aid of 90 different air vents! This allows your curls to ✨ pop✨  without any added frizz. 
Promising review: "The BEST diffuser on the market! I have naturally wavy hair and have struggled with finding the right diffuser to keep my tresses curly while drying my hair. Using the Black Orchid Hair Diffuser is what you need if you have wavy to curly hair! You'll still have your curl and won't have frizz after using the Black Orchid!" —BMRGirl
Get it from Amazon for $32.49.
12.
Mane Club's One Hit Wonder 10-in-1 Spray is — according to reviewers — a "miracle" in a bottle. It conditions, detangles, prevents breakage, hydrates, smooths, softens, controls frizz, boosts shine, strengthens, and :::takes deep breath::: offers heat protection up to 445 degrees for the rare times you *do* decide to straighten or curl your coif. 
Here's more from my colleague Elizabeth Lilly:
"I have a very thick head of naturally curly hair and have put it through just about everything, including all kinds of hot tools, at-home dye kits, the gamut of shampoo and conditioner types, basically every dry shampoo and hair oil in existence, and just about anything else to try for a story for you dear readers. Lots of products have either straight-up failed, been meh enough for me to not recommend, or fantastic but so costly that I feel guilty recommending them. Basically, a lot of stuff ends up in the trash or pawned off on my (grateful) friends when it isn't a fit for me. But THIS STUFF. This stuff has become my go-to for spraying on my wet hair and then blow drying. Normally I'd apply a heat protector and an oil treatment or leave-in conditioner before blow drying. But this 10-in-1 treatment takes the cake! Most of the time when I use it, I don't even need to finish off my hair with hair oil (I've been doing that as an essential hair step for years now). It's really that good! Here, I have freshly blow dried hair with just this post-shower using this Amika blow dryer brush. This brush is fantastic on its own but this spray-on treatment has more or less doubled this brush's effectiveness. My hair comes out feeling softer, looking shinier and healthier, and stays looking good for days — which is especially great news because I wash my hair about every four days. 'Tis time for me to unload a bunch of hair products I now no longer need to my friends."
Promising review: "I love this. I'm lazy with very long thin hair. This is EVERYTHING. I spray and go. I always air dry and this is fantastic. Smoothing and shine enhancing. ❤" —Michelle S.