1.
COSRX's Snail Mucin Repairing Essence addresses dullness and dehydration with — yes 😌 — 96% snail sludge that's harvested in a *100%* ethical and environmentally friendly way. Thanks for sharing the goods, friends! 🐌  
Promising review: "So I have been using this for a month and I have to say — AMAZING. It really has helped my dark spots, which are also tied to my hormones. So the fact that it lightens them and keeps them from getting dark again during my period is a testament to the power of this stuff. Plus, this stuff just keeps going!! One pump is enough for my face, or two for my face and neck. Because of this it will last! It works amazingly well and considering how much you get, this is an amazing product. I highly recommend it." —J.H.
Get it from Amazon for $19.17.
2.
Juno & Co.'s Clean 10 Cleansing Balm combines the powers of pearl barley and vitamin E to brighten skin, reduce hyperpigmentation, refine texture, and remove impurities (or, say, 10 layers of mascara). 
Check out more viral TikTok beauty products that actually work!
Promising review: "I LOVE THIS PRODUCT!!!! I found it on TikTok, and OMG!! It works so well. I don't have to sit there and rub the crap out of my eyelashes to get the waterproof mascara off. I will admit, it doesn't take 100% of the makeup off, but about 95% of my makeup comes off. It is not water-resistant, as emulsifying it with water helps take the makeup off. I have not found a better makeup remover, and yes, that includes micellar water (which also works well but leaves my skin feeling oily). With this cleansing balm, my face feels hydrated and smooth. LOVE, LOVE, LOVE IT!!!!!!!! 1,000/10 would recommend!!!" —Deetje Frederick
Get it from Amazon for $14.24. 
3.
Missha's Soft Finish Sun Milk promises long-lasting SPF 50+ protection as it's able to withstand sweat and even tears if you're just overwhelmed by how beautiful the weather is. 
In the progression photos above, you can see a reviewer before applying the sun milk, after applying the sun milk, and then the sun milk under makeup.
Promising review: "I have dark, oily skin and purchased this product after reading recommendations. There is no white cast; you can barely see it upon application unless you use too much. You definitely do not need a lot, it spreads thin. When it dries, any color is gone. It also helps slow down my face getting all greasy as the day goes on, which I love. My skin is very, very oily but I can still apply this after my moisturizer and feel totally comfortable. I'm not a fan of scents, and the scent on this is extremely mild." —Ms. Renee
Get it from Amazon for $20.25.
4.
Mighty Patch Hydrocolloid Spot Treatments speedily pull the pus out of your most worrisome whiteheads. (Sorry that was a gross sentence, but it is what it is 🤷‍♀️.) Before you head to bed, just slap the dots right on any zits, and they'll work their magic overnight.
Promising review: "I do not claim to understand the science behind these tiny miracles, but they have changed my life. I spent my workday looking forward to going home and putting one of these bad boys on my newly erupted Mt. Zit and the overnight results were shocking. Not only is it grossly satisfying, but it saved me several days of walking around with a bloody crater in my face because my previous method of dealing with unsightly blemishes was to pick pick pick." — Adg
Get a pack of 36 from Amazon for $10.77.
5.
Glow Recipe's Watermelon Glow BHA + PHA Pore-Tight Facial Toner smoothes your complexion and refines pores to reveal glowier skin. Just slap some on after cleansing and enjoy Beyoncé-level flawlessness. 
Promising review: "I am 53, had oily skin all of my life, and my pores are much more visible now at my age. This product completely changes how my skin looks with respect to my pores, and makeup looks wonderful on top of it. Have re-purchased many times!" —Johnna
Get it from Amazon for $16+ (available in two sizes).
6.
Cocokind's Texture Smoothing Cream is described as "green juice for your face." But what does that mean? Well, celery seed + squalane + tsubaki seed oil join forces to minimize pores, improve texture, and boost your skin barrier for ultimate hydration. 
Cocokind is a San Francisco–based, woman–founded small business that specializes in botanical-forward skincare with an emphasis on both physical and mental health. 
Promising review: "Wow, I am truly impressed by this moisturizer! My skin, especially on my face, has a lot of texture due to acne and at first I wasn't sure if the cream would be too heavy but it's not at all. It's lightweight yet just a tiny bit tacky in a good way?! Lol my skin soaks it up and feels very dewy afterwards!" —Alex C.
7.
First Aid Beauty's KP Bump Eraser Body Scrub gets rid of pesky "chicken skin" — AKA those tiny bumps clinically known as keratosis pilaris — with glycolic and lactic acids as well as pumice buffing beads. After a good scrub down, the results will make you feel like you got a legitimate chemical peel!
Promising review: "I have had KP (Keratosis Pilaris) for many years. It got worse when I got pregnant and I tried everything to get it to go away. I even went to my doctors and the things they suggested didn't do a thing. I have been using this KP scrub for over two years and it doesn't fully take it away, obviously, BUT it does help with redness, minimizing pores, and making MOST of it disappear. This stuff is the only saving grace for my chicken skin which I'm very self conscious about!" —Maddison Wal
Get it from Amazon for $10.80+ (available in four sizes).
8.
La Roche-Posay's Hydrating Gentle Cleanser was made for sensitive faces as its milky formula preserves your skin's natural protective barrier and pH level.
Promising review: "Love this simple cleanser — it's gentle and has a pleasant feel/faint smell. One bottle lasts me a long time — I use this followed by micellar water. Easy!" —Dan Shaffer
Get it from Amazon for $13.99+ (available in two sizes).
9.
I Dew Care's Chill Kitten Moisturizer combines prickly pear extract, heart-leaf extract, and aloe vera leaf in a deliciously cool-to-the-touch gel that hydrates and replenishes skin without feeling heavy or greasy.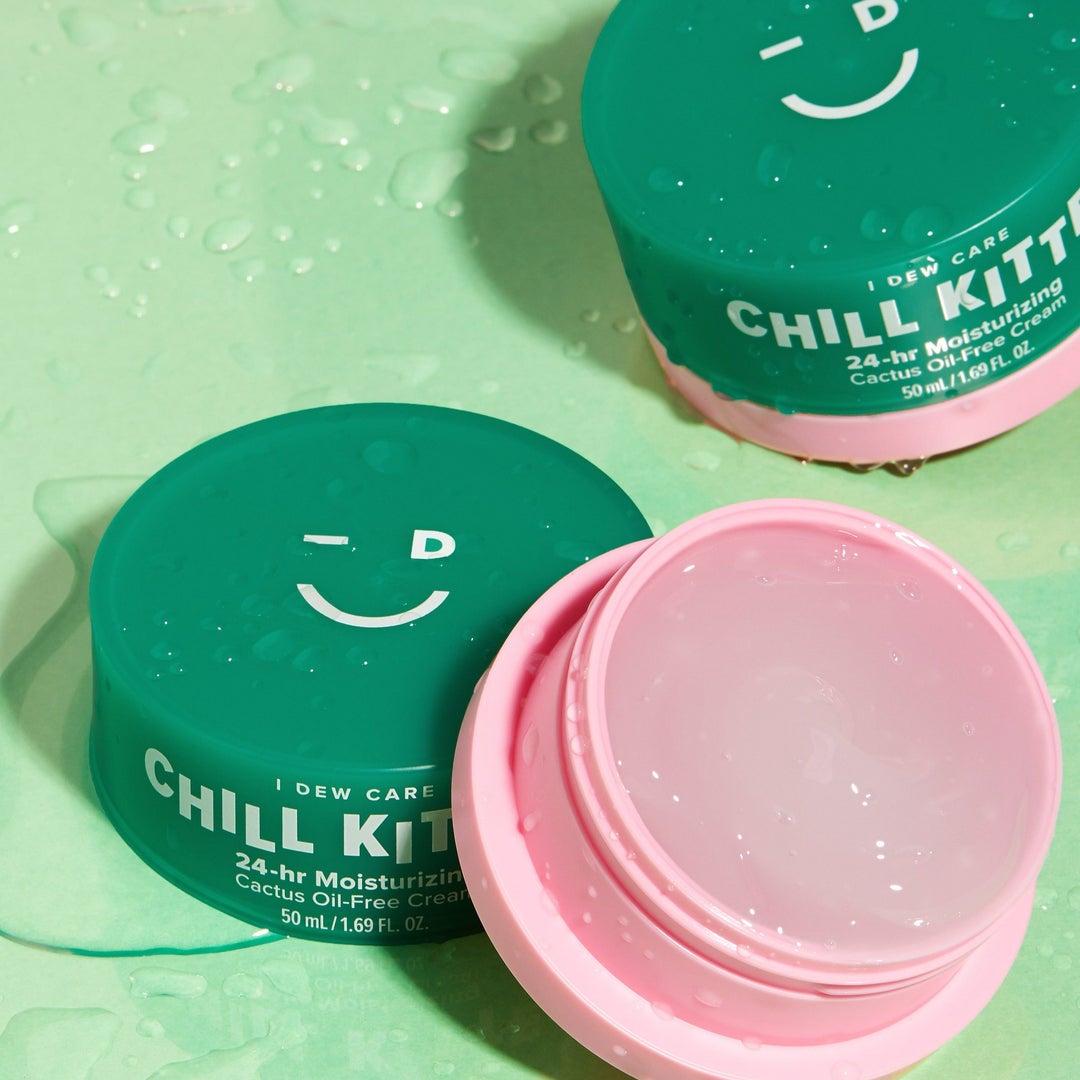 I recently started using this, and I love it!! I have dry, sensitive skin, and one of my favorite things about it is that it's fragrance- and oil-free. It goes on soooo smooth (it's not tacky or greasy), and it leaves me feeling like a glazed donut for a few minutes before it sinks into my skin. 
Promising review: "Tried tons of moisturizers over the years and this is by far the best! It absorbs completely with no residue and really feels luxurious. I have sensitive skin and this has been great and doesn't clog my pores." —Jennifer K.
10.
Pacifica's Glow Baby Booster Serum brightens dull skin and helps with texture thanks to superstar ingredients vitamin C and glycolic acid. You can use it on its own or combine it with your favorite moisturizer for an extra boost if ya need it.

Promising review: "Pacifica has been my favorite lately. I didn't discover them till 2022 and when I tried the Glow Baby Booster Serum it worked wonders. I'm medium to brown skin tone and this serum just enhances my skin color and I feel like I look more beautifully brown! Even my boyfriend noticed it one time when I was in the passenger seat and the sun was hitting my face. I thought yaaassss! I use the serum alone sometimes too because I feel it moisturizes my face. It also smells amazing and I'd rate the scent at least 8/10. It also makes my face feel plump :)" —Evey_smilies

11.
Blume's Meltdown Acne Oil can help clear skin without depleting moisture. The nourishing rosehip, blue tansy, tamanu, and black cumin seed formula can be used as a spot treatment or mixed into your moisturizer for a full-face treatment.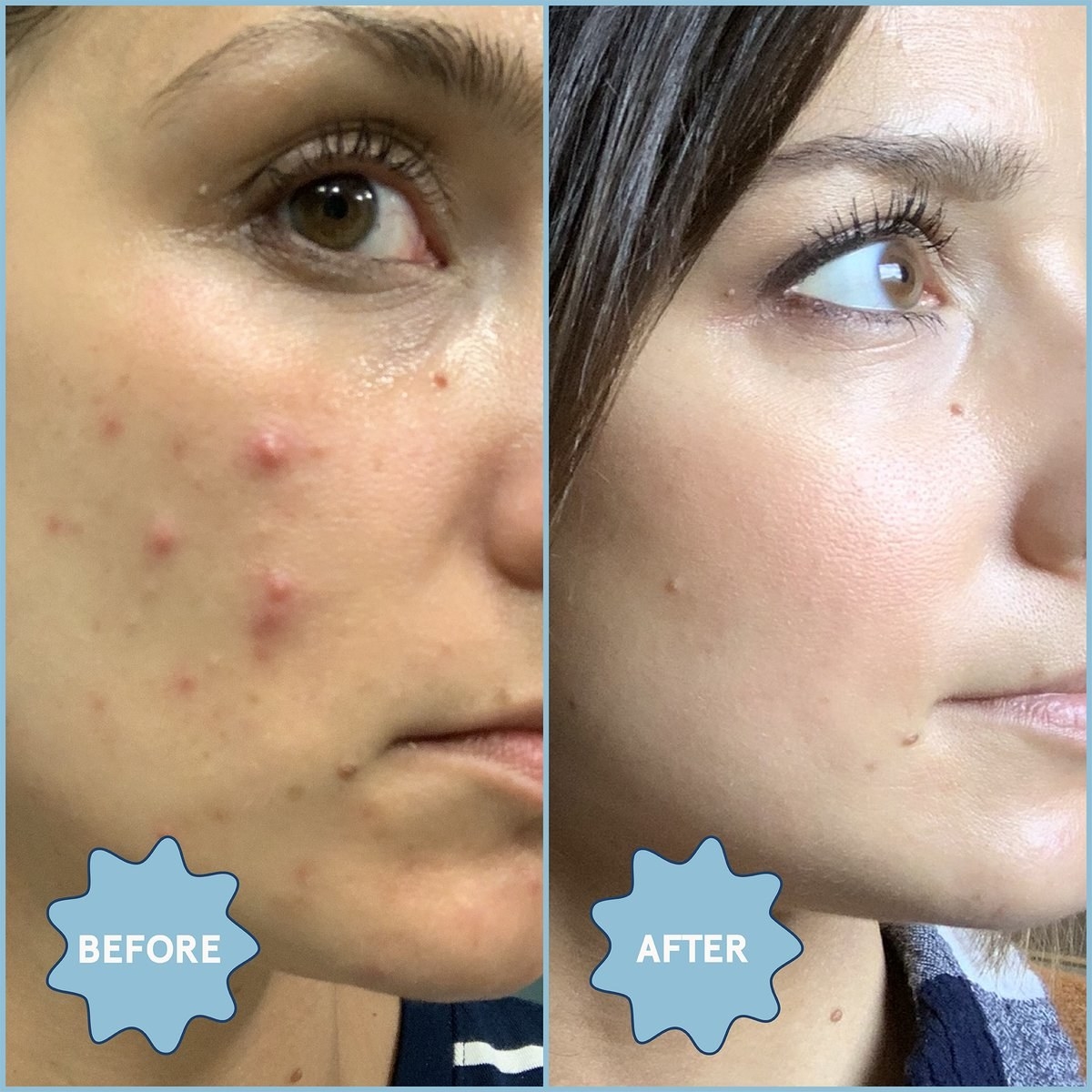 Blume is a woman– and POC–owned small business based in Canada that specializes in cruelty-free, vegan, and environmentally friendly products for skin, body, and period care.
Promising review: "Holy grail. This has changed the way my skin looks and feels! Hormonal breakouts are no longer a huge bummer, and I have officially subscribed to this product monthly!" —Ashley G.
Get it from Blume for $28+ (available in two sizes).
12.
Peach & Lily's Glass Skin Refining Serum is packed with peach extract, niacinamide, hyaluronic acid, and peptide complexes — all of which help your skin look brighter, dewier, smoother, and just downright radiant. Apply a small amount after you clean and tone your face but before you moisturize! 

Peach & Lily is an Asian– and woman–owned small business that specializes in Korean skincare products made of natural and toxin-free ingredients. 

Promising review: "I saw this serum all over my TikTok for you page, and I knew that I had to try it out, as their serum is so versatile and can cover and help so many kinds of skin concerns that I've been dealing with since my early teens. And now, ever since using it, I honestly swear by it. If you are considering trying the Peach and Lily collection products, I 100% recommend this serum repeatedly. My skin had never looked this great until I first tried it out. And my face looks so glowy, clear, and radiant." —Natalie Y.
Get it from Peach & Lily or Ulta for $39. 
13.
Wishful's Yo Glow AHA & BHA Facial Enzyme Scrub exfoliates skin with an intoxicating mix of pineapple and papaya enzymes plus some BHAs and AHAs for good measure. Take it from me — a faithful user — after one application, your face will feel as soft as a baby's butt!
14.
Bolden's Brightening Glycolic Acid Toner combines glycolic acid and antioxidants to target dark spots, uneven texture, and fine lines. The brand says it's ideal for oily skin, blemish-prone skin, and those dealing with hyperpigmentation.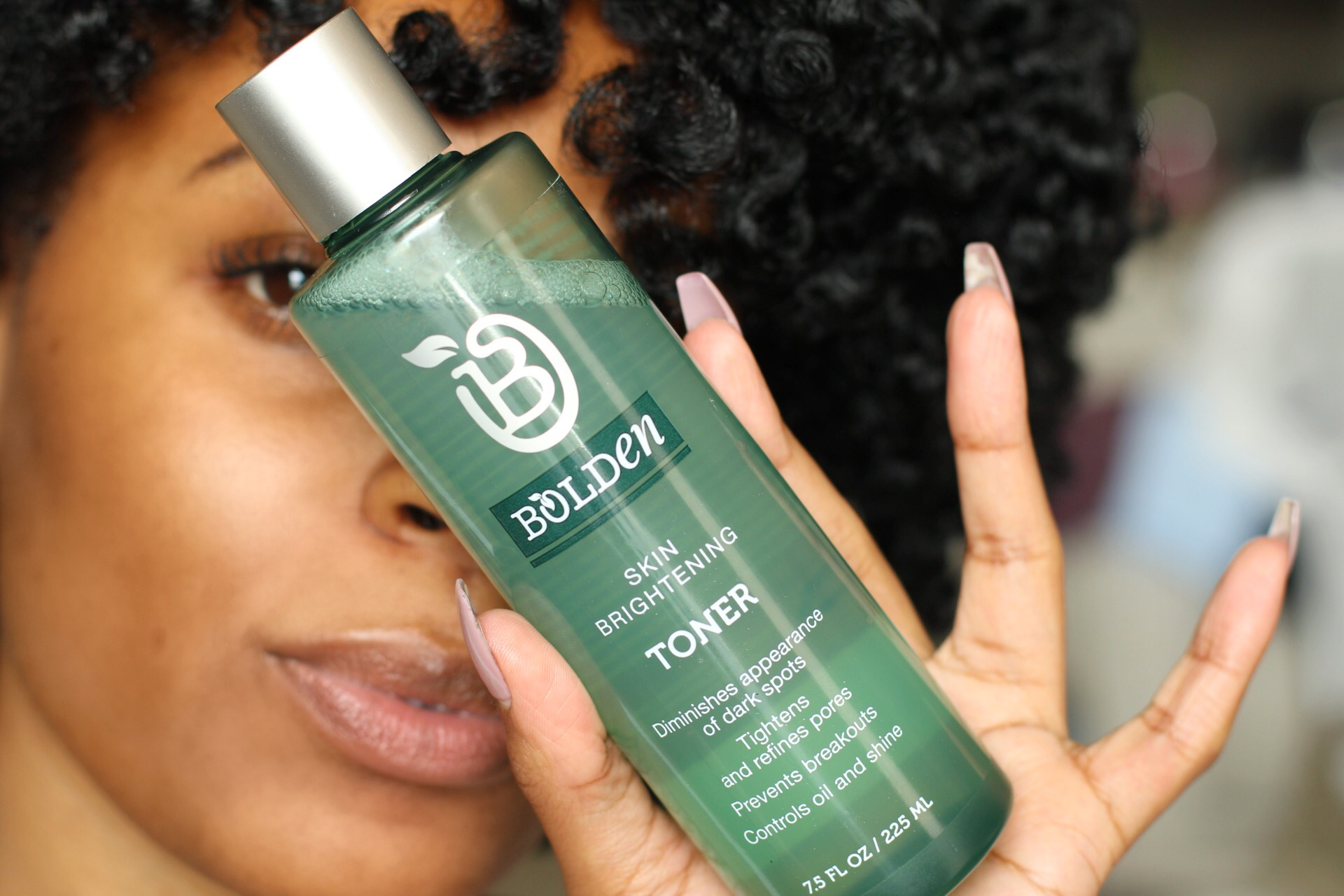 Bolden is a Black- and woman-owned beauty brand that creates products that work well for and empower women of color. They also offer a handful of other skincare solutions from moisturizers and cleansers to night serums and spot treatments.
Promising review: "This is my second time purchasing the toner. I love the way it has my face glowing. I have noticed that my skin has a brighter tone or complexion. I highly recommend it." —Latonia J.
Get it from Bolden for $19.50.