1.
A set of drawer organizers that can take your dresser from the chaos that is a TJ Maxx sale section to the enviable order that is The Container Store.
The set of four dividers can fit scarves, ties, underwear, bras, and socks as seen above.
Promising review: "No matter how neatly I fold my bras and underwear, they always seem to become a big jumble in the drawer. These organizers are perfect for keeping everything in place, and you won't forget about those items you own that end up buried at the back." —M. Hanson
Get it from Amazon for $10.94+ (available in seven colors).
2.
And a set of shelf dividers so you can maximize that hard-to-reach space in the top of your closet instead of just haphazardly throwing things up there and hoping they stay. 

They're also great for bulky items like linens and towels! The dividers are 12 inches tall and can slide over any standard shelf up to 7/8 inches thick.
Promising review: "I love these! They fit snugly over my shelf, so they don't shift or move around. I have a lot of handbags and it's been a mess on my closet shelf for the ones that are floppy. I have limited closet space in a small home so my choices of where/how to store them are limited. This was the perfect solution. I plan on buying more when I get around to rearranging sweaters on shelves." —BarbraGenie
Get a set of two from Amazon for $17.97.
3.
An expandable, two-tier organizer because every time you put a cleaning product back in the cabinet under your kitchen sink, you have approx. one millisecond to slam the door shut before everything falls out.
The shelving unit is suitable for most cabinets as you can adjust the height to four different levels (2, 5, 9, and 13 inches tall) and expand the rail anywhere between 15 to 25 inches. Since the dimensions aren't one-size-fits-all, it also comes with three large panels and four small panels so you can adjust the shelves.
Promising review: "Very sturdy, but lightweight and small; under my bathroom sink is *very* small, and the metal frame is thin enough that it doesn't take up much space, and of course it allows me to utilize the empty vertical space instead of shoving things all the way to the back wall. It comes with two supports for two shelves, but you can choose from four heights/positions. 👍🏻 Might need to order a second for under the kitchen sink..." —Jennifer Mowry
Get it from Amazon for $22.87+ (available in three finishes).
4.
A lightweight closet system that can hold up to 16 T-shirts at once so you can clean out what's supposed to be a "guest closet" but turned into a "second closet" for you instead.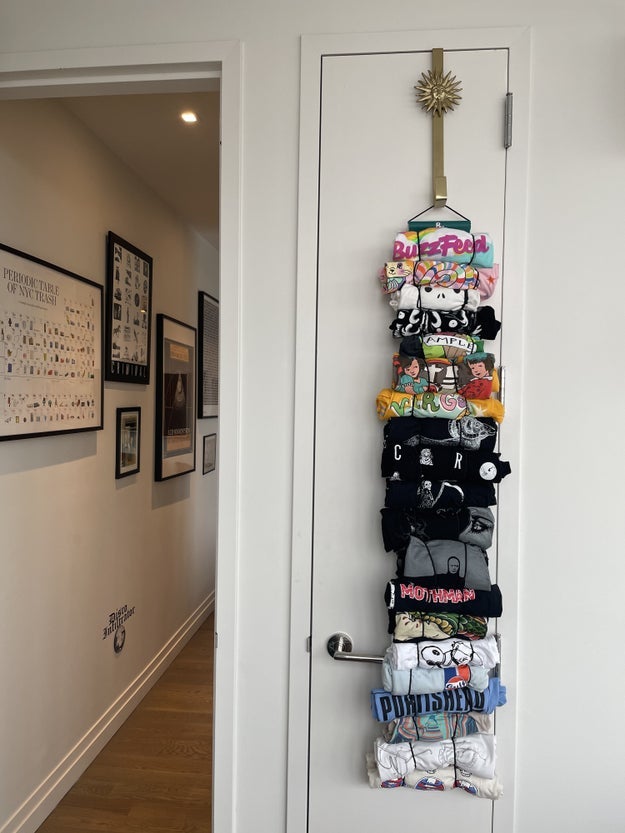 The Roll Keeper is a woman-owned small business in Kelso, Washington. Check out this helpful video that shows you how to load and unload the Roll Keeper!
Promising review: "Our family is growing, and I realized there's a lot of space in a closet that isn't being used. That's how I came across these, and now I have them in all the closets. They make getting clothes so easy, and now we have more space for the growing family! XOXO!" —Megan
Get it from The Roll Keeper on Etsy for $17.99 (available in three colors) or from Amazon Handmade for $23.99+ (available in three sizes and two colors).
5.
Some Wonder Hangers which will ~triple~ your closet space so you can snatch every trending piece you come across on TikTok. 

Check out how they work on TikTok here!

Promising review: "I wish I had taken the time to take a before and after pic because I have so much more room in there now than I did before. I found the cutest tops in there that I had completely forgotten about because my clothes were crammed in the closet so tightly. Most of the time, I felt like I had nothing to wear, LOL, and now, I know exactly what I have, and it's even organized by sleeve length and color. I would definitely buy again and actually plan to buy more for my husband and children to use as well." —Mariko Lamb
Get a 10-pack from Amazon for $12.99+ (available in three colors and packs of 6, 10, 24, or 50).
6.
A rotating makeup/skincare organizer ideal for freeing up space on your vanity or bathroom counter. Now you won't need a photographic memory to recall where you put your moisturizer.
If you're trying to size up the stand vs. your collection, the manufacturer says it can hold roughly 60 makeup brushes and 30 products be it lipstick, nail polish, skincare, etc.
Promising review: "If you're like me and have a lot of face care and makeup, this is a MUST-have for your vanity, dresser, or restroom! I love it! It holds almost all my products, minus two bottles of lotion, but that's okay. My mom bought two for her stuff after I showed her mine. It's big enough for everything, yet compact. This is easily my favorite purchase on Amazon this year." —KdH
Get it from Amazon for $27.99.
7.
A velvet ottoman that's not only a great place to kick up your feet, but a secret lil' storage spot where you can stow throws. If your home barely has room for furniture, this versatile piece will come in clutch.
Promising review: "I love this versatile stool! It's stylish, well-made, and extremely easy to assemble. When used for seating, it's comfortable and sturdy; when used as an end table it adds such a fun design element for any space. The storage is also a bonus if you are living in small space like I am. I highly recommend!" —Melissa
Get it from Amazon for $39.99 (available in five colors).
8.
A set of under-bed storage bags so you can use the few inches under your frame to store off-season clothes and extra linens instead of just dust. (Making a mental note to vacuum under mine ASAP.)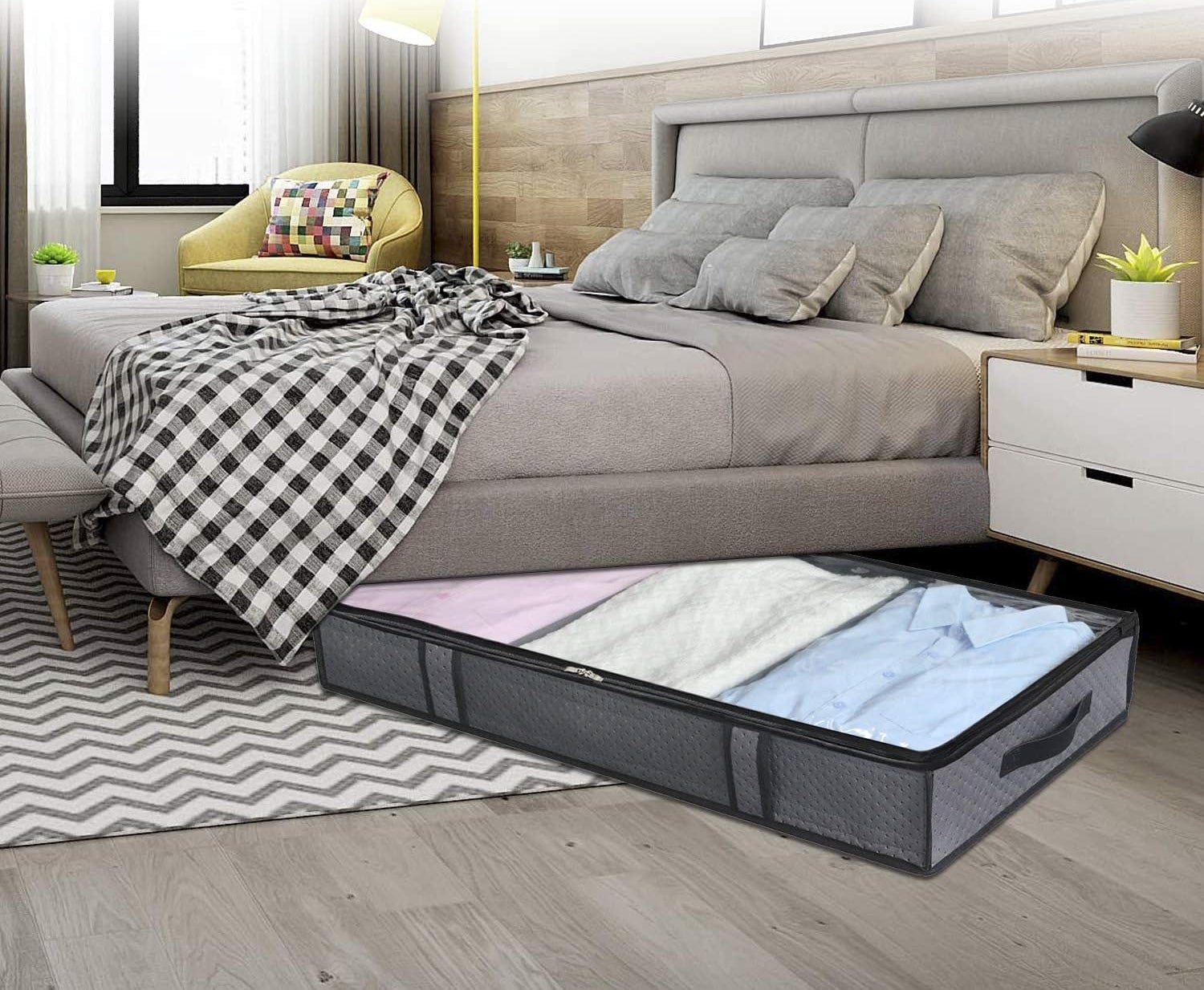 The bags have handles on three sides so they're easy to fish out. They also have clear zippered tops which allow you to see what's inside at a glance.
Promising review: "Wow! These storage bags are even nicer than I expected. They seem sturdy and well made for storage of items that aren't extremely heavy. Our winter home in Florida is tiny and being able to store extra bedding for guests under our bed is a must. These are perfect for the task. See-through tops enable quick identification of contents and double zippers work smoothly. Would definitely recommend." —KyFan
Get them from Amazon for $15.99 (available in three colors).
9.
A discreet upholstered bed that looks like any ol' frame, until you lift up your mattress (with the aid of hydraulics) to reveal loaddddddddds of storage space where you can store off-season clothes or just the bag of Haribo gummies you don't want your partner to eat.
Promising review: "VERY well packaged and manufactured. Directions not the best (parts not labeled) but wasn't a big issue. Took about an hour to assemble (I have done lots of similar projects). The bed surpassed my expectations for detail, fit, and finish." —rickey busch

Get it from Amazon for $245.99+ (available in sizes Twin–Queen, with or without storage or trundle, and in 15 colors/styles). 
10.
Or a day bed — perfect for guest rooms or offices — with two pull-out drawers where you can keep those linens your mom gifted you but you only use when she comes over.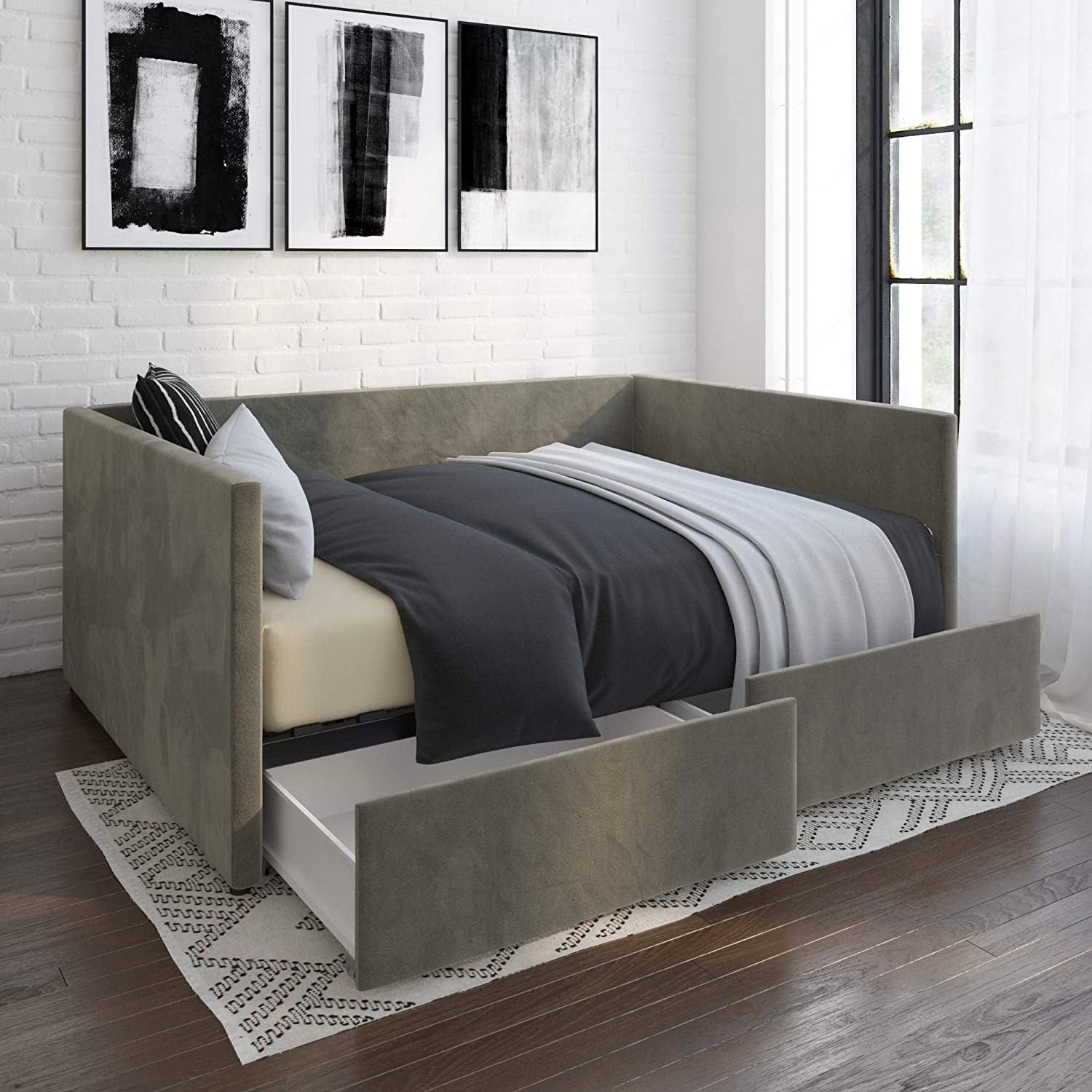 Promising review: "This was very easy to put together. The drawers are very spacious and give it a nice finished look (they also prevent my dog from going under the bed and hiding toys — a big plus there). It's very sturdy as well. With me, my roommate, and both our dogs sitting on the bed it's around 400 pounds and the bed didn't so much as squeak in protest. My dog bounces around on it all the time and it doesn't budge. I really think this is well worth the money." —Christa Carroll

Get it from Amazon for $350+ (available in Twin and Full sizes, velvet or linen, and in two colors).
11.
A set of six fridge organizers so you'll know *exactly* where your tube of cinnamon rolls is. That way, you don't wind up in endless cycle of buying more only to find the old tube once it's already expired.
Built-in handles make the containers easy to move around and refill. If you could use even more clarity on what's where, you can add your own labels!
What's included: Five drawers and a dedicated 14-slot egg holder.
Promising review: "I love these things so much. I just got my first apartment with my boyfriend and it looked so messy in our little fridge and now it looks really appealing and everything is easy to get to. The quality of them is so good, I'm honestly impressed. They're very sturdy and the egg holder is so cute and holds 14 eggs!" —Faith Sperry
Get a pack of six from Amazon for $18.49.
12.
A ceiling-mounted garage storage rack where you can stow away the bocce set, badminton net, and 10-foot-tall animatronic Santa you've had tucked away in your spare bedroom's closet. 
Securely attach the brackets to studs/ceiling joists and the shelving unit can hold up to 600 pounds of stuff. The elevation also ensures everything is safe in the event of a flood.
Promising review: "If you're wanting storage for your garage and have 10-foot or higher ceilings, this is the ticket. Installation is involved but I was able to do it as a one-man job. I used bungee cords to hold up one end of the shelf while installing the other. It took me a whole day to install but I was particular about its position and considered the constraints of surrounding space and aesthetics. This holds a total of 16 18-gallon totes... 16!!! It occupies otherwise unused space whereas standard shelving occupies valuable floor space. This is absolutely worth the money." —Amazon Customer
Get it from Amazon for $137.99.
13.
A magnetic stove shelf on which you can stack your go-to spices, oils, and kitschy salt and pepper shakers. It's also a convenient place to dry out a turkey wishbone if your family is into that tradition.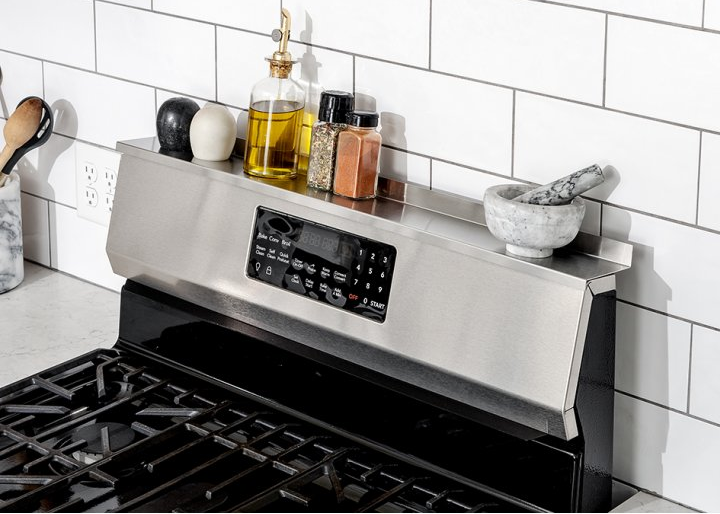 StoveShelf is a US-based small business that specializes in stove shelves for various sizes of stoves. 

Check out a Tiktok of the StoveShelf in action.
Promising review: "There was no set up...Take it out of the box and place it on the stove. The magnets are very strong keeping the shelf fixed in place. The magnets are raised allowing air flow underneath preventing the shelf from heating up. Sizing was perfect. I love it!" —Amazon Customer
Get it from Amazon for $39.99 (available in three sizes and in five finishes). 
14.
A set of adjustable mug organizers so you can confidently open your cupboard knowing an avalanche of mugs isn't about to fall on you.