1.
A deep pocket sheet set — in seasonally appropriate neutral shades like taupe and navy — that won't pop off the second you turn over in your sleep. Imagine that!!!! 

PS: The set even comes with four pillowcases so all of your bases are covered. 
Promising review: "Look no further...I've ordered hundreds of items here and this is my first review. These sheets are so soft and luxurious...I swear I'm sleeping better! Will order more colors!👍🏼👍🏼" —Janet E.

Get them from Amazon for $21.08+ (available in sizes Twin–California King and in nine colors). 
2.
A bottle of Elizavecca's Cer-100 collagen coating hair protein treatment which will run you just $7 bucks but reviewers claim it delivers results just as impressive as another brand that may or may not rhyme with ~PolaFlex.~ 
Promising review: "This is my very first review on Amazon ever because this product is actually THAT good. My hair has been dry and almost straw-like due to too much processing. This works on the very first try. My only wish is that bottle was bigger. I have long hair and have only gotten three uses. But for $7 a bottle, it's not a deal breaker for me." —Anna Terrick
Get it from Amazon for $7.48.
BuzzFeed contributor Bek O' Connell has this and loves it! Check out her full Elizavecca Protein Hair Treatment review for more info. 
3.
A full-body bath pillow so you can roll off of your regular mattress and onto your submerged mattress.
Promising review: "I want to begin this review by saying that this is the very first review I have ever written. This bath mat was EXACTLY what I dreamed up in my head to provide me with comfort while soaking in the tub with chronic pain! It has changed my life! 🙏🏻 I have lost a significant amount of weight due to digestive issues and have very little fat on my body. The bath tub is where I end up when the pain is at its worst. I can't tell you enough that if you are looking for a bath mat, please, please trust in this one!" —dlittle0503

Get it from Amazon for $47.02+ (available in two styles and colors).
4.
A tub of The Pink Stuff that can clean anything you throw at it be that tires, pots and pans, stove tops, showers, or the crayon mural your five-year-old so kindly left on your kitchen wall. 
Check it out on TikTok here!
And here's what BuzzFeeder/The Pink Stuff fan Heather Braga has to say: 
"After hearing what incredible things The Pink Stuff can do, I finally ordered it and tried it for myself. Honestly, wow! It really does work wonders. I tried it first on my Le Creuset cast-iron pan and really was amazed at how just one pass with The Pink Stuff (and a scouring brush) took off almost every stain! I can't wait to try it on literally everything in my home that needs a deep cleaning."
Promising review: "I never leave reviews on Amazon, this is actually my first one. I really needed to leave this because I loved it that much! I really like this cleaner! It's nice to not be suffocated by a strong bleach smell. This barely has a smell at all, it's just like a sweet little smell. It cleans so well! I'm very happy with this. I'm definitely buying more." —raihyah

Get it from Amazon for $4.74.
5.
A Little Green carpet cleaner capable of sucking up messes of any caliber. Be warned, though: Reviewers say once you start, you won't stop.
Promising review: "I don't typically ever write reviews, in fact, this is my very first review on Amazon. However, I HAD to RAVE about this amazing miracle worker. I have a toddler whom has turned my chairs into my worst nightmare. I've tried every cleaning product but everything would just leave a ring and end up making it look worse. I purchased this product PRAYING it would do the trick. To say I'm impressed is an UNDERSTATEMENT. It was so quick and easy and I can't wait to use my new toy again, oddly. Definitely recommend this product." —Syd
Get it from Amazon for $109.59+ (available in two configurations).
6.
A reviewer-beloved veggie chopper so you can dice up an onion without fear of losing a digit. Yes, I've watched Gordon Ramsay YouTube explainers on how to do it with a knife, but there's a disconnect between my head and my hand, okay??
Fullstar is a small business established in 2017 that specializes in kitchen gadgets. Check out a TikTok of their veggie chopper in action. 
Promising review: "This was the most perfect and most efficient product I've ever used. I'll never cut a vegetable again! This is my first ever review but it was so good I had to write one. Buy this!" —Jennifer

Get it from Amazon for $23.99+ (available in three colors and styles). 
7.
A tube of Essence's Lash Princess mascara that gives you a falsies-level look for less than 5 bucks. It seems questionable, I know, but for confirmation you need only to look at the 238,000+ 5-star reviews!!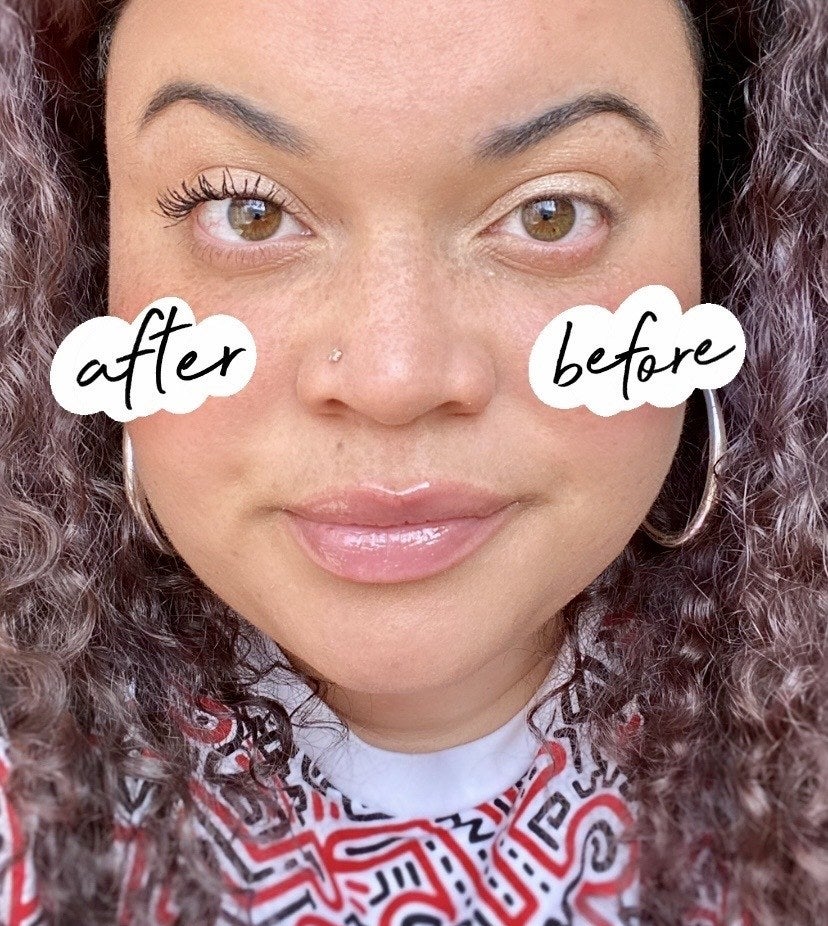 BuzzFeed editor Kayla Boyd tried this out and raves: 
"As someone who isn't a big fan of false lashes (the glue irritates my eyes and I'm terrible at applying them) this budget-friendly holy grail does the trick for both lengthening and volumizing my lashes. After you've given it a minute to dry, it lasts all day long and doesn't smudge or fade. It seriously gives the effect of false lashes without the discomfort."
Promising review: "This is my first review I have EVER done, and I thought I would let the world know about this mascara. This mascara is amazing! The price is amazing! I love it!" —Jelly
Get it from Amazon for $4.99.
For more info and review pics, check out Kayla's full Essence Lash Princess Mascara review!
8.
A bottle of COSRX's snail mucin repairing essence which addresses dullness and dehydration with — yes 😌 — 96% snail sludge that's harvested in a *100%* ethical and environmentally friendly way. Thanks for sharing the goods, friends! 🐌  
Promising review: "This is my first Amazon review, but I just had to get on here and write it because this product completely exceeded my expectations. The idea of putting some random snail goop on my face was weird to me (like what the heck was it going to smell like???), but I must say I am SOLD. This product is clear, light, and very thin and absorbs quickly. If the label didn't say snail, you wouldn't know it's from a snail. I suffer from rosacea and have some acne scarring, and this stuff has evened out my skin tone so well. It works as a stand-alone moisturizer or something you put on underneath moisturizer. SO WORTH THE MONEY!" —micaela reed
Get it from Amazon for $15.92.
9.
A set of trendy gold-plated earrings so you'll have a fresh option to wear (almost) every day of the week.
Promising review: "Not only was the packaging so cute, but each of the earring sets were separated in their own little baggies along with EXTRA backs (for the ones that need them) … as if I don't always lose my earring backs and need more! These are not only cute but the quality is there, too. This is the first review I've ever written, I literally won't buy anything on Amazon without reading the good/bad/ugly reviews so if you are debating buying these, I'm saying do it now! You will not regret it!" —MaryWyman M.
Get six pairs from Amazon for $16.97+ (also available in silver).

10.
A pack of medicated bandages laced with salicylic acid to target both common warts and plantar warts. Just reapply every 48 hours until your wart is no more!
Promising review: "This is my first ever Amazon review. I've had stubborn plantar warts for several years already, tried something I found in CVS once, didn't work. I literally used this maybe 3–4 times and it's gone! Looks like there was nothing even there. This is amazing, 10000/10 recommend." —Felicia
Get a pack of 14 from Amazon for $7.29.
11.
A HyperChiller beverage cooler that allows you to turn hot coffee into iced coffee in 60 seconds flat. Just fill the container with water and keep it in your freezer so it's always ready when you need it.
The dishwasher-safe container can also be used to chill tea, juice, wine, or whatever else you feel like drinking. No water comes into contact with your beverage, so you don't have to worry about dilution, either.
Promising review: "I have done my fair share of online shopping and have never written a review, but the HyperChiller made me want to tell everyone how amazing it is. My jaw actually dropped when I first used it, I could not believe that 1) that it wasn't a scam and 2) it could make my freshly brewed coffee ice cold in 60 seconds. I called all of my closest friends and told them about it because I was so excited. 10/10, as a college student, I highly recommend if you're looking for a cheaper alternative to buying Dunkin' or Starbucks." —Taylor
Get it from Amazon for $11.36+ (available in five colors). 
12.
An oil-absorbing volcanic face roller which works just like your go-to oil-blotting sheets but it doesn't create any extra waste! Just roll the mattifying stick all over your T-zone (or anywhere else that gets greasy) and soak up excess oil.

In case you're wondering — no, the volcanic roller doesn't mess up your makeup. And once you've given your face a quick touch-up, just twist off the top of the roller to release the stone and give it a wash before your next use.
Promising review: "I read a review about this and decided to give it a go because it was so inexpensive. I'm 45 with oily skin, I wear a sheer foundation and I don't like applying powder to absorb the excess oil on my face. I also can't use the blotting papers because my skin is so sensitive, some have made me break out and some have left my skin red. This is a game changer! This is my first review of a product and I've had Amazon Prime for years now!" —Heather
Get it from Amazon for $12.64.
13.
A Yonanas fruit soft-serve maker that can take any frozen fruit and turn it into an ice cream or sorbet. A lot of folks with dietary restrictions swear by this to get their ice cream kick!
Promising review: "Love this machine. No sugar or dairy in my ice cream anymore. All the pieces come apart and a simple rinse and they are clean, literally thirty seconds of cleanup. A little noise, but not near as loud as my blender. A great product, I use it every day. Just had my daughters over and gave them some and they went home and ordered their own. This is the first review I've ever written and I did so because I love this machine!" —ken mattison
Get it from Amazon for $39.98+ (available in six colors).