1.
A set of drawer organizers that can take your dresser from the chaos that is a TJ Maxx sale section to the enviable order that is The Container Store.
The set of four dividers can fit scarves, ties, underwear, bras, and socks as seen above.
Promising review: "No matter how neatly I fold my bras and underwear, they always seem to become a big jumble in the drawer. These organizers are perfect for keeping everything in place, and you won't forget about those items you own that end up buried at the back." —M. Hanson
Get it from Amazon for $12.87 (available in seven colors).
2.
And a set of shelf dividers so you can maximize that hard-to-reach space in the top of your closet instead of just haphazardly throwing things up there and hoping they stay. 

They're also great for bulky items like linens and towels! The dividers are 12 inches tall and can slide over any standard shelf up to 7/8 inches thick.
Promising review: "I love these! They fit snugly over my shelf, so they don't shift or move around. I have a lot of handbags and it's been a mess on my closet shelf for the ones that are floppy. I have limited closet space in a small home so my choices of where/how to store them are limited. This was the perfect solution. I plan on buying more when I get around to rearranging sweaters on shelves." —BarbraGenie
Get a set of two from Amazon for $14.99 (available in two colors).
3.
A ceiling-mounted garage storage rack where you can stow away the bocce set, badminton net, and 10-foot-tall animatronic Santa you've had tucked away in your spare bedroom's closet. 
Securely attach the brackets to studs/ceiling joists and the shelving unit can hold up to 600 pounds of stuff. The elevation also ensures everything is safe in the event of a flood.
Promising review: "If you're wanting storage for your garage and have 10-foot or higher ceilings, this is the ticket. Installation is involved but I was able to do it as a one-man job. I used bungee cords to hold up one end of the shelf while installing the other. It took me a whole day to install but I was particular about its position and considered the constraints of surrounding space and aesthetics. This holds a total of 16 18-gallon totes... 16!!! It occupies otherwise unused space whereas standard shelving occupies valuable floor space. This is absolutely worth the money." —Amazon Customer
Get it from Amazon for $229.99+ (available in packs of one or two and in three finishes).
4.
A set of sheet keeper bands if nothing sends you into a red hot rage quicker than reaching into your linen closet and pulling out every single fitted sheet *except* for the one you're looking for.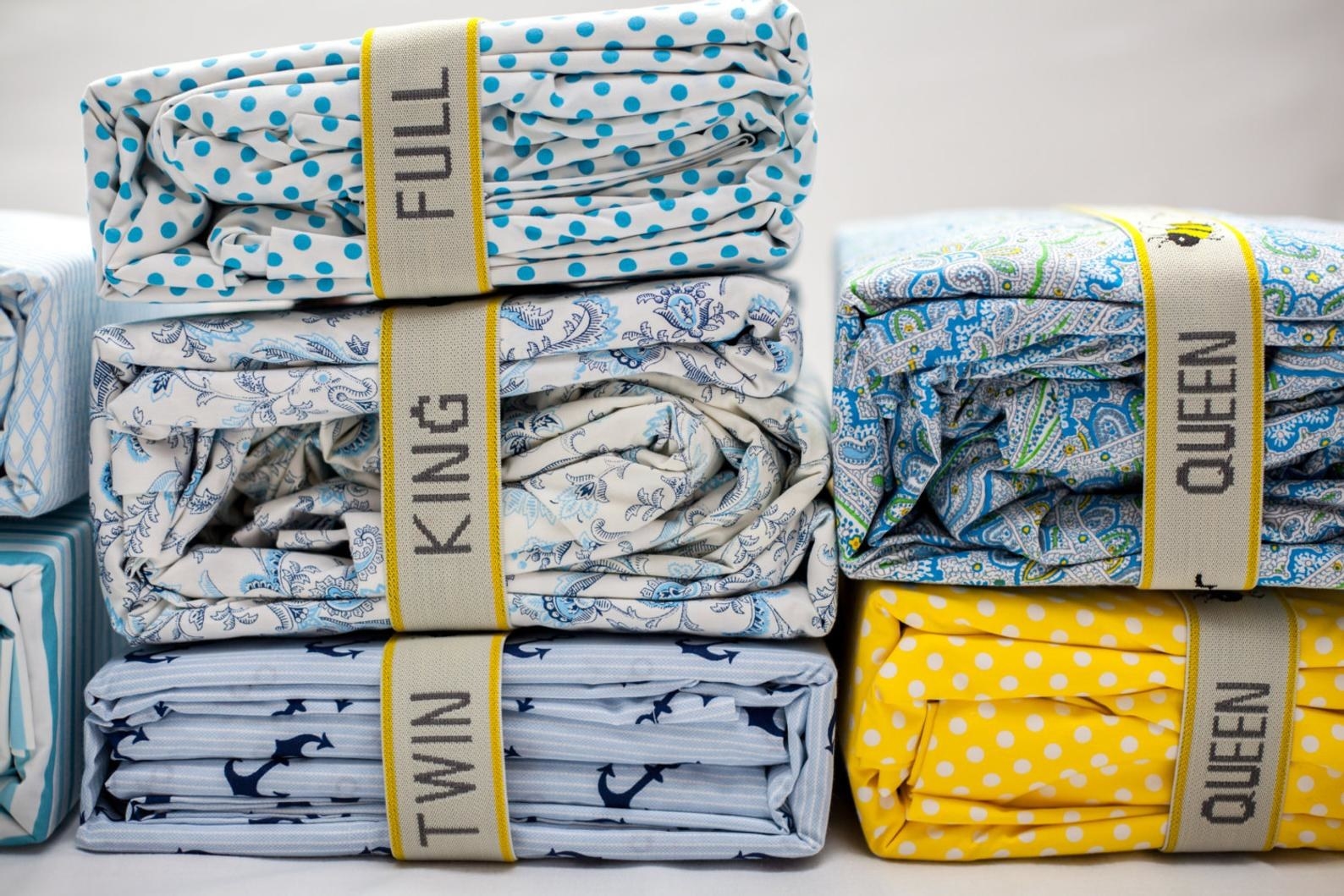 SheetKeeper is a woman-owned small business based in Los Angeles.
Promising review: "Great product. Came quickly, and they work great! Such a great idea to keep sheets organized and together while being able to tell what size bedding it is. Will order again for sure!" —devonhansen1
Get a set of two from SheetKeeper on Etsy for $13.99 (available in sizes twin—California king).
5.
Some Wonder Hangers which will ~triple~ your closet space so you can snatch every trending piece you come across on TikTok. 

Check out how they work on TikTok here!

Promising review: "I wish I had taken the time to take a before and after pic because I have so much more room in there now than I did before. I found the cutest tops in there that I had completely forgotten about because my clothes were crammed in the closet so tightly. Most of the time, I felt like I had nothing to wear, LOL, and now, I know exactly what I have, and it's even organized by sleeve length and color. I would definitely buy again and actually plan to buy more for my husband and children to use as well." —Mariko Lamb
Get a 10-pack from Amazon for $12.99+ (available in three colors and packs of 6, 10, 24, or 50).
6.
A set of super-strong magnetic strips to elevate beer and soda bottles so you can nix the annoying cardboard holders they come in. Plus, now you can free up an extra few inches underneath where you can slide in your XL bag of string cheese.
The set comes with two magnetic strips which can be arranged in three different positions. Each holds six bottles.
Promising review: "Works great in my fridge. Super strong and frees up space on the bottom. I only have an inch of clearance but it does allow me to slide things under it and I no longer deal with falling over bottles." —Raemi
Get a pack of two from Amazon for $29.99.
7.
A slim storage cart you can shimmy into the dead space between your washer and dryer. The three-tiered unit has plenty of room for your detergents, dryer sheets, and in-wash booster beads, which — TBH — are totally unnecessary but fun to sprinkle in. 
Promising reviews: "I bought this for a space between my fridge and the counter/cabinets. Because it is right next to my fridge, I can store onions and potatoes conveniently and shelf items that will eventually be refrigerated, thus freeing up some pantry space. It is easy to roll in and out with the attached handle... I was so happy to find this very narrow solution for my little nook." —Jay S
"Love that this does not require assembly aside from attaching the wheels! It's plenty sturdy enough. The wheels move great. I like that you can leave them to turn 360 or tighten them to only roll straight. I love the sleek design and that it has a solid front side to hide the clutter... I think this would be an amazing spice rack/small bottle storage for the pantry. All in all a wonderful solution to my cluttered shelf!" —Barbara Neely Designs
Get it from Amazon for $145 (available in black and white).
Pssst... If you're looking for a slim storage cart on the lower end of the price range, check out this best seller for $18.69. It's plastic, but does the same job!
8.
A nonskid three-tier pantry organizer ready to save you from buying yet another thing of cinnamon because yours is seemingly off exploring Narnia.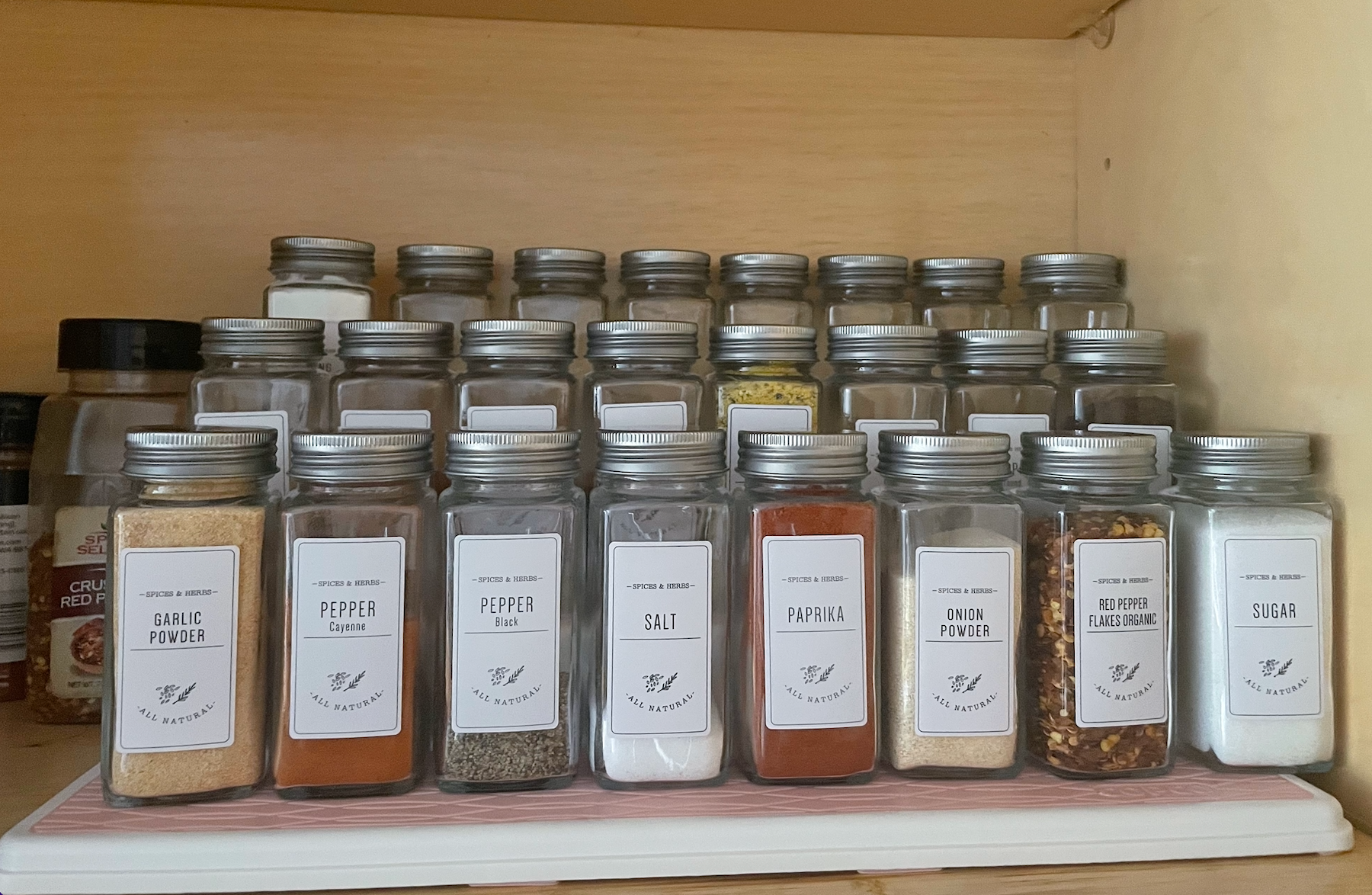 Chelsea Stuart / BuzzFeed
I have the 15-inch one and it fits in my standard-sized cabinet ~perfectly~ and allows me to see all of my spices so I don't have to rifle through them and make a mess every time I'm cooking. Ofc if spices are only part of your issue, it can also be used to hold extracts, canned veggies, sauces, etc.! 
Promising review: "I added this item to my shopping list several weeks ago and I'm so glad I finally committed to buying it. As a vegetarian, I've found that I have to add double the spice just to get a real kick in the dishes I prepare. Not to mention, making sure that I have all the spices that I'm going to need while being quarantining/ social distancing. With that said, my spice cabinet was atrocious before I got these racks. And I am so happy to finally be able to grab my spices without knocking over the other ones and making even more of a mess. I didn't know somethings so small and plain could bring me so much joy. Buy it now! You will not be disappointed." —Arie M.
Get it from Amazon for $9.81+ (available in two sizes and 10 colors).
9.
Or a 30-spice door rack if there's simply no getting around the fact that your collection has outgrown its designated cabinet.
Each strip has five clips which fit most standard spice bottles (1.5 to 1.75 inches in diameter). The strips also come with pre-applied tape so all you have to do is peel and stick.
Promising review: "Love, love, love this! I have old narrow cabinets and not nearly enough of them so I desperately needed a new way to organize all my herbs and spices. Took a chance based on a list of cool new things and couldn't be more happy with this product! It came with 30 grippers for only $10. I didn't even have to screw them into my cabinets. If you follow the directions and let them cure 24 hours, the self-adhesive works great! I plan on buying a few sets for gifts!" —Brandi Y.
Get it from Amazon for $9.97+ (available in two sizes and three colors).
10.
A set of under-bed storage bags so you can use the few inches under your frame to store off-season clothes and extra linens instead of just dust. (Making a mental note to vacuum under mine ASAP.)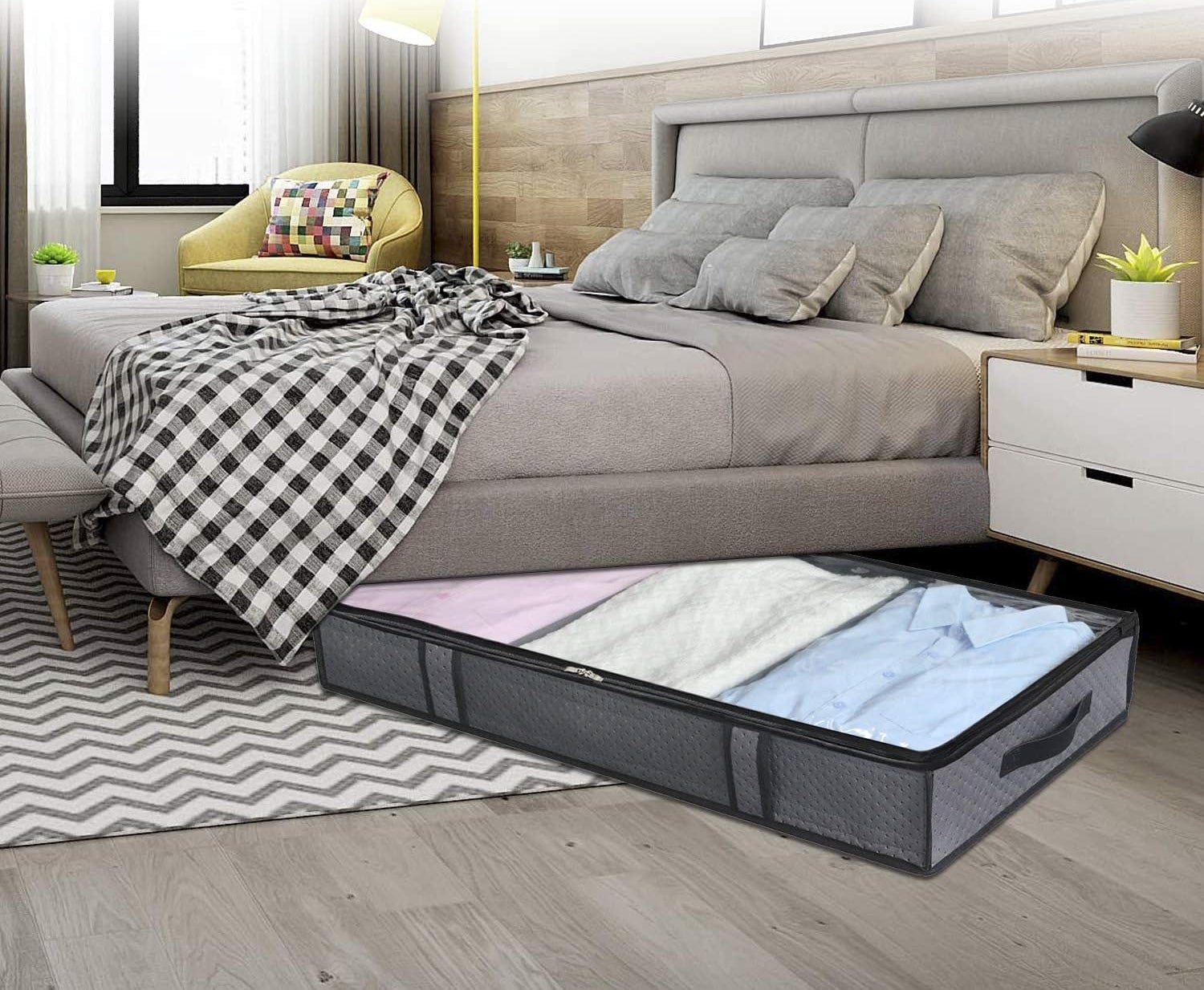 The bags have handles on three sides so they're easy to fish out. They also have clear zippered tops which allow you to see what's inside at a glance.
Promising review: "Wow! These storage bags are even nicer than I expected. They seem sturdy and well made for storage of items that aren't extremely heavy. Our winter home in Florida is tiny and being able to store extra bedding for guests under our bed is a must. These are perfect for the task. See-through tops enable quick identification of contents and double zippers work smoothly. Would definitely recommend." —KyFan
Get them from Amazon for $15.99 (available in three colors).
11.
A two-tier lazy Susan strong enough to store your reserve of soup cans or salon-worthy collection of polish. Plus, since it's nonskid, nothing will come flying out at you even if your rental's shelves are majorly uneven.
Promising review: "This turned a mess of a cabinet into an organized cabinet. We use A LOT of spices and it was always a nightmare to find the right one. Now, I just spin to find what I want. It's a nice height too and allows for different sized bottles to be placed on the racks. Overall, this is a good purchase to help with organization." —vegmom
Get it from Amazon for $12.99+ (available in 14 colors).
12.
A personalized stuffed animal zoo for anyone whose playroom or bedroom has turned into a free-roaming plushie sanctuary.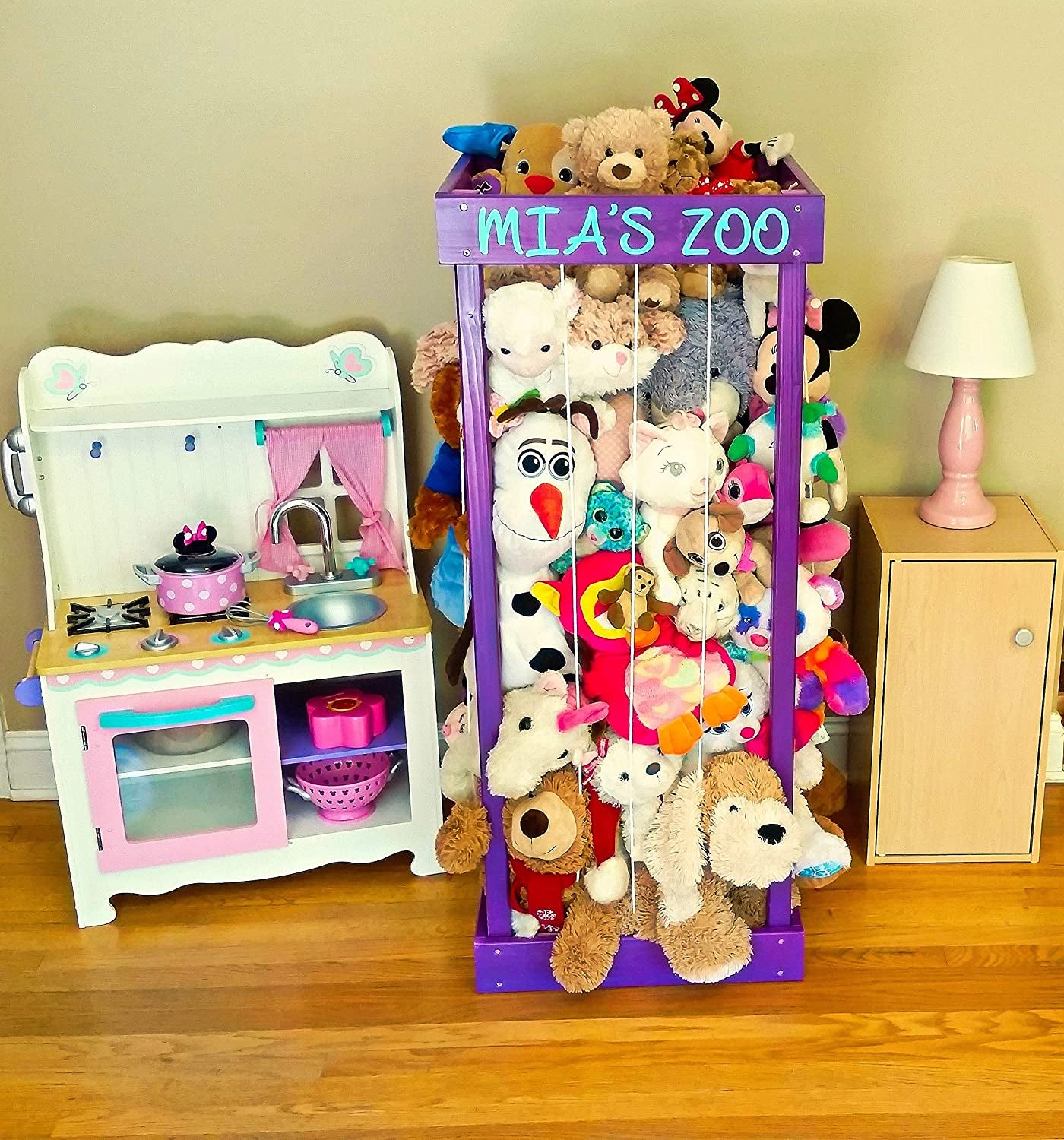 Banda's Palette is a Kansas-based woodworking shop from Jaime, a parent of two who makes all sorts of specialized goods from lemonade stands to costume closets.
Promising review: "It was easy to assemble and very high quality. It looks just like I hoped it would. My daughter absolutely loves it and it keeps so much clutter off the floor!" —Emily Wilson
Get it from Banda's Palette on Amazon Handmade for $105 (they typically ship in three to five weeks).
13.
A cutlery organizer that was smartly designed to save a buttload of space. Sick of fishing around a jam-packed drawer on the search for your favorite fork? Give it a cozy, reliable place to call home.
I bought this about a year ago and I'm a little embarrassed about how often I think about it. For the first week we owned it, my boyfriend and I both commented daily on what a smart design it is, how much room it freed up in our drawer, and how we wished we knew about it sooner. If you — like me — are at that stage in your late 20s where practical, problem-solving products put a ridiculously wide smile on your face, I'm sure you'll love it.
Promising review: "Fits my drawer like a glove AND holds my set for 12! Heavy gauge plastic construction that does not give even when fully loaded. This has opened up so much more space in my drawer making it easier to find other serving pieces and the odd items in that drawer. Love it, highly recommend it. Before purchasing, measure your drawers to make sure it will fit. I love that it can lie parallel to the drawer front. I was concerned that my flatware would stick out too tall for my stock cabinetry drawer, but that is not a problem." —Kindle Customer
Get it from Amazon for $11.99.