1.
A reviewer-beloved veggie chopper so you can dice up an onion without fear of losing a digit. Yes, I've watched Gordon Ramsay YouTube explainers on how to do it with a knife, but there's a disconnect between my head and my hand, okay??
Check out a TikTok of the veggie chopper in action. 
Promising review: "Makes life so much easier. I can't imagine chopping onions or bell peppers by hand anymore, and it does so much more. We used to have a Prepworks chopper which was a similar idea, but you had to press so hard to chop, and it broke after not too long. This one requires very little effort to cut through the food and it has a generous container." —Amazon Customer
Get it from Amazon for $29.99+ (available in three colors). 
2.
A set of "floating" kitchen knives in an acrylic case if one of the ways you know you'll be able to "trick" yourself into cooking more is by outfitting your kitchen with aesthetic equipment. 
Each set comes with 13 professional chef knives, kitchen scissors, a peeler, a two-stage stage knife sharpener, and an acrylic knife stand.
Promising review: "I love these knives! I saw them on a TikTok and decided I had to have a set of black knives and they exceeded my expectations for sure. Super durable, and very sharp. And they aren't an eye sore in the kitchen." —Emily S. 
Get the 17-piece set from Amazon for $39.99+ (available in two finishes).
3.
And a two-stage knife sharpener (if your current set doesn't have one) with the power to take your dullest kitchen knife and return it to its former glory. Forget buying a whole new set, this teensy-tiny tool can sharpen and polish straight- and serrated-edge knifes with no issue.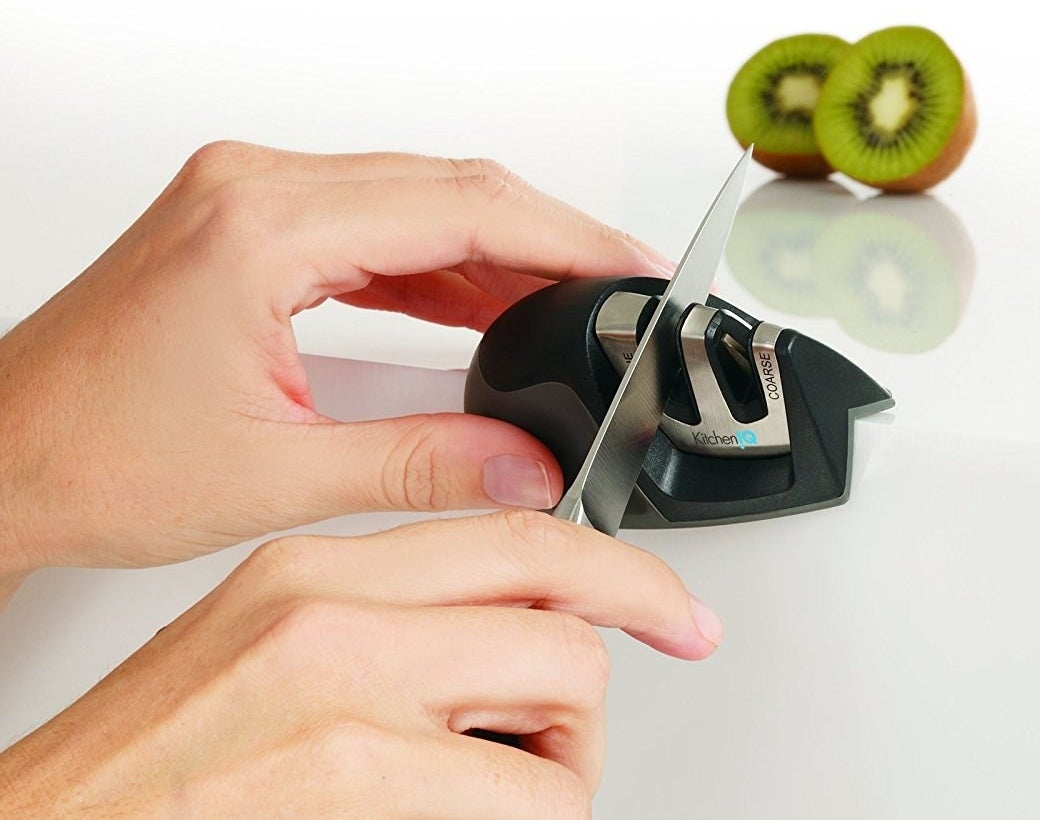 Promising review: "Wow, this little gadget is pretty amazing! I have some old (expensive) nonserrated knives that are supposed to never need sharpening but unfortunately, lost their sharp edge long ago. I saw this gadget and decided to try it. I set the bottom of this gadget on the edge of the counter and ran one of the knives through the side labeled 'Coarse' about 10 times, then ran it through the side labeled 'Fine' another 8–10 times. Bingo! The knife was transformed back to its former high-dollar cutlery glory. I could hardly believe how effectively it had sharpened the knife, which I had been ready to throw away a week before. I've been happily sharpening all our knives and trying to add up in my head how much money I've saved by NOT having to buy another set of expensive knives. I don't know where else you can spend $6 and get this return for the money. Great score!" —Schelly L. Wagoner

Get it from Amazon for $10.95.
Read our full review of the KitchenIQ two-stage knife sharpener!
4.
A Yonanas fruit soft-serve maker that can take any frozen fruit and turn it into an ice cream or sorbet. A lot of folks with dietary restrictions swear by this to get their ice cream kick!
Promising review: "I saw one of these in action at a friend's house like five years ago and thought it was just a made up memory, because making ice cream out of solely frozen fruit seems wild. But when I saw a TikTok about it I immediately went to Amazon and bought it. Literally this was the BEST decision of my life. I cannot believe still how amazing this thing is! It makes the creamiest, best tasting fruit ice cream ever. It's easy to take apart and clean, and super easy to use." —DMCKAY
Get it from Amazon for $40.70+ (available in seven colors). 
5.
A Dracula garlic mincer because garlic powder simply doesn't compare to freshly minced garlic when you're whipping up an Italian feast.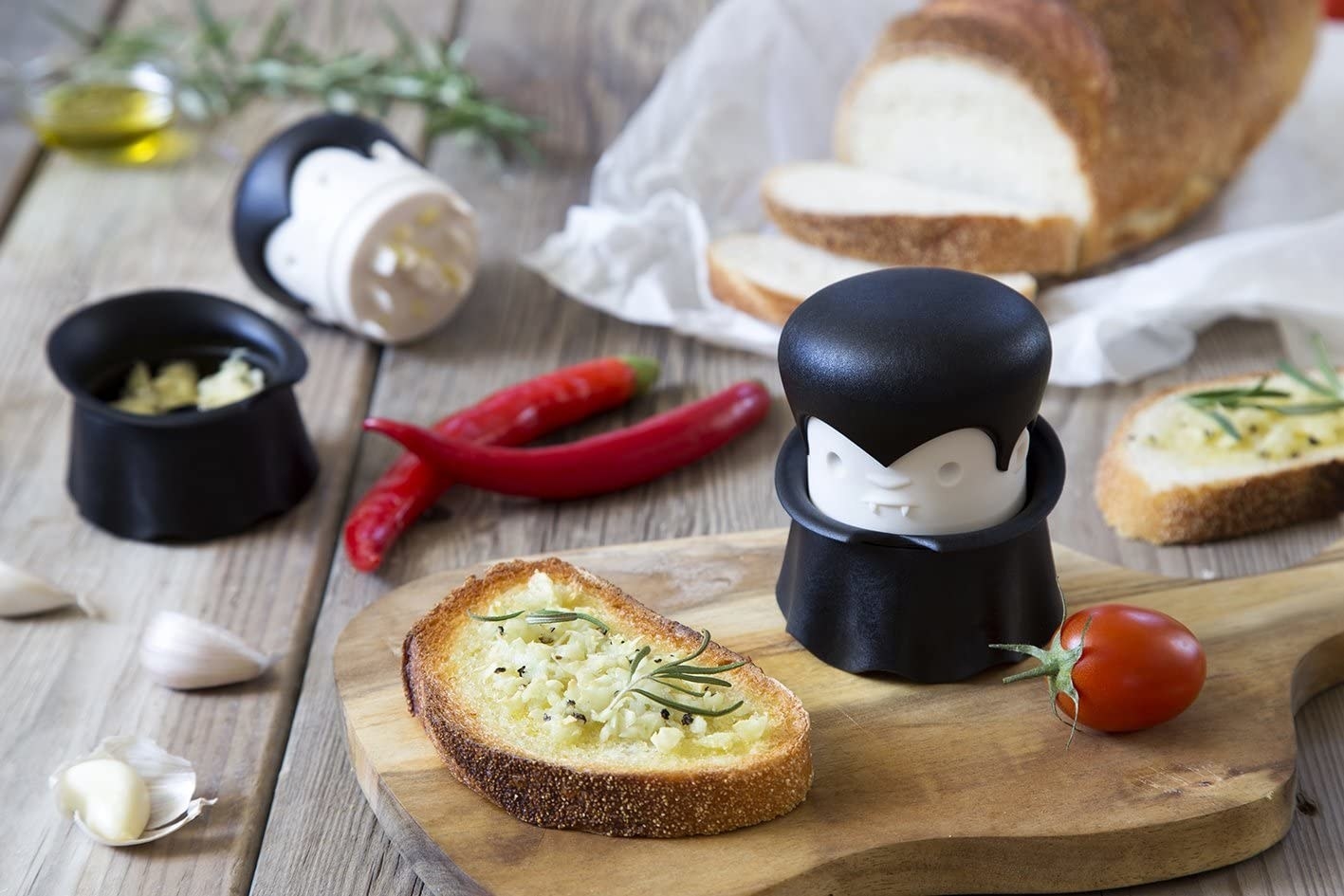 PS: You can also use it for ginger!
Promising review: "I purchased this as a gift for my friend who is a fantastic cook — she uses fresh ingredients almost exclusively — but pressing fresh garlic is a task usually delegated. No longer — Gracula is there for her. She uses him nearly every time she needs garlic (which is basically daily) and months later still makes a point of saying how much she enjoys the gift. I'm pretty sure she likes it better than other gifts I've gotten her which were more expensive/thought out, and I'm fairly certain it's what took me from "good friend" to "best friend," but it be that way sometimes. Anyway, definitely recommended for people who cook with garlic and have a sense of humor." —L
Get it from Amazon for $24.95.
6.
A nylon chopper perfect for breaking up ground meat, frozen veggies, eggs, and more. If you're a fan of tacos, Philly cheesesteaks, or smash burgers (~chef's kiss to Shake Shack~), this baby will come in clutch.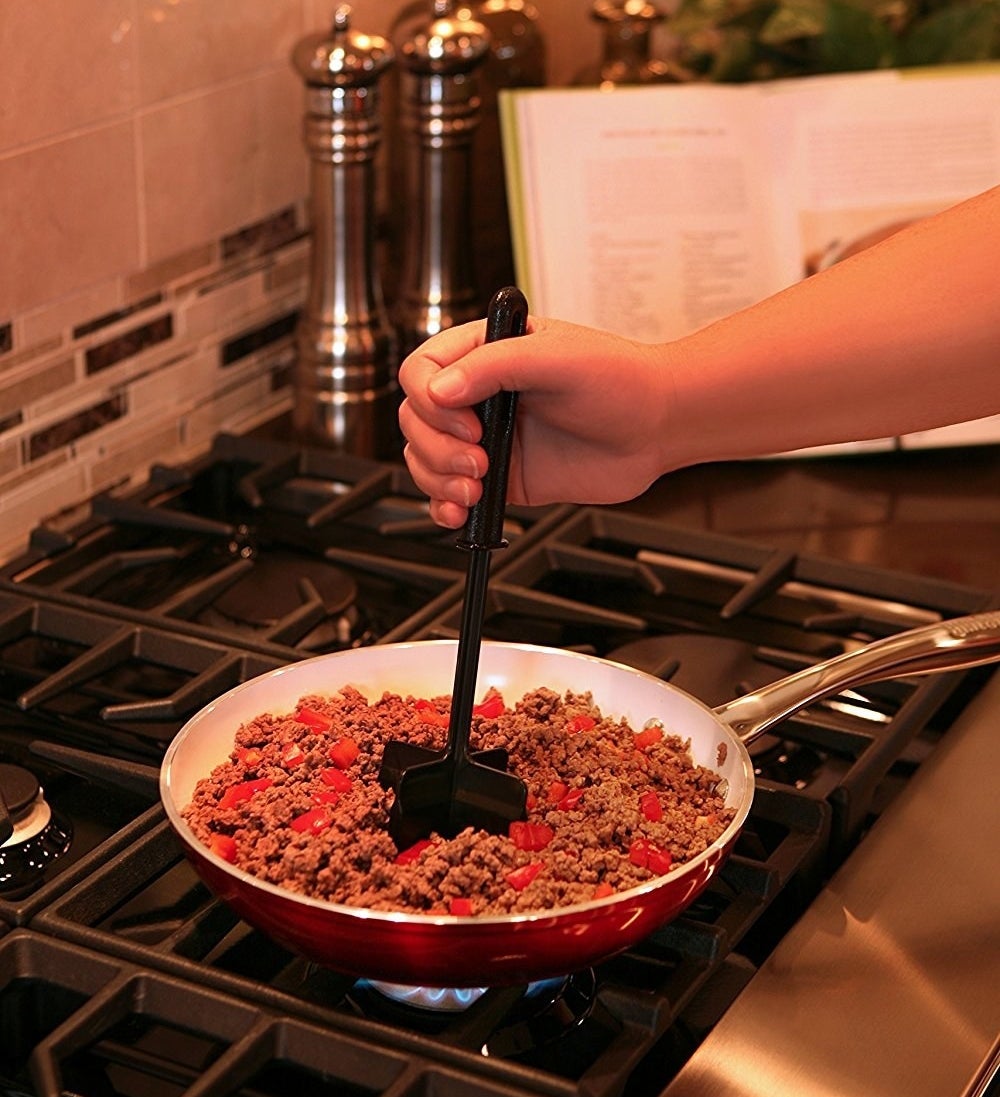 The tool is safe to use with nonstick cookware and you can throw it in the dishwasher for easy cleanup.
Promising review: "The chopper breaks up ground beef, turkey, etc., much more efficiently than can be done with a spatula or turner. I don't normally purchase incredibly specialized utensils if I can get by without them, however, I think this chopper is worth the money because it saves time and makes cooking easier. The nylon material is heat-resistant and seems durable, but the packaging still directs not to leave on a hot surface when not in use." —Karen
Get it from Amazon for $7.99+ (available in three colors).
7.
An oil mister so you can perfectly spritz all of your one-pan meals. This way, you don't have to toss everything by hand and get covered in hard-to-clean (not to mention expensive...) EVOO. 
Promising review: "This is a great item for lightly spraying salads, roasting vegetables, or adding some oil to a prepared plate of pasta. Avoids using more oil than necessary so that's a savings right there. I also use it to put a light coating of oil on all my cast iron cookware to prevent rust. Best of all, it looks great on the dinner table. Lots of uses which really makes it an asset in the kitchen. It seems that it should last a while so I think it is worth the few bucks spent." —Clancy
Get it from Amazon for $14.99.

8.
A pancake batter bottle if you (or your partner or kiddos) go through hotcakes like nothin'. Now, you can make a whole stack in minutes.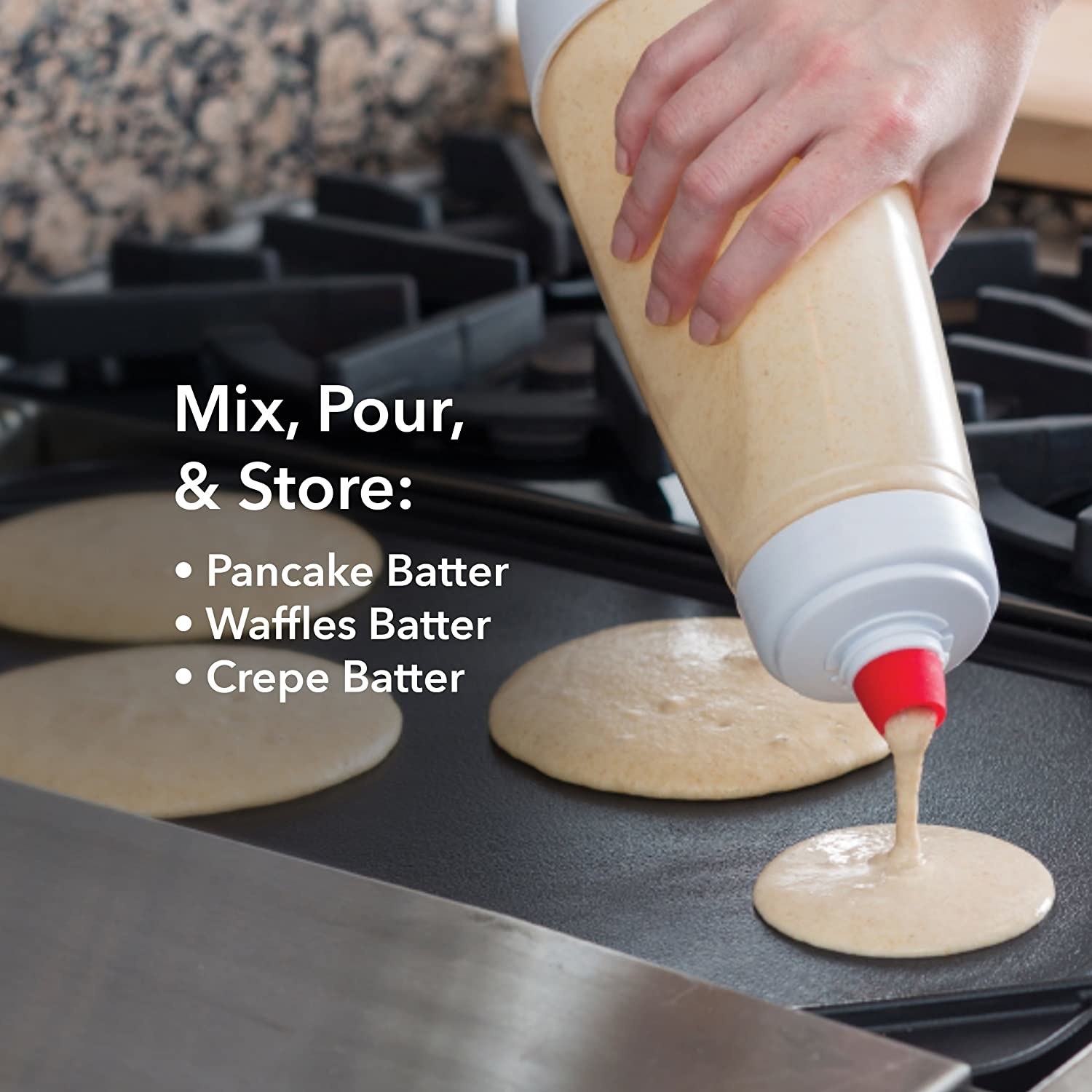 The bottle isn't just for dispensing, either. It also has a whisk ball in the bottom so you can mix up your batter with just a few shakes. 
Promising review: "This thing makes pancakes a breeze! The batter mixes really fast in this bottle and it makes pouring the batter on the griddle super easy. I make pancakes at least once a week so this is a great addition to my kitchen tools." —LBND
Get it from Amazon for $14.99.
9.
An Anova sous vide cooker to help you make restaurant-worthy meals with minimal effort. Like so minimal that you don't even have to be in the kitchen while your food is cooking!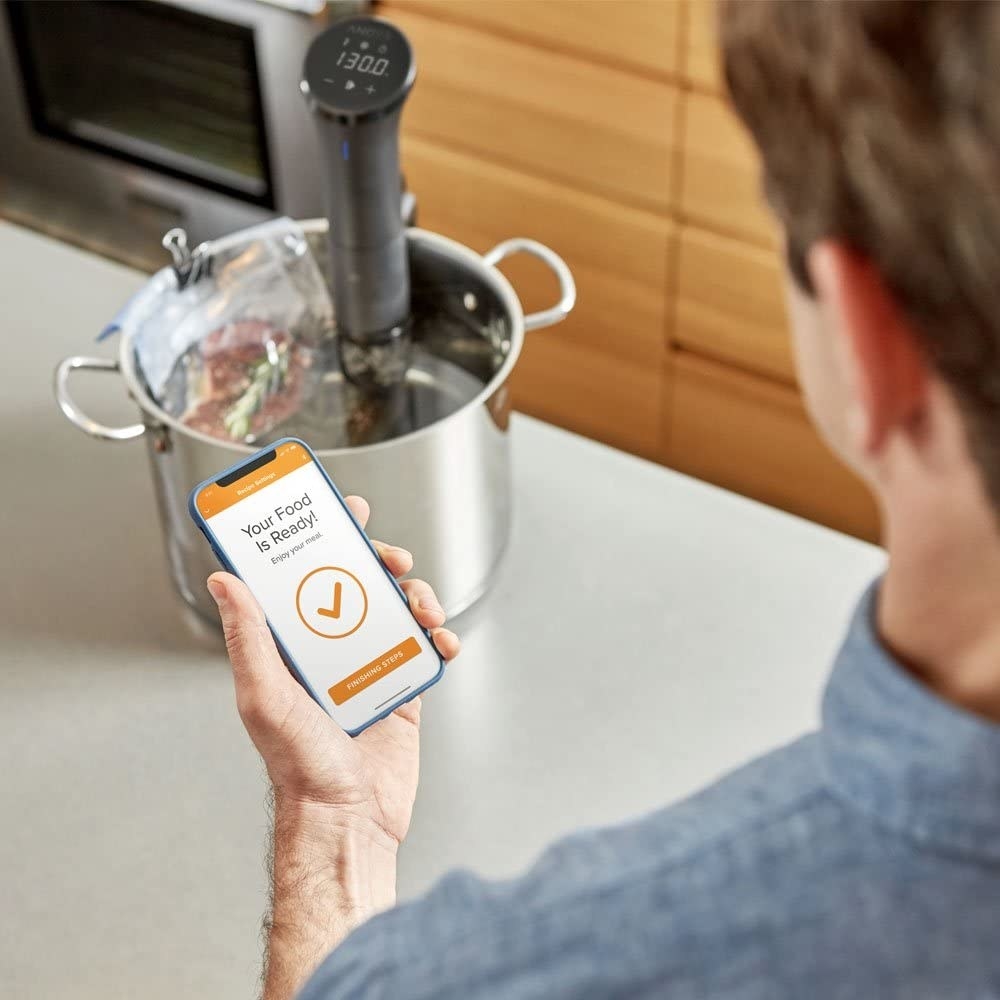 The temperature range is 32–197 degrees Fahrenheit. The cooker can be controlled right from your phone, so you don't even have to stay in the kitchen while cooking. It also provides cooking notifications, and stays connected through Bluetooth from up to 30 feet away. Plus, you get access to over 1,000 recipes, so you'll have inspiration for yummy meals! Get the Anova app here.
Promising review: "Since I started cooking sous vide, my family says my cooking has gone to a new level. I started with the original Anova, and just recently picked up this Nano. The Nano is awesome because it's much smaller vs. the first Anova, making it easier to store in a drawer or something. It sounds trivial but by making it easier to grab. Set-up is so much quicker, and I can cook a beef roast for 30 hours without adding ANY water. If you're just starting out in sous vide, I recommend this cooker." —Jeff Nichols
Get it from Amazon for $99+ (available in two styles).
10.
A silicone crab utensil holder that'll triumphantly hold your spoon over its head so it doesn't melt on the side of your stove while you're cooking. 
Promising review: "Probably the coolest holder I have ever seen. Bought it for my wife and she loves it and thinks it's cute. I laugh when I look at it, just cool as all! Hangs on all of our pots and pans, stays cool. Easy to clean and looks awesome. Great addition to any kitchen. Works great, does exactly what it is intended to do!" —Logan E.
Get it from Amazon for $19.95 (available in two colors). 
11.
An automatic spice grinder so you can top off every dish with a bit of spice and in the most ✨extra✨ fashion imaginable. 
BTW — this grinder is battery-operated, so make sure to get a few AA batteries, too!
Promising reviews: "Nothing like freshly ground spices to add a little snap to your cooking. The pods snap on and off with ease and the grind size is very easy to adjust from barely ground to pulverized... The ability to group commonly used spices together in threes and carry them across the kitchen or outside to the grill just adds to the usability." —Todd Tittle
Get it from Amazon for $44.99 (available in four colors, comes with grinder and two interchangeable pods).

12.
An XL combo air fryer and oven if you manage to under or over cook your entree every dang time you use your oven. If you thought these things were only for French fries or chicken nuggies, think again. You can crisp up fresh asparagus, cook salmon to flaky perfection, and even bake a GD lemon bundt cake if you so wish!

Promising review: "I chose this particular air fryer over hundreds offered on Amazon. Features that were the most important to me were the number of presets (counting defrost), the warranty (a year), Cosori accessories, and ease of use. It is easy to clean in the dishwasher, and the preset settings mean that I don't have to calculate time or temperature. But it's also easy to add time or subtract it if you need to. The night I received my air fryer, I made the most amazing steaks that were so tender and moist inside! Since then, I have made Cornish hens, BBQ ribs, blueberry muffins, tater tots, and many other dishes. The fryer is not heavy and it is not loud when in use. Do yourself a favor and buy this!" —nativehoosier

Get it from Amazon for $119.99+ (available in three sizes). 
13.
And a set of magnetic air fryer cheat sheets you can affix to your fridge and then quickly crosscheck when you're in the middle of making chicken fingers. That way, you don't have to wash all the eggs and bread crumbs off your hands and fumble with your phone to pull up Google.
The set comes with two different-size magnets. See it in action on TikTok here. 
Promising review: "I thought it over a few times, and then I bought these so I could have a quick reference handy for those times I wanted to make something in my air fryer, which is quite a bit. What surprised me is how often I refer to it. I just throw something in my air fryer, glance at the section that lists the item I'm cooking. Press a few buttons on my fryer, and I'm in business. No more having to search on my phone with wet fingers. A frivolous buy that turned out to be worthwhile." —PickyExtra
Get it from Amazon for $8.99+ (also in two colors and Spanish language).
14.
A two-pack of handheld bag sealers you can use to cut and seal a variety of snack bags so your treats don't go stale. (I personally can't not finish an entire bag of Jax Cheese Curls in one sitting, so I don't need this, but power to those who have the strength to save some!)
The portable sealers heat up on contact so there's no downtime before use. They also come with batteries so you can use them right away!
Promising review: "I couldn't wait to see if these really worked. As soon as I received them I went to work sealing bags of opened chip bags. They worked! No more stale chips. They have a built in magnet, so I can keep them handy on the fridge. I am really impressed with them. No waiting time, no buttons to mess with. Just slide the protective cover away to expose the roller and run it across what you want to seal. Easy!" —Monica
Get them from Amazon for $18.79 (available in three color combinations).
15.
An automatic pan stirrer because you can only be in so many places at once and sometimes, doing your makeup is a lil' more important than scrambling your eggs. 
The arm spins in the pan, disrupting whatever's in it and effectively stirring for you. The future is now!
Promising review: "My husband loves to cook. We have two very small children, so while his meals are mostly yummy, they are also sometimes burnt. This was perfect for him. He's able to turn it on, run into the next room to save the day with a plastic bag and a washcloth for whatever blowout-esque mess I'm dealing with, forget he's cooking, run back into the kitchen frantically when he remembers, and arrive only to find the meal practically cooking itself. Best. Gift. Ever." —Jake the ChefturnedDaddy
Get it from UncommonGoods for $25+ (available in rechargeable and battery operated models).