1.
I Dew Care's Chill Kitten Moisturizer combines prickly pear extract, heart-leaf extract, and aloe vera leaf in a deliciously cool-to-the-touch gel that hydrates and replenishes skin without feeling heavy or greasy.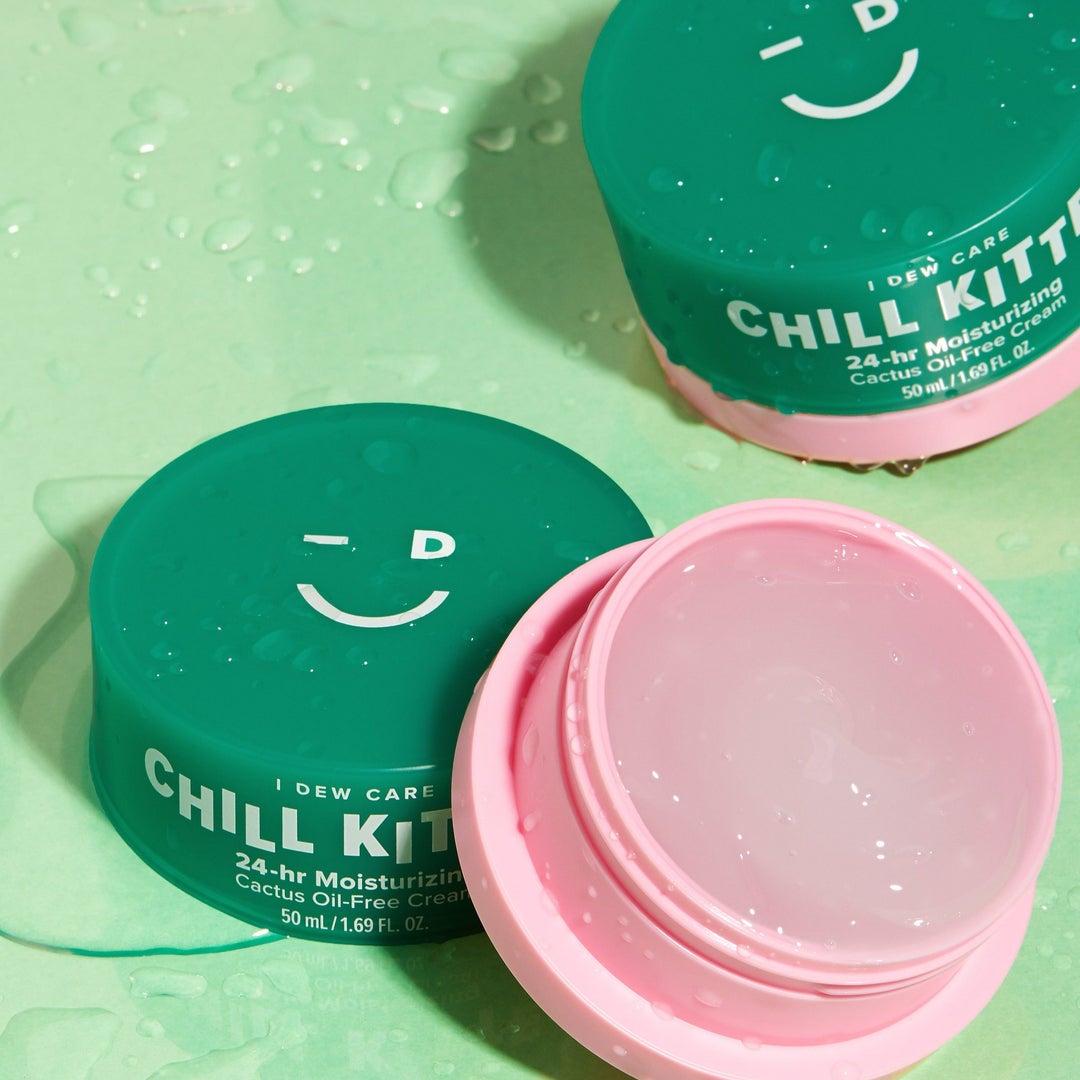 I recently started using this and I love it!! I have dry, sensitive skin and one of my favorite things about it is that it's fragrance- and oil-free. It goes on soooo smooth (it's not tacky or greasy) and it leaves me feeling like a glazed donut for a few minutes before it sinks into my skin. 
Promising review: "Tried tons of moisturizers over the years and this is by far the best! It absorbs completely with no residue and really feels luxurious. I have sensitive skin and this has been great and doesn't clog my pores." —Jennifer K.
2.
Summer Fridays' Sheer Skin Tint with Hyaluronic Acid + Squalane offers sheer-to-light coverage for those days when you don't have time, energy, or desire to do a full face of glam or are just looking for a no-makeup makeup look. While it's exceptionally lightweight, it still addresses redness, pores, and uneven skin tone, so don't fret!

Promising review: "LOVEEEEE. It's exactly what I need, a tinted moisturizer for the days I don't want to wear makeup but need a little something to help even out my skin tone and give me a glow. I love the dewy finish. I love the brand. 10/10." —caseyogburn

Get it from Sephora for $42 (available in 10 shades).
3.
Pacifica's Glow Baby Booster Serum brightens dull skin and helps with texture thanks to superstar ingredients vitamin C and glycolic acid. You can use it on its own or combine it with your favorite moisturizer for an extra boost if ya need it.

Promising review: "Pacifica has been my favorite lately. I didn't discover them till 2022 and when I tried the Glow Baby Booster Serum it worked wonders. I'm medium to brown skin tone and this serum just enhances my skin color and I feel like I look more beautifully brown! Even my boyfriend noticed it one time when I was in the passenger seat and the sun was hitting my face. I thought yaaassss! I use the serum alone sometimes too because I feel it moisturizes my face. It also smells amazing and I'd rate the scent at least 8/10. It also makes my face feel plump :)" —Evey_smilies

4.
Vivienne Sabó's Cabaret Première Mascara both lengthens lashes *and* lifts them so you can toss your time-consuming curler and falsies in the trash.
Promising review: "I never write reviews for things but this mascara was just so great I felt like I had to! I love lashes and my friends are used to me wearing thick coats of mascara at all times. Despite this, I got complimented on my lashes basically every time I wore this mascara this week. Multiple people even asked if I had extensions! This mascara isn't clumpy at all and makes your lashes look super long and defined without sticking them together. I've never had any problems with flaking and although it isn't waterproof, I've definitely used eyedrops, shed a tear, and gotten stuck in rain without them smudging or running down my face. All in all, this is my new holy grail mascara, and I'm thrilled!" —Sophie Johnson
Get it from Amazon for $11.66+ (available in brown and black).
5.
Peripera's Ink Velvet Lip Tint is just the ticket for days when you want to put in as little effort as possible. Swipe on the long-lasting emollient formula and go about your day as usual — no sipping through a straw or eating your salad like a Kardashian — because it's that dang durable.
Promising review: "My go-to lip stain forever. I will never buy another stain product. This is the best formula I have ever used and the colors are highly pigmented." —Tracie Higgins
Get it from Amazon for $8.91+ (available in 28 shades).
6.
Maybelline's Instant Age Rewind Concealer erases dark circles, redness, and acne. If a full face of makeup isn't for you, but you would like a lil' bit of convenient, easy-to-use coverage, check it out.
Promising review: "Best coverage for under-eye bags and dark circles! I have used a lot of expensive eye products in the past and this has them all beat. I have light- to medium-olive complexion and was perplexed as to what color to choose. I went with the Brightener and it was a perfect match. My daughter is darker olive and it also looks good on her. Looks and feels great and can't beat the price." —Ana R.

Get it from Amazon for $8.36+ (available in 16 shades).
Want more? Check out a BuzzFeeder's full review of Maybelline's Instant Age Rewind Concealer.
7.
Lovoir's Flick Stick was made for those who LOVE the look of winged liner, but can't help but shake like a leaf when attempting to paint them on. Now you can stamp 'em on and call it a day.
This set comes with two stamps — one for your right eye and one for your left. Once you apply the wing, flip the pen over to find a fine-tip applicator so you can finish off your look.
Promising review: "This thing is amaaaazing! I pretty much gave up on winged eyeliner because I just couldn't get it right. Didn't even know stamps existed and randomly came across this and it had good reviews so I gave it a chance. Got it in the mail and tried it right away and was sooo excited that I used the left stamp for both sides and it looked a little crooked. Then I remembered there's a right and a left. Tried it again and it turned out beautifully. There's just something about winged eyeliner that's so fly. Ohhh and another thing. It's pretty darn sturdy! I took a nap and caught myself rubbing my eye a little and thought, 'Dang, I messed up my eyeliner,' and when I got up and checked it was still intact! It def lasts all day." —Chrissy
Get it from Amazon for $14.97+ (available in three sizes).
8.
Soft Pinch Liquid Blush — from Selena Gomez's Rare Beauty — delivers long-lasting, buildable pigment in your choice of dewy or matte finish. So if your face hasn't seen the sun for, ohhhhhh, say a year or so now, it can lend you a healthy lil' flush. 
Okay so I mayyyyy have been influenced into buying this by TikTok (I swear every other video on my FYP was someone using it!!!!) but it certainly lives up to the hype!!! I am def more of a ~skincare person~ than a makeup person but when I do lean into makeup, blush is one of my favorite products. This stuff is SO pigmented that I use a single dot between both cheeks (I use shade Joy which is a muted peach) and then blend it out with a brush. Whether I wear it on its own or over a sheer tint, the creamy, dewy formula melts into my skin beautifully and lasts all day.  
Promising review: "This blush is amazing! First time trying liquid blush, but it's definitely worth it. This formula is so smooth and moisturizing as well as creamy. This was way more pigmented than I thought (in a good way). A little goes a very long way so I can tell this will last me a long time. The color is very similar to the photo online, but I was so surprised at how well it worked. Very blendable and flawless. Very beautiful packaging and applicator, too. Left a nice dewy finish and lasted all day long! I'm sure if I didn't remove it at night it would have lasted longer. :) Selena really hit this off! I'm now very interested in purchasing her highlighter and concealer, too!" —Sofiarosa
Get it from Sephora or Rare Beauty for $20 (available in six shades).  
9.
Tower 28 SOS Daily Rescue Facial Spray uses just three workhorse ingredients — good ol' H2O, sodium chloride, and hypochlorous acid — to put redness and dullness in its place. 🥊 Used faithfully a.m. and p.m., it'll leave your complexion even and glowing.
Tower 28 is an LA-based small clean beauty brand specializing in nontoxic, nonirritating vegan and cruelty-free makeup and skincare. Amy Liu, the founder and CEO, worked for 15+ years as a beauty exec before leaving to create products that would suit her sensitive eczema-prone skin.
Full disclosure: Many reviewers say the SOS spray's scent isn't super pleasant (think: chlorinated pool water) BUT it has helped them with hormonal breakouts and rosacea.
Promising review: "This is a holy grail product. I swear I have glass skin now thanks to this spray. My texture, pores, skin tone, hydration, everything seems better. I love how it looks, how it smells, and especially how happy it makes my skin. I'll be buying this for the rest of my life. I've already repurchased it twice. Worth the hype." —CBTarker
Get it from Sephora or Tower 28 for $12+ (available in three sizes).
10.
Dr. Jart+'s Cicapair Tiger Grass Color Correcting Treatment is an A+ option if you're done dealing with 24/7 redness. The green-to-beige color-correcting treatment not only evens out skin tone, but also protects against UV damage and environmental aggressors so you can go about your day without thinking *too* much about your skin sucking up smog. 
Promising review: "I'm not a fan of foundation or heavy layering of makeup. I've done color correcting creams here and there, but still had to pile on makeup on top, which I hate. This is my holy grail! My go-to, everyday! It gives me the glow I need and calms the redness in the most random parts of my face. Make sure you've 'warmed up' this cream before putting it on your face. It works wonders for me. I'll always buy this. For more SPF protection, I add some underneath this cream" —GLKS

And here's more from BuzzFeed Shopping's Deputy Editorial Director Elizabeth Lilly: 
"I use this every single day. Seriously, the color-cancelling prowess is impressive. Also it took me nearly a year to go through the full-size jar. So if the price has you feeling iffy, you can try out a travel version. Seriously, I'm forever indebted to this stuff."
Get it from Sephora for $20+ (available in two sizes: get the full-size here).
11.
The Inkey List Salycylic Acid Cleanser combines 2% salicylic acid + 0.5% allantoin + zinc compound to unclog pores, exfoliate, and reduce oil production. And diiiiid I mention it's only $12?!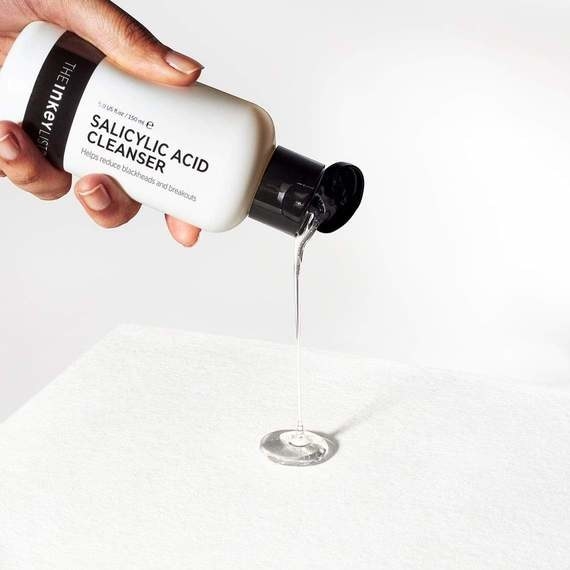 Promising review: "Such an amazing product at an amazing price! I suffered with acne, huge pores, terrible oil, and a lot of hyperpigmentation on my face and neck. This product was the only thing that helped! I rarely get acne now, my pores are so much smaller and my face is less shiny!" —Ztanns
Get it from Sephora for $11.99.
12.
Paula's Choice Skin Perfecting 2% BHA Liquid Exfoliant helps scrub away dead skin cells, leaving behind clear pores and a bright complexion. Apply it morning and night (after your cleanser and toner) and it'll leave ya lookin' as radiant as Ben Affleck when caught by the paps holding a whole tray of Dunkin' iced coffees.
Promising review: "I have every skin issue you can think of. Rosacea, acne (hormonal, cystic, whiteheads, blackheads), dehydration, excessive oiliness, redness, all of it. I've spent probably thousands on a multitude of different products, trying to find one that would at least make a dent. I've had many procedures, many trips to the dermatologist. Nothing I've ever used, nothing I've ever done, has made such a profound difference in the appearance of my skin. Having rosacea, my face often felt hot, bumpy, and burned. While my complexion is naturally fair and pink, this has seriously covered all my bases in a gentle and effective way. I've been trying to turn my skin around for YEARS!! this was the product that did it. If I could give it 100 stars I would. It has seriously changed my life!!!"—hc

Get it from Amazon for $12.35+ (available in two sizes).
13.
Supergoop! Glowscreen Sunscreen SPF 40 is ready to replace your sunscreen, primer, and BB cream with a light formula that not only protects against harmful rays and blue light, but leaves you downright luminous. 

FYI: The shade golden hour is a tad darker and gives you a just-left-the-beach kinda glow. 
Promising reviews: "I can't get enough of this product! I love the the consistency and the fact that it doesn't have a scent. It wears really well under makeup and gives your face a pretty glow. I'm on my third bottle and will continue to purchase. Highly recommend!"—scw15

"This is a new holy grail SPF. I have gotten so many compliments while wearing this. It has the prettiest glow and is perfect for a no makeup day to give your skin a little color. No greasy texture like some sunscreens. I'll always have this in my makeup bag!"—Ahannah75
Get it from Amazon or Sephora for $22+ (get the full-size version here).