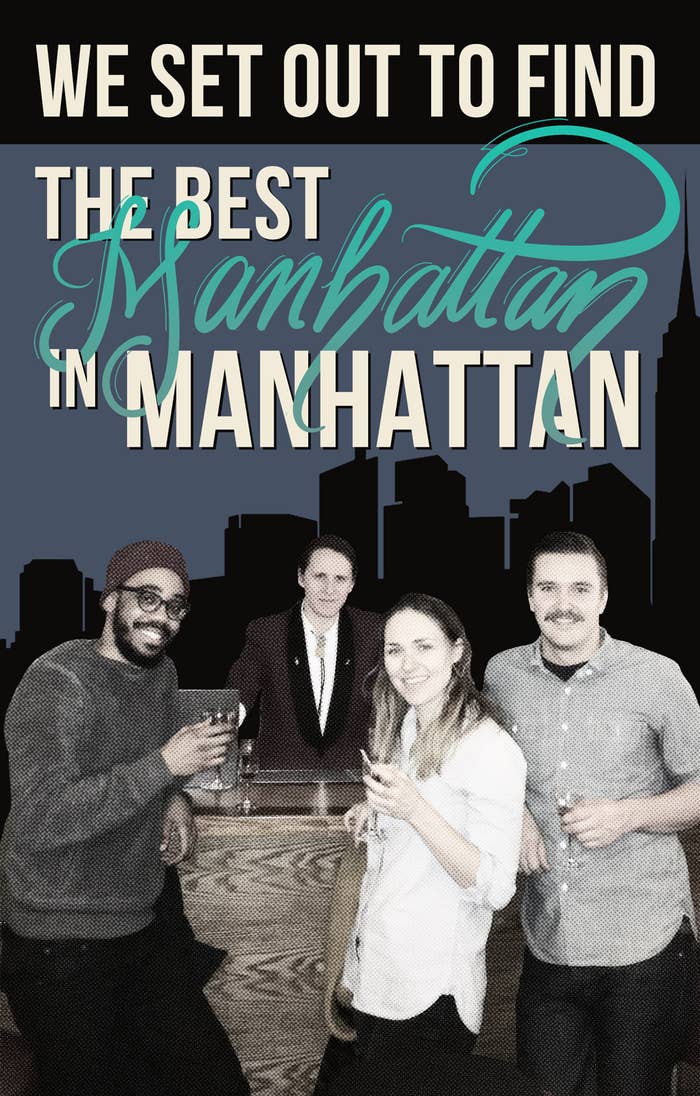 Oh hey. Do you like whiskey? Because we like whiskey.
And if you're whiskey drinkers like us, you may also like the iconic staple: the Manhattan. Since we work hard in the drink's namesake city, we felt it was our job — nay, our DUTY — to drink hard to figure out where we could find the best one.
Before we start on our journey, what IS a Manhattan?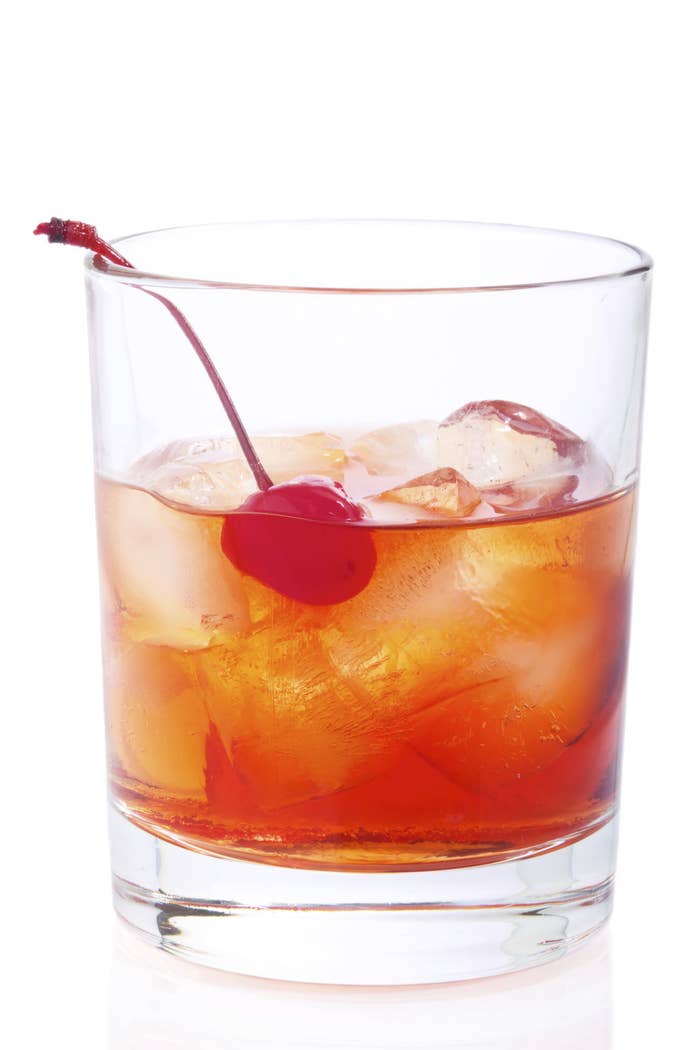 Second, where in Manhattan should you drink one (or more) Manhattans?
Since it's almost impossible to drink at every single bar in Manhattan (hey, maybe for a different post?), we enlisted the help of one of the city's premier bartenders: Karen Fu, currently of Llama Inn (which unfortunately isn't in Manhattan, but we digress). We took Karen's recommendations and set off on a daylong boozefest: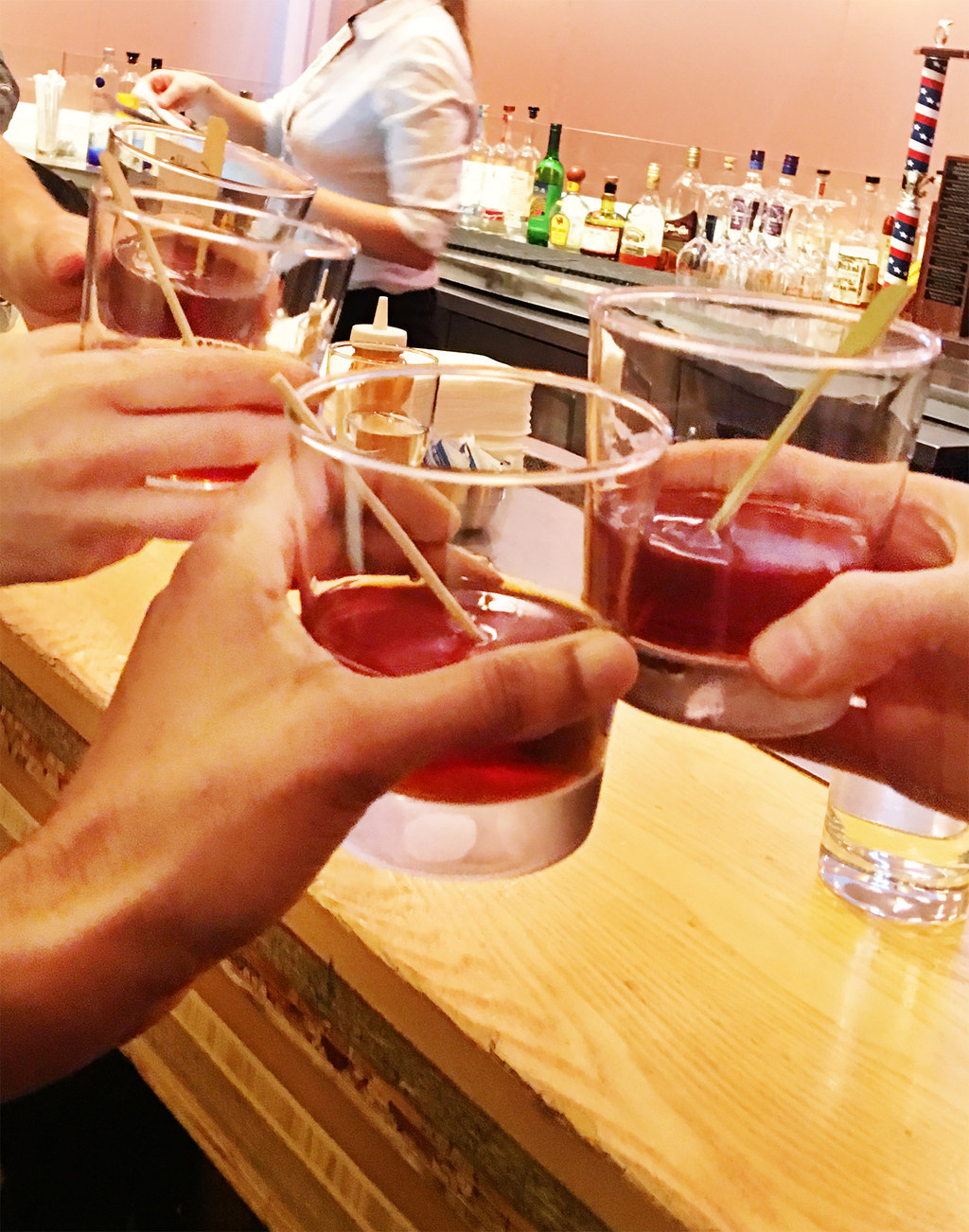 Some surprised us, some delighted us, and all got us drunk. Here's where we went: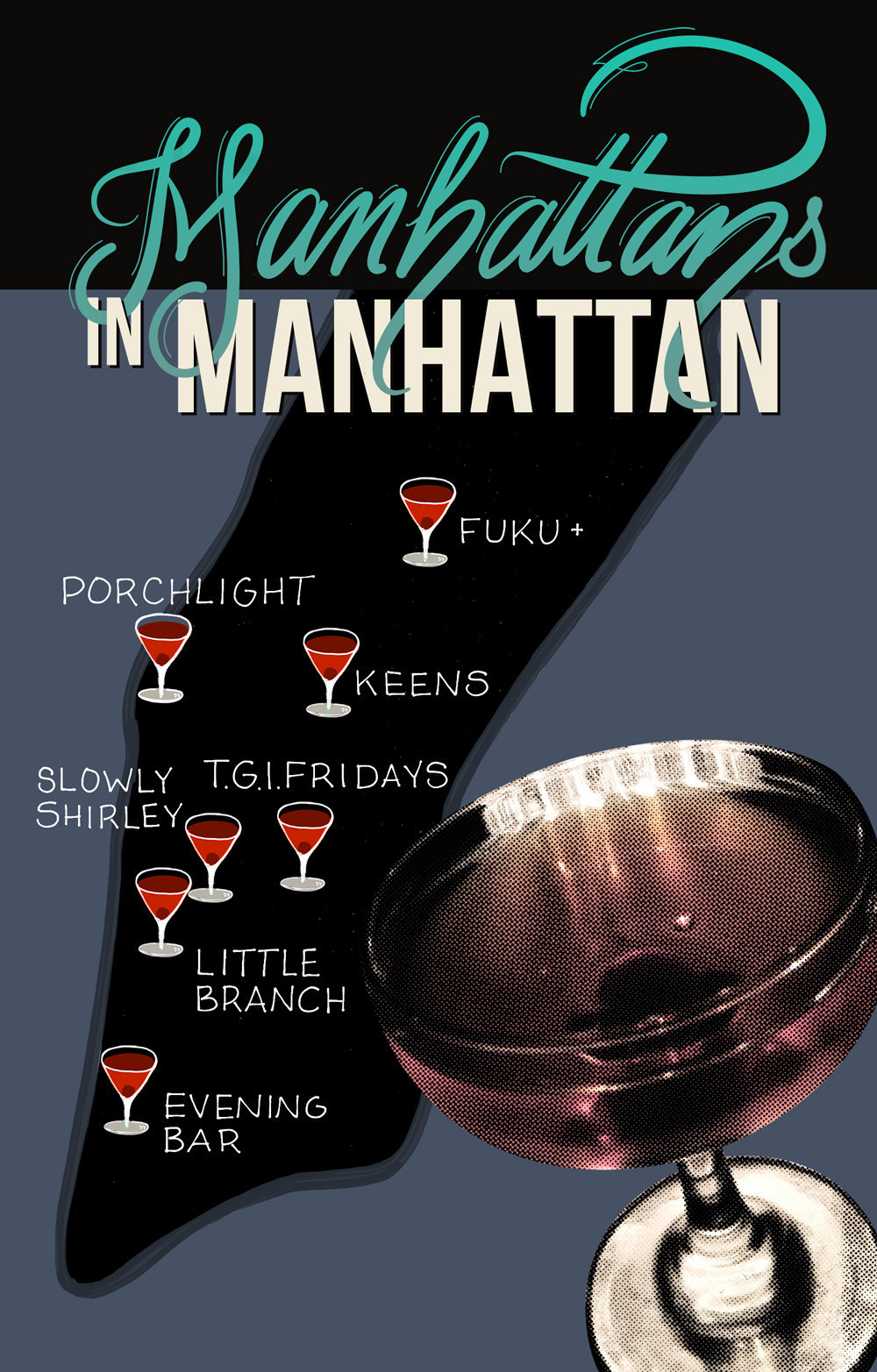 During our crawl, we rated each drink based on:
#Presentation
#Taste
#Inventiveness/Creativity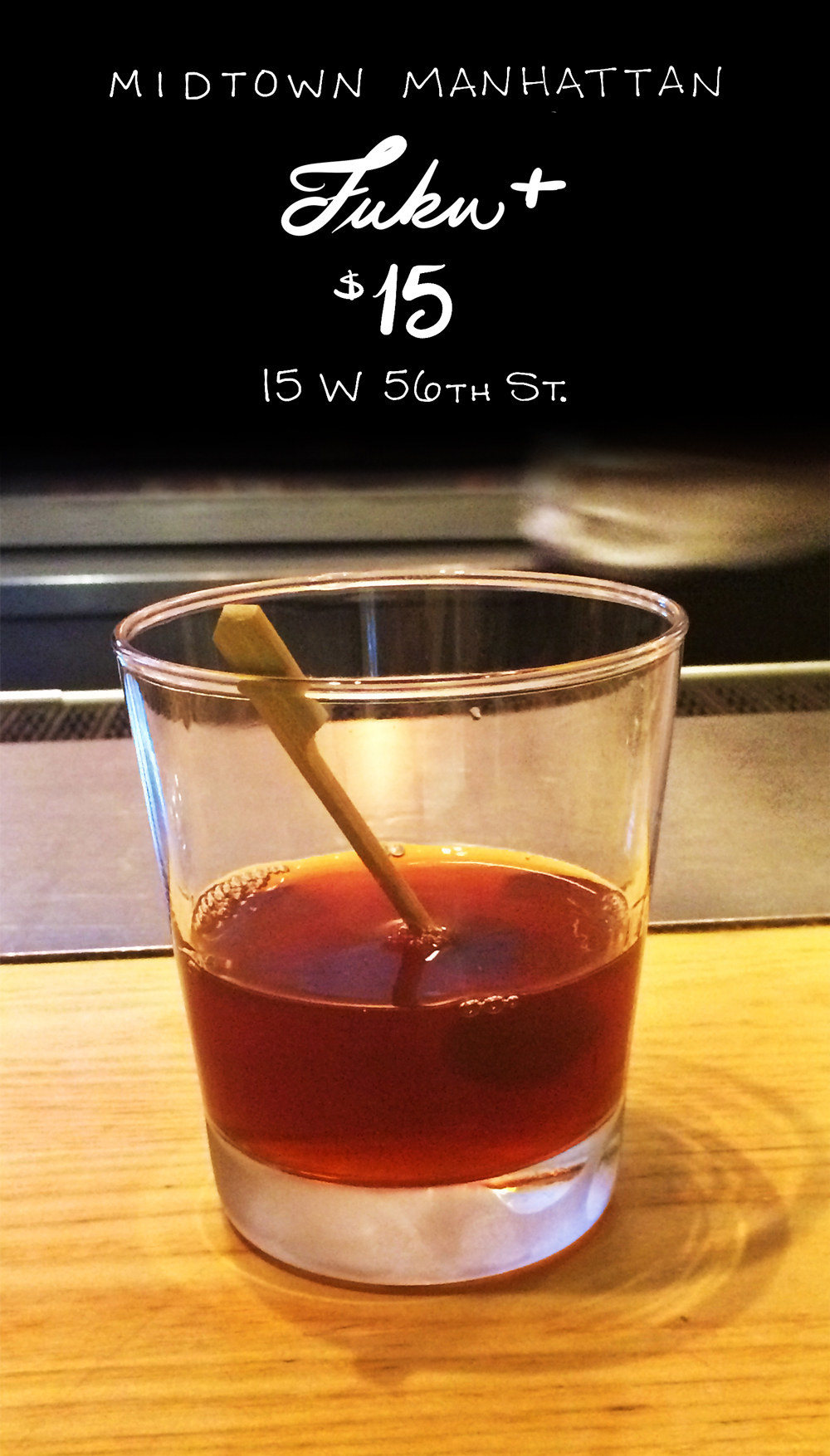 Chelsea: I really loved everything about this Manhattan: It was served simply, it wasn't too sweet, and I loved the chilled glass. The presentation wasn't super creative, but that wasn't the point. It should be noted that I HATE Midtown but I would trek up there for this drink.
Score: 10
Kevin: Fuku+ intentionally made its Manhattan basic and simple. It's served in a big glass, which I liked. I will say, the taste was smooth. The presentation was simple. And overall it was a perfectly fine Manhattan. Tremendously OK. Amazingly laudable.
Score: 7.5
Matt: This was our first stop so it got the benefit of having nothing to compare it to, but looking back it was still one of my favorites. It was served in a simple, chilled glass — not up like a typical Manhattan — and tasted fantastic. I had to consciously restrain myself from drinking it too quickly.
Score: 9
2.
Porchlight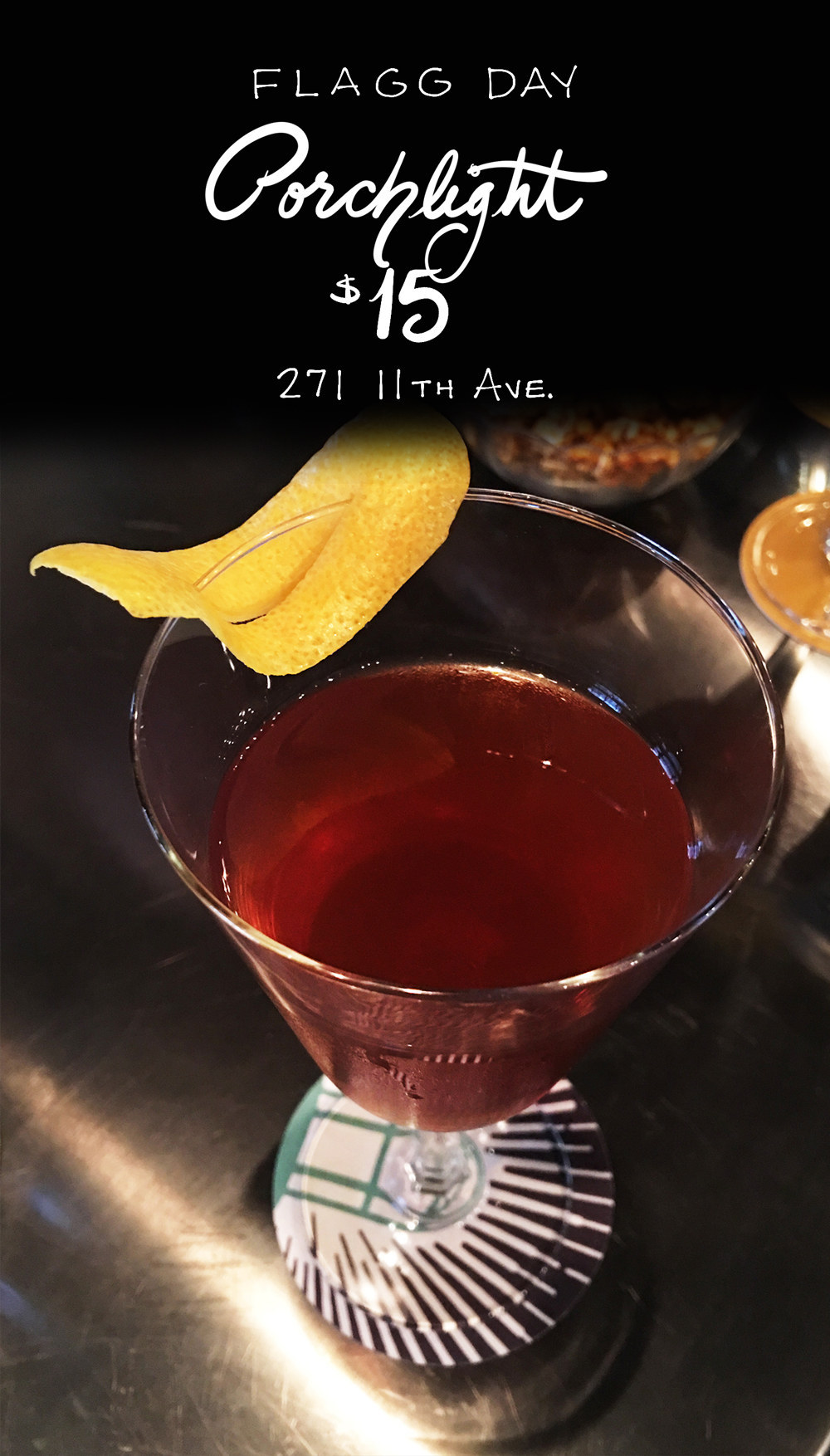 Chelsea: This drink is DANGEROUS. Like, I could drink four of these without realizing how much alcohol is in it and then look at texts/tweets/snaps the next day and be like "oh shit" dangerous. It didn't fulfill that warm quality that I like in my Manhattans, where you drink it and feel like you're sitting next to a fire, so it wasn't my favorite.
Score: 9
Kevin: Porchlight might not have the best location in the city, but it makes up for that with comfort and a unique/interesting space. It makes a slight variation on the traditional Manhattan using a homemade orange liqueur. The bartender told us that his drink is something like a mix between a traditional Manhattan and an Old Fashioned.
Score: 7
Matt: Porchlight is definitely a bit out of the way, but the cocktails and atmosphere make it worth the trip. The cocktail menu was unique and adventurous, and the staff was fantastic. I felt their Manhattan was the most creative we tried. It was the least sweet of all the Manhattans, which I enjoyed.
Score: 8.5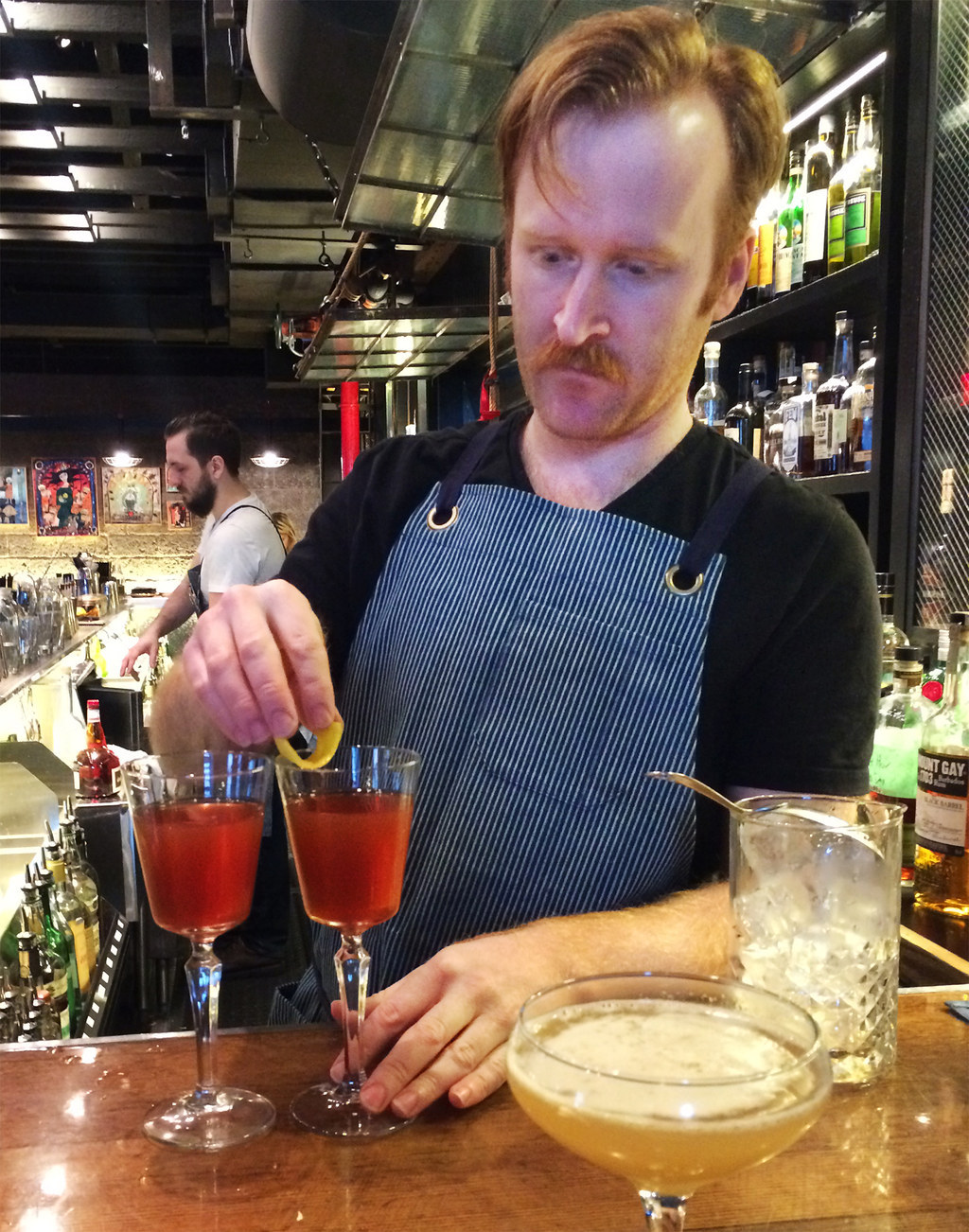 3.
Slowly Shirley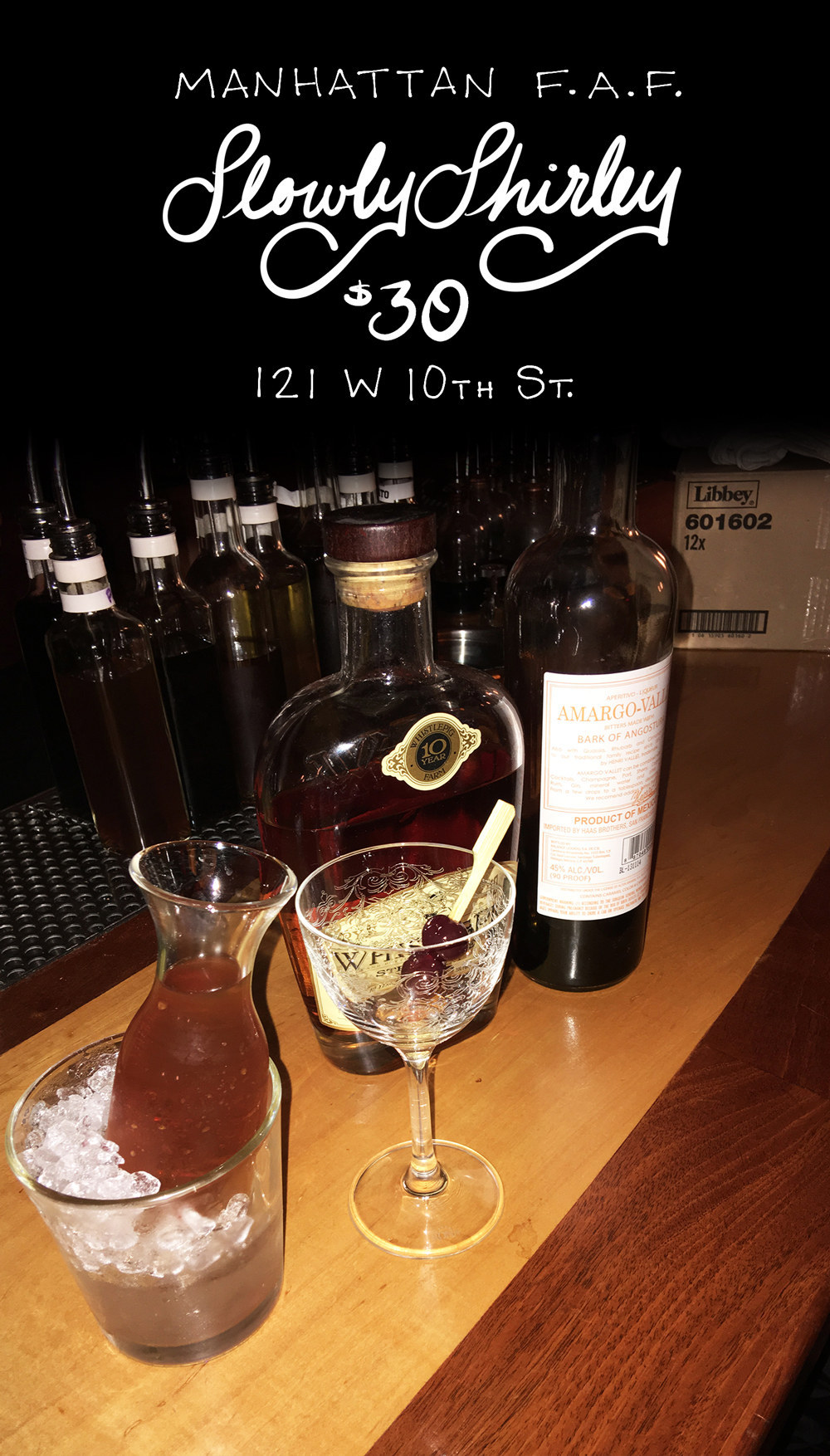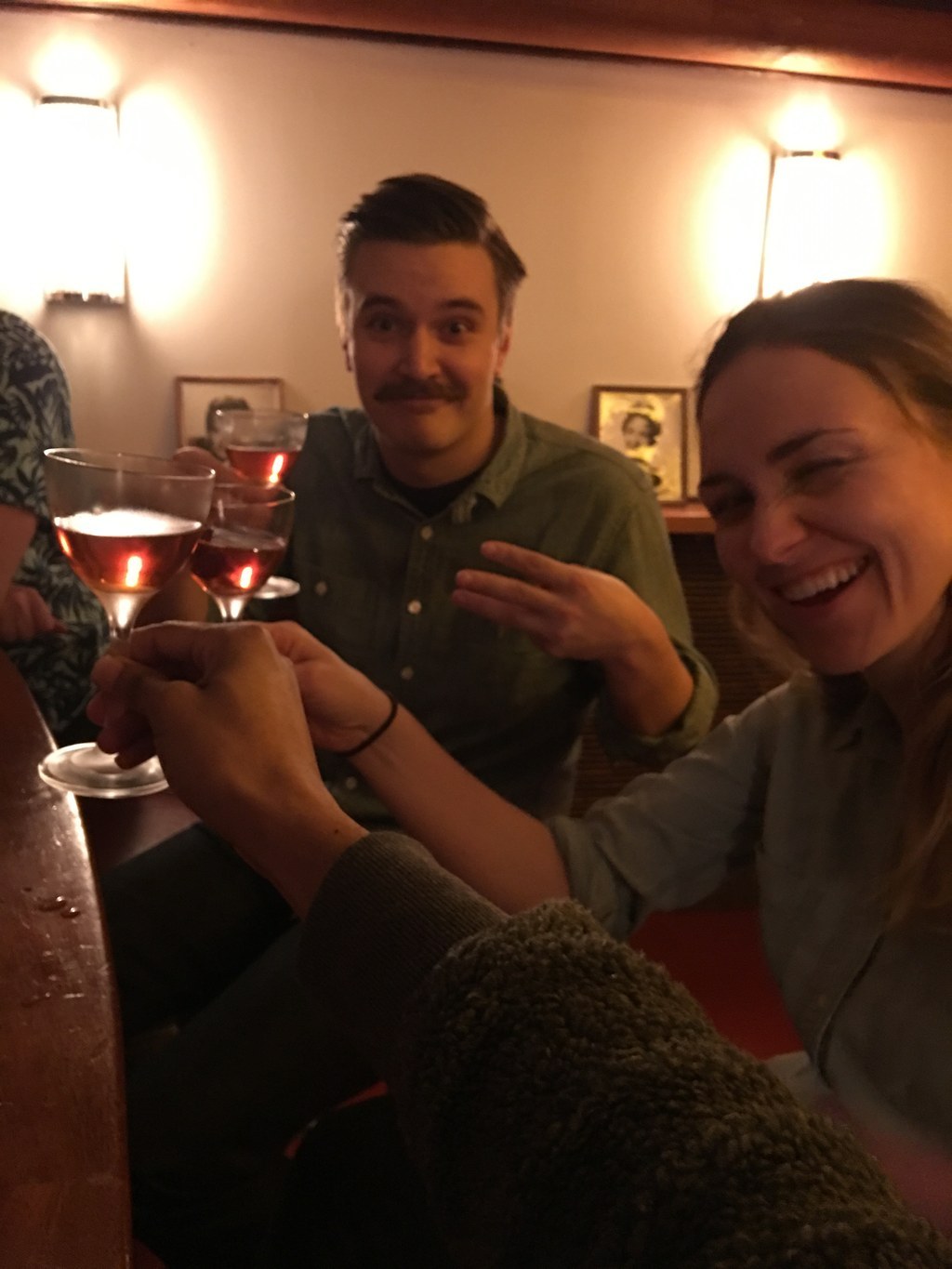 Chelsea: I live in the neighborhood and I had no idea this gem was below the overcrowded Happiest Hour. The drink itself was great, but I'm still not over how and why this Manhattan was so expensive, and I docked off points specifically for that. I guess I feel that way about the actual city too, so maybe it's fitting for this specific drink.
Score: 6
Kevin: Slowly Shirley's environment and ambiance were excellent. The staff controls the crowd, and while this might make it difficult to secure a table, it helps you to feel comfortable and accommodated. This was the most expensive Manhattan out of all. Very top shelf. You probably had to climb a ladder to get to it, if you know what I mean.
Score: 9
Matt: Slowly Shirley is a quieter spot where you can enjoy a cocktail and have a conversation without fighting for personal space. Our Manhattan was their most expensive, at over $30 — which I thought was a bit ridiculous — however, it did taste fantastic. Plus, it felt like were were drinking in the captain's quarters on a ship. And I'm the captain now.
Score: 8
After a few drinks, we had to ditch the subway and cab it.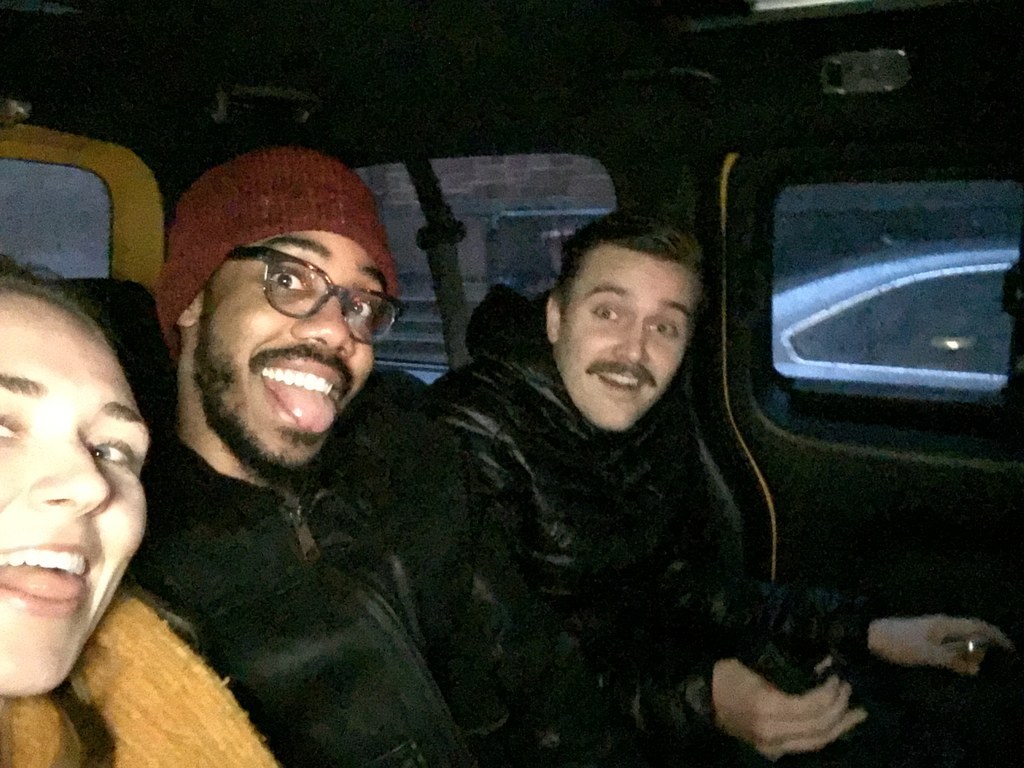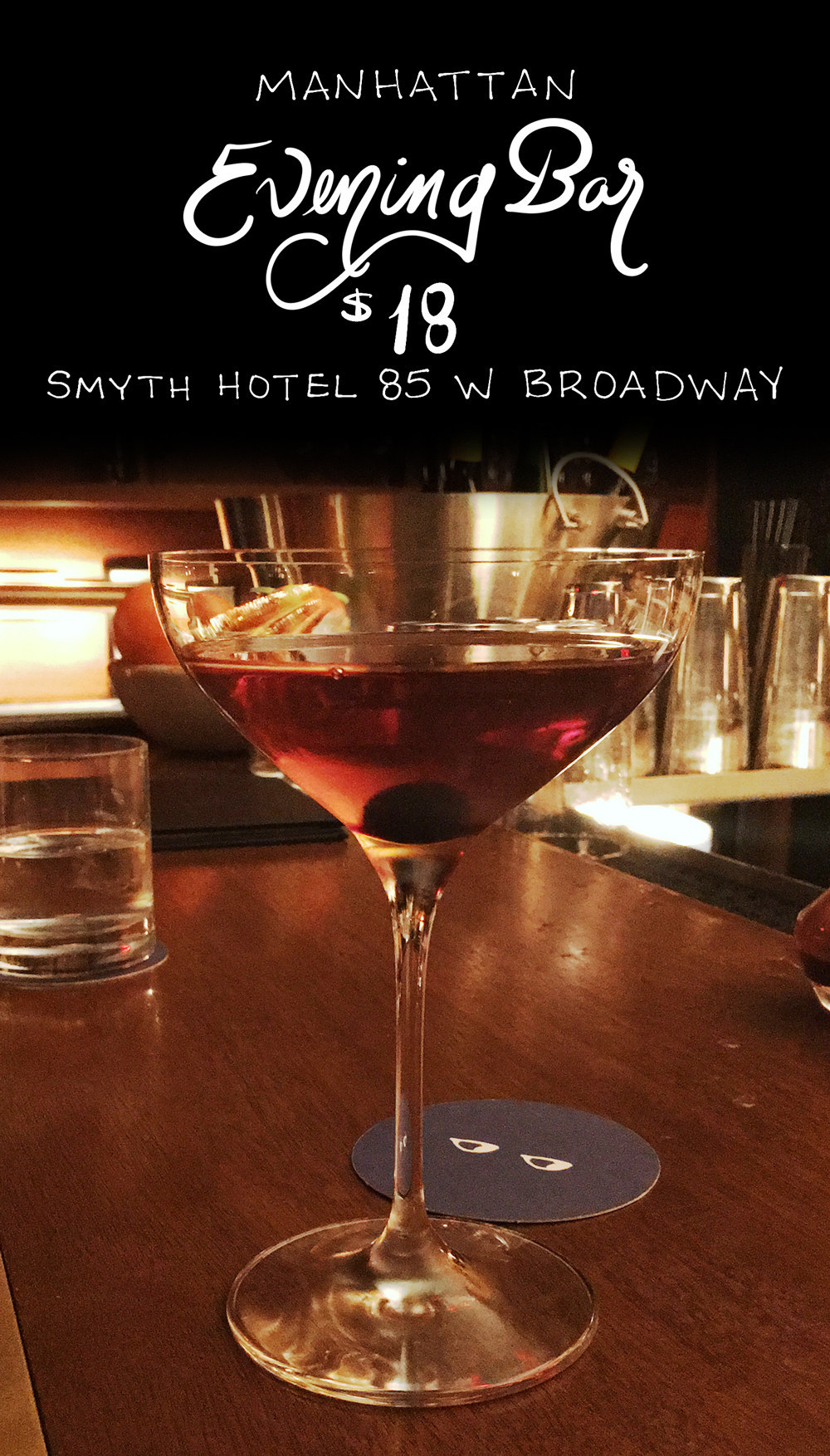 Chelsea: Full disclosure: At this point in the evening I was very, very drunk. I feel bad about giving this a bad taste score because 1) the bartender was so nice, and 2) it has everything to do with my personal preferences. Most of the points are based off creativity: They mixed it up and used an apple brandy. (I guess like...the Big Apple?) However, when I'm ordering a Manhattan, I'm not signing up for that. It was just too sweet for me, but I bet someone who wants their alcohol to be more like candy would love it.
Score: 6
Kevin: Evening Bar's Manhattan was a little too sweet for my liking. I think this is because they use apple brandy as one of their main ingredients. The cherry was good. One thing I will say is the ambience and environment were great.
Score: 7
Matt: There's something weird about drinking at a hotel bar, even if it's a cool hidden cocktail bar. It just brings a different crowd of people. Evening Bar was very sleek and modern, though, and the bartender was very nice, but the apple brandy component of the Manhattan really threw me off. #NotMyManhattan
Score: 5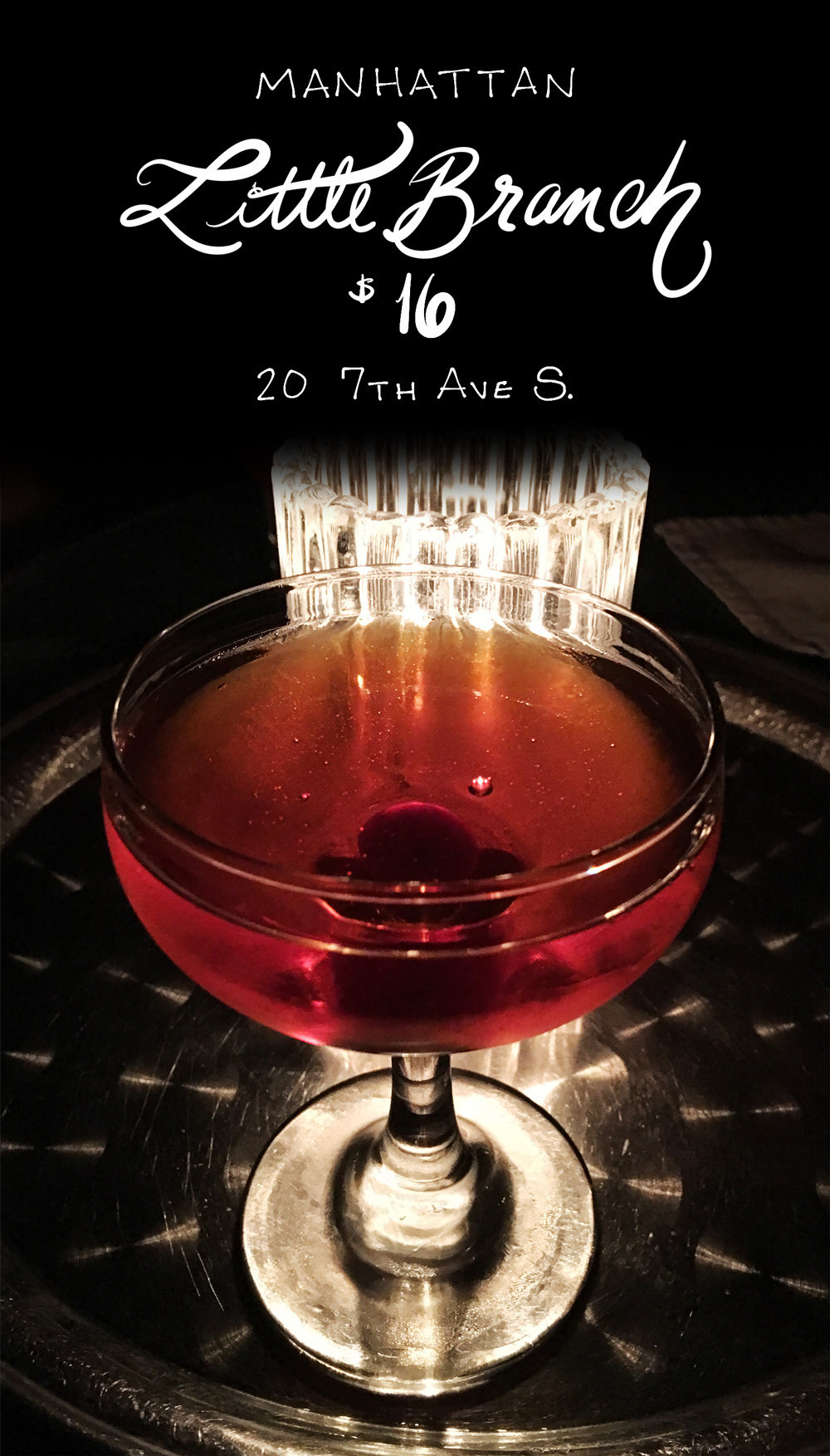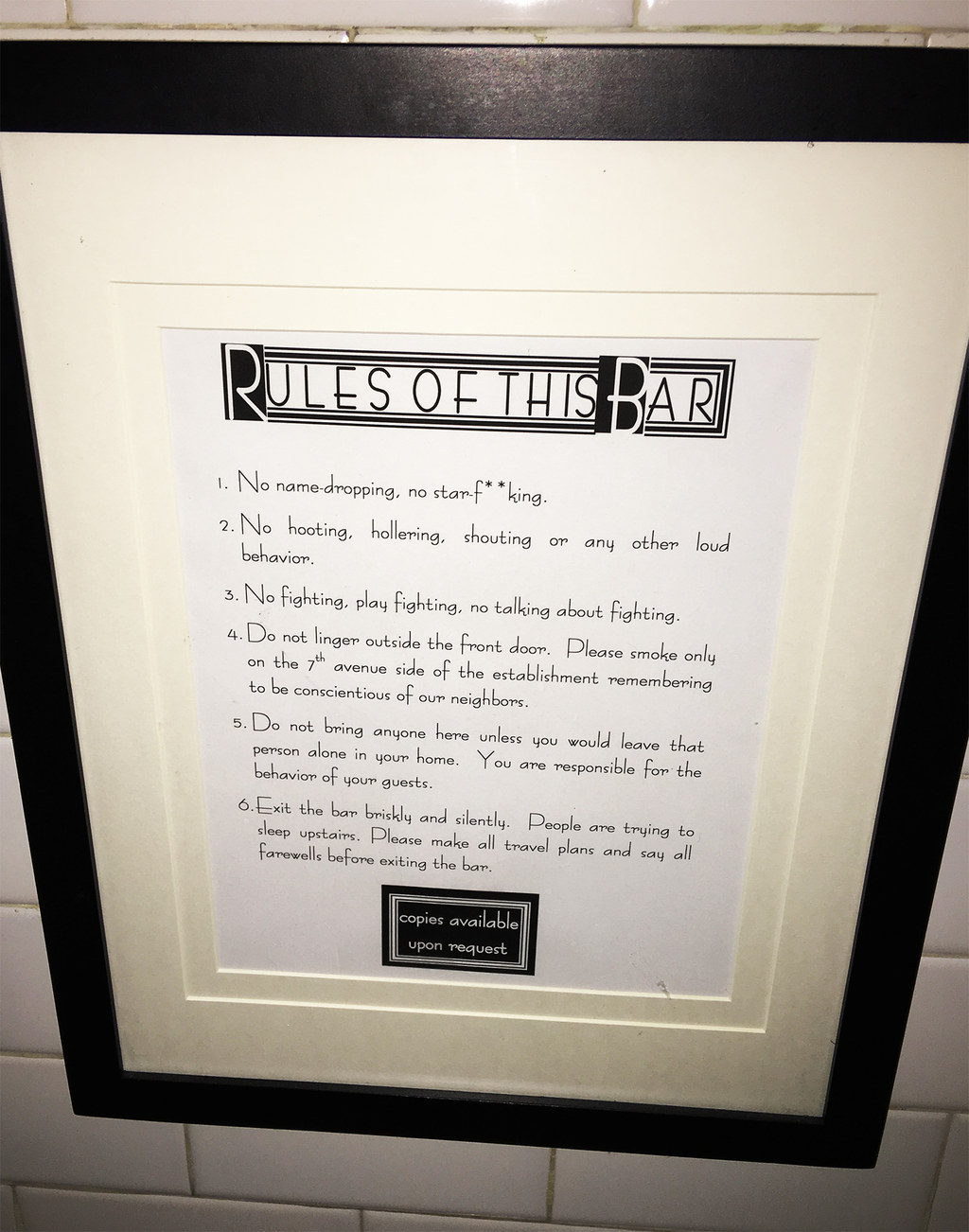 Chelsea: I really like this bar in general and usually order their Old-Fashioned or one of their gin concoctions. This was a really solid Manhattan, but it wasn't something I'd write home about. So, while I wouldn't go here specifically for a Manhattan, you wouldn't have to twist my arm to order it again.
Score: 7
Kevin I thought that Little Branch's Manhattan was a little overpriced. The taste wasn't bad at all, but it also wasn't spectacular or unique. If the drink were cheaper I would have scored it higher. This is one of those ~cool~ spots where you definitely have to pay a tax to drink there. Also it's cash only, which was kind of a bummer when your cocktails are $16 a pop.
Score: 6
Matt: All right, this was the fifth stop of the first day, and I was sufficiently lit, so I guess we can take this with a grain of salt. They served the Manhattan in a Gatsby-esque champagne glass, which was cool. By all means, it was a very good cocktail, but it didn't blow me away — nor was it trying to. I enjoyed it, and would order it again.
Score: 6
At this point in the evening, we decided to call it quits: We didn't want to die, and we also wanted to make sure we gave the rest of the places a fair shot. Keens and T.G.I. Friday's had to wait for another day...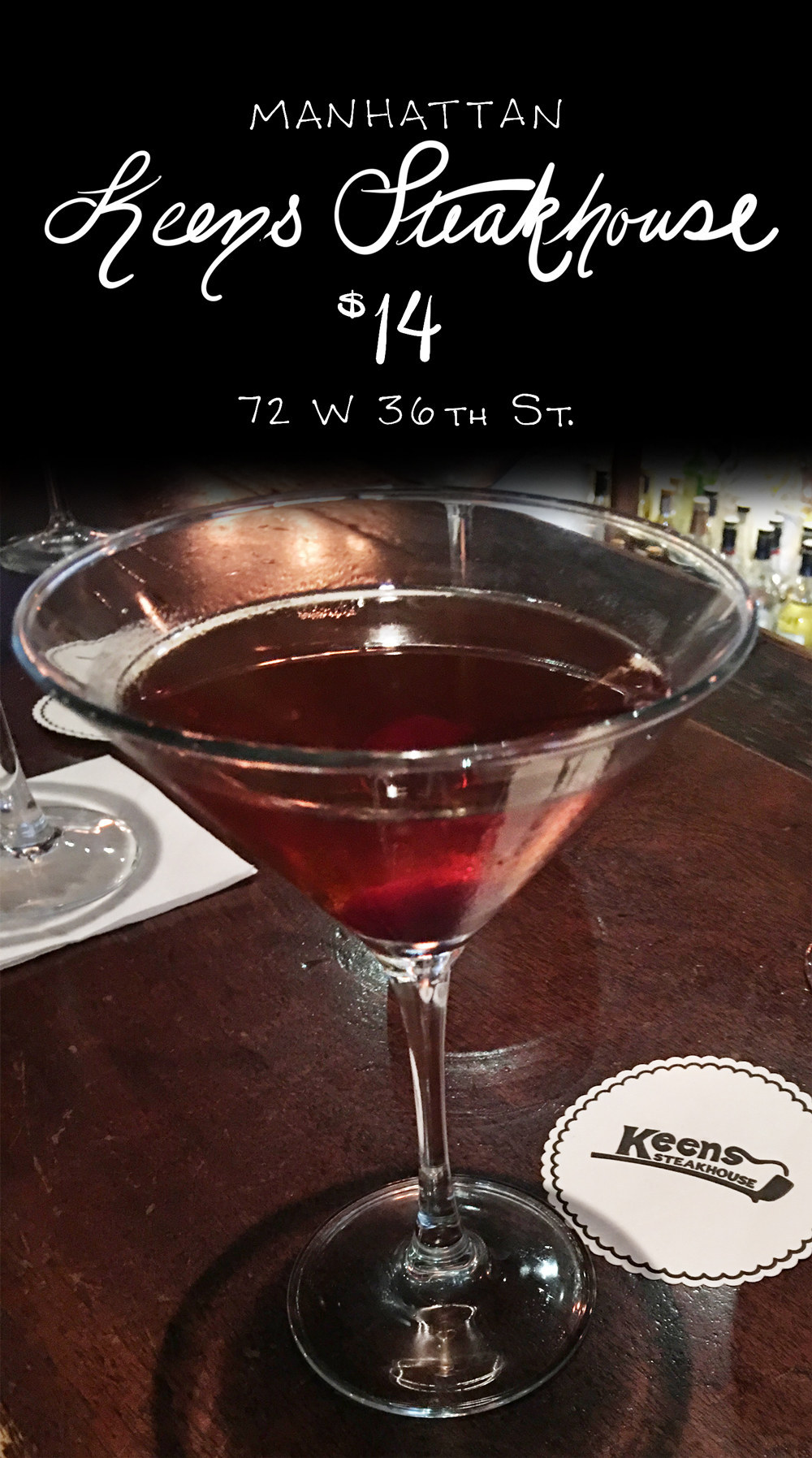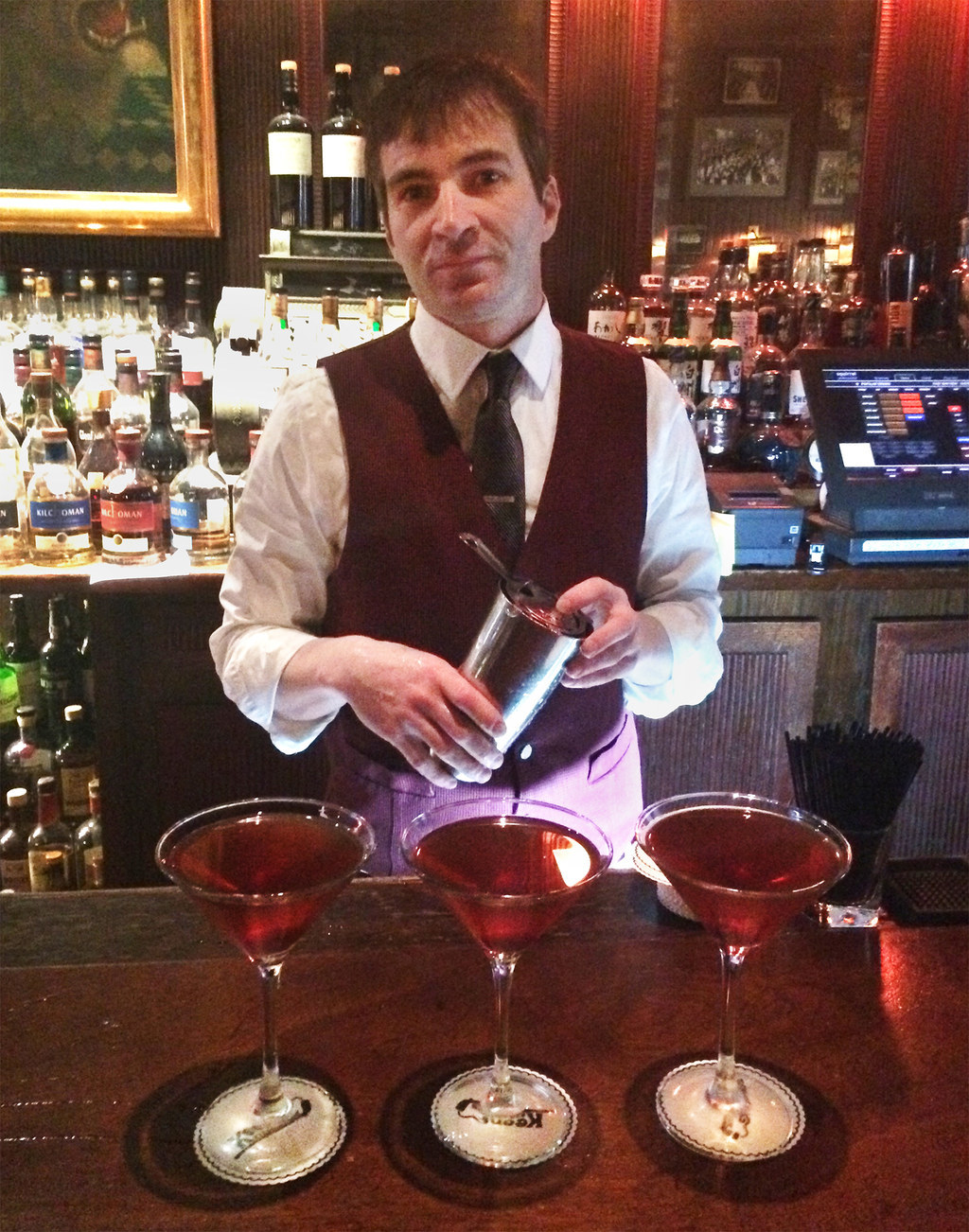 Chelsea: Multiple people recommended we check out Keens for an old-school, classic Manhattan, and it delivered. The vibe of the place seeped through the drink: old-school New York without any pretentiousness. It didn't taste as alcoholic or robust as others, but it was solid and easy to drink. I prefer drinking out of a whiskey glass instead of the martini glass that they served us, but I can't knock them for keeping it traditional.
Score: 9
Kevin: Keens is a part of the old guard, so it's only natural that they would know how to make a damn good Manhattan. Keens had my favorite Manhattan throughout the entire crawl. I would describe it as very smooth, not sweet or bitter. It was served in a cold glass, the mixture was great, and the taste was solid. The service was also top-notch. As far as taste goes, the bartender told us that cynar is the secret ingredient they use to up the taste level. This was easy to go down. I could have easily had two more and not regretted it — given I didn't end up in bed with a 7.
Score: 10
Matt: First off, I could've spent another couple hours in this bar. I knew Keens as one of the premier steakhouses in Manhattan, but I had no idea how charming the bar would be — especially in the most charmless part of Manhattan. Maybe the ambience swayed me a bit, but the cocktail was a simple, straightforward, perfect Manhattan. The drink was balanced, the glass was chilled nicely. I'll be back.
Score: 9.5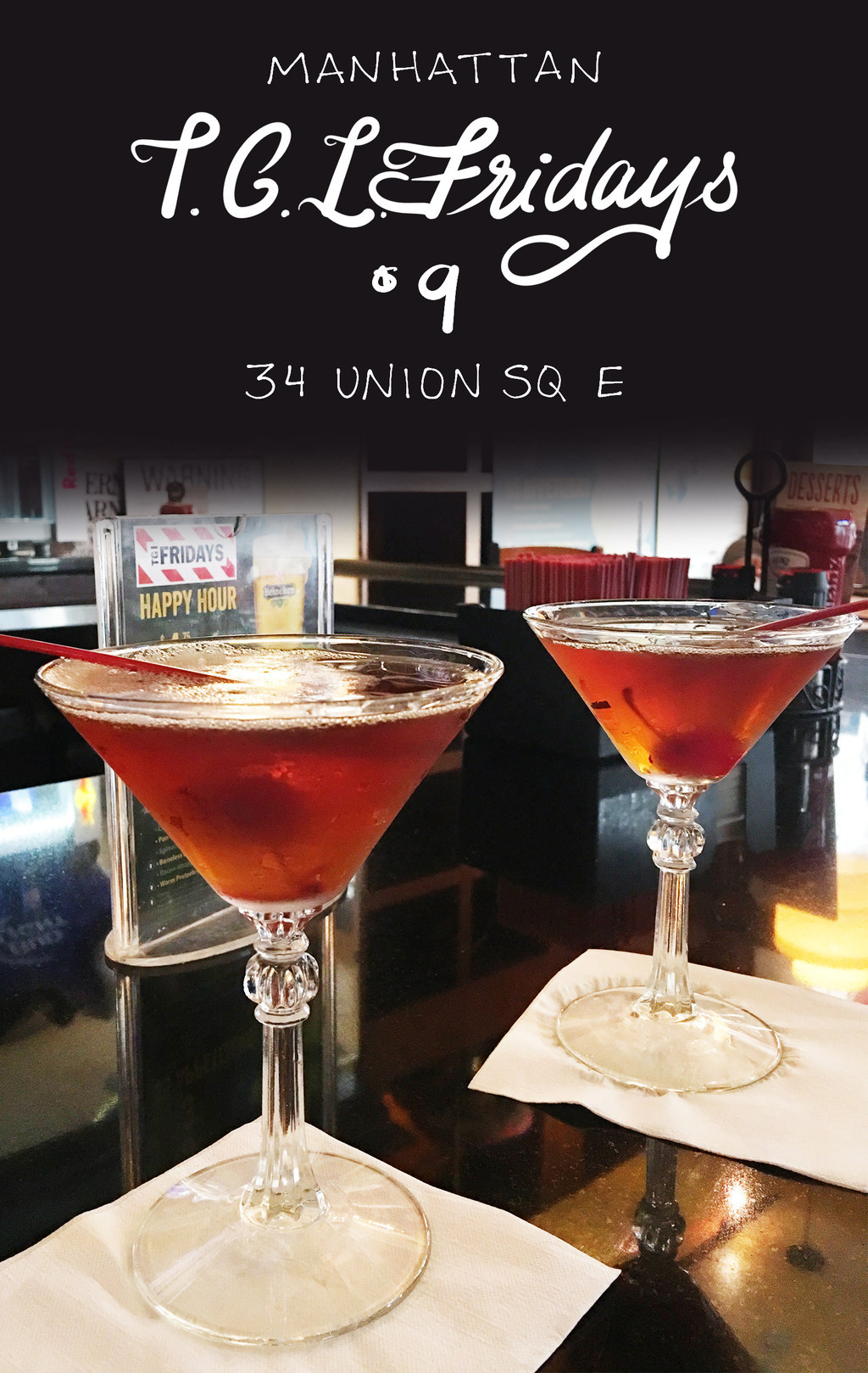 Chelsea: I knew this drink was going to be bad but was still quietly hopeful. My hopes were almost immediately dashed when I saw that bright red maraschino floating in the drink.
My main issue was, perhaps unsurprisingly, that it was so, so sweet. It was like "desperate guy sending me flowers every day even though I said we should just be friends" sweet. But hey, they did a lot with the little they had, and they made it SUPER boozy. So, if you love getting super fucked up and the hangover that comes with it, T.G.I. Friday's is your place.
Score: 4
Kevin: Friday's was interesting…I felt like we needed to include some sort of chain in our crawl just to see if its ubiquity would compare. And you know what, it wasn't a horrible experience. I will admit, the Friday's Manhattan did have a strange aftertaste. After a few sips I realized that this could be attributed to the sweet vermouth.
Score: 4
Matt: I cringed when we decided to include T.G.I. Friday's on our Manhattan crawl, but as we sat down I was optimistic. I thought to myself, Maybe I'm being an elitist. Why can't T.G.I. Friday's make a good Manhattan? Turns out I should've trusted my gut. If you're looking to simply get fucked up on Manhattans and don't care what it's supposed to taste like, I guess T.G.I. Friday's is your spot. Their recipe of whiskey and sweet vermouth was by far the simplest we encountered in our travels. Without bitters, it lacked the balance that so many bartenders told us about. But hey, it was a heavy pour!
Score: 2
TOTAL SCORES!
Fuku+: 8.8
Porchlight: 8.1
Slowly Shirley: 7.6
Evening Bar: 6
Little Branch: 6.3
Keens Steakhouse: 9.5
T.G.I. Friday's: 3.3
Winner: KEENS!