1.
A leave-in conditioning spray for curly hair because it'll help restore your little one's curls to their former glory once more! It's also free from any toxic stuff including parabens, sulfates, and phthalates.
Reviewers say this spray will leave wavy or curly hair (from 2a–4c hair) shiny, soft, and bouncy.
Promising review: "Love this for my curly toddler's hair! I only have minimal experience with caring for curly hair; mine is slightly wavy but my daughter is mixed so has a lot more curl than I do. My husband is mixed so daughter doesn't have ethnic hair, it's actually very fine but lots of curls! This product has been perfect for detangling and adding moisture without weighing her hair down. An added bonus: even if get hair is perfect when I lay her down to sleep, it's a frizzy mess when she wakes up so this works great to get rid of the frizz and refresh her curls ❤️" —Britny
Promising review: "This stuff is fantastic for curly girls! I spray it in my daughter's dry hair in the morning, run my fingers through her ringlets (never ever comb or brush curly hair dry), then clip the top back. It smells amazing, and the price on Amazon is better than other national retailers I've found it at. The price is worth it. Minimizes frizz and keeps curls soft and natural looking. My daughter has soft/fine thick hair." —Carolyn Smith
Get it from Amazon for $9.69+ (also available in a two pack).
2.
A value pack of reusable 500+ puffy stickers for keeping your toddler engaged for hours (which is nothing short of a miracle, TBH). Plus, they're easy for little ones to peel, stick...and restick all by themselves.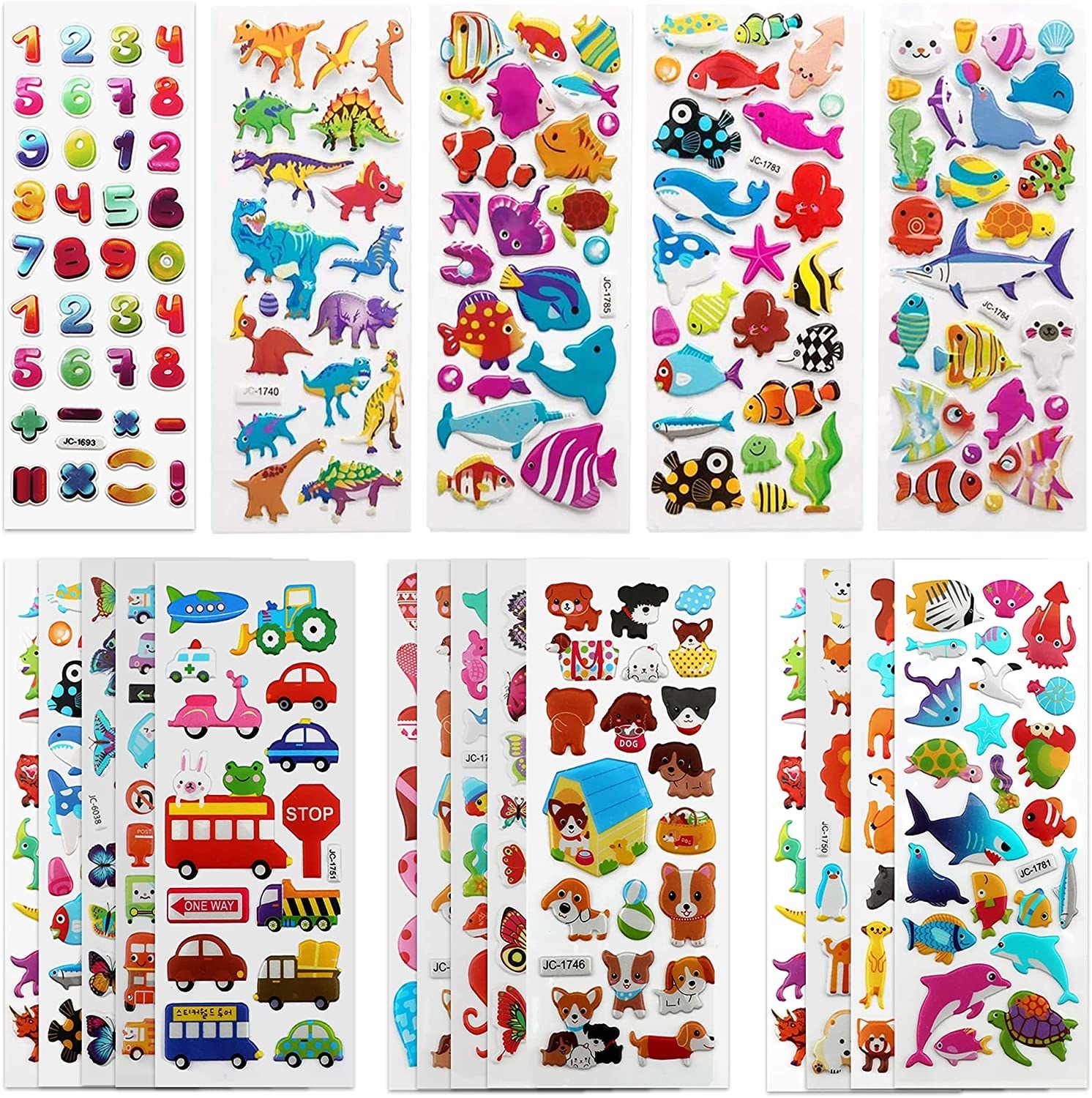 The stickers feature letters, numbers, vehicles, butterflies, deep-sea life, animals, fish, dinosaurs, and more.
Promising review: "I love that they are removable. They don't leave marks on your window. You can even place them back on the plastic sheet and use them again. I have a busy box for my toddler and these stickers are in there. She peels them off and puts them on the lid of the box and then peels them off again and puts them back. She creates scenes with them. She puts them on windows at home. I peel them off and put them back. They really are fantastic stickers." —Elizabeth A. Zapf
Get a pack of 20 sheets from Amazon for $7.99.
3.
A pack of Crayola Globbles so your mini whirlwinds can run around the house hurling these sticky globs at the wall or ceiling. Don't panic, parents, reviewers say they don't leave a sticky residue.
Promising review: "Amazing toys! My 1- and 2-year-old LOVE them! They scream 'sticky balls!' and run around throwing them on the fridge, windows, cabinets, walls, etc. Easy to wash and air-dry, and don't lose their stickiness! My new go-to gift! Love them!" —Rachel

Get a pack of six from Amazon for $10.69+ (also available as a 16-pack).
4.
A pack of bright laminated flash cards to help little Einsteins soak up their ABCs, 123s, shapes, and colors. They're like knowledge sponges at this age, so why not start them early?
Promising review: "My 2-year-old recognizes all her number and alphabets so she needed something to challenge her. These cards are it. Shapes, colors, number, counting animals — there is so much to learn, and so many games you can make up. A must-have for any toddler." —IG: Pink_confession
Get a pack of 58 cards from Amazon for $13.99 (also available for babies).
5.
A pack of silicone pouch lids that'll prevent your little ones from squeezing pouches all over themselves, and on your rugs and couches. This clever lid boasts a flow-control valve that prevents spills, but still lets them suck the purées.
ChooMee is a small biz based in Northern California, owned by a mom, that specializes in innovative products that solve everyday feeding challenges.
Promising review: "MUST HAVE FOR TODDLERS. My son is a little over 1-year-old and I wish I got these sooner! He gets moments of extreme excitement where is squeeze's the crap out of his pouches and it gets EVERYWHERE. Since having these I have had zero messes! I ended up buying 4 more because I wanted to keep one in every possible place I'd need one. It seems pretty darn secure if you do it following the directions. It fits Plum Organics, Earth's Best, and Happy Baby pouches for sure." —Amazon Customer
Get a pack of two from Amazon for $9.99 (available in five color combos). 
6.
A Melissa & Doug activity book with a pair of safe scissors that'll channel your destructive, er, busy toddler's energy into a creative activity that'll put their fine motor skills to the test.
Promising review: "Must-have for toddlers. My 3-year-old loves doing these cutouts, and I enjoy them as well. The pictures are vibrant and pleasing. The puzzles are fun. The scissors are wonderful for small hands." —Holly
Promising review: "Must-have for your toddler needing to learn scissor skills! And they actually cut, so long as you are holding the scissors straight (which teaches your child proper form). Will have to eventually move on to a bladed scissor, but these are perfect for learning." —L. Anderson
Get it from Amazon for $6.47.
7.
A pack of sink extenders you can install on any faucet to enable your little one to finally reach the water all by themselves *and* to save your back the strain of hoisting them over the sink.
Promising review: "Must-have for toddlers and small children! LOVE this! My 1- and 3-year-old love washing their hands now and my back gets a nice break. Adding the faucet extenders and a stepstool to our bed time/morning routine has been a godsend. Great bargain for the price." —TeaBea21
Get a two-pack from Amazon for $11.49.
8.
A set of satisfying tempera paint sticks because they feel like you're painting with rich, creamy lipsticks — but dry very quickly. My toddler is OBSESSED with these and uses them literally every day. The best part? It's all the fun of painting without the mess.
Promising review: "Best invention almost ever (there's still sliced bread). I mean how can you go wrong with paint in a stick?!! I mean certainly a toddler can go wrong with it. A toddler can go wrong somehow with a spaghetti noodle!!! But seriously, I saw these paint sticks at one of our local art galleries and it was an immediate MUST HAVE!!! Vibrant colors and they fit in little hands SO well!!! My kiddo loves them and so does her Momma!!" —RNinMD70

Get a pack of 24 pens from Amazon for $19.99+ (also available as a two-pack).
9.
A whale bath toy which lights up automatically and starts spouting water the minute it hits the water. Who wouldn't want to play with this ~whaley~ cute buddy during bath time? 
See why this parent says this toy is a hit with their 7-month-old on TikTok.
Promising review: "My grandson LOVES this! He has so much fun! Loves the colors and how it squirts the water. Really cute for a 1-or 2-year-old. Heck I think it's fun and cute! Definitely a must-have for bath time!" —Faye

Get it from Amazon for $16.98+ (available in three colors).
10.
The Pink Stuff, a magical all-purpose cleaning paste so you don't need to go into full panic mode when lipstick (or Sharpie) marks mysteriously appear on your walls. (Good luck keeping the little Picassos out of your makeup bag, though!)
Promising review: "A must-have for toddler moms! My 3-year-old recently decided to channel his inner Van Gogh on our stairwell wall, and red crayon was EVERYWHERE. I tried every possible cleaning solution, and nothing was getting it off. I heard about the Pink Stuff on TikTok and decided it was worth a shot. This stuff is a miracle worker! With a sponge and some elbow grease, I was able to remove all the crayon within 10 minutes. There's absolutely no trace of the crayon left, and it didn't ruin my paint!" —Casey Blaine
Promising review: "If you have toddlers, this is a MUST! This stuff is amazing. It gets out crayon, ink, permanent marker, literally whatever way your toddler decides to unknowingly destroy your home — this stuff cleans it up. Will be giving this to all expectant parents as a gift from now on. Forget that cute onesie. They need this. 10/10" —Diana
Get it from Amazon for $5.97.
11.
A TikTok-famous grape cutter because is there anything more ridiculously time consuming than quartering grapes every day for your little one? This cool device will do it at lightning speed and help reduce the risk of choking at mealtimes — whether at home or at school.
Promising review: "Must have if you have toddlers. Wish I knew of this sooner. Has made it so much easier to cut grapes for my toddler. Now can do it one-handed when my LO won't let me set him down to cut the fruit. I have also used it to cut blueberries and blackberries." —Crystal Albertin
Promising review: "If your toddler loves grapes, this is a MUST-HAVE! So much easier than cutting into 4ths with a knife." —Amazon Customer
Get it from Amazon for $11.95.
12.
A set of kid-safe plastic knives so you can enlist your mini sous chef's help with dinner prep without worrying about hurt fingers. While these do a pretty decent job of chopping, they're not sharp enough to cause injuries.
Note: Children still need supervision while using them, of course.
Promising review: "My daughter LOVES helping me cut and prep dinner with these! My LO (2.5 years) feels so helpful in the kitchen and I enjoy spending time together. A must have!" —Kacie
Promising review: "Great for toddlers that want to help in the kitchen. We bought these for our 3-year-old who wants to be a chef :) She is super interested in helping in the kitchen and these knives are the perfect way to involve her in our meal prep. They're safe, easy to use and cut a wide variety of food." —Jen
Get a set of three from Amazon for $9.95 (available in two color combos).