When I ask someone every time about their favorite holidays they'll mention 3 or 5 holidays that they liked but with all the people I ask, they choose Thanksgiving as one of the Top 3. Thanksgiving is one of the best holidays of the year. One thing this holiday is best known of is the foods that are prepared for this day. Here are the top 10 most commonly prepared thanksgiving foods.
10.
Stuffing
Stuffing is a mixture of food that used to stuff another food, traditionally poultry like chicken or turkey, before cooking. This is also one of the Top foods that are prepared in a Thanksgiving table. You'll never notice how much stuffing you eat every time you help yourself with the foods in the table. Slightly dry, heavy on the bread, and crumbly are the best stuffing.
Apple-Almond Stuffed Turkey Recipe
Ingredients
1 loaf (1 pound) sliced bread
3 medium onions, chopped
3 medium tart apples, chopped
1-1/2 cups diced fully cooked ham
1 cup sliced celery
1 tablespoon dried savory
2 teaspoons grated lemon peel
1-1/2 teaspoon grated orange peel
1 teaspoon salt
1/2 teaspoon pepper
1/2 teaspoon fennel seed, crushed
1/2 cup butter
1-1/2 cups slivered almonds, toasted
1/2 cup dried currants
1 cup turkey or chicken broth
1/2 cup apple juice
1 turkey (14 to 16 pounds)
Directions
Cut bread into 1/2-in. cubes and place in a single layer on ungreased baking sheets. Bake at 225° for 30-40 minutes, tossing occasionally until partially dried.
Meanwhile, in a skillet, sauté the next 10 ingredients in butter until onions and apples are tender, about 15 minutes.
Transfer to a large bowl. Add the bread cubes, almonds, currants, broth and juice; toss well.
Just before baking, stuff the turkey. Skewer openings; tie drumsticks together. Place on a rack in a roasting pan.
Bake, uncovered, at 325° for 4-1/2 to 5 hours or until thermometer reads 180° for the turkey and 165° for the stuffing. When the turkey begins to brown, cover lightly with foil and baste if needed. Yield: 12 servings (12 cups stuffing).
Editor's Note: Stuffing may be baked separately in a greased 3-qt. baking dish. Cover and bake at 325° for 1 hour; uncover and bake 10 minutes more.
9.
Corn
You might not notice it but most of the Thanksgiving table you might go to have this side dish. You can get it from a can, a frozen bag and heat it. Simple. No super long recipe or have a secret recipe in this one. But this definitely gives you a really good side dish to any foods on Thanksgiving Day.
Creamy Corn Recipe
Ingredients
2 packages (16 ounces each) frozen corn
1 package (8 ounces) cream cheese, cubed
1/3 cup butter, cubed
1/2 teaspoon garlic powder
1/2 teaspoon salt
1/4 teaspoon pepper
Directions
In a 3-qt. slow cooker, combine all ingredients. Cover and cook on low for 4 hours or until heated through and cheese is melted. Stir well before serving. Yield: 6 servings.
8.
Mashed Potatoes
Ah bowl of silky mashed potatoes will definitely delight your senses and is a really good dish to fill up your thanksgiving table. Americans love to partner meat with potatoes that's why they are branded as the Meat and Potatoes culture. A Turkey should be partnered up with a fluffy, white, silky, spud on the side. Make sure not to forget the gravy too.
Light and Silky Mashed Potatoes
Ingredients
2 lb Yukon Gold potatoes (preferably large)
1 1/2 teaspoons salt
2/3 cup whole milk
1/2 stick (1/4 cup) unsalted butter
1/4 teaspoon white pepper
Preparation
Peel potatoes and cut into 1-inch cubes. Transfer to a 3-quart heavy saucepan and add 5 cups cold water and 1 teaspoon salt then bring to a boil. Reduce heat and simmer, partially covered, until potatoes are tender, 10 to 15 minutes.
Drain potatoes in a colander, then return to pan and cook over moderate heat, shaking pan occasionally, until dry, 1 to 2 minutes. Transfer potatoes to a bowl and keep hot, covered. Heat milk, butter, white pepper, and remaining 1/2 teaspoon salt in saucepan over moderate heat until butter is melted.
Force potatoes through food mill or ricer into hot milk mixture in pan and gently stir with a large heatproof rubber spatula just until combined.
7.
Ham
Not everyone digs turkey so why not put some alternative to poultry? Ham can be a really great way to change others taste buds and still win their praises after meal. Ham is one of the most common foods in other festivities and having it in a Thanksgiving table will surely be a win for you and your family.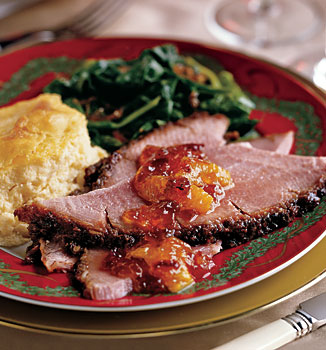 Ham with Bourbon, Molasses, and Pecan Glaze
Ingredients
1/2 cup apple juice (preferably fresh unfiltered)
1/4 cup bourbon
1 3/4 cups (packed) dark brown sugar
1 cup pecans, toasted, cooled, finely ground
1/4 cup mild-flavored (light) molasses
3 tablespoons dry mustard
1 whole bone-in 16- to 18-pound ham
Tangerine Chutney
Buttermilk Spoon Bread
Directions
Boil juice and bourbon in small saucepan until reduced to scant 1/3 cup, about 6 minutes. Combine sugar, pecans, molasses, and mustard in bowl. Add bourbon mixture; stir to form thick paste. (Can be made 2 days ahead. Cover; chill. Bring to room temperature before using.)
Position rack in bottom third of oven and preheat to 325°F. Line large roasting pan with heavy-duty foil, leaving overhang on all sides. Trim off skin and all but 1/4 inch fat from ham. Place ham, fat side up, in prepared pan. Roast ham until thermometer inserted into thickest part registers 130°F to 135°F, about 10 minutes per pound or 2 hours 40 minutes for 16-pound ham.
Remove ham from oven; increase oven temperature to 425°F. Lightly score fat on ham in diamond pattern. Rub glaze thickly over top and sides of ham. Return ham to oven and roast until glaze is deep brown and bubbling, about 25 minutes. Let ham stand at least 20 minutes and up to 45 minutes. Serve with chutney and spoon bread.
6.
Rolls or Bread
Breads got a whole lot of purposes in Thanksgiving feast so don't you skimp this one. Breads are really good on cleaning taste palates so you can taste different foods without affecting the taste of the next food you're gonna taste. Simple it seems breads are good sponge to soak your gravy in. So make sure that you put breads in your list.
Dinner Rolls: Quick Yeast Rolls
Ingredients
2 tablespoons shortening
3 tablespoons white sugar
1 cup hot water
1 (.25 ounce) package active dry yeast
1 egg, beaten
1 teaspoon salt
2 1/4 cups all-purpose flour
Directions
Preheat oven to 425 degrees F (220 degrees C). Grease 8 muffin cups.
In a large bowl, mix the shortening, sugar, and hot water. Allow to cool until lukewarm, and mix in the yeast until dissolved. Mix in the egg, salt, and flour. Allow the dough to rise until doubled in size.
Divide the dough into the prepared muffin cups, and allow to rise again until doubled in size.
Bake for 10 minutes in the preheated oven, or until a knife inserted in the center of a muffin comes out clean.
5.
Sweet Potatoes
Not really a common Thanksgiving food to show up. But you can expect them to be one of the most pleasurable foods to prepare in the day. You can make it in different kind of ways you like because sweet potatoes are really good standalone food in Thanksgiving.
Praline Sweet Potatoes
Ingredients
4 cups mashed sweet potatoes
1/2 cup white sugar
2 tablespoons vanilla extract
4 eggs, beaten
1/2 pint heavy cream
1/4 pound butter
1 cup packed brown sugar
1/2 cup all-purpose flour
1 1/4 cups chopped pecans
Directions
Butter one 2 quart casserole dish. Preheat oven to 350 degrees F (175 degrees C).
In a mixing bowl, combine the sweet potatoes, sugar, vanilla extract, eggs and cream. Blend well, and spread evenly in casserole dish.
Prepare the topping by combining the butter, brown sugar, flour and pecans. Mix until crumbly, and sprinkle over sweet potato mixture.
Bake for 30 minutes in the preheated oven.
4.
Green Bean Casserole
With both separate you wouldn't be entice but with their flavors combined, you just might. This recipe doesn't really go with diet. But Thanksgiving menu isn't complete without this Green Beans Casserole.
Paula Deen's Green Bean Casserole Recipe
Ingredients
1/3 stick butter
1/2 cup diced onions
1/2 cup sliced fresh mushrooms
2 cups sliced green beans
3 cups chicken broth
1 (10 3/4-ounce) can cream of mushroom soup
1 (2.8-ounce) can French-fried onion rings
Pinch House Seasoning, recipe follows
1 cup grated Cheddar
Directions
Preheat the oven to 350 degrees F.
Melt the butter in a large skillet. Sauté the onions and mushrooms in the butter. Boil green beans in chicken broth for 10 minutes and drain. Add the green beans, mushroom soup, onion rings, and House Seasoning, to taste, to the onion mixture.
Stir well. Pour into a greased 1 1/2-quart baking dish. Bake for 20 minutes, then top the casserole with the Cheddar and bake for 10 minutes longer, or until the casserole is hot and cheese is melted.
House Seasoning:
1 cup salt
1/4 cup black pepper
1/4 cup garlic powder
Mix ingredients together and store in an airtight container for up to 6 months.
3.
Cranberry
The following list will now contain those foods that are essential to the Thanksgiving menu. One of those is the Cranberry Sauce. Well this is one of the lists of healthy food options your health-savvy guest might get. You can make it from scratch or have it out of the can.
Martha Stewart's Quick Cranberry Sauce
Ingredients
1 bag (12 ounces) frozen cranberries
1 jar (12 ounces) red-currant jelly
Directions
In a medium saucepan, combine cranberries and jelly. Bring to a boil, reduce heat to a simmer, and cook, stirring occasionally, until cranberries have burst and liquid has reduced to syrup, 20 to 30 minutes.
Transfer to a serving dish, and let cool.
Cook's Note
Refrigerate, covered, until ready to serve, up to 3 days.
2.
Pumpkin Pie
You have the option to buy it or make it at home. But Thanksgiving isn't complete without this Pumpkin Pie. So make sure that you've prepared this awesome goodness fresh from the oven.
Martha Stewart's Pumpkin Cream Pie
Ingredients
For The Gingersnap Crust:
1 1/4 cups ground gingersnaps (from about 25 cookies)
2 tablespoons sugar
Salt
4 tablespoons unsalted butter, melted and slightly cooled
For The Pumpkin Cream Filling
2 cups whole milk
1/2 teaspoon pure vanilla extract
1/4 teaspoon ground cinnamon
1/4 teaspoon freshly grated nutmeg
Pinch of ground cloves
1/2 cup sugar
Salt
4 large egg yolks
1/4 cup cornstarch
1 1/4 cups solid-pack pumpkin (from one 15-ounce can)
1 tablespoon unsalted butter, room temperature
1 1/4 cups heavy cream, whisked to medium peaks
Garnish: freshly grated nutmeg
Directions
Make the gingersnap crust: Preheat oven to 350 degrees. Combine gingersnaps, sugar , and a pinch of salt in a bowl. Stir in melted butter. Press mixture into bottom and up sides of a 9-inch metal pie dish. Refrigerate until set, about 15 minutes. Bake until crust is golden brown, about 15 minutes. Let cool.
Make the pumpkin cream filling: Bring milk, vanilla, cinnamon, nutmeg, cloves, 1/4 cup sugar, and a pinch of salt to a simmer in a medium saucepan over medium heat.
Meanwhile, whisk egg yolks with cornstarch and remaining 1/4 cup sugar in a medium bowl.
Gradually whisk about 1/2 cup milk mixture into yolk mixture. Gradually whisk in remaining milk mixture. Return entire mixture to saucepan. Cook over medium heat, whisking constantly, until bubbling in center, about 2 minutes. Remove from heat. Immediately whisk in pumpkin. Whisk in butter.
Strain filling through a fine sieve into a clean bowl. Pour into gingersnap crust, smoothing the top with an offset spatula. Refrigerate until set, at least 4 hours. When ready to serve, top with whipped cream, and garnish with nutmeg.
1.
Turkey
And lastly, Thanksgiving isn't Thanksgiving Day without this favorite poultry dish. If you don't have it in your table then it's not a Thanksgiving Dinner everyone will tell you. Turkey is the centerpiece of the entire Thanksgiving Day menu so you shouldn't ignore this one even though you already have a Ham. There are a lot of ways you can cook your Turkey.
Roasted Thanksgiving Turkey
Ingredients
2 gallons water
2 cups apple juice
1 1/2 cups kosher salt
2 cups brown sugar
5 cloves garlic, crushed
5 bay leaves
4 tablespoons black peppercorns
2 tablespoons dried rosemary
3 oranges, peeled, white pith removed, skin roughly chopped
1 (20-pound) fresh turkey
1 1/2 sticks softened butter
3 tablespoons minced fresh rosemary leaves
3 tablespoons chopped orange zest
Directions
Combine the water, apple juice, salt, sugar, garlic, bay leaves, peppercorns, dried rosemary, and orange peel in a large pot and bring to a boil. Turn off the heat immediately, cover, and allow mixture to come to room temperature. Cool mixture in the fridge until you're ready.
To brine the turkey, remove the turkey from wrapper, remove interior bags (set aside; refrigerate), and rinse turkey thoroughly under cool water.
Place the turkey into a plastic brining bag or a very large pot.
Pour the cooled brine mixture over the top, adding extra cold water if you need more to completely cover the turkey. Seal the bag or cover the pot and allow the turkey to brine in the refrigerator for 16 to 24 hours before roasting.
Before roasting, remove the turkey from brine and rinse thoroughly under cold water. Then soak in a sink full of fresh water for 15 to 20 minutes. Pat dry. Discard brine. (This soaking process will decrease the likelihood of too-salty gravy).
Preheat the oven 275 degrees F.
Truss the bird and place it breast side up on a rack in a large roasting pan. Cover the turkey tightly with heavy-duty foil. Make sure it's entirely covered (cover over the bottom edges of the pan). Place in the oven and roast for about 10 minutes per pound (a 20 pound turkey will roast for about 3 1/2 hours).
Remove the turkey from the oven and increase the temperature to 375 degrees F. Remove the aluminum foil and set aside. Mix the softened butter with the rosemary and orange peel and rub all over the skin of the turkey, covering every single inch of the skin. Insert a meat thermometer into the thigh, near the hip joint. Place the turkey, uncovered, back into the oven. Continue roasting the turkey, basting with butter every 30 minutes, until the thermometer registers 170 degrees F and until the juices are no longer pink.
Remove from the oven and cover with foil until you are ready to carve and serve. Reserve pan juices to make gravy.
Cook's Note: This is enough for a 20 pound fresh turkey. You can decrease the quantity for a smaller bird.
A viewer, who may not be a professional cook, provided this recipe. The Food Network Kitchens chefs have not tested this recipe and therefore, we cannot make representation as to the results.