This Is What Five Years Worth Of Paris' Famous "Love Locks" Looks Like
Five years, a million locks, and 45 tonnes of love.
The city of Paris officially killed love forever on Monday when it took off the hundred of thousands of "love locks" on the Pont des Arts.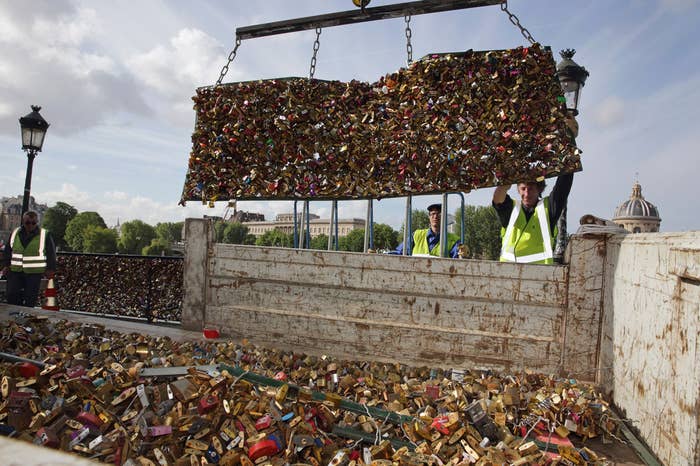 Officials had warned that their sheer weight had become a problem. The locks were thought to have added some 45 tonnes of extra weight to the bridge, which was shut temporarily in June 2014 after part of a railing collapsed.
But the Pont des Arts isn't the only bridge where lovers go to lock their romance in Paris: the city has several other bridges with metallic railings, perfect for locks.
Luckily, Google Street View captured what those Parisian bridges looked like in 2008 and 2009, back when the "love locks" trend had just started.
You can see the locks creeping up between 2012, 2013 and 2014:
And here's what it looks like now:
Paris, "first city in the world to get rid of the locks (...) will keep taking them off one by one on all the other bridges", said Bruno Julliard, in charge of cultural affairs for the city, to the AFP.