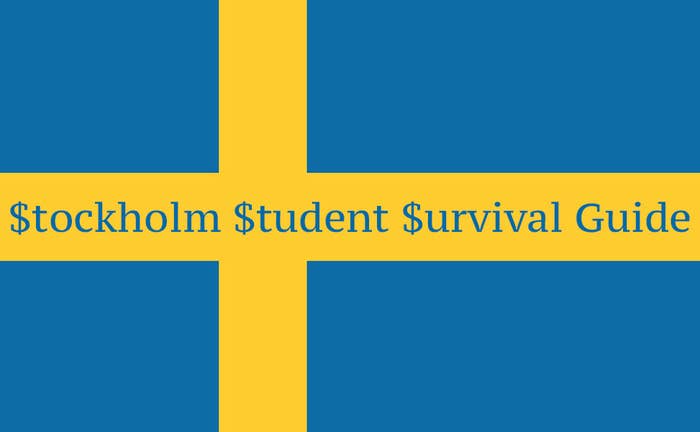 So you've decided to study in Stockholm - congratulations!
This is great city full of culture, nature and a fantastic international community.
It's also a very expensive place to live.
Here are a few tips to help you make the most of your time here without breaking the bank.
1. Ditch Dinner - Embrace Lunch
Dining out in Stockholm is definitely not cheap, but if you know where to go you can get some great deals.
Lunch offers (luncherbjudande) abound in the city and are often significantly cheaper than evening meals, even in chain restaurants like Jenses and TGI Fridays.
2. Ditch Saturday Nights - Embrace After-Works
Even Londoners think Stockholm's alcohol is expensive. This is why you need to figure out your local bar's After-Work deals. Equivalent to Happy Hour, AW offers often start at around 4pm and run through to around 7pm. During these periods beer can be found for as little as 29SEK.
3. Ditch the Vintage Stores - Embrace the Loppis
Swedish people love a good loppis or flea market. During summer you'll see posters for them popping up all over town but some run throughout the year. Go for a browse and find yourself a great fashion deal or some neat appliances for your accommodation.
Pro tip: get Swish set up on your phone ASAP. Lots of places in Stockholm don't take cash and even vintage stores are high-tech about payment.
4. Ditch the Book Store - Embrace the Bibliotek
Stockholm's libraries are pretty amazing and totally varied. There's dozens of them spread around the city from the utterly gorgeous Stadsbiblioteket in Odenplan to the tiny, above-a-coffee-shop Sture bibliotek. If you're a member of one you are a member of all and you can borrow and return books wherever you like. They have a massive choice of international literature in multiple languages so there's something for everyone.
5. Ditch Full Price - Embrace your Studentkort
Your student card opens you up to tons of discounts on everything from coffee to a computers. You'll also pay significantly less on travel with SL with you buy a student ticket and use your student card as proof. Download the Studentkortet app to get deals directly on your phone.