As a 22 year old woman who's only lived in Peoria for 2 years of her life, hidden gems can be found almost anywhere. From Richards, the underground bar that has the best bar food I've ever had, to the quiet and quaint side of East Peoria where Target and multiple restaurants are home to. However, as a full-time student at Bradley University, the time to find hidden gems within Peoria slowly fades with time as students quickly jump into college life and the work that comes with classes. Students soon become wrapped within their school bubble and focus on that and only that (including sports and after school activities).
As the year went on with classes and extracurriculars, I got the opportunity to visit the Peoria Riverfront Museum and do some research on it. What I found reminded me of the museums I used to visit on Feild Trips when I was younger. There was an art section, a science section, a planetarium, and even a section for younger patrons. Vivid memories from going to the Museum of Science and Industry, The Art Institute, The Children's Museum, and The Adler Planetarium surfaced and seemed to solidify themselves into the Peoria Riverfront Museum. It was as if a little piece of Chicago broke off and re-located in Peoria.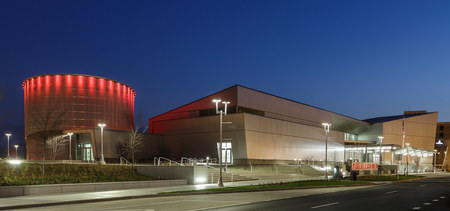 Having so many exhibits can be overwhelming, however for teachers this is a goldmine. Having hands on activities where children can learn without sitting still at a desk for hours on end is a blessing. Especially if students have lost interest in the subject. When the word "Feild Trip" was involved, I was much more eager to learn as a student. As for the Peoria schools, A high school art class could easily visit the art exhibits. Elementary students could visit the science portion and watch as science comes to life. A middle school history class could come learn about the history of Peoria! How fantastic that something so diverse as this museum could be used as an additional learning tool for all ages.
(And I mean all ages. They have an art and wine night for everyone 21+)!
And I bet you thought I was kidding about the wine night.
Here are lesson plans for each level of learning (Elementary, Middle, and High), each working with a different exhibit in the museum.
(Here's the part where I would put lesson plans for educators to download, however I am not an education major and therefore have no idea how to go about writing one.)
It's the perfect excuse for the educators to check everything out themselves and decide what they want their students to focus on. What may be good exhibits to look at and which ones to overlook (for now). ;)
Visit http://www.peoriariverfrontmuseum.org/ for more information on exhibits, and to book your next trip.
What hidden gems will you find?
This post was created by a member of BuzzFeed Community, where anyone can post awesome lists and creations.
Learn more
or
post your buzz!