19 Ridiculous Things People With Guide Dogs Experience
"Please stop asking my guide dog something instead of me."
1.
People are always saying "You don't look blind".
2.
And they feel the need to say "You're so brave".
3.
No joke, some people even ask "Shall I give your bag to your dog?".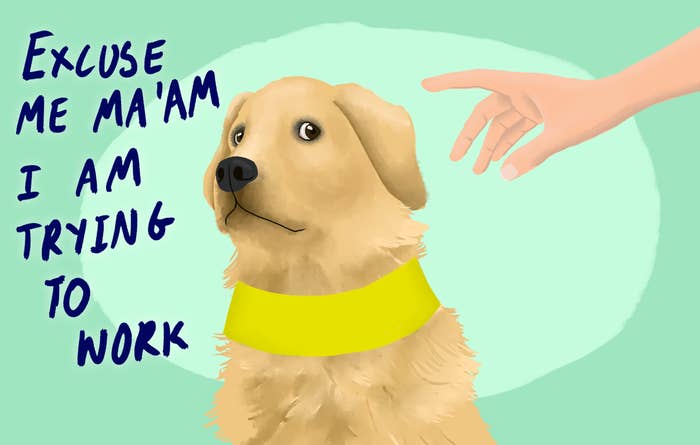 4.
And many people fumble around with their words and say something like "It's very bright in here, shall I close the bli – shades".
5.
Or "Nice to see you… I mean meet you".
6.
A lot of people ask "How do you pick up your guide dog's poop?".
7.
Often someone goes to talk about a TV show and presumes you haven't watched it.
8.
Lots of people are convinced people with vision impairments have a sixth sense.
9.
And they presume that people with a vision impairment have superhuman hearing.
10.
And say "It's over there", whilst pointing.
11.
Some people make the mistake of asking "Would they like some more?" to the person nearby instead of asking the actual person they're talking to.
12.
People often also ask "How do you use your phone?".
13.
And "How do you commute?".
14.
They also give dirty looks when they think you can't see them.
15.
A lot of drivers toot the car horn and wave as they drive past visually impaired people.
16.
Other pedestrians grab you when you're trying to cross the road.
17.
And sometimes they don't realise you've got a guide dog and think you're speaking to yourself.
18.
Often some people stupidly ask "How are you so fashionable?".
19.
And finally, a lot of people say "It must be amazing having a guide dog".
In researching this piece we spoke to contributors from Guide Dogs UK, including Lynette and her guide dog Pippa!