Here's Why You Should Be Nice To Call Centre Workers
There's nothing more humiliating than having to ask whether you can go to the toilet.
1.
It is literally impossible to get a straight answer from anyone.
2.
And call centres really open your eyes to the stupidity of the human race.
4.
And you often only get paid commision, so your income depends on how good of a salesperson you are.
5.
The job is also actually ridiculously boring.
6.
And you spend all your time thinking about how many germs are on your face thanks to the headset.
8.
If you're lucky you'll just get hung up on.
9.
But if you're not you get called all sorts of things.
10.
And have to continue to be polite on the phone even though you want to say this:
11.
You usually get someone's life story, even when you didn't ask for it.
12.
Although the worst is when you get graphic details about their ailments.
13.
The manager is always standing over your shoulder making you question every single thing you do.
15.
You often have to work weekends and nothing is worse than an early morning saturday shift.
17.
No one believes you're you and you always get accused of being a machine.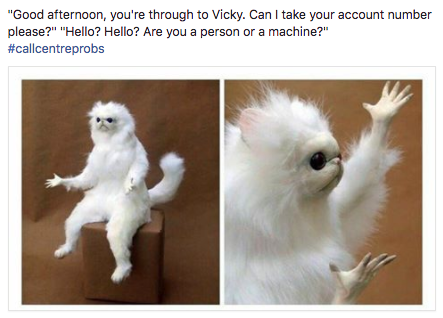 19.
You're always answering angry calls from customers asking to be taken off the system.
20.
So you have become a master at pretending to search the system while they cool off.
21.
You have to put on a whole new persona and voice just to have the energy to deal with customers.
23.
And then you can't even hide from work when you're in there.
24.
And honestly, the worst part of it all is that your butt and back kill after sitting down on the phone for hours.