Last night, Modern Family said goodbye after 11 years on air. The hour-long finale was filled with lots of hugs, laughter, and tears.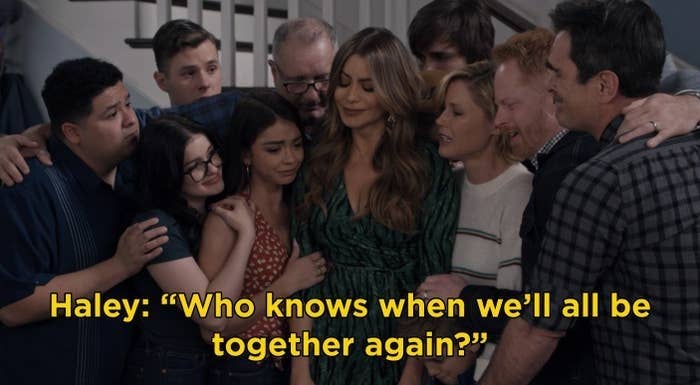 Off camera, the cast of the show said goodbye to more than a decade of their lives and to the fans who were with them along the way. Here's what they had to say:
1.
Sofia Vergara (Gloria): "I will love my American family forever❤️❤️❤️❤️"
2.
Eric Stonestreet (Cam): "To my TV family. In 11 years there has been so much we have all been through individually and uniquely together. @brothersosborne is right. We ain't getting out of this love alive. ❤️ you all."
3.
Julie Bowen (Claire): "Thank you to my fake family. I love you."
4.
Nolan Gould (Luke): "11 years of laughs, tears, and love. Can't believe it's over ... You'll always be part of our family. Thank you."
5.
Sarah Hyland (Haley): "Don't cry because it's over. Smile because it happened. To put it in Bachelor terms, I've had an incredible journey with this show. Our cast and crew were always phenomenal and we very quickly grew to be a real life #modernfamily. I will miss these people tremendously but am so grateful I was lucky enough to work with them."
6.
Ariel Winter (Alex): "It's been an amazing journey with my #ModernFamily ❤️ It's hard to type this because it still doesn't feel real ... Even though you only see us on your screens, we have just as wonderful people working behind the camera that I will miss seeing all the time. We have been so lucky. ❤️"
7.
Jesse Tyler Ferguson (Mitchell): "Just like that, it's over. 11 years of my life spent with these beautiful souls. You all have played such a huge part in the forming of my being. I will never forget. I'm definitely gonna miss this. To the fans, thank you for standing with us through it all. We owe it all to you."
"Taking a moment before filming my last scene in the Tucker-Pritchett house."
8.
Rico Rodriguez (Manny): "Coming to work every day with my cast and crew never actually felt like work, it felt more like hanging out with my extended family. 11 years later and here we are airing our final episodes tonight. Words cannot even begin to describe the life-changing experience I have had on this show. I have, quite literally, grown up right before everyone's eyes."
9.
Reid Ewing (Dylan): "I say hello, you say goodbye 👋"
10.
Aubrey Anderson Emmons (Lily): "Tonight is finally here. We're not fully ready to say goodbye but we are feeling the love from all of the fans from around the world and that makes it a little easier. A show is nothing without its fans. Thank you for making this experience so special."