Yeah, Meryl Steep Isn't Even Close To Done Criticizing Trump
"We are not going to go back to the bad old days of ignorance and harassment, oppression and hiding who we are."
Remember Meryl Streep's impassioned Golden Globes speech where she took a jab at Donald Trump and called Hollywood to action?
And then remember when Trump tweeted that she's "over-rated"?
Well, on Saturday night, Streep took to the stage for the Human Rights Campaign's 2017 Greater New York Gala, and, showed that she's nowhere near done criticizing Trump.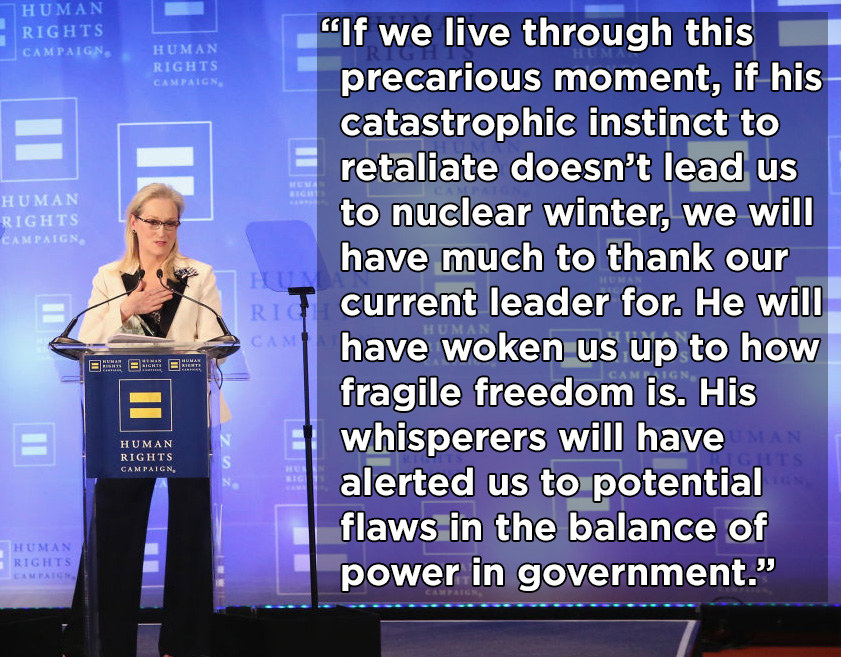 The actress, who was honored for her support of the LGBT community, continued by saying that "the authority of the executive, in the hands of a self-dealer, can be wielded against the people, their Constitution and Bill of Rights."
The whip of the executive, through a Twitter feed, can lash and intimidate, punish and humiliate, delegitimize the press and imagined enemies with spasmodic regularity and easily provoked predictability.
She also insisted that "we are not going to go back" ....
.... and cited LGBT heroes.
We owe it to the people who have died for our rights (and who died before they got their own). We owe it to the pioneers of the LGBTQ movement, like Paula Grossman, and to the people on the frontlines of all civil-rights movements, not to let them down.
.
Then she directly clapped back at Trump, mentioning his "over-rated" insult.
Yes, I am the most overrated, overdecorated and, currently, over-berated actress, who likes football, of my generation. But that is why you invited me here! Right?
.
And finally, she explained why she is compelled "to stand up."
The weight of all these honors is part of what brings me to this podium. It compels me, against my normal instinct (which is to stay home), it compels me to stand up in front of people and say words that haven't been written for me, but that come from my life and my conviction and that I have to stand by. It's hard to stand up. I don't want to do it. I want to read and garden and load the dishwasher. It's embarrassing and terrifying to put the target on your forehead. And it sets you up for troll attacks and armies of brownshirt bots and worse, and the only way you can do it is if you feel you have to. You have to. You have no choice, but you have to speak up and stand up and act up.