When you're 40 years old, you'll most likely be:

Living somewhere in New England

Manager of the L.A. Dodgers

Sneaking your kids jello shots at a wedding

Working as a yoga instructor

Starring in a Food Network show

Doing calculus to build something technological and difficult

A Physician's Assistant by day, fun mom by night

Working in an art gallery

Most likely to _______ on a Thursday night

Be dabbing and Chambonging

Finesse your way into frats with friends

Disappear and somehow end up at Elmo

Go out with one of your countless guy friends

Hang out at your apartment with roommates

Work at Michael's Bistro for the 10th hour in a row

You can always be caught saying:

Some Thetas came in to eat today and only left me a $2 tip

Can I get more tzatziki on that?

I have 3 exams and a lab today

My 20 minute nap turned into 4 hours long

Want to come over for a steak dinner before frats?

Don't eat yet I need to get a picture of your food

I might just stay in and have a Bold Rock

I'm walk of shaming from Sammy

I have a separate Internet tab on my laptop just for online shopping

Most likely to complain about?

All the Phi Psi boys who she loves but who don't know her (yet)

Not having cable to watch Grey's

Sounds of someone chewing

Accidentally sleeping for too long

Annoyingly-loud roommates

Being in pain from eating too much but still being hungry

9-hour long yoga training classes

You'd spend too much money on:

Shots for everyone at bars (apparently)

Multiple Ubers to and from semi-formal dfunc

Going to Cafesano more than once a day

Being taken home and eating 7 meals

Avoiding frats, going to bars, and then drunk-eating your roommate's salmon

Texting your friends "help" when you're not actually in danger

Getting both high and drunk

No idea, but definitely not going home alone

Either happily tipsy or throwing up in the ocean at 11 am

Favorite Arch's toppings?

Assortment of brownie batter, cookie dough, peanut butter, and some granola and walnuts for healthiness

Definitely not the cookie dough, that's gross

A wide variety of sweets atop professionally swirled froyo, and then lots of whipped cream

Anything and everything involving peanut butter

Strawberries and brownie batter

Half brownie, but also half fruit to balance out the sugar u know

Just half a cup of brownie batter please

On Facebook, most likely looking at:

NO TIME FOR FACEBOOK I HAVE ORGO HW DUE AT MIDNIGHT

Pictures with Ashley or Becca

Deals for Brandy Melville

Frat boys who don't know her

Disney princess most like you?

Describe your relationship with your big.

Really don't see her too much...

Lol my grandbig is my real big

She's awesome and bought me this watermelon Smirnoff I forgot about till now

I love her! Just wish she wasn't so busy

Best friends, (former) co-workers, basically twins

Partner in crime for chugging Malibu and hanging out with the navy boys

Love hanging out all together as a fam!

Pretty much the same person as me, just look in our closets and at our finstas

She's awesome and my future Comm school buddy
Which SKuid Are You?
Bio!!! Chem!!!! Orgo!!!!!!! Erin is our resident pre-med student who also manages to have a good time with us both in the lib and on the Corner. She enjoys not grocery shopping for weeks at a time, spending the remaining few dollars in her bank account on brunch punch, staying up till the wee early hours of the morning doing homework that none of us could understand, and continuing a 6.5 month-long hook up with some rando we met at dirty Myrtle (jk Aidan we love you). She doesn't go out allll the time, but when she does, expect her to be in bed by 11:30 on Block Party and then hungover for like two days afterward.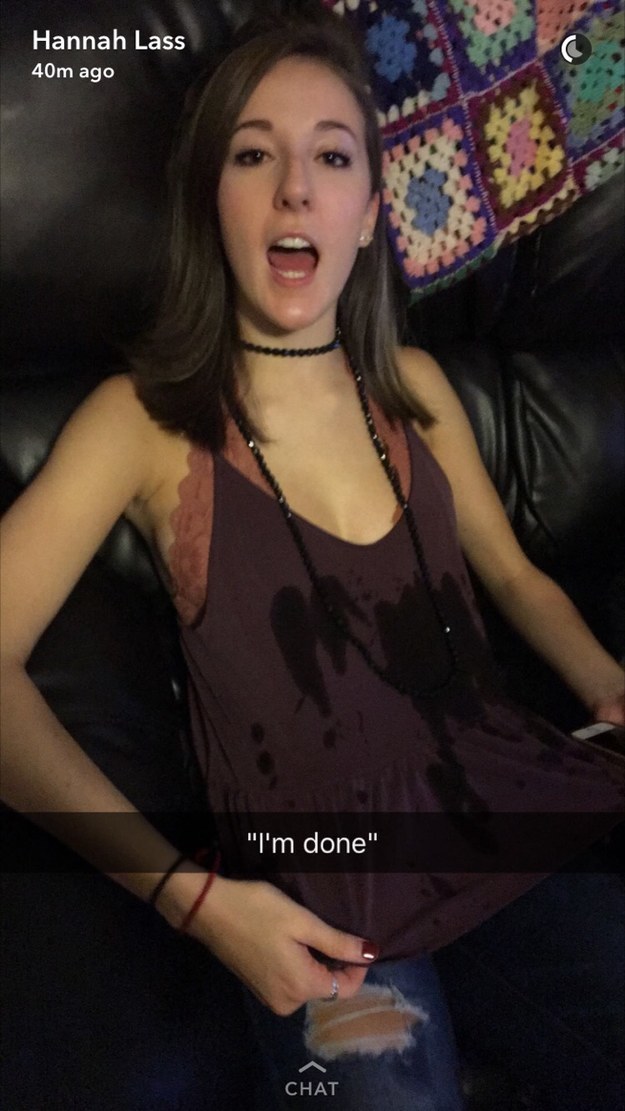 Half culinary connoisseur, half frat boy. This bitch goes from grilling steaks and baking acorn squashes to party hopping from Zete to Chi Phi to (as always) Elmo late night, with the occasional blackout at Trin. Reasons she travels to Norway? The Grey Goose. Duh. Also if a frat boy is out there looking for his North Face or other nice jacket, odds are Catie stole it. After kicking him out at 7 am with absolutely no catching of the feels.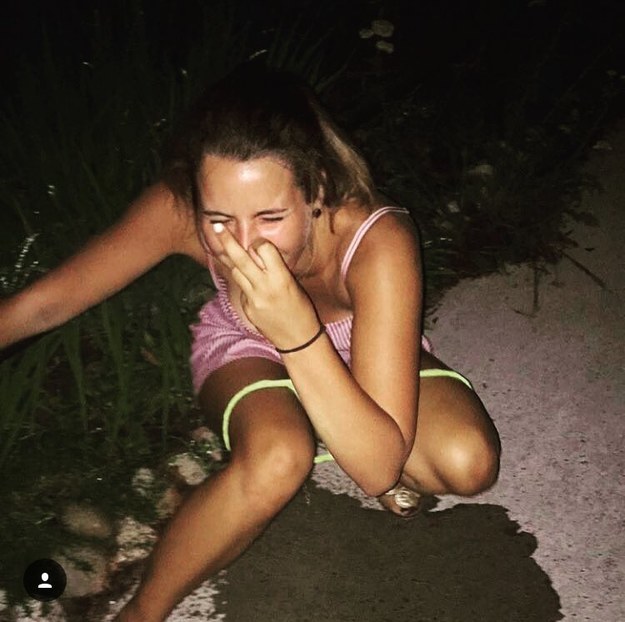 If anyone's a social butterfly, it's T. Who else would get invited to London Perrantes's pool party, know at the very least 5 people at any party or social gathering we go to, and catch the eye of UVA's famous Nick Jonas lookalike?! Our only West Coaster is learning to love the East through our quality supply of Bold Rock, having more than one season, and foster kittens. Avid fan of dumplings, listening to cool music (and sometimes creating her own music) and Trader Joe's. She keeps her shambles lowkey but can down $70 worth of shooters at Coupes np. Also the only one classy enough to have Circoc amongst all of our embarrassing amounts of Burnetts. #goals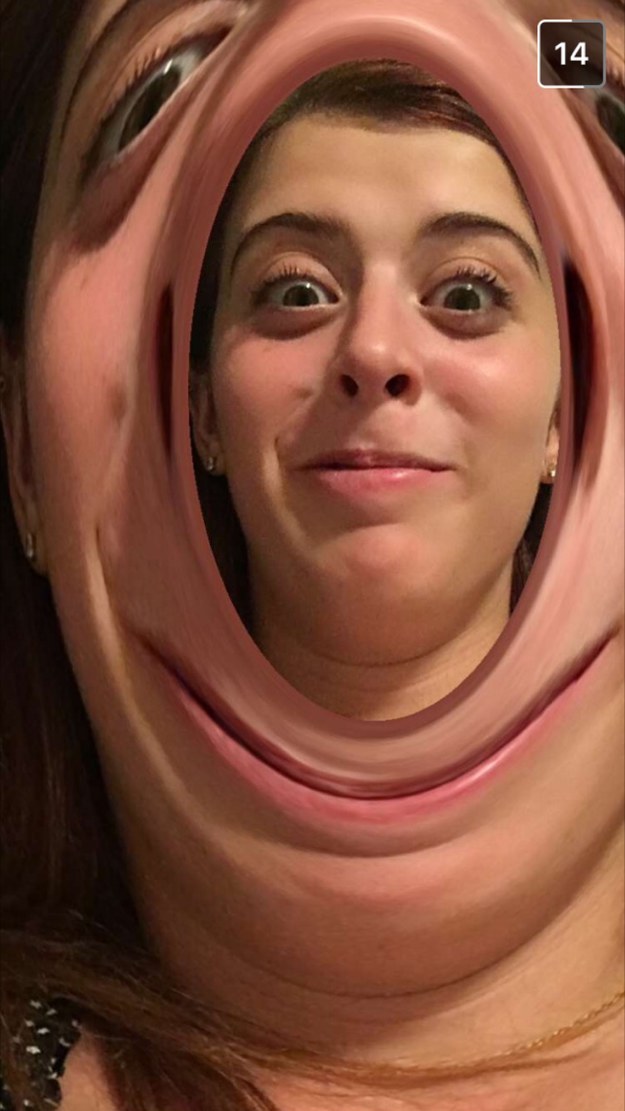 If there is a jello shot within a 50 mile radius, Allyssa is there. Her best friend is Debra (and then Andre), followed by tzatziki sauce and whipping and dabbing for no reason. The double L in her name just shows how many L's she takes on the reg. She's the queen of the worst party fouls so far, involving a broken arm and ambulance ride at Theta Chi and broken toe the first night of bitch week. On her nights in, she enjoys long binges of Netflix, no pants, and taking shots in the library out of her Swell bottle. Also kittens.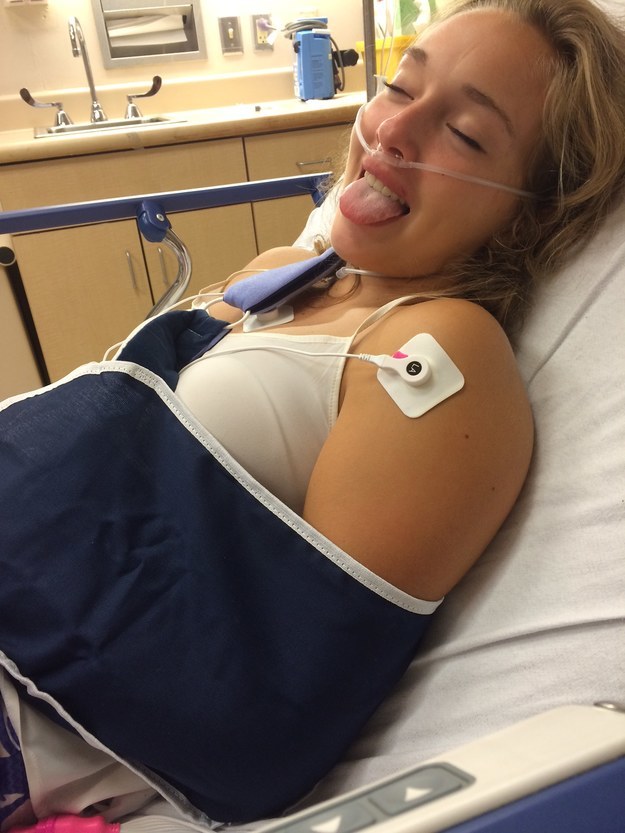 The only Squid to blackout from getting nonstop free drinks at Bilt, eat Arch's for dinner, and manage to still have a six pack. No one really knows how she has time to work at Roots, take Orgo, and go home all the time for yoga classes, but Rach somehow does it. If she's not staying in with her cat and a bowl of guac, she's either with her good pal Molly at a concert or ending up with Sammy Sam. While many girls go for the slutty risky business Halloween costume, she's the one out dressed as a Whoopie Cushion. How we'll survive without her fourth year is TBD but we still have over a year to make more shambly mems together.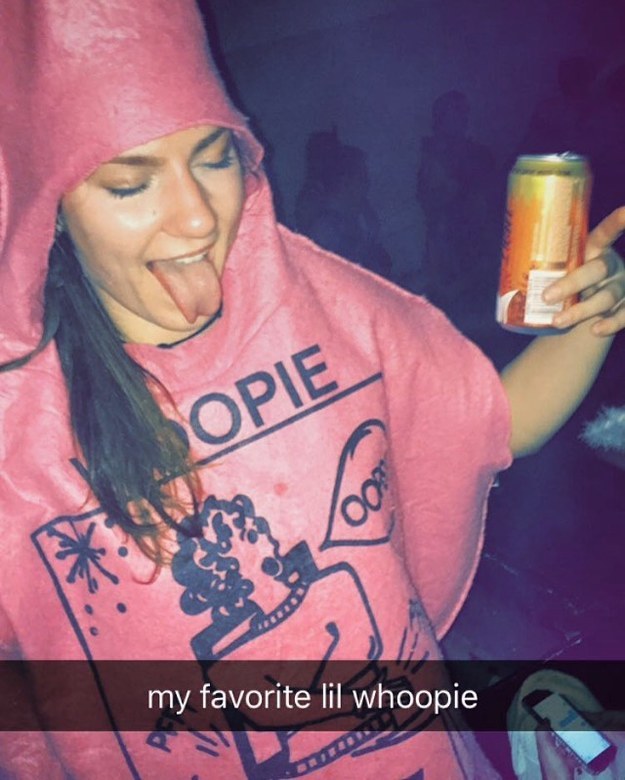 The OG food lover, somewhat-devoted runner, and the one who is most likely to take one too many shots and drunk-eat uncooked pizza, but be bright and ready to darty the next morning! Almost always can be found with Sophia either trying to speak French or on Clem 1 procrastinating by taking Buzzfeed quizzes. Casey (also known as Casedilla) values her Snapchat streaks more than her own life and is a huge supporter of online shopping and cooking your own grilled cheeses at White Spot. If you go out to eat with her, you best believe every piece of food will be artistically photographed for the food insta. Also the one infamously known for icing herself at beach week and then trying to throw up off the balcony to avoid losing the security deposit.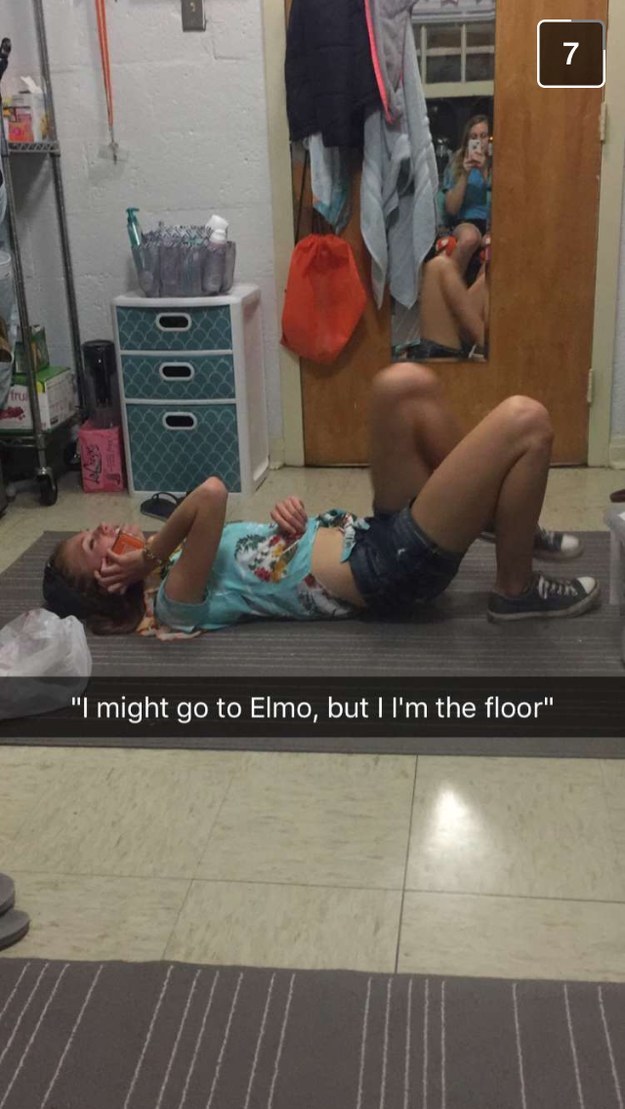 Linda is our new house momager and probably the tamest squid in our sea. Being an engineer means she can't go out too much (RIP Halloweekend 2k16), but that's okay because she's always down for watching Friends in bed and indulging in beer cheese dip. She also enjoys sleep – both with taking frequent afternoon naps and passing out at every beach week pregame we went to. The few times she has gotten drunk have resulted in both her phone and every important card being stolen from her at a frat, as well as her stealing a wide variety of items, including construction signs and a massive wooden cross from the Rotunda. Her chill personality means next year at the SK house will be full of Netflix marathons, pregames in the kitchen, and many boom boom rooms.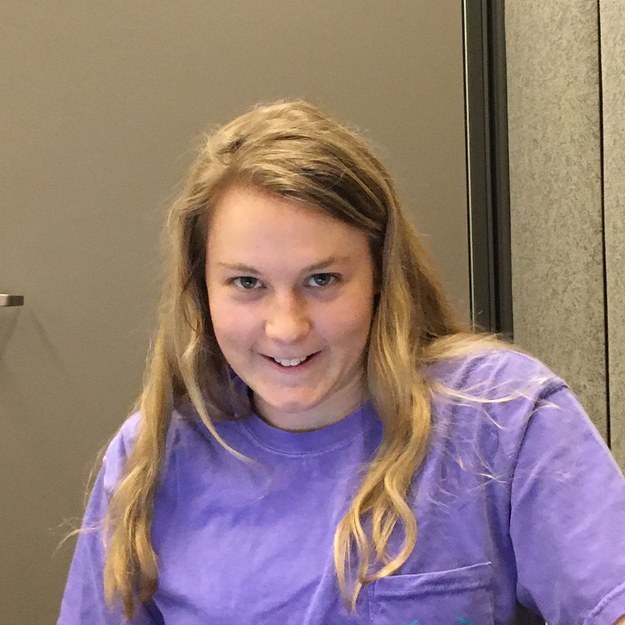 Jessica is both the world's sweetest person and lowkey one of the most fun people to go out with. She manages to balance her hours of Orgo and bio and other horrible medical things with online shopping, Cherry Garcia ice cream, and hitting up bars with her South Lakes squad. She's the one to be found at the gym while everyone else is still recovering from their hangovers. Jess has her quirks, like eating salad without dressing, enjoying driving stick shift, and hanging out in Erin's bathtub during the pregame, but how could anyone not love her happy personality and passion for late-night White Spot? But don't chew too loudly around her; she can't stand that shit.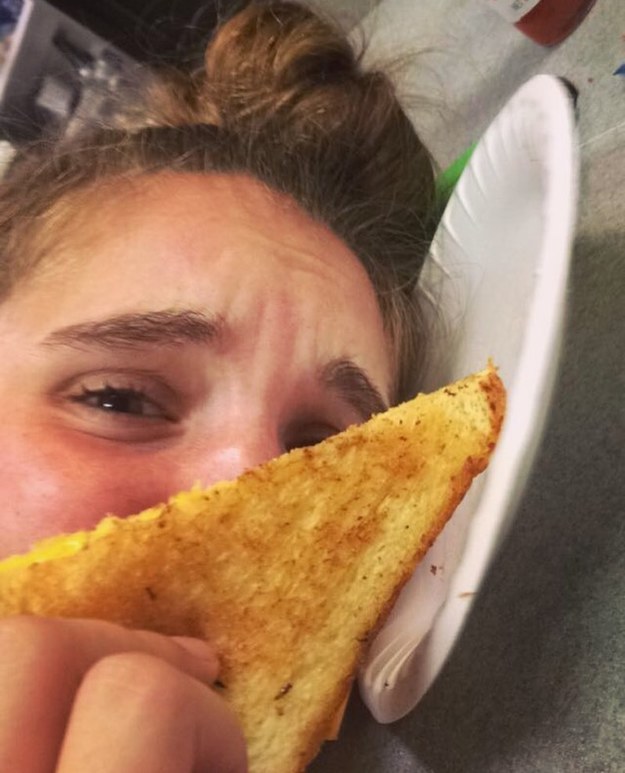 Maddaum is one of the busiest bees in Squids. She's either swimming, enjoying accounting homework (tf?!), or hoarding Cafesano pics for one of her three Instas. This future Comm schooler is the world's biggest fan of avocados, LinkedIn, and hanging out with some of the 99999+ people that went to her high school before UVA. But how does she truly get lit? Fireball, grilled cheeses, and also grocery shopping on Friday evenings at Harris Teeter. Or pregaming a baseball game so hard that she throws up on the metro platform and never makes it to the actual game.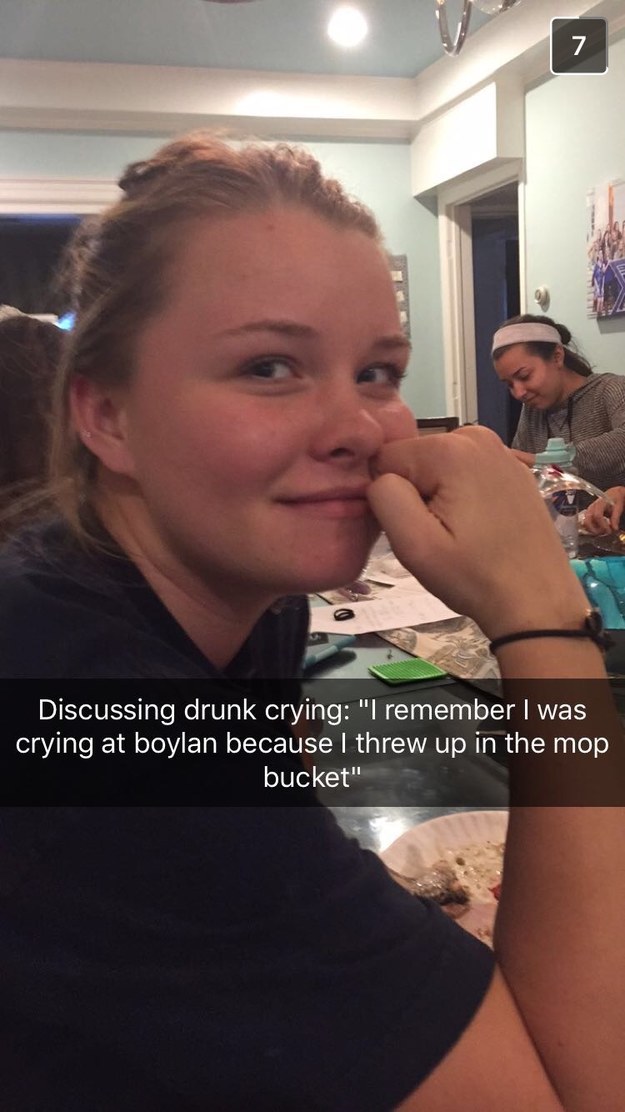 This girl has no in between: she's either been in Clem 1 for 10 hours straight, or is throwing up on Casey's couch after being blackout on third floor Trin. She realized she will have no social repercussions next semester since she'll be abroad, so now she's free to drunk-text Elmo brothers, creep on boys who don't know her from across the library, and eat at Pigeon Hole 15 times a week. Showers, snapchats, and eats sandwiches simultaneously. Don't let her near any cats, ice cream cakes at pregames (RIP to the carpet she dropped it on *twice*) or paint on Beta bridge, because ya girl has no self-control.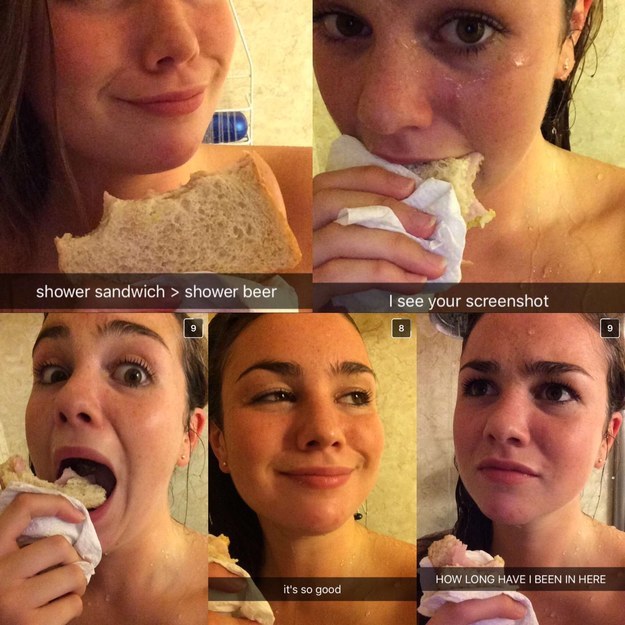 This post was created by a member of BuzzFeed Community, where anyone can post awesome lists and creations.
Learn more
or
post your buzz!