In an inspiring New York Fashion Week show on Sunday, 16 breast cancer patients and survivors strutted down the catwalk in lingerie and loungewear made specifically for their bodies.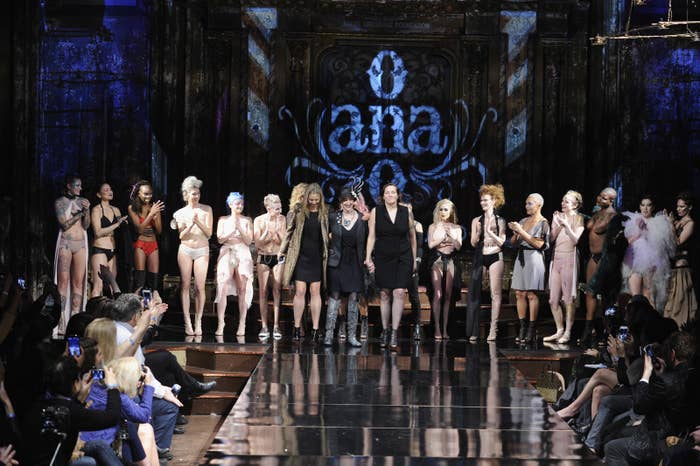 Many of them made NYFW history by walking topless or taking their bras off right on the runway.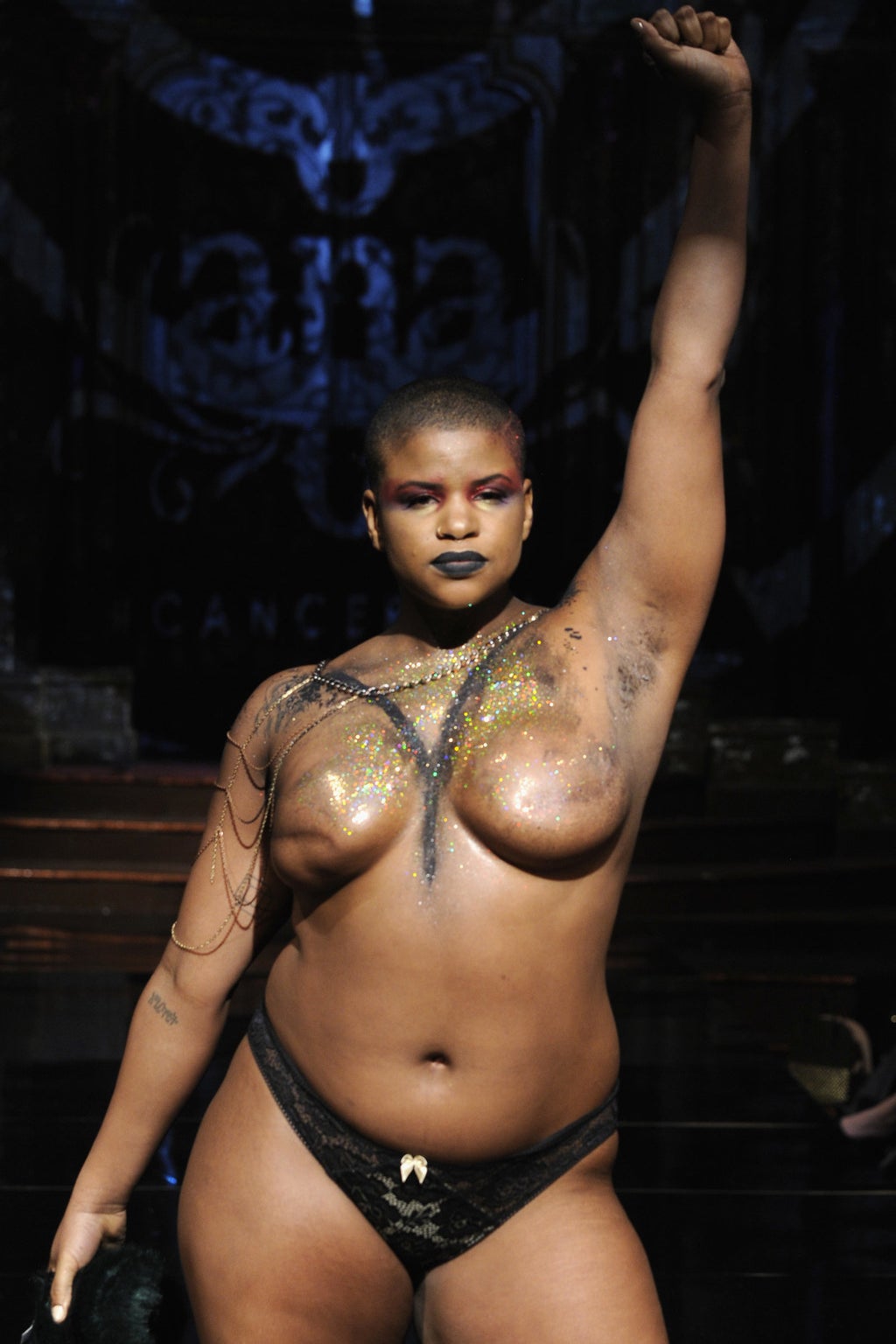 They were modeling for Ana Ono Intimates, a lingerie and loungewear brand made specifically for people who've had surgeries related to breast cancer diagnoses — such as mastectomies, lumpectomies, reconstructions — or live with other conditions that cause pain or discomfort.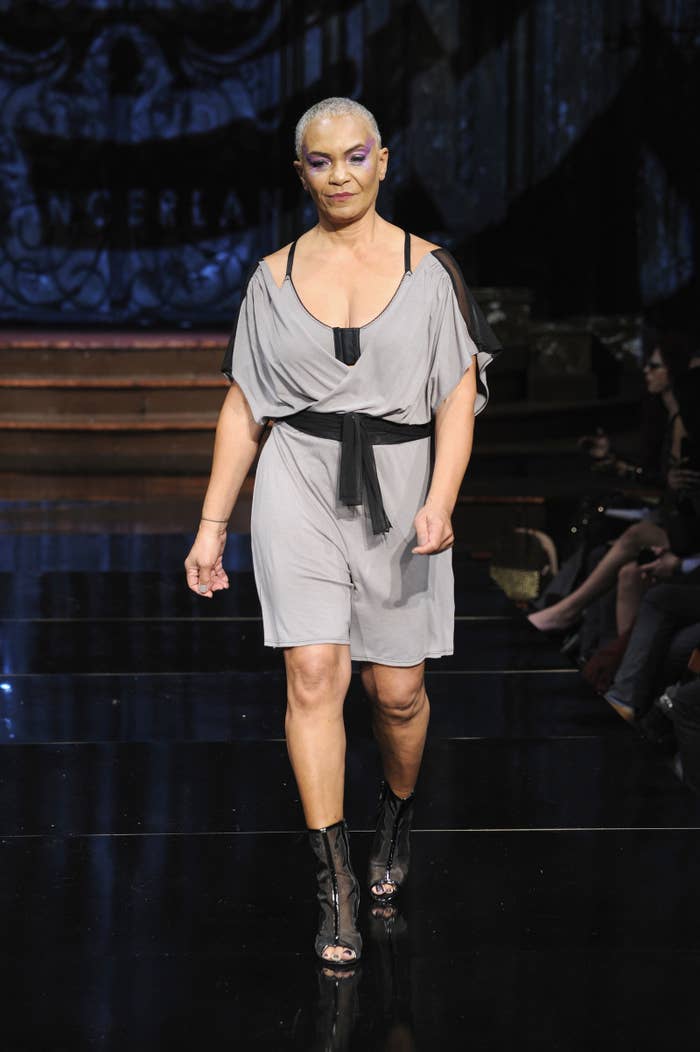 Ana Ono's founder, Dana Donorfree, was inspired to launch the brand after her own battle with breast cancer at age 27.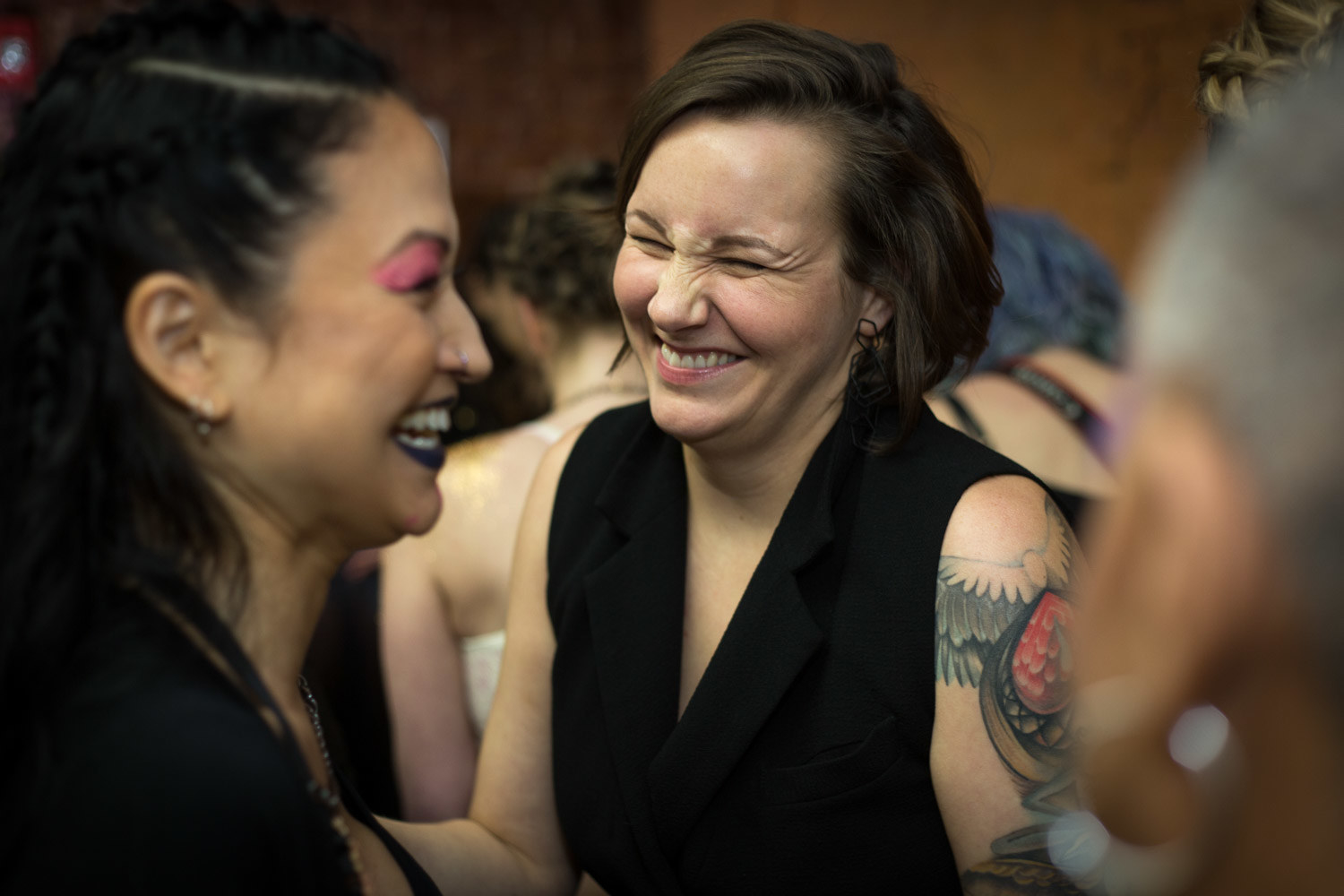 "I cried a lot in lingerie dressing rooms after cancer. Every time I was handed an armful of matronly, beige utilitarian bras and left in tears, I promised myself I would never let it happen to another woman again," Donofree said.
So she began designing bras, using real survivors to test different styles and fits — such as wire-free designs, hidden seams, gentle materials, and special cuts to avoid pain points.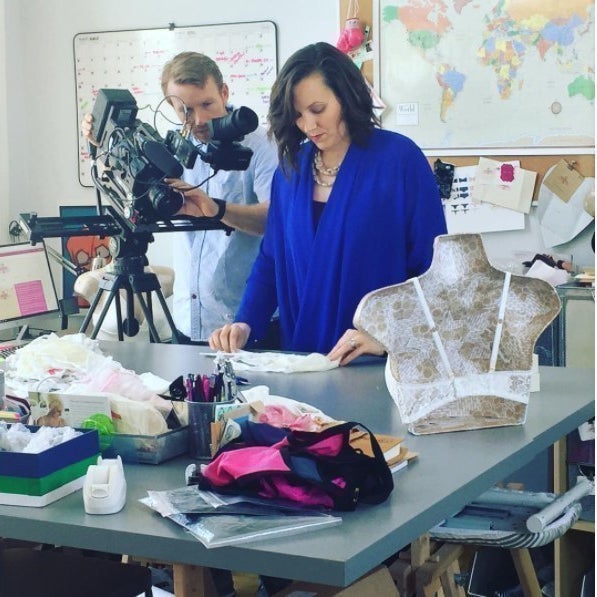 "I do not launch a style without testing it on women who've had everything from mastectomies and lumpectomies to breast reconstruction surgery and prosthetic breast forms," Donofree said. In addition to bras, Donofree also began designing underwear and also loungewear like robes and nightgowns with the woman's needs in mind.
When she releases a new product, Donofree says she knows exactly which bodies and breast shapes it will fit so she can include this information with the bra, which helps "take the guessing and fear out of bra shopping for survivors." The products are made to fit during various stages of cancer from surgery, radiation, recovery and beyond.
Ana Ono also only uses people who have had breast cancer to model the products on the website."It's important for women on the other side of the screen to see the bra on a woman she can relate to," Donofree said.
Ana Ono is the first mainstream lingerie brand to offer products with both a practical construction and a fashionable, sexy design, Donofree said, allowing people to "feel comfortable and beautiful no matter their diagnosis."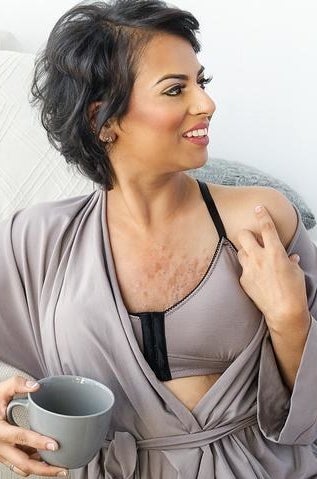 "The traditional lingerie market expects you to have two breasts — but you can have one breast, two breasts, or no breasts and we have an option for you," Donofree said.
It turns out, Donofree was wrong about never letting another survivor leave a dressing room crying. "This one woman whose body was ravaged with radiation and scarring put on Ana Ono and just looked at me with glassy eyes and told me it was the most comfortable and sexy thing she had put on her body since she was diagnosed."
Like this bra, which has deep-cut arm holes to accommodate painful incision scars, pockets for removable prosthetics in women with one breast, and a plunging neckline so it's can still be worn under fashionable tops and dresses.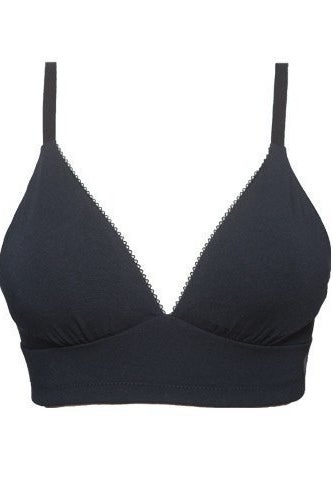 According to the website, this bra fits customers who've had any of the following: lumpectomy, mastectomy, breast reconstruction, augmentation, lift, reduction or no reconstruction or surgery at all.
Or this robe worn in the show by Paige More, who had a double mastectomy five weeks ago. "It has special hooks to hold my drainage tubes in place so they don't snag, but it also completely hides everything and looks cute," Paige told BuzzFeed Health.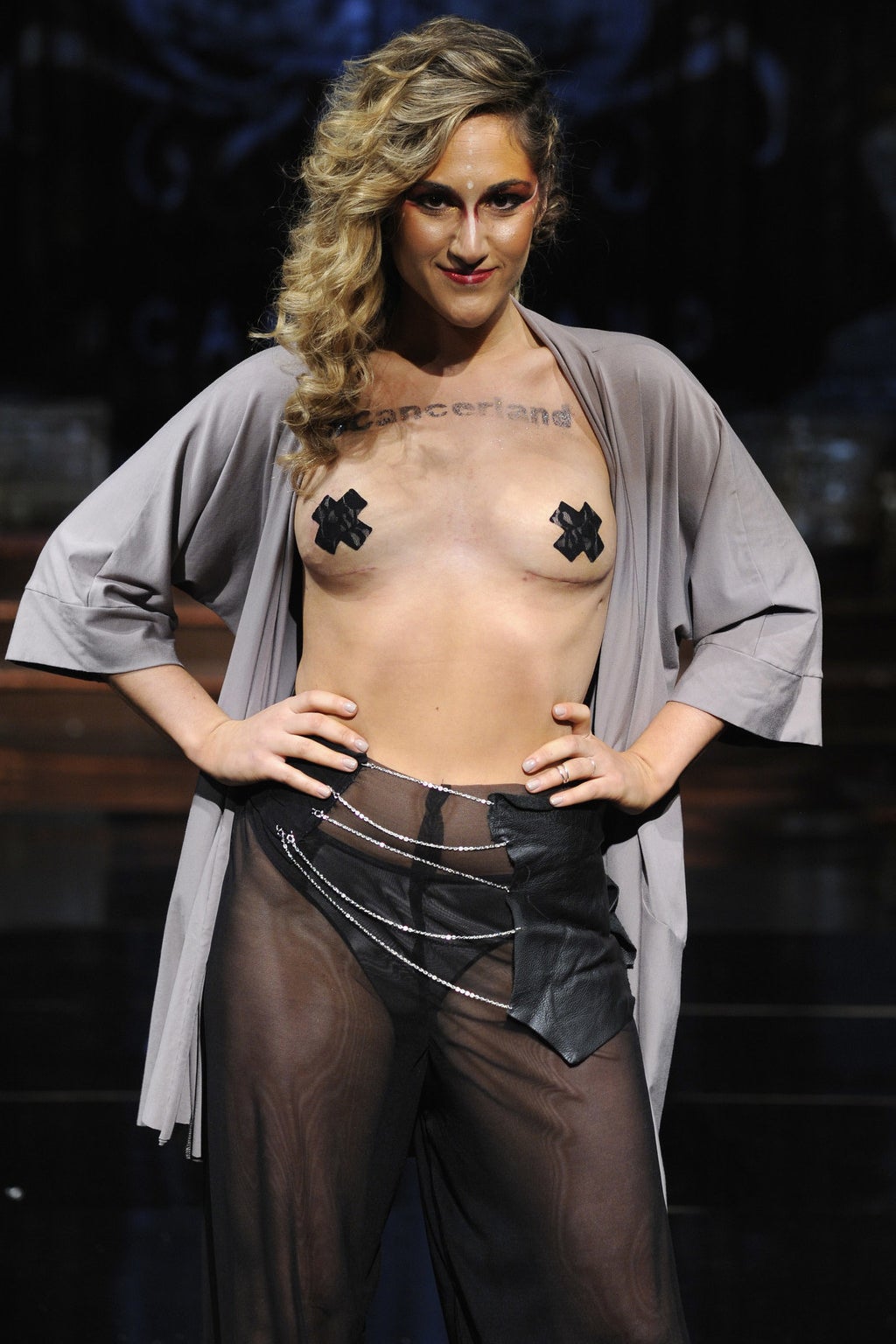 More, a 25-year-old producer living in New York City, is considered a 'pre-survivor,' because she had not yet developed breast cancer but had a strong predisposition to the disease. "I tested positive for [a BRCA1 genetic mutation, so I decided to be proactive and had a preventative double mastectomy," More said.
In the show, More modeled the same design she wore after her surgery: the Miena robe. It features a detachable belt and hooks inside to hold surgical drains that carry excess blood and fluid from the breast area after a mastectomy.
"It made me feel sexy after my breasts were removed and I never, ever thought I would say I felt sexy after that experience — the robe was life-changing," More said. The robe was so important to More that she said she decided to call Ana Ono and say thank you, which is when spoke to Donofree, who asked her to model in the show.
"It's amazing to model for Ana Ono in New York Fashion Week — walking in lingerie, topless, allows me to reclaim this space and celebrate my sexuality as a survivor," Ericka Hart, queer sexuality educator and model (pictured below), told BuzzFeed Health.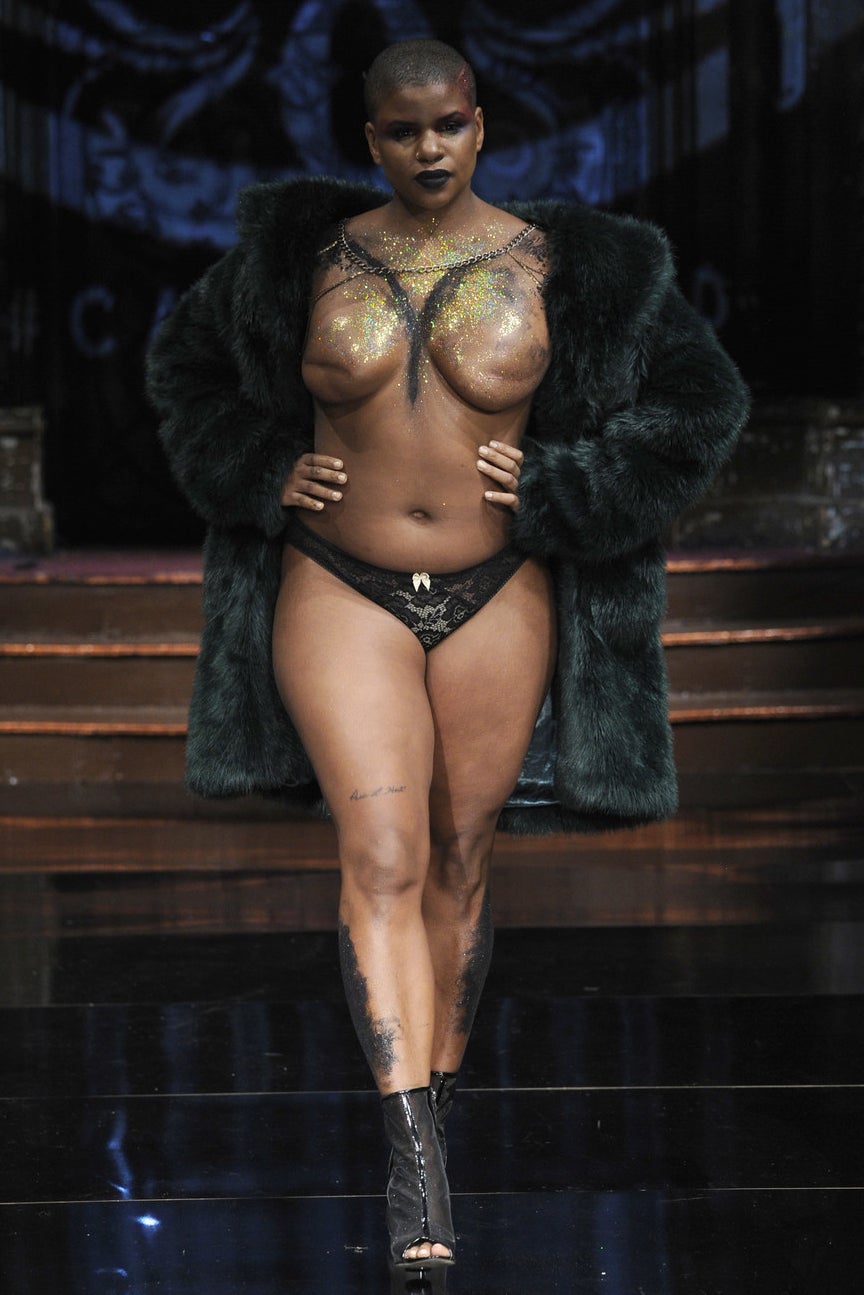 Hart, who went out topless for the first time during the Afropunk festival last August, said her involvement in the show was important both as a survivor and a black individual who identifies as queer. "Not only do I get to wear this lingerie made for survivors, by survivors, but I get to go up there in public and celebrate the fact that I'm a black queer femme that lives with a chronic illness," Hart said.
"This illness is not morbidity — just because our breasts are gone it doesn't mean our lives are over, we get to celebrate our lives and our sex lives and that's what this show is about," Hart says.
"It's not just a bra," Champagne Joy, #Cancerland founder and breast cancer survivor, told BuzzFeed Health. "When you lose your breasts and put on something that makes you feel like a million bucks, that's not a bra — it's magic."
"Ana Ono's mission isn't just to provide beautiful, quality products to women — we want to create a space for survivors to connect and share their stories, because no woman fighting this disease should feel alone," Donofree said.