This post has not been vetted or endorsed by BuzzFeed's editorial staff. BuzzFeed Community is a place where anyone can create a post or quiz.
Try making your own!
UPDATED: Alfred Angelo Closed And Brides Are FREAKING OUT; Here's What To Do About Your Dress
KEEP CALM AND BRIDE ON. UPDATES as of 7/16 at 9:02
The company's bankruptcy attorneys have issued a statement saying that the company will "encourage the Chapter 7 Trustee to finish and fulfill as many orders as possible.
This essentially means that the person put in charge of liquidating the assets (selling off all the stuff to make enough $$ to pay back debts) will be encouraged to fill orders, but doesn't have to.
Obviously, brides are FREAKING. OUT.
Here is what we know so far:
Ordered Dresses: Some corporate emails/ communications have said that if dresses were paid for, brides must simply go pick up their dresses. Be aware that it is cash only, and credit cards are not being accepted. Corporate emails also indicated that other brides who have already paid should wait for their dresses to be shipped to them.
However, one employee posted on Facebook saying that she was told that no dresses would be shipped out.
Here's the kicker: The company may not be authorized to distribute dresses once the bankruptcy proceedings start. Once they file, they don't get to decide-- the trustee will.
Hostage Situations: One bride said that her wedding dress was in the hands of a company seamstress, who is essentially "holding it hostage" for $400 worth of alterations. According to one employee, the retailer "let the seamstresses go a few weeks ago and this is why they are holding the dresses for ransom... because AA never paid them." The police have been called and are now involved.
Another bride has reported that she paid $500+ to Alfred Angelo for alterations, but a seamstress is demanding ANOTHER $500 because the company has not paid her.
What You Can Do
Make noise. Reach out to the corporate office via Twitter, use a phone (although this hasn't proved successful) or email. Also, you can contact the your local news affiliates, who have proved very interested in this story.
Finally, you can reach out to Patricia Redmond, the attorney in charge of bankruptcy, named in the letter above and available at 305-789-3553. Remember: she isn't their corporate attorney, so don't take out your anger on HER-- she will be trying to pick up the pieces.
Un-ordered Bridal or Bridesmaid Dresses: Brides and bridal parties who haven't ordered their dresses will have to either wait for a possible liquidation sale or order second hand.
Because bridal parties may have some dresses ordered and some unordered, Facebook groups like this one are popping up hoping to help bridesmaids groups order same color or "look alike" dresses. Members have rallied together to offer to sell their Alfred Angelo pieces to those looking for cohesive matches. BUT BUYER BEWARE of scam artists who may take advantage of a stressed out bridal party!

Tight Timelines = Get a backup plan. Wedding in the next few weeks? You may need to start looking for new dresses. It's unclear how this will pan out, so get a backup plan in place. Companies like David's Bridal are offering special help to those brides and bridal parties affected:
Dispute credit card charges. If you haven't received your dress and paid by card, you may want to cancel the transaction or dispute the charges.... and quick.
Call your lawyer. Yep, it might come to this. Call an attorney licensed in your state for their thoughts. There may be a way to recover the cost of the dress, PLUS any cost of an additional dress (if it comes to that). A phone call can't hurt.
Keep in mind that once bankruptcy proceedings begin, the rules change. And many times, that means folks owed money or property are left sorely disappointed.
UPDATE: Alfred Angelo's website has been updated to issue this statement: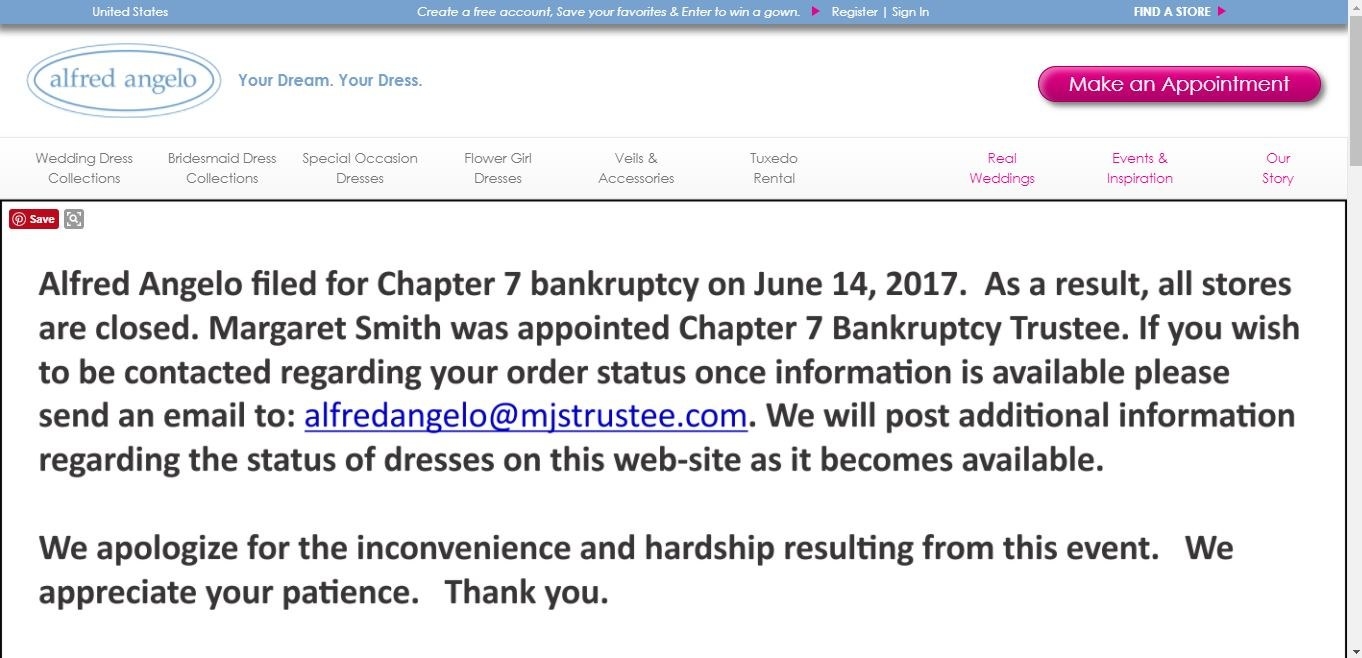 What does this mean?
Technically, it means that Alfred Angelo HAS filed Ch 7 bankruptcy as of Friday, June 14. Once they file Bankruptcy, they are no longer allowed to distribute property or funds in the company's possession.
Lawyer Patricia Redmond previously stated that she will be doing whatever she can to send out dresses. HOWEVER, it is no longer under her control, and subject to the discretion of the trustee.
What happens now?
It's hard to say, but typically the trustee will take an inventory, evaluate the finances of the company, and begin to "square up" with those the company owes money to. The issues crop up when there isn't enough money/ property to satisfy all of the folks to whom a company-- in this case, Alfred Angelo-- owes money.
When you don't have enough resources to satisfy all of your debts, the debts can be ranked or pro-rated-- resulting in partial refunds.
Think of it this way: When you have a bag full of sticks, and you have more people demanding sticks than you have, someone is going to be disappointed. We can only hope the trustee determines that it's not the brides.
What can I do now?
If you haven't recieved a communication about your dress, it's a good idea to get a backup plan in place.
Even if you DO get your dress or a refund, bankruptcy proceedings can take a long time. If you've got a wedding coming up, you need to either
1. Buy a dress off the rack, or
2. Order another one STAT so it can be made/ altered in time.