This Is The Only Way You Should Be Eating Pumpkin Pie
Love pumpkin pie? Get excited to eat pumpkin pie out of a PUMPKIN!
by
,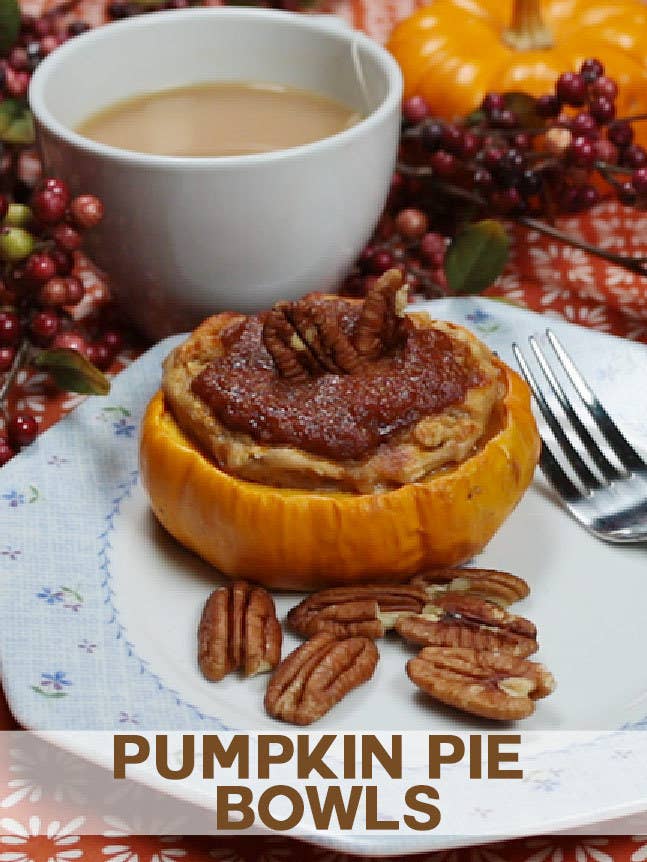 RECIPE:
Serving size: One pumpkin per person.
Here's what you will need:
- 6-8 small pumpkins
Crust:
- 1 cup flour
- 1/2 cup brown sugar
- 1/4 cup almond milk
- 2 Tbsp. oil
- 1 tsp baking powder
- 1 cup oats
Filling:
- 1 1/2 cans pureed pumpkin
- 1/4 cup brown sugar
- 1 tsp cinnamon
- 1/2 tsp ginger
- 1/2 tsp nutmeg
- 1/4 tsp cloves
- 1/3 cup almond milk
- 1 Tbsp. olive oil
- 2 Tbsp. corn starch
- 1/2 tsp salt
Cream Topping:
- 1 15 oz can coconut cream
- 1/4 cup powdered sugar
Preheat oven to 400˚ F(200˚ C). Gut 6-8 small pumpkins, and place on a baking sheet. Combine all crust ingredients in a medium sized bowl. It should be the consistency of peanut butter, or more runny. Spread over the inside of the mini pumpkin. The moisture will aid in softening the pumpkin while cooking. For the filling: Combine all filling ingredients in a large bowl. Mix until smooth. Use a plastic bag to squeeze into the pumpkins. Bake for about 40 minutes, or until the pumpkins begin to pucker, and the tops darken. Combine coconut cream and powdered sugar, and beat or whip for three minutes. (for fluffier whipped cream, use thinker coconut cream, and chill for one hour. Drizzle cream over top of hot pumpkin. Enjoy!