Ringer Burger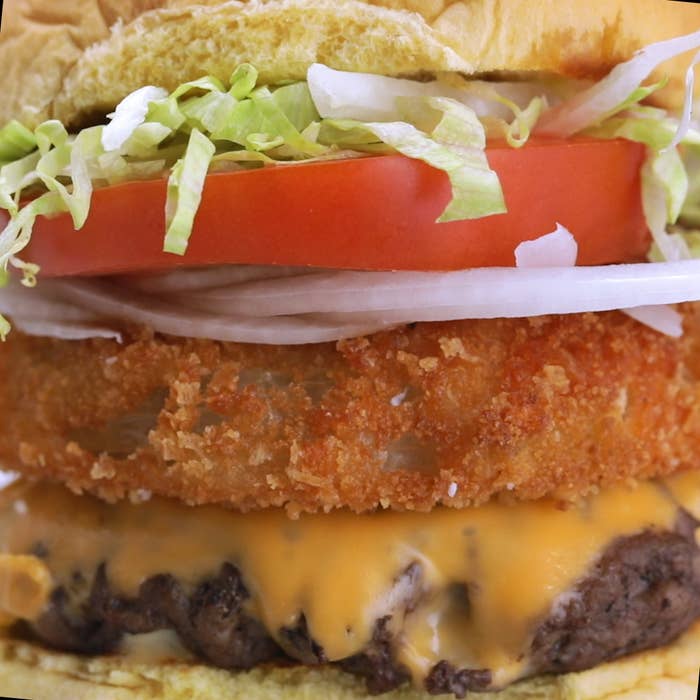 Donkey Sauce
INGREDIENTS
2 ounces peeled garlic cloves
Olive oil
1 cup mayonnaise
½ teaspoon ground black pepper
¼ teaspoon kosher salt
2 tablespoons Worcestershire sauce
2 tablespoons mustard
PREPARATION
1. Place garlic in tin foil, drench with olive oil, then fold up tin foil into a packet.
2. Place packet on baking sheet and roast at 280º for 25 minutes.
3. Place garlic in food processor and pulse until broken down. Add mayonnaise, and blend until thoroughly mixed, using a silicone spatula to scrape down the sides.
4. Set aside 1 tablespoon of the garlic mayo.
5. Add the rest of the mayo to the food processor, add the black pepper, salt, Worcestershire sauce, and mustard. Blend until combined.
Rojo Onion Rings
INGREDIENTS
1 yellow onion
1 cup buttermilk
½ cup flour
½ teaspoon salt
¼ teaspoon pepper
¼ cup ketchup
6 tablespoons water
1 cup panko
4 cups canola oil
PREPARATION
1. Slice onion into rings. Soak in buttermilk. Set aside.
2. Mix flour with the salt and pepper.
3. Mix together ketchup and water until smooth.
4. Set up a station with three separate containers: one with seasoned flour, one with the ketchup mixture, and one with panko.
5. Shake off excess buttermilk from onion rings. Dredge in flour. Dip in ketchup mixture. Coat with panko. Repeat with all onion rings.
6. Heat oil to 350ºF. Fry onion rings until golden brown, drain on paper towels, and sprinkle with salt.
Burgers
INGREDIENTS
20 ounces ground beef
1 teaspoon kosher salt
¼ teaspoon ground black pepper
2 tablespoons softened butter
1 tablespoon reserved garlic mayo from Donkey Sauce recipe
Martin's potato rolls
Cheese Whiz
American cheese
Onion, sliced into half moons
Finely shaved iceberg lettuce
Kosher dill pickles, thinly sliced
Tomato, thinly sliced
Mix beef with salt and pepper. Form into (4) 5-ounce balls.
Mix butter into garlic mayo.
PREPARATION
Cook patties: Heat cast-iron skillet with a little canola oil. Place hamburger ball on skillet and flatten with a flat spatula. Flatten to approximately ⅓-inch thickness. Cook for 1½ minutes to develop a crust on the first side. Flip over and cook for 1 more minute on the second side to develop a crust on that side. Add a dollop of Cheez Whiz and a piece of American cheese. Pour a teaspoon of water into the skillet, and immediately place a lid on top so that steam is created. Cook for 1 more minute, then remove burger.
Assemble burgers: Spread a little butter garlic mayo on each half of the bun and toast in pan for 30 seconds. Then spread Donkey Sauce on each half of the bun.
Layer base with pickle slices, then the burger. Top with onion ring, BBQ sauce, onions, tomato and lettuce. Then place top half of bun on top.