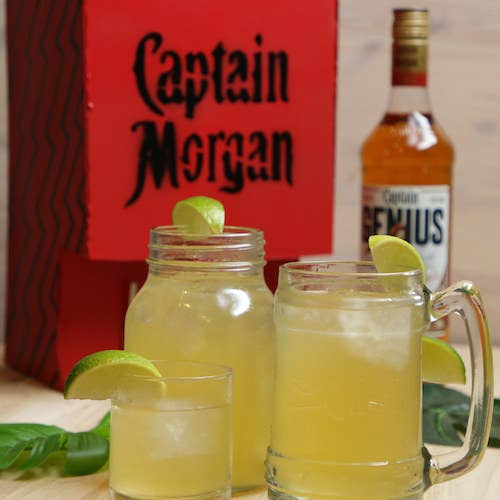 Serves: 4 - 1.4 units per serving
Ingredients
150ml Captain Morgan Original Spiced Gold Rum
75ml tropical squash
Juice of 2 limes
700ml soda water
To Serve
Lime wedges (optional)
Ice cubes
Preparations
Combine Captain Morgan Original Spiced Gold, tropical squash, and lime juice.

Add the soda water.

This serve can be divided into two 500ml bottles in your DIY drink dispenser.

Serve with an optional wedge of lime over ice.

Enjoy!
DIY Drink Dispenser:
Supplies:

You will need:
Strong thick corrugated cardboard

Scalpel

Tubing

Momentary switch

4 AA battery pack

Wago cable connectors and/or soldering iron

6V mini air pump motor

Electrical wire

Plastic bottle

Glue gun

Wire cutters and wire strippers

Plastic straw

Ruler

Soldering iron

Soldering iron tips

Soldering mat

Battery pack

Air motor pump

Red wire

Black wire

Wago clips

Straw

Corrugated card

Superglue

Tiny screwdriver

Lighter

Serving glasses

Pencil

Black marker

Red spray paint

Plastic tubing

Cutting mat
Instructions:
Using a scalpel, cut out the first pieces of cardboard (1). On one of the 20x12cm (3) pieces, cut out a small hole to fit the size of your momentary switch.

Push the X2 momentary switch into the 20x12cm (3) cardboard, with your glue gun, secure the switch.

Solder the electrical wire to the back points of the switches.

Glue the cardboard pieces together, starting with the base (2) 20x12cm piece.

Add the 20x25.5cm piece (4).

Add the momentary switch 20x12cm (3) piece to the front.

Cut a 20x5.5cm (5) rectangle and poke a hole through with a skewer or pencil; thread the tubing through.

Glue piece 5 to the structure.

Cut a square 20x20cm (6) and glue to the front of the structure.

Cut a rectangle 17x20cm (7). Draw 2 circles around the bottle tops on one side of the cardboard and cut out; poke a hole on the other side with a skewer.

Poke 2 holes in the bottle top, one to fit the tubing and one to fit a straw; trim the straw. Use a glue gun around any gaps to secure and ensure that it is airtight.

Glue this piece to the top of the structure. You can now reinforce the whole structure with superglue on all edges.

Solder the air pump motor to the electrical wires, attach Wago connectors to each wire, and attach the output of the motor to the straw.

Attach the battery pack wires through the Wago connectors.

Connect momentary switch wire to the air pump motor; ensure you have a full circuit.

Make a small hole in your tubing at the top to release the gas pressure.

Fill your bottle with liquid and put the tubing and straw inside the bottle. Turn on the battery pack, your drinks dispenser is now complete! Press a glass against the momentary switch, ensuring that the tube is inside the glass. Glue the other side (1) on and finish with the lid, a piece of card, 20x17cm (8).

Decorate!