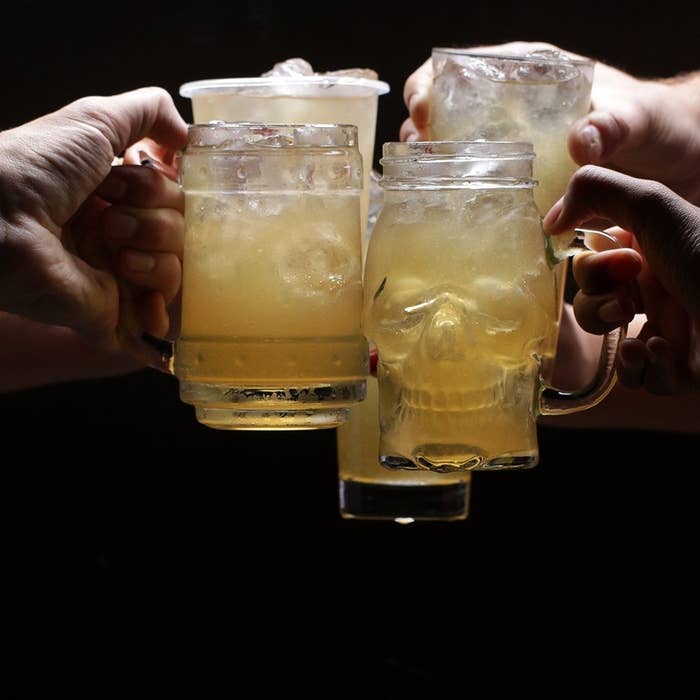 Captain Morgan Halloween Spiced Punch
Servings: 20
Ingredients

Frozen Head
Halloween mask of choice
Water
Spiced Honey Simple Syrup
200 grams honey
200 millilitres water
1 cinnamon stick
1/2 teaspoon allspice
30 grams ginger, sliced
Peel of 1 orange
Punch
1 litre Captain Morgan Original Spiced Gold
300 millilitres spiced honey simple syrup
Juice of 6 limes
200 millilitres triple sec
3 litres ginger ale
To serve
Orange slices
Preparations
Start by prepping your Halloween mask. Making sure to remove any glue or materials and wash in warm soapy water.

Using tape, seal up any holes such as the eyes, mouth, and nose.

Place the mask onto a baking tray with a folded tea towel underneath any areas that will unbalance the mask to ensure it sits level.

Fill the mask with water.

Carefully place into the freezer for 3–4 hours or until the frozen solid.

Next make the spiced honey simple syrup. Place the honey, water, cinnamon stick, allspice, ginger, and orange zest in a small pan over a low-medium heat. Bring to a simmer and cook for 5 minutes.

Remove from the heat and leave to infuse for a further 5 minutes. Sieve and set aside to cool further.

Next, take your chosen punch bowl and place the Captain Morgan Original Spiced Gold, spiced honey simple syrup, juice of 6 limes, triple sec, and ginger ale; stir to combine.

When you are ready to serve carefully, remove the frozen head from the mask and place into the punch bowl.

Finish with a few slices of orange and serve!