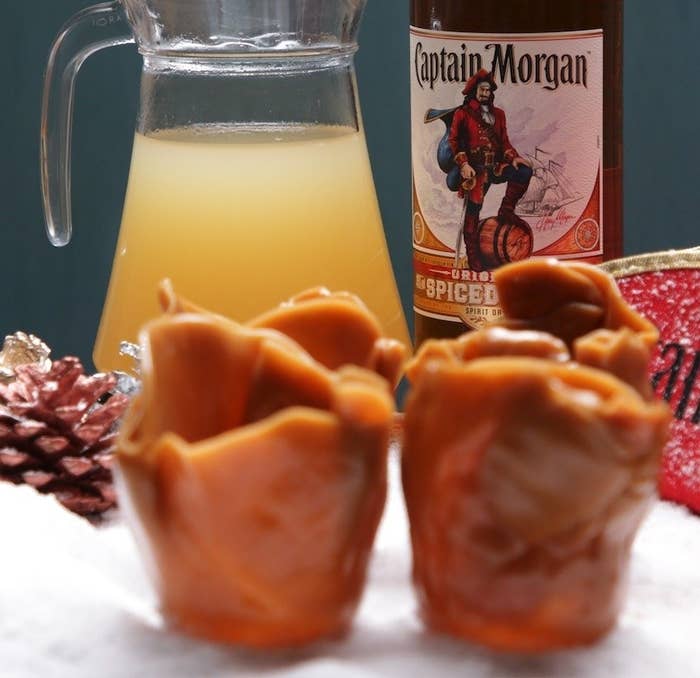 Serves: 4
INGREDIENTS
For the caramel cups;
120 boiled caramel sweets (approximately 4 sharing bags)
For the drink;
200ml Captain Morgan's (serves 4 – 2 units per serving)
100ml lemon cordial
200ml soda water
200ml apple juice
1–2 limes
Ice to serve
PREPARATION
For the caramel cups, it is easiest to prepare them in batches of 2. Preheat the oven to 150°C.

Use 2 baking trays, one for each cup, and line with parchment paper. On each tray, lay 30 sweets in a rough circular shape.

Put into the oven for approximately 10 minutes, until the sweets are all melted together and form a liquid pool.

Remove the first tray from the oven (leave the second tray in there while you mould the first glass) and slide the parchment paper off the baking tray. Let it cool for about 30 seconds, before carefully lifting the parchment paper and placing it over an upturned glass, so the melted caramel sits over the glass and the parchment paper is on the outside.

Use a tea towel to carefully push the soft caramel against the side of the glass, forming its shape. Be careful not to push to hard, as you don't want the glass to be too thin.

Allow it to set for approximately 1 minute, and then very carefully peel the parchment paper away and lift the caramel cup away from the glass. If you want to trim the edges to make them nice and straight, you can do this now, while the caramel is still slightly soft.

Repeat this process with the second tray of caramel in the oven, and then repeat the whole process to make the third and fourth caramel cup. Allow all the cups to set completely (at least 10 minutes) before putting any liquid inside.

When you are ready to serve, fill each caramel cup with 50ml Captain Morgan, 25ml lemon cordial, 50ml soda water, 50ml apple juice, a squeeze of lime, and a few ice cubes, and then garnish each with a wedge of lime.