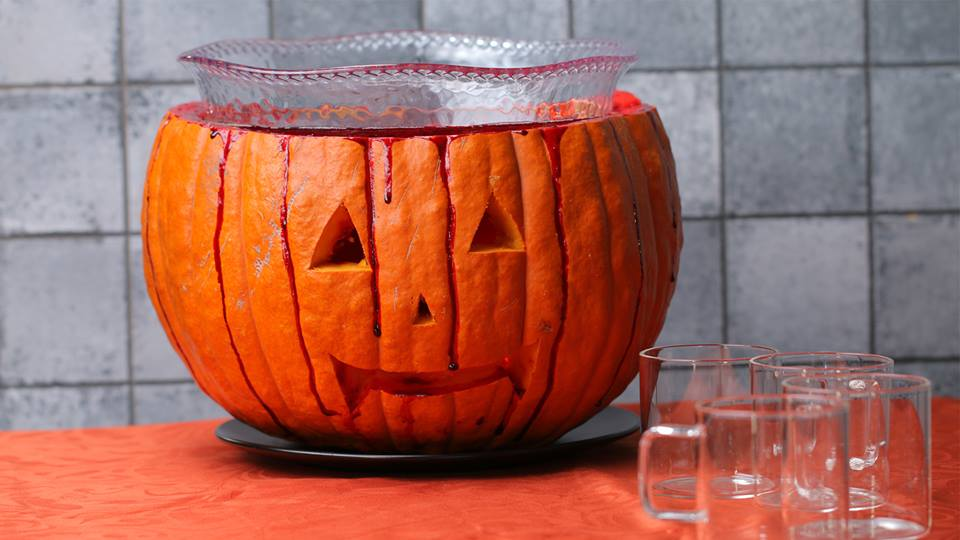 INGREDIENTES
Sangre falsa
1 1/2 cucharaditas de colorante rojo comestible en gel
1 1/2 jarabe de chocolate
1/2 cucharadita de cocoa en polvo
1 cucharada de jarabe de maíz
1 cucharadita de agua
Cóctel
3 tazas de jugo de arándano
2 tazas de jugo de manzana
2 1/2 tazas de Captain Morgan Original Spiced Rum
2 litros de ginger ale
Hielo
Equipamiento especial
Calabaza grande
Plumón marcador
Bowl grande
PREPARACIÓN
1. Con cuidado, retira el tercio de arriba de la calabaza y excava la parte de adentro. Si las paredes de la calabaza son muy gruesas, corta algunas de de las paredes internas con un cuchillo.
2. Con un plumón, dibuja los ojos, nariz y boca de la calabaza y luego córtalos con cuidado.
3. En un recipiente pequeño, combina todos los ingredientes para la sangre falsa.
4. Con una cuchara, esparce la sangre falsa alrededor del borde de arriba de la calabaza y agrega un poco más en algunas áreas para que se escurra hacia abajo por las paredes.
5. Coloca un recipiente grande dentro de la calabaza para que el borde se recargue sobre ella.
6. Combina los ingredientes del cóctel dentro del recipiente.
7. Sirve los cócteles sobre hielo.
8. ¡Disfruta!
Looks like there are no comments yet.
Be the first to comment!