Spiced Rum and Ginger Beer Punch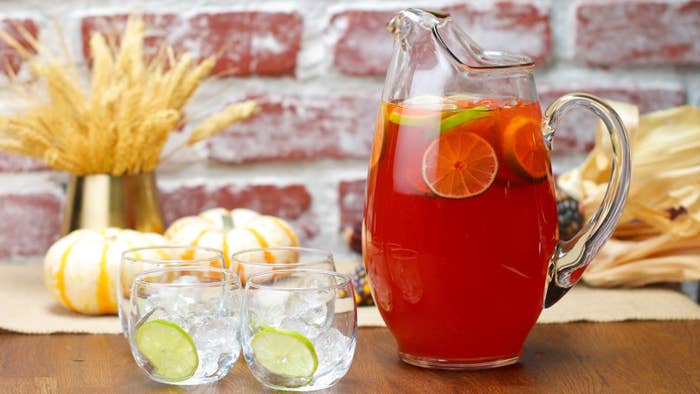 INGREDIENTS
Servings 8
Simple Syrup
1 cup water
⅓ cup white sugar
¾ cup fresh raspberries
3 large limes (juice only)
1½ ounces Captain Morgan Original Spiced Rum
Cocktail
4 limes, sliced into rounds
4 ½ cups ounces ginger beer (preferably one that is not too sweet)
1¾ cups Captain Morgan Original Spiced Rum
Ice
PREPARATION
1. Combine all simple syrup ingredients in a saucepan over medium heat and stir until sugar is dissolved. Bring to a boil and turn the heat down to medium-low. Cook for 5 minutes.
2. Remove the syrup from heat and strain. Refrigerate for 1 hour to cool.
3. In a pitcher, combine 3 sliced limes, the chilled syrup, Captain Morgan Original
Spiced Rum, ginger beer, and ice. Stir. (Optional- muddle the limes slightly before adding liquid ingredients).
4. Serve over ice in glasses garnished with a lime wheel.
5. Enjoy!