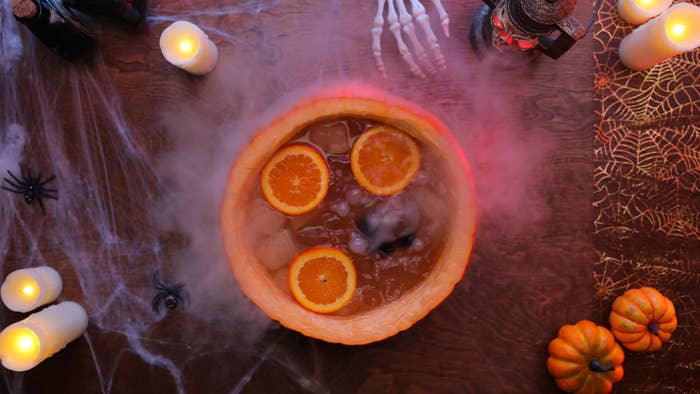 INGREDIENTS:
Lemon Ice Cubes
1 & 3/4 cups lemon juice
Candied Ginger
3 cups water
3 cups plus
1/4 cup sugar, divided
1 cup thinly sliced ginger
1/2 tablespoon pumpkin pie spice
Punch
1 carving pumpkin
1 & 3/4 cups Captain Morgan Original Spiced Rum
8 cups ginger beer
1/2 cup lemon juice
2 teaspoon reserved simple syrup
Orange slices, for garnish
Blackberries, for garnish
PREPARATION:
1. Cubes: Pour lemon juice into an ice cube tray and freeze overnight.
2. Candied ginger: Pour water and 3 cups sugar in a saucepan. Set to medium heat and whisk until sugar dissolves. Add ginger and bring to a simmer. Let simmer for 25 minutes. Drain slices (reserving the simple syrup liquid), then arrange on a cooling rack to dry. Whisk together 1⁄4 cup sugar with pumpkin pie spice. Toss ginger slices in spiced sugar, shaking off excess.
3. Cut the top off the pumpkin and scoop out all the insides to create a punch vessel.
4. Pour Captain Morgan Original Spiced Rum, ginger beer, lemon juice, and reserved simple syrup into the pumpkin.
5. Add lemon juice ice cubes. Garnish with orange slices and blackberries. Place a slice of candied ginger on the rim of each glass before serving.