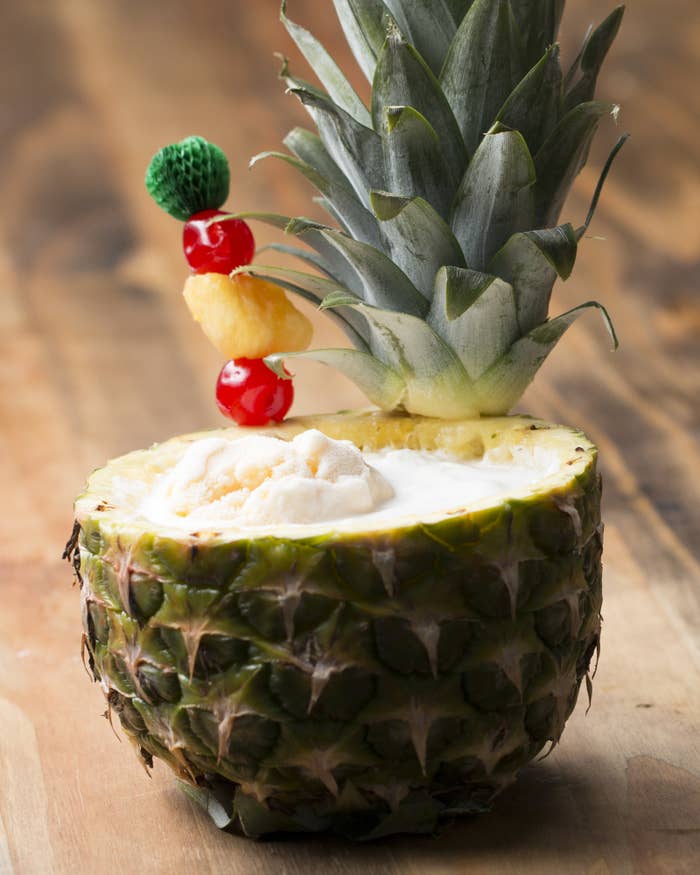 INGREDIENTS
1 pineapple
¼ cup cream of coconut
3 ounces Captain Morgan Original Spiced Rum
4 scoops vanilla ice cream
6 ounces lemon-lime soda
Optional garnishes
Maraschino cherries
Pineapple chunks
6 toothpicks
PREPARATION
1. Cut off the stem of the pineapple and put aside for later.
2. Cut the pineapple in half.
3. Using a small knife, carefully, cut a circle about ½ an inch in from the edge of the pineapple and cut around the core.
4. Using an ice cream scooper, remove the flesh of the pineapple, being careful to not make the walls too thin. Place the scoops of fruit in a strainer over a bowl. Set the cups aside.
5. Carefully, cut the stem of the pineapple in half to use for a garnish.
6. Using a muddler, or the back of a spoon, press the juice out of the pieces of pineapple and collect about 1 cup of the juice.
7. Add the cream of coconut and spiced rum and whisk together.
8. In the pineapple cups, add 2 scoops of ice cream.
9. Pour the pineapple mixture over the ice cream.
10. Top off with lemon-lime soda.
11. Garnish with maraschino cherries, pineapple chunks and pineapple stem.
12. Serve & enjoy!