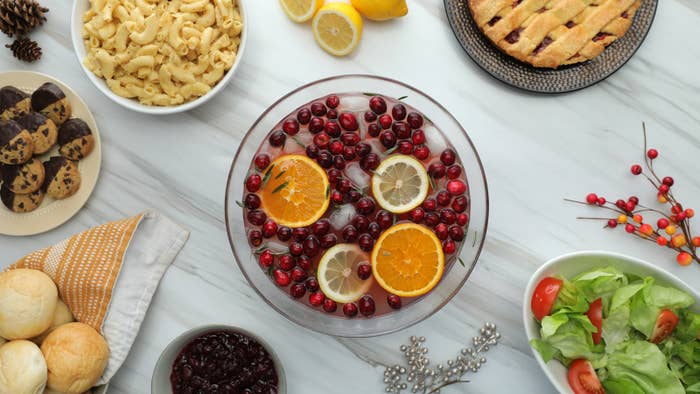 Ingredients
Sugared Cranberries
1 cup sugar, divided
½ cup water
6 ounces fresh cranberries
Rosemary Ice Cubes
1 long stem of rosemary
2 cups water
Punch
2 cups Captain Morgan Original Spiced Rum
1 cups cranberry juice
4 cups sparkling cranberry juice
1 cup lemon juice
1 cup lime juice
1 cup orange juice
Ice cubes
Rosemary ice cubes
4 ounces fresh cranberries
Lemon, lime, and orange slices
Preparation
1. Sugared cranberries: In a small pot, combine ½ cup sugar and ½ cup water. Bring mixture to a simmer and whisk until the sugar dissolves. Once simmering, turn off the heat and add the cranberries. Stir until cranberries are all coated, then drain and spread cranberries out on a cooling rack. Let cranberries rest for 10 minutes, then roll them in the rest of the sugar to coat.
2. Rosemary ice cubes: Pull sprigs off of the rosemary stem and place a few in each square of an ice cube tray. Fill ice cube tray with water and freeze until solid.
3. Punch: Pour Captain Morgan Original Spiced Rum, cranberry juice, sparkling cranberry juice, lemon juice, lime juice, and orange juice into a punch bowl. Add a couple handfuls of ice cubes, then the rosemary ice cubes. Add in the fresh cranberries, then float citrus slices in the bowl.
4. Skewer garnish: Place a lime wedge at the bottom of a skewer. Skewer a few sugared cranberries next to lime wedge followed by one regular cranberry. Ladle punch into glasses and balance skewer garnish across the top of the glass.