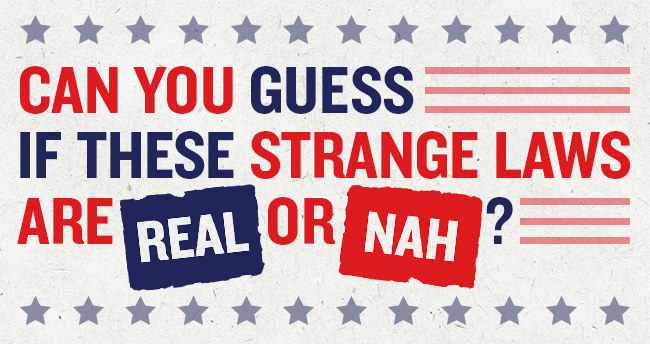 The same law also prohibits juveniles from running away, loitering in a billiard room, or gaining admission to a theater by false identification.

While common sense would tell you not to carry a baby on the outside of a car, someone in Oregon took the time to make a law about it.

And any handcuffs sold to someone under 18 could be confiscated.

However, it was briefly against the law to accept cash for secondhand goods more than once a month — but nonprofits and pawn shops were exempt from this short-lived law.

And it might make sense if it weren't for the exception made for selling more than six.

in California or anywhere else, although it's a common urban legend. So start saving up those pennies!

However, this does not apply to doctors (phew!).

So if you were planning on hitching up your covered wagon for a road trip through Wisconsin, you might want to rethink your plans.

It's designed to make it easier for people to get out of the building in the event of a fire or accident, which actually does make sense.
Join Captain Morgan in the #UNDER35POTUS movement to repeal one very weird law so that all qualified leaders have the chance to be president, regardless of age.
DRINK RESPONSIBLY. CAPTAIN'S ORDERS. 35% ALC/VOL ©2016 CAPTAIN MORGAN RUM CO., NORWALK, CT.
Looks like there are no comments yet.
Be the first to comment!